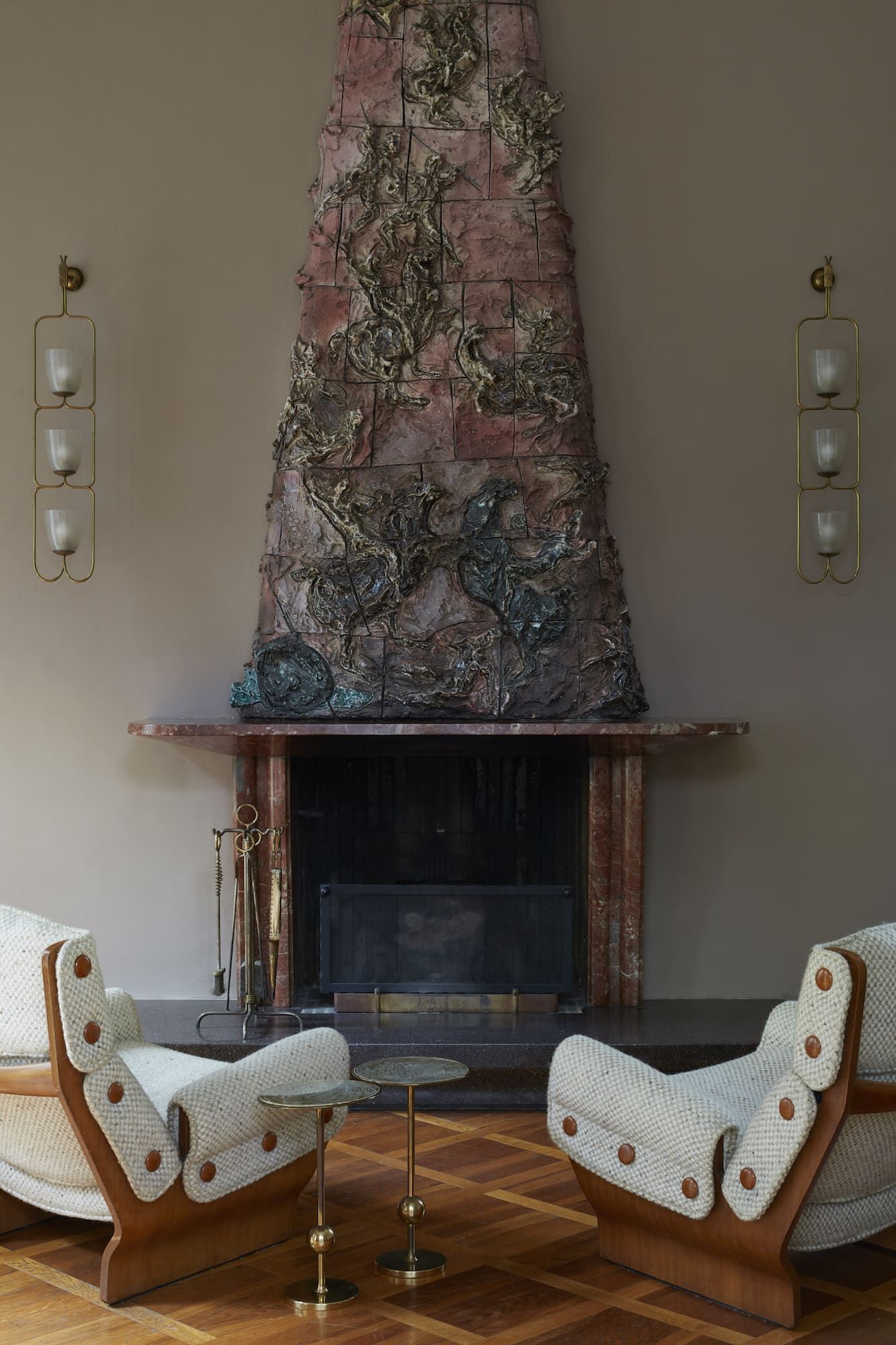 There may be no great shortage of inspiring villas and memorable flats in the fashionable city of Milan, but access to these homes is scarce. Luckily, during this year's Salone del Mobile, the famed Villa Borsani opened its doors to the public for the first time.
Realized by legendary designer-architect Osvaldo Borsani and his twin brother, Fulgenzio, the rationalist-style villa is cherished for its modern lines and exquisite custom furnishings. With this public viewing, the home has been brought back to life just in time for a retrospective of Borsani's creations at Milan's Triennale Design Museum (on view through September 16).
From his early start at his father's boutique furniture and cabinetry atelier, Borsani began to steadily dream to life the movement-inducing pieces that would eventually lead to him founding his innovative furniture company, Tecno, with Fulgenzio in 1953. The firm quickly garnered widespread acclaim for its tech-forward designs and quality craftsmanship.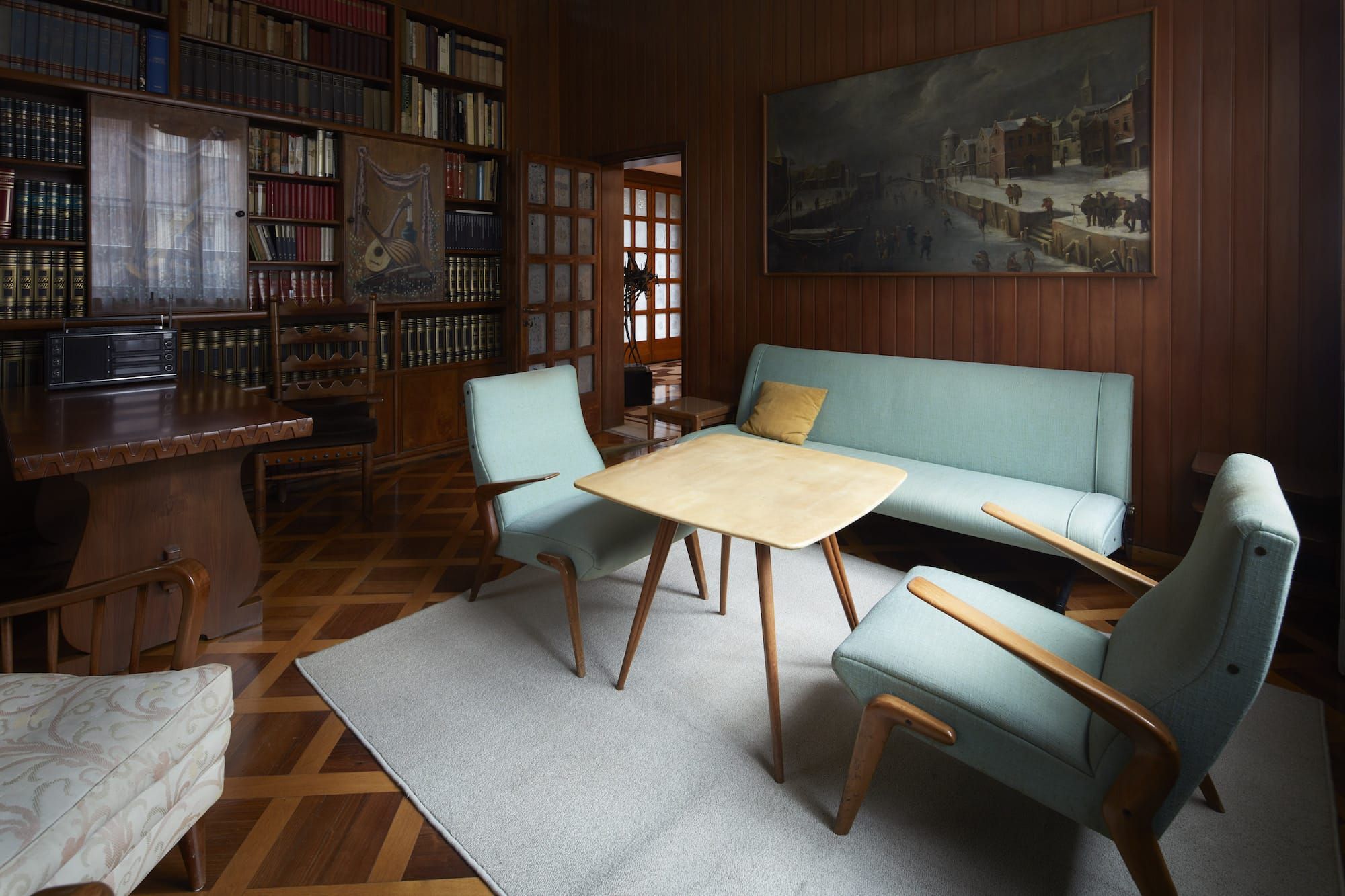 Borsani designed pieces for Tecno until shortly before his death in 1985, when his daughter Valeria and her husband, Marco Fantoni, took over the creative work. Today, the family's legacy is preserved by Borsani's architect grandson Tommaso Fantoni, who, along with Norman Foster, curated the blockbuster Triennale retrospective.
"It's a monumental installation that shows the incredible amount of work Osvaldo was able to produce over six decades, not only in terms of quality but also in quantity," Fantoni says. "No one has achieved such a vast number of pieces in such different periods and styles."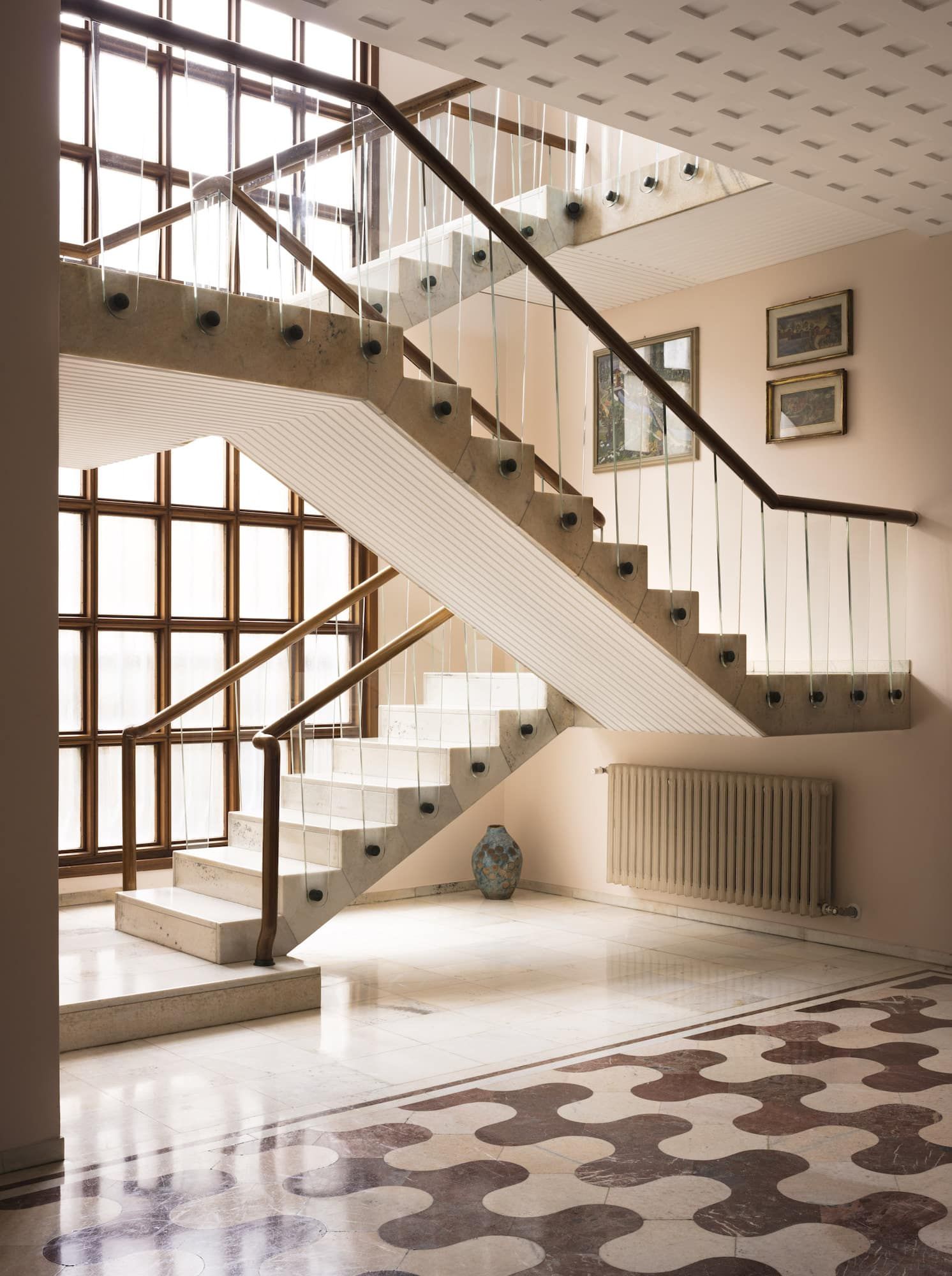 In its heyday, Villa Borsani was a sort of creative think tank where ideas were composed, discussed and considered by greats like Lucio Fontana and Giò Ponti. Upon entry, it's clear why this home would attract some of Italy's most renowned artists and makers — it's a true modern masterpiece.
Completed in 1943, the house has an open flow, oversize rooms and varying levels. This open-concept configuration, a prerequisite for many of today's homeowners, was quite forward-thinking at the time.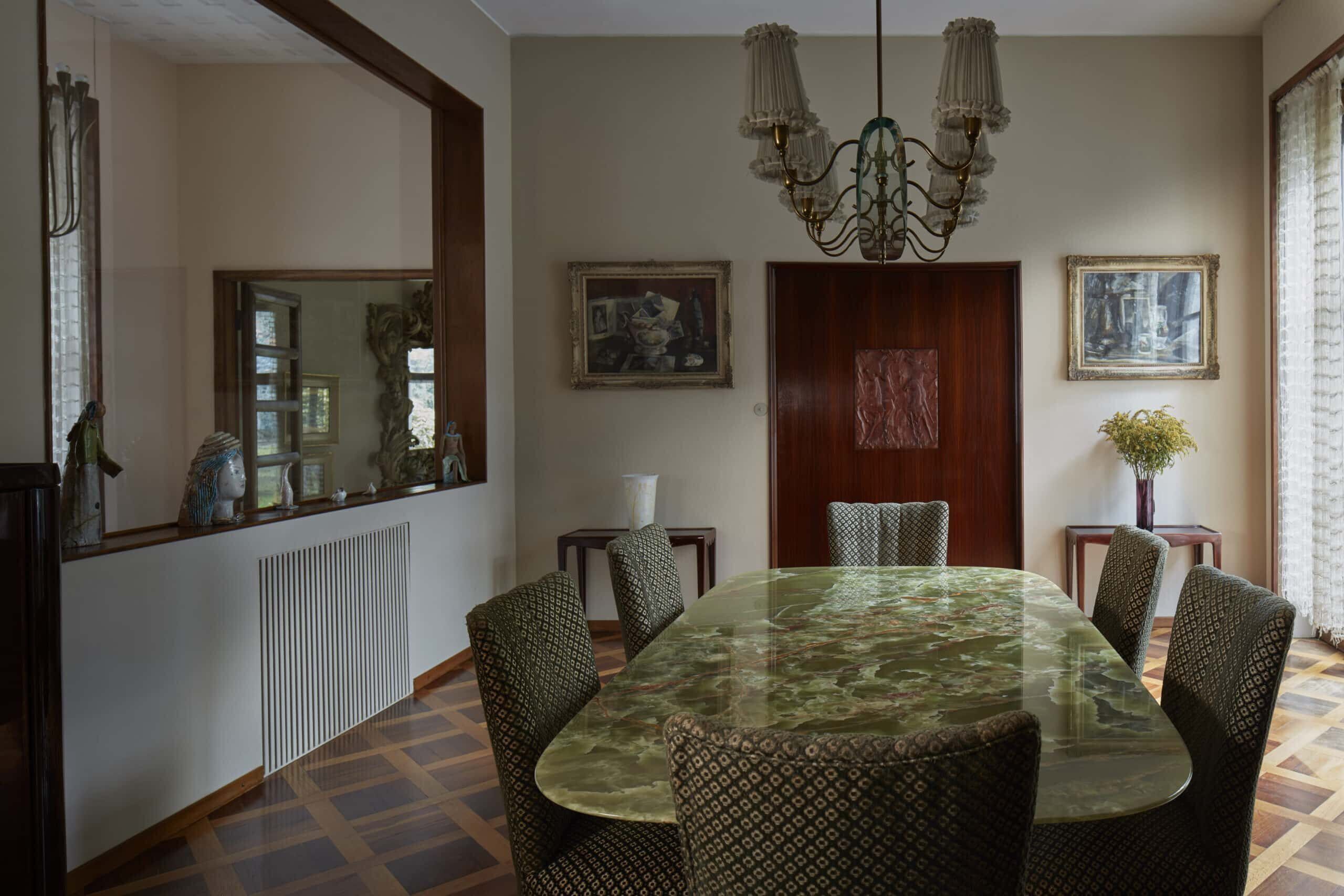 The floating three-tiered staircase — a masterful mix of Candoglia marble steps, Murano glass paneling and walnut banisters — sets a material tone that's felt throughout the residence. Geometric patterns were applied to many of the plaster ceilings as well as the underside of the staircase.
The dining room takes the free-flowing floor plan a step further by offering an glass peek-through on one of the imposing walls. "The dining room is the heart of the house," Fantoni states, who curated the villa's public showcase with Valeria and Design Miami cofounder Ambra Medda. "It was always the gathering spot where people met and talked. And you can see all other rooms through its openings."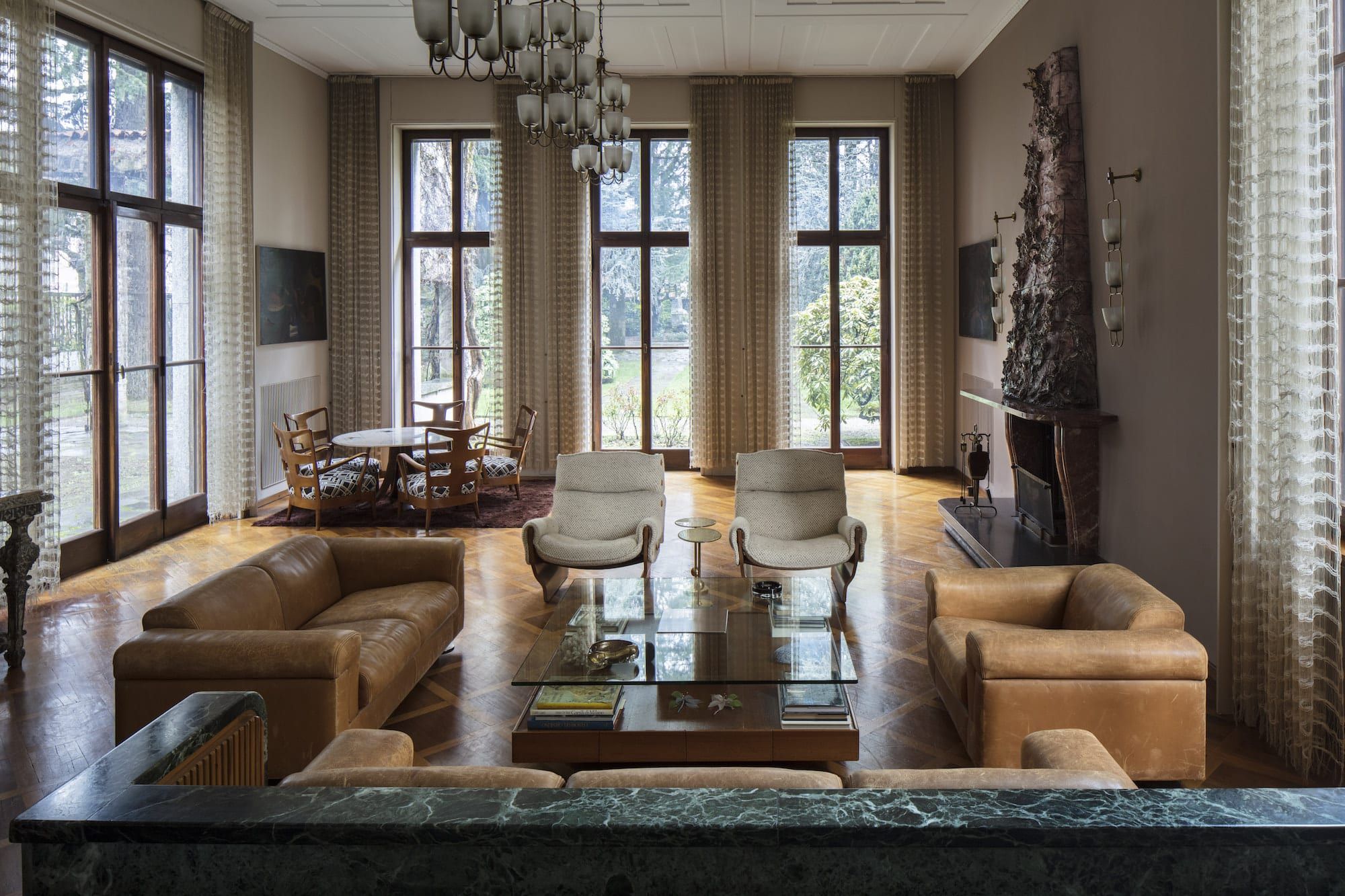 Off the dining room is a marble step down into the expansive sunken living room, now flecked with some of Borsani's most iconic designs, including a pair of white P110 lounge chairs. The unique ceramic fireplace feature was fashioned by Fontana, Borsani's dear friend and a frequent guest to the home.
The villa speaks fluently to the craft and modern languages that Borsani's work often vacillated between, and the home is an inspired personification of just that. Open by appointment through September 15, this Italian beauty is not to be missed.
All photos courtesy of Alto Piano Studio