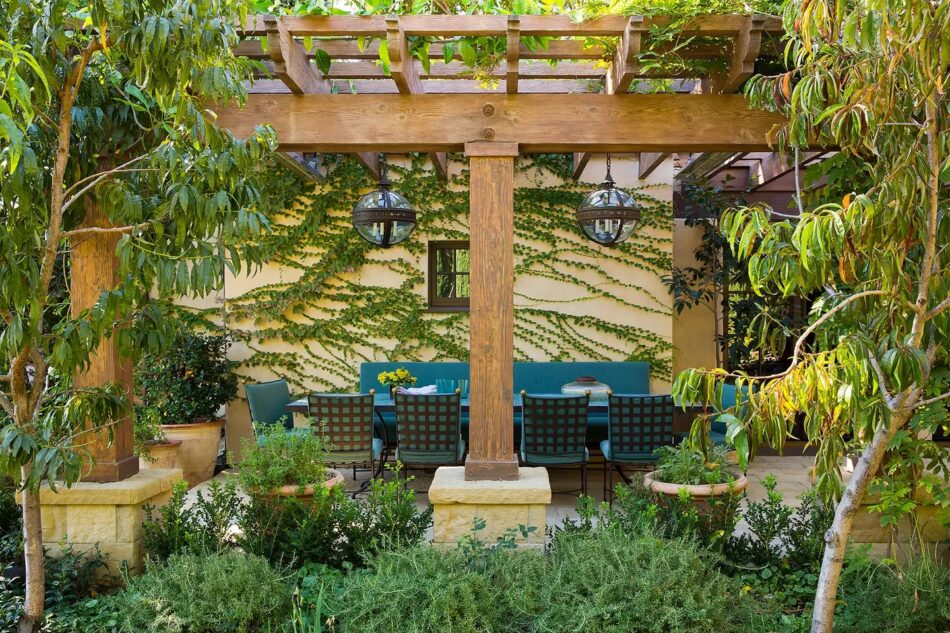 The Douglas fir pergola spanning the terrace of a Santa Monica guest house by interior designer Christine Markatos seems like part of the surrounding forest of plantings, welcoming vines and branches to wrap around it and peek through. "The foliage envelops the space and provides a backdrop for entertaining," Markatos says.
Drawing inspiration from centuries-old properties in Italy, she furnished the charming outdoor dining room with iron lanterns from Paul Ferrante, Janus et Cie dining chairs upholstered in a turquoise outdoor velvet by Cowtan & Tout and a custom dining table with a Moroccan-tile top from Mosaic House.
---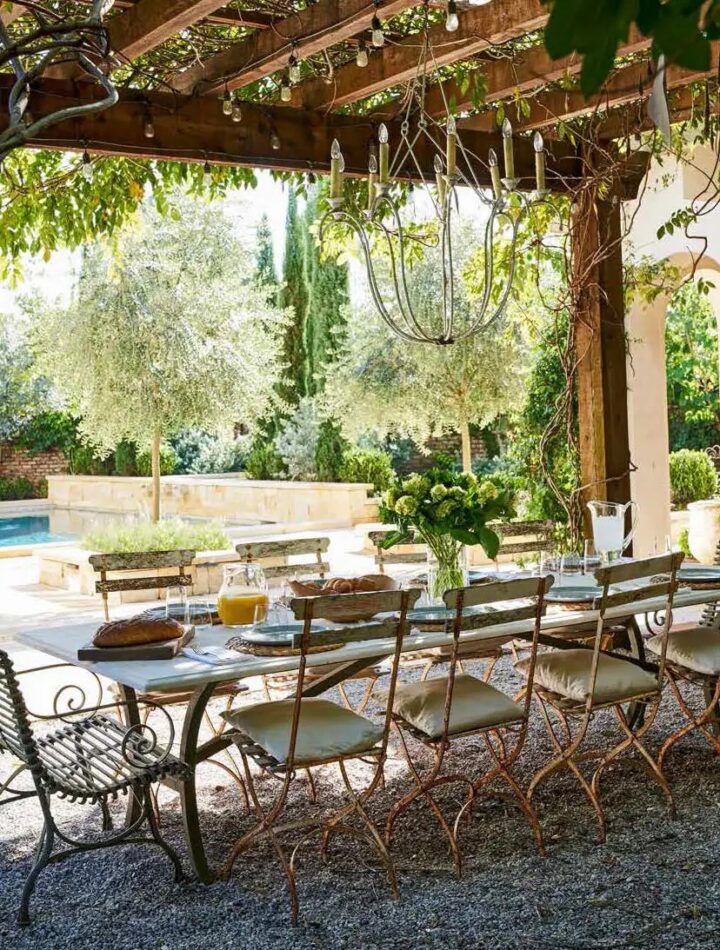 For the patio of a house in Metairie, Louisiana, designer Tara Shaw curated a look she describes as a "European alfresco-dining vibe." She had a short list of items she wanted to be sure to include, all likely to weather well and develop a patina with age: French bistro chairs (check), vintage iron garden tables (check) and iron lighting (check).
"The homeowners spend most summers on the Mediterranean with their children," says Shaw. Their hope was to re-create the same sense of ease in Louisiana. Paramount to the aesthetic was the cedar pergola, which brings home the Italianate ambience, with abundant greenery and a gravel floor.
---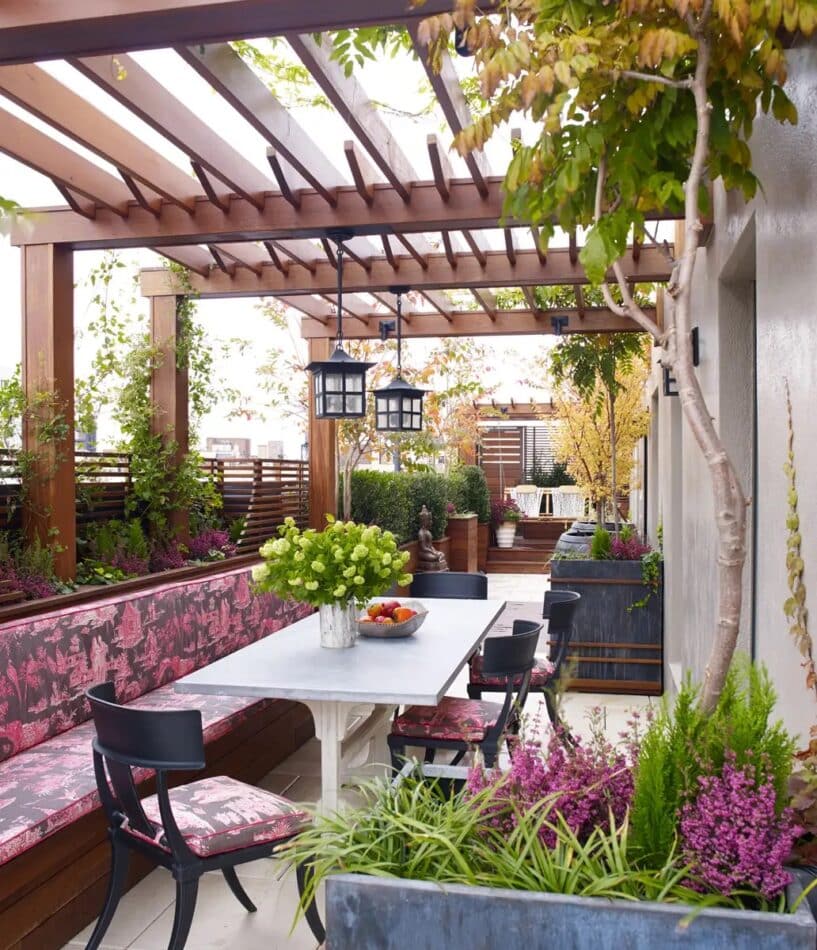 "When designing outdoor spaces, it's important to ensure that they're versatile enough to accommodate many end uses, such as dining, entertainment and relaxation," says Wesley Moon. That was his aim in tackling the terrace of a penthouse near Manhattan's Central Park.
To create a serene haven that still packed visual punch, Moon employed a custom table from Mecox Gardens, kicking up the drama on the banquette with a performance fabric in a color-saturated toile de Jouy pattern. These sit beneath a sturdy ipe-wood pergola, which imparts a garden-in-the-sky vibe.
"Selecting materials that can withstand the elements is crucial," says the designer. "Durable materials such as teak, metal, concrete and weather-resistant fabrics are key to creating long-lasting and minimal-maintenance outdoor spaces."
---
When British aristocrat Justin Portman and supermodel Natalia Vodianova, then a couple, approached Erin Quiros, of design firm CasaQ, to design their loft in New York's TriBeCa neighborhood, they said they were seeking a sanctuary above its buzzing streets. "Their briefing to us was 'contemporary Bali,' " Quiros recalls.
For the deck, Quiros interpreted their request with clean, classic lines and natural materials. Lounge chairs by Royal Botania complement a solid teak pergola, as well as teak floors designed by Quiros and laid by Italian artisans. The wild, wispy miscanthus in oversize vases is meant to "reflect the movement of the winds," she says.
---
"The homeowners wanted a comfortable, cozy space to enjoy the view of their rose garden, which is located just beyond the seating area," says Brooke Giannetti, of Giannetti Home, explaining her plan for the patio of a property in Ojai, California.
The patio sits just outside the French doors of the primary bedroom. Its wooden pergola, overgrown with roses and hung with a zinc lantern, shelters a set of white wicker furniture by JANUS et Cie.
"We like adding pergolas to outdoor seating areas," says Giannetti. "They define the space as well as provide a sense of protection. And this one, covered in roses, adds a little romance to the space."
---
"Outdoor space is a luxury," observes Glenn Gissler. "It's an opportunity to create transformative experiences in an urban setting." At an apartment in New York's Greenwich Village, Gissler carved up the generous 1,500-square-feet terrace into separate spaces for dining, conversation, music and lounging. His high-profile clients, fashion designers Michael Kors and Lance LePere, he points out, wanted to accommodate "a variety of uses morning, noon and night."
Using the couple's expansive southern view over lower Manhattan as a backdrop, Gissler kept things sleek and polished, pairing a custom-designed powder-coated table with dining chairs by JANUS et Cie. Offering spots for post-brunch relaxation are JANUS et Cie chaise longues under a Tuuci umbrella and a custom sectional in the shade of a wisteria-covered pergola.
---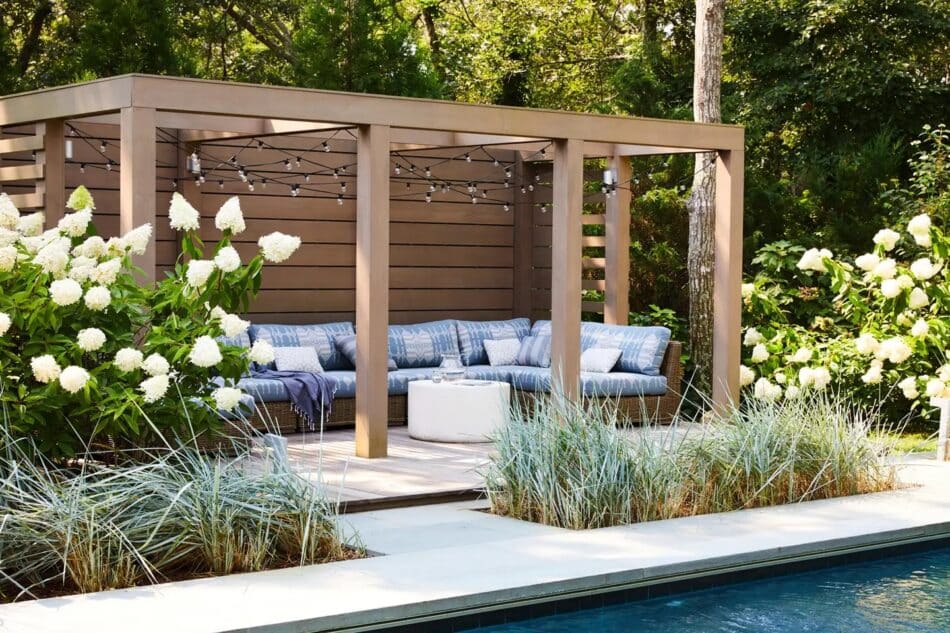 Design firm Jesse Parris-Lamb was tasked with outfitting an existing cedar pergola for a house in East Hampton, New York, to match its owners' carefree, bohemian tastes. Their call for a not-too-precious space suited to informal gatherings of friends and family was answered with a modular wicker sectional. A mix and match of outdoor fabrics lends a fun-loving, beachy aura to the custom sofa cushions and throw pillows.
---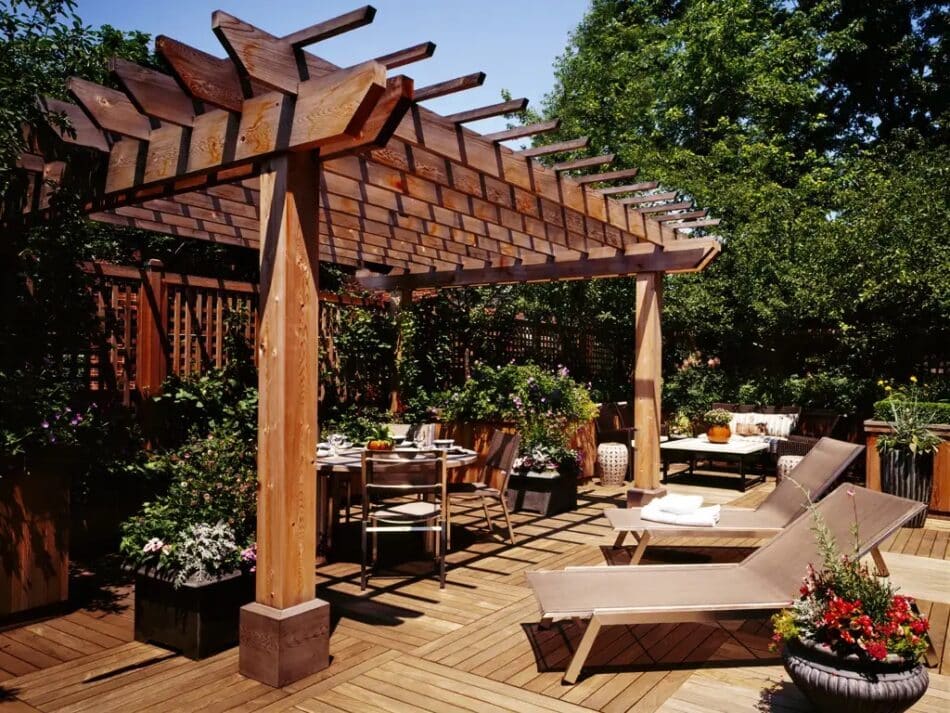 "Pretend you're designing an indoor room, but make it weather-resistant — that's the main thing," says Martin Horner, of Soucie Horner. From there, it's all about scale, traffic flow and identifying the different functions that need to be fulfilled. "The most successful spaces are the ones that feel and look like they could be inside. A little shade always helps, too."
A cedar pergola provided that shade in an urban escape atop the garage of a family home in Chicago's Lincoln Park neighborhood. The furniture was the client's own, but Horner created zones for meals, relaxing and tête-à-têtes. The result: a mid-city Eden for a couple seeking a retreat in a casual yet elegant atmosphere.
---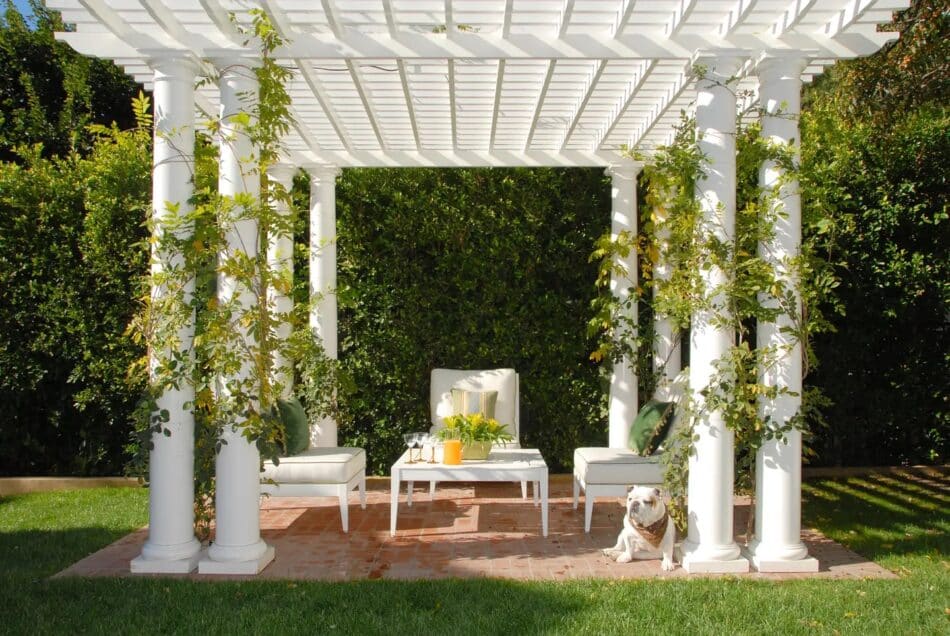 "I like to create an outdoor 'destination' that lures people into the garden, whether it be a pergola, sculpture, firepit or some other strong focal point," says Timothy Corrigan. He instilled a bit of that allure in the Hollywood Hills home he designed for a film studio executive via a columned pergola with climbing roses and wisteria.
Timeless McKinnon and Harris seating provides a quiet landing spot for guests at the homeowner's many events. "He wanted a place that celebrated Hollywood's past and could dazzle a crowd but would also work efficiently and comfortably for day-to-day life," explains Corrigan.
---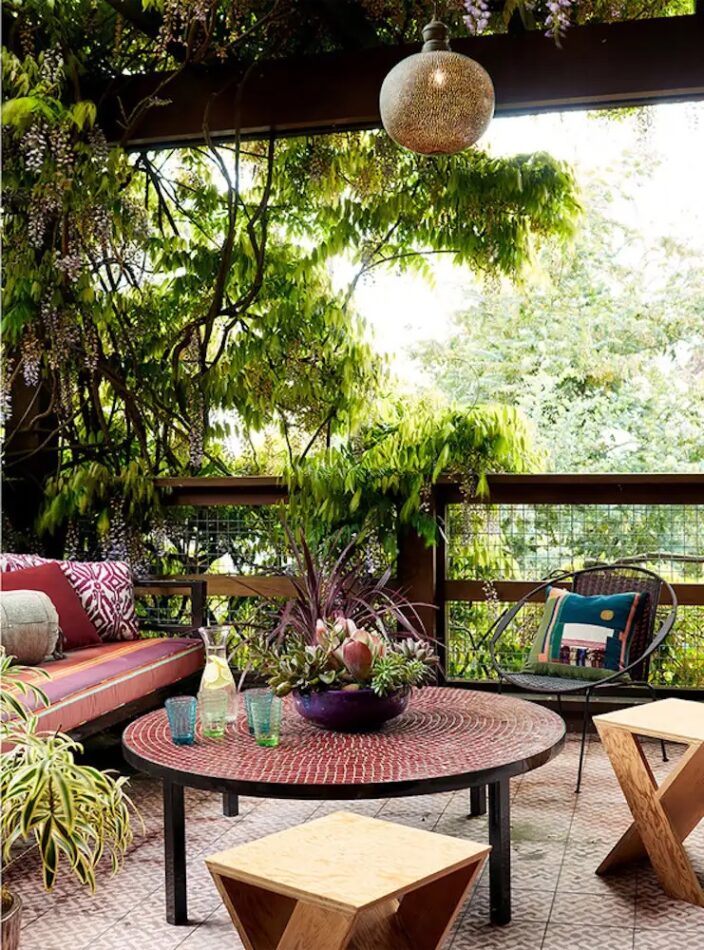 The team at Commune Design extended the character of the Craftsman house they designed for a family in Berkeley, California, beyond its walls, collaborating with Los Angeles–based Elysian Landscapes to outfit the deck and carry the home's warm and intricate color palette through to the upholstery and pillows. The plywood X-stools bring a rustic touch to the eclectic tableau.
---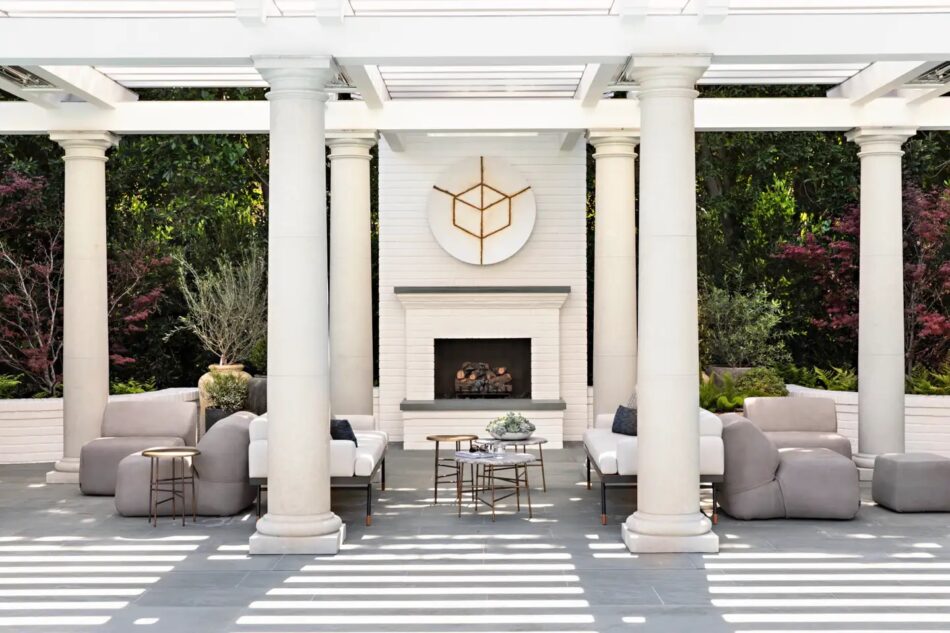 In the tony Los Angeles neighborhood of Little Holmby, Kara Smith, of KES Studio, took the sculptural and art-focused aesthetic she created for the home of a young couple and continued it outdoors, creating a cozy yet chic environment in which to enjoy the Southern California weather. "A lot of fundraisers and other special events are held out there," says Smith. "Arranging the patio, we kept in mind how they would be as a small family group or entertaining a larger group."
She picked fresh furnishings to bring a contemporary inflection to the home's classic Georgian architecture and pergola, including clean-lined sofas from Lawson-Fenning and lounge chairs, poufs and side tables from Exteta. For the chairs and poufs, Smith selected an outdoor leather, "which makes them unique, because leather isn't normally an exterior material."
---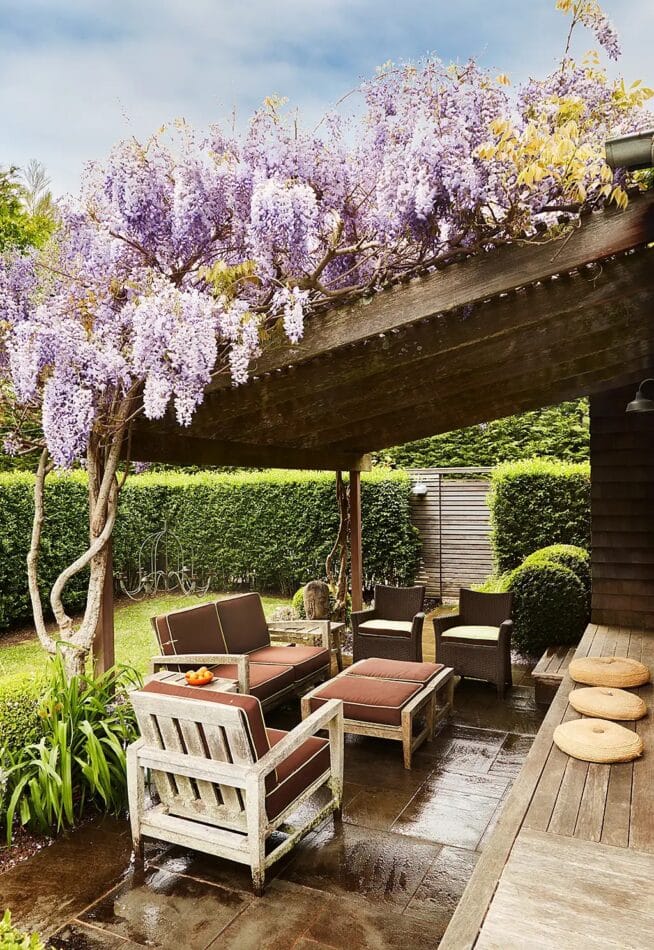 Upon buying a cottage in Amagansett in 2000, Ward Welch and his husband transformed its rundown pergola into a blooming wonder. "Our house is very small, and this pergola defines one of the various outdoor living spaces we arranged in the landscape," says Welch, a partner at architecture and interiors firm Studio SFW.
An explosion of wisteria indulges his preference for purple flowers and balances the earthy tones of the seating's terracotta fabric. When the full bloom drops, the vines woven through the cedar overhang provide much-needed shade all day.