For those who yearn to have their home interiors really stand out, furnishings need to be more than just pretty. Like a painting in a museum that transports the viewer, the best whimsical designs are unforgettable. Here, we highlight five makers whose outlandish works make a lasting impression.
---
Andrés Reisinger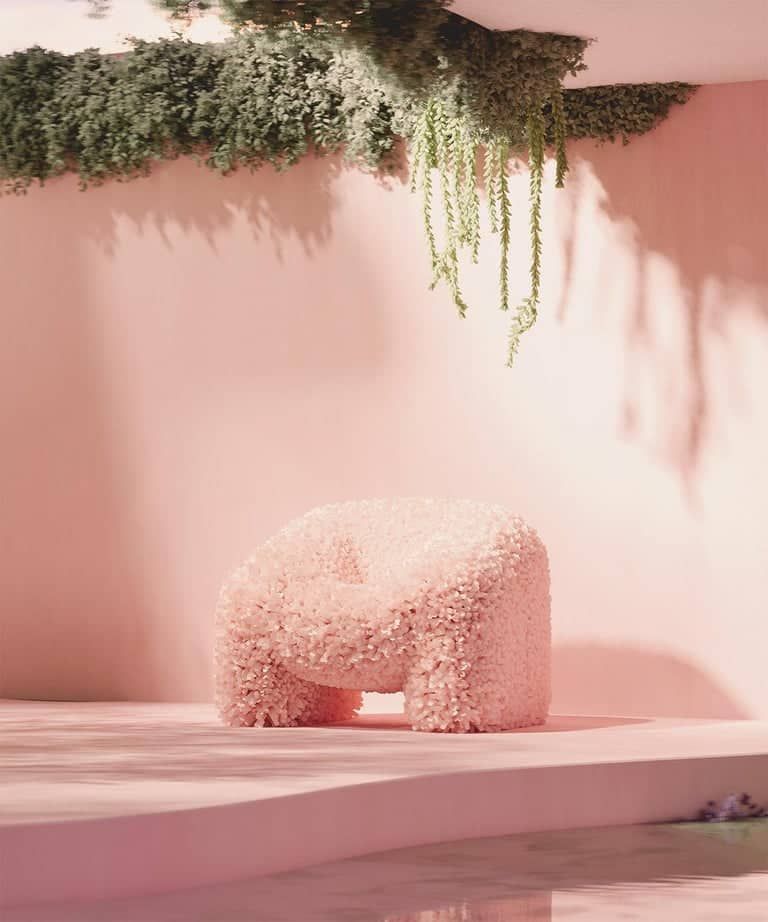 A graphic designer for more than a decade, Andrés Reisinger feels most comfortable creating on his computer. It was while exploring the textures of flowers on a 3-D-rendering program, the Buenos Aires–born, Barcelona-based designer recalls, that he discovered "the beautiful abstraction of a hydrangea."
That digital experiment led to numerous furniture and fabric prototypes, many conceived with the help of textile designer Júlia Esque. Among these forms, Reisinger says, were "petal modules individually laser-cut from recycled polyester."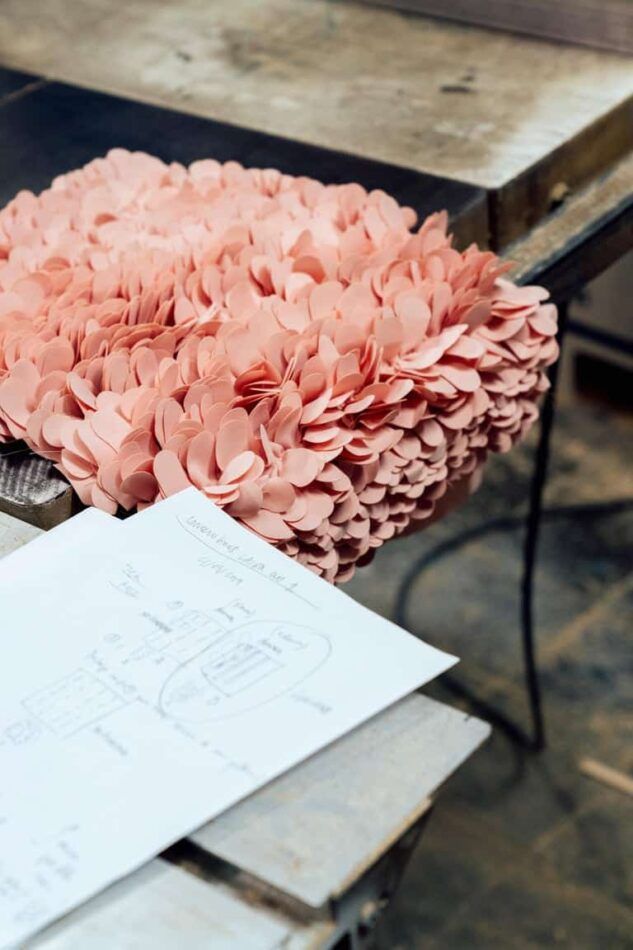 Those modules became the basis for a chair whose preliminary model went viral on Instagram. Reisinger received three orders for the piece, even though it did not yet exist, compelling him to bring the model to life. The result was the Hortensia chair, which consists of many thousands of pink fabric pedals attached to a foam and wood base. And with that, Reisinger's career as a furniture designer took off.
---
Aimee Wilder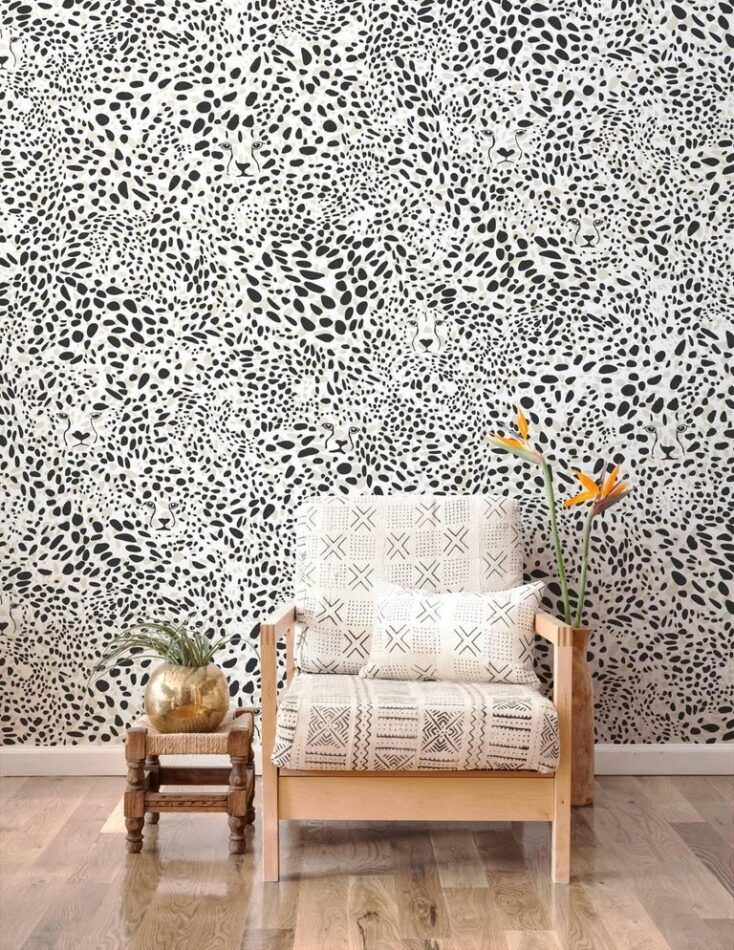 Aimee Wilder spent much of her New York childhood in the fashion showrooms where her parents worked, so it's not surprising she decided to pursue a career in design. Rather than fashion, though, Wilder was drawn to digital wallpaper, commercial fabric and rugs. "For me, ideation is the most fun part," she says. "I keep track of concepts in my digital archive or as lists in my phone's Notes app."
Wilder's trippy Cheetah Vision wallpaper was inspired by a recurring vivid dream, she says, "a psychedelic adventure featuring a jungle-scape with a churning sea of cheetah spots. It motivated me to create a pattern that reveals friendly cheetah faces within a swirling repeat."
Wilder and her design team studied photographs of cheetahs and traced the spots that wrap around their bodies. She pieced together the tracings to create a single-layer print, on which she superimposed two additional layers for more depth. Then came the whimsical final touch: "I shifted it," says Wilder, "so that the mysterious and cute cheetah faces could peek out from behind."
---
Yuko Nishikawa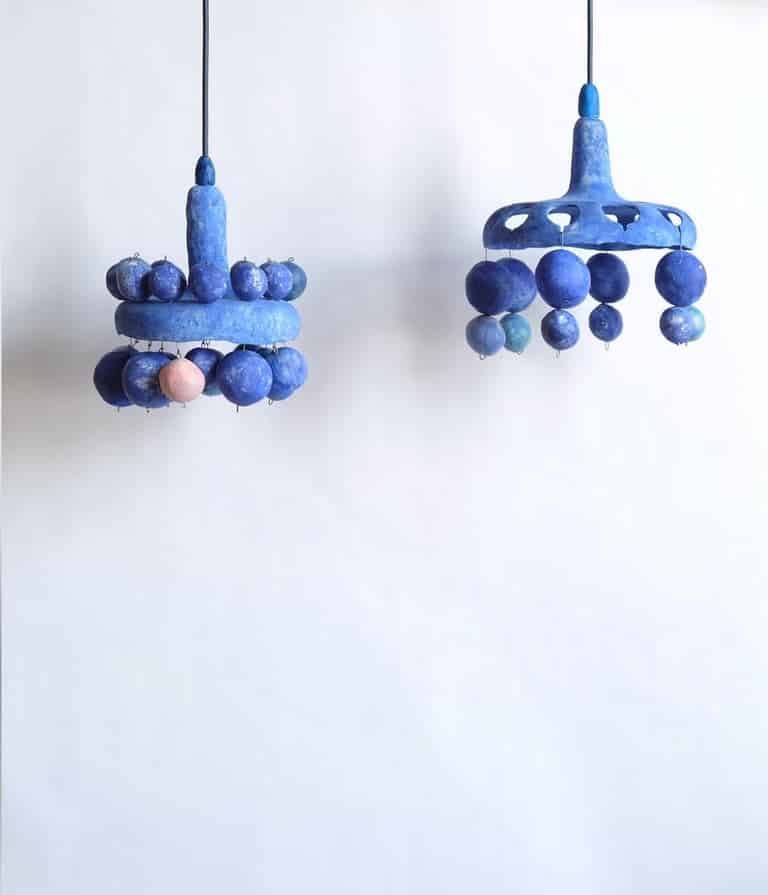 The male satin bowerbird of eastern Australia has a finicky way of advertising his romantic intentions: He builds elaborate nests and adorns them with unusual and eye-catching objects in shades of calming blue. This artistic avian hoarding inspired Brooklyn-based Japanese designer and ceramist Yuko Nishikawa to think about the collections amassed by humans, including herself.
In the industrial Williamsburg studio she calls the Forest, Nishikawa has stashed away "glazed test tiles of various colors and textures, notebooks and paper filled with scribbles and words, and pipes and finials from unused lamps." It's a trove a bowerbird would be proud of. And inspired by the birds' mating ritual, Nishikawa created a ceramic series. Named Courtship Behavior, it includes indigo-colored chandeliers emitting a gentle light that, she says, "reflects within the shade and bounces off other hanging spheres."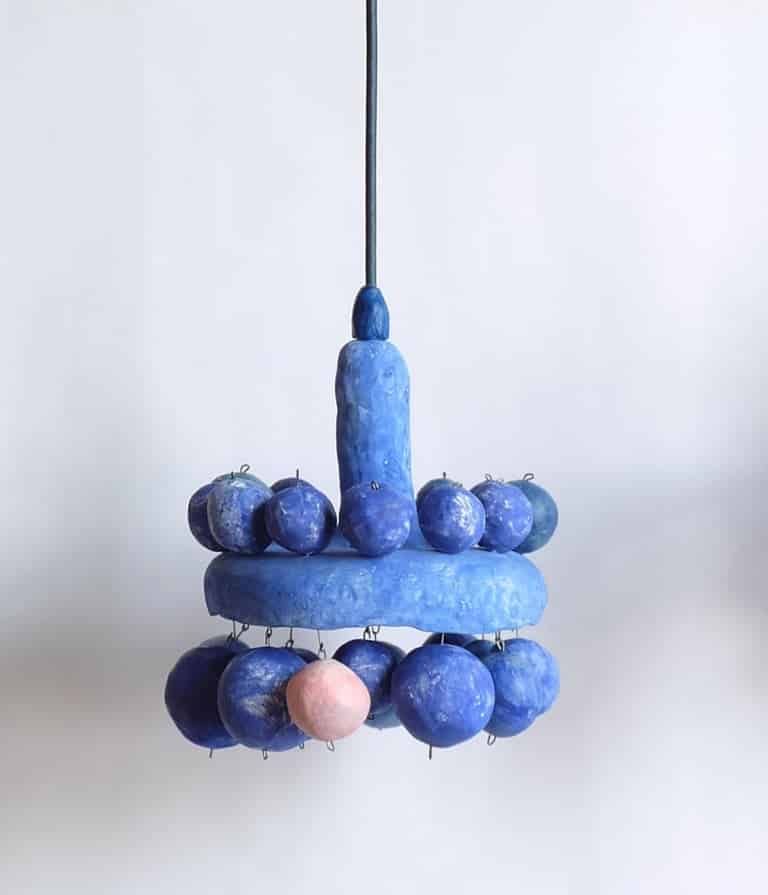 The Courtship Behavior pendant lamp is hand built with clay coils "to emphasize its irregular texture and form," says Nishikawa. "When the piece is half-dried, to the stage where it is firm enough to hold its shape but still soft enough to be modified, I refine the form and sculpt the holes."
Once it has dried completely, which takes a few days, she applies pigmented slip. After another drying session and some time in an electric kiln, the light fixture is wired and fully assembled.
---
General Life
General Life's dazzling Trifle stool looks every bit as luscious as the traditional English pudding that inspired it, its natural pigments, plaster and hand-turned ebonized wood feet crafted to resemble layers of "sponge, jam, jelly, custard, cream, sprinkles and sherry," say Ivan and Heather Peak Morison, who founded General Life and collaborate under the name Studio Morison.
Like making a perfect trifle, crafting the stool requires time-honed skills. "The layers are all hand-woven into the plaster," the British design duo explain, "and it takes years of practice to control the patterns and hues." Concentrating on the complexities of this technique provides a respite "from the personal, societal and climatic catastrophe of the moment," they assert, citing the "repetition, process and mastery; the fold and the pleat; the comedy of failure and the refuge of escape."
---
Jaime Hayon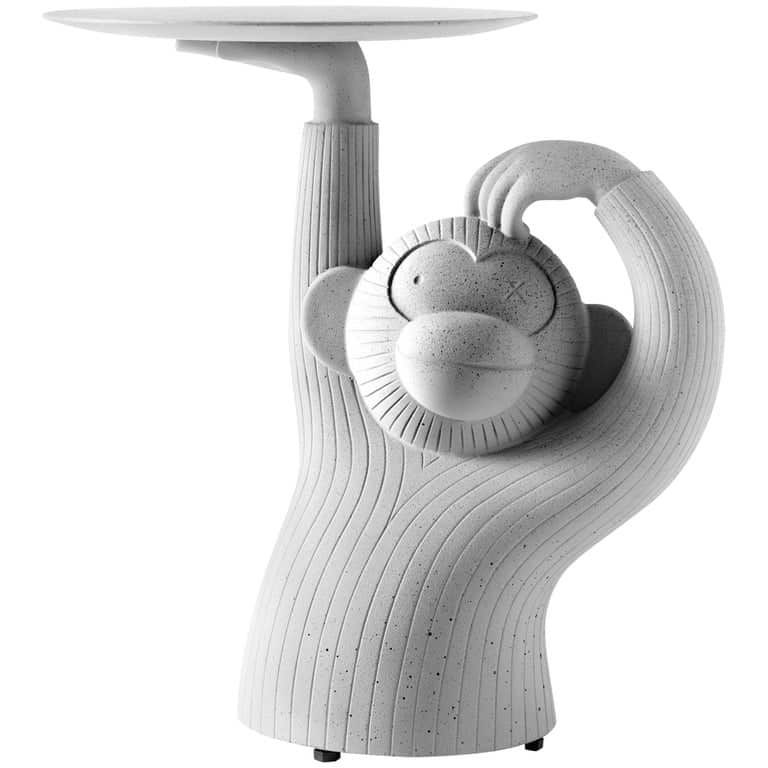 Known for his ability to straddle the line between art and design, the prolific Spanish creator Jaime Hayon is an acknowledged master of the whimsical.
Hayon's fantastical Green Chicken rocking chair made the cover of Russia's Watch magazine, while his 2017 outdoor project, "Merry Go Zoo," infused Atlanta's High Museum of Art with animalian fun. "The sculptures in my work are joyful and positive and inspired by playfulness," he told us when the High show opened.
Hayon is still at it, most recently teaming up with BD Barcelona Design to create monster-shaped vases; cabinets and tables with mismatched legs; and concrete monkey side tables. "I'm hoping they can spread some joy," he says.