As visually powerful as Zoë Powell's sensuous Magnolia 05 vessel is, its layered meanings are even more profound, reaching deep into the alluvial deposits of Minnesota's river valleys. That's where Powell and Mitch Iburg, ceramists and partners both in life and in the St. Paul–based Studio Alluvium, dig the clay Powell uses to sculpt ethereal pieces like those in her latest series, "Magnolia," commissioned by the Brooklyn-based gallery Satyricon and offered on 1stDibs.
After screening the raw, high-iron material for stones (which she sometimes crushes and mixes back in), the 29-year-old artist hand builds forms imbued with significance that is both personal, harking back to her peripatetic childhood, and universal.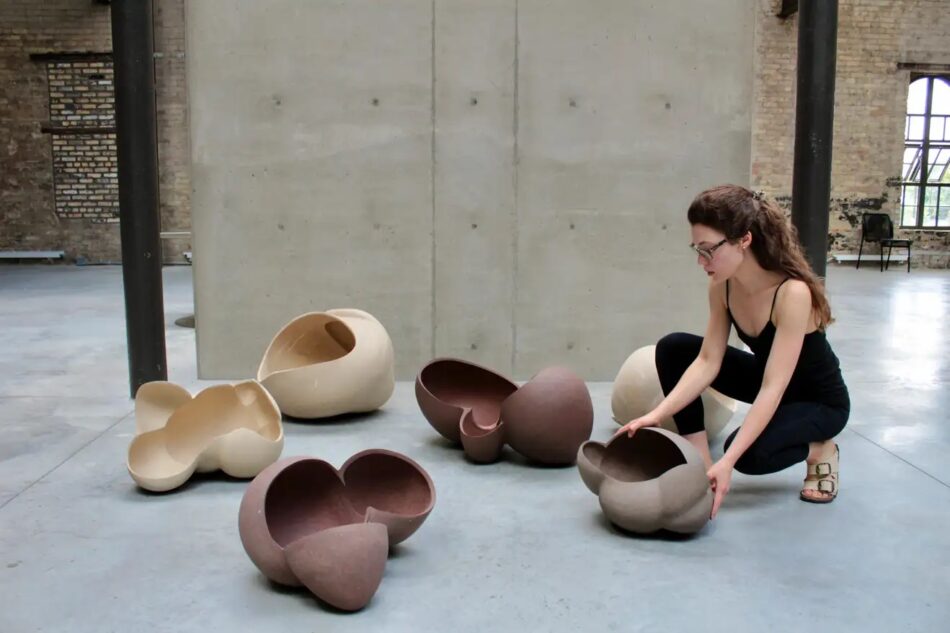 Dina Alfano, Satyricon's owner, discovered Powell's work on Instagram. Captivated, she commissioned the smaller-scale "Perianth" series and then, more recently, the six-piece "Magnolia" series. Some pieces from the latter collection, like the 05 — measuring 20 inches across and weighing more than 30 pounds — are substantial enough to hold their own on a pedestal. They're "also ideal for floor placement," the gallerist says. "The artist envisions them integrated within the living environment, considered perhaps a piece of furniture."
What drew her to Powell's work was "two pronged: the purity of both form and material," Alfano says. "Her works are unglazed, unadorned, unembellished, which allows the material to be celebrated. The level of refinement she achieves in the end product, from a crude material she harvests and processes herself, defies expectation." Each piece is meticulously matte finished by hand with diamond sandpaper, the exposed interior landscape as important as the outer.
Why the name Magnolia for pieces that don't necessarily suggest a tree or flower? The artist experiences the magnolia as "an enduring symbol of home, and longing for home," Alfano says. "She moved around a lot in her youth, but there was always a magnolia tree in the front yard."
Powell's favorite stage of production is cutting the rim, whose thickness varies along its length. It is "never a hard geometric line," she explains in an evocative five-minute video commissioned by Alfano. "It's a fluid movement that transitions easily from one space to the next.
"I do this because of how it looks visually and because I feel there is no hard division between one's interior world and one's external experience," Powell continues, revealing how her poetic vessels make manifest the essence of human experience. "That line is meant to be blurred."