Allan Dudley Jones Furniture
Renaissance Man Antiques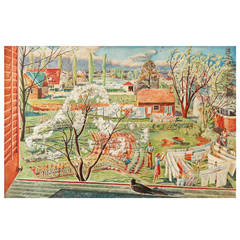 H 34 in. W 4 ft. 1.5 in. D 1 in.
Dimensions:
H 34 in. W 4 ft. 1.5 in. D 1 in.
Dealer Location:
Philadelphia, PA
Materials & Techniques:
Tempera
"Fresh New World," 1944 Masterpiece Depicting Earl...
Allan Dudley Jones
Vintage 1940s American Art Deco Paintings
Tempera
A true masterpiece of genre painting, with its depiction of idyllic World War II-era suburban life filled with children playing and adults attending to their homes and chores, this piec...