Wedgwood Serveware, Ceramics, Silver and Glass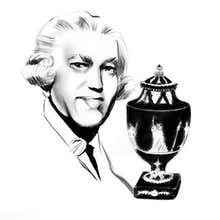 Arguably the most celebrated of all English ceramics makers, Wedgwood was founded in 1759 by Staffordshire potter Josiah Wedgwood (1730–95). The company is famed for its Jasperware — molded Neoclassical stoneware vases, plates and other pieces, inspired by ancient cameo glass, featuring white figures, scenes and decorative elements set in relief on a matte colored background. The best-known background hue is light blue, but Wedgwood's iconic silhouettes also appear on green, lilac, yellow, black and even white grounds. Some pieces use three or more colors.
The Wedgwood firm first came to prominence for its tableware, which quickly gained favor in aristocratic households throughout Britain and Europe. In 1765, Wedgwood was commissioned to create a cream-colored earthenware service for Queen Charlotte, consort of King George III. The queen was so thrilled with her new china that Wedgwood was given permission to call himself "Potter to Her Majesty," and the decorative style became known as Queen's Ware. Not to be outdone, Catherine the Great of Russia commissioned her own set of Wedgwood china in 1773. Nearly 200 years later, the firm created a 1,200-piece service for the coronation of Queen Elizabeth II. In recent years, leading designers including Jasper Conran and Vera Wang have collaborated with Wedgwood — in the tradition of such distinguished 18th century artists such as the painter George Stubbs and metalsmith Matthew Boulton.
From plates and other dinnerware to decorative items like urns, cachepots and candlesticks, Wedgwood designs lend a traditional air to Anglophile interiors. And even if you have to make your own tea, you may find it comforting to sip it from a delicate cup that was manufactured in the same Stoke-on-Trent kiln that produced Her Majesty's tea service. Be sure to keep your pinky raised.
Wedgwood serveware, ceramics, silver and glass for sale on 1stDibs
1stDibs has Wedgwood servingware,
ceramic
s, silver and glass available for sale. These distinctive objects are often made of
ceramic
s and are designed with extraordinary care. There are many options in our collection of Wedgwood - servingware,
ceramic
s, silver and glass, although
gray
editions of this piece are particularly popular. We have 176 vintage editions of these items in-stock, while there is 0 modern edition to choose from as well. Many original Wedgwood serving dishes,
ceramic
s, silver and glass were created in the
Neoclassical
style in the
United Kingdom
during the
19th century
. Many customers also consider servingware,
ceramic
s, silver and glass by
Herculaneum Pottery
,
Ralph Wood Pottery
and
Royal Crown Derby Porcelain
if you're looking for additional options. Wedgwood serveware,
ceramic
s, silver and glass can vary in price depending on size, time and other attributes. The price for these items starts at
$94
and tops out at
$285,000
, while pieces like these can sell for
$1,195
on average..
Creators Similar to Wedgwood