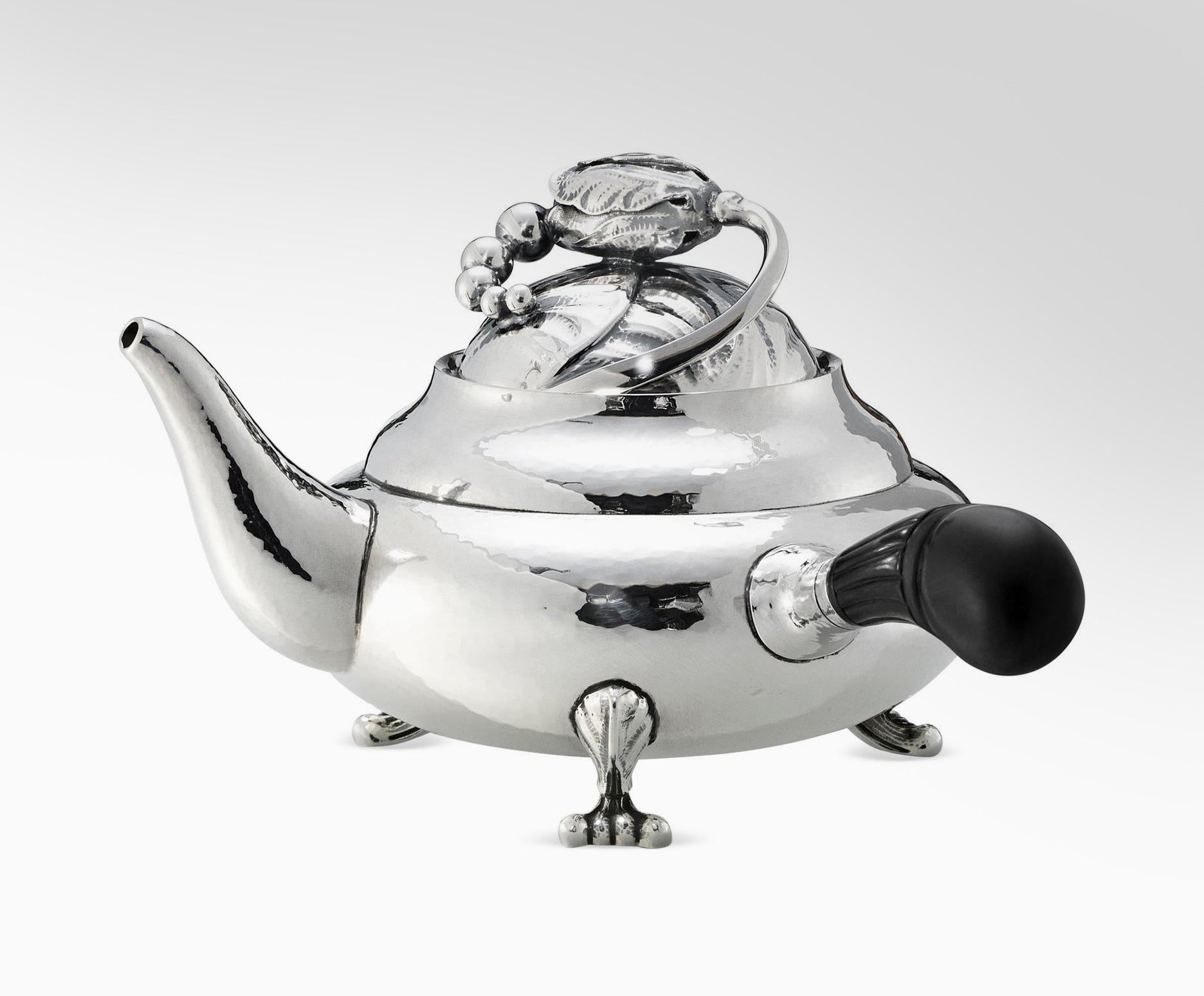 About the Design
The very first of Danish silversmith Georg Jensen's teapots, the Blossom teapot exemplifies the natural motifs and Japanese influence central to the Art Nouveau movement, which spread across Europe at the turn of the 20th century. Jensen (1866–1935) brought the first Blossom teapot to market in 1905, just a year after founding his eponymous silversmith workshop in Copenhagen. Before finding his calling working in silver, Jensen had trained as a sculptor and ceramicist, studying at the Royal Danish Academy of Fine Arts and going on to work as a modeler in a porcelain factory and later started his own studio. In 1901, though, the designer changed paths, embarking on an apprenticeship with Mogens Ballin, the master silversmith who also had a background as a painter.
This kind of varied artistic background may just be what set Jensen apart: His best work displays a sculptural quality and attention to artful, often ornate, detail. The Blossom teapot epitomizes this, mixing a variety of symbolic design elements for a one-of-a-kind serving piece. Squat and low-slung at just over four inches tall, the teapot stands in contrast to the more slender silhouettes of traditional models. It's set on "toad's feet" and topped with a magnolia — not in glorious bloom, but in the hopeful form of a young bud — a flower symbolic in Japanese culture that also acts as a handle. Such a marriage of decoration and functionality speaks to the Art Nouveau ethos of incorporating natural elements wholly into a design and not purely as decoration.
The Blossom teapot also showcases a technique that would become one of Jensen's trademarks: delicate hammer marks across the surface of the silver, reducing its shine and lending it an organic quality that stands in contrast to the pristine reflective surface of traditional polished-to-perfection tea services.
Georg Jensen continues to manufacture the Blossom teapot today, decades after the death of its founder, with just one notable change: The original teapot featured a handle of carved ivory; bans on the sale of the material prompted a swap to ebony, whose dark hue makes a dramatic contrast to the soft glow of the silver. The Blossom teapot is made by the company's most skilled silversmiths, who hand-hammer the body, solder the feet and magnolia bud top and attach the handle and spout to precise specification to ensure easy flow of tea. Some things no machine can imitate.
Georg Jensen Blossom Teapot