F​rancis D'Haene grew up in the small (population 75,000) city of Kortrijk,​ Belgium,​ which in the 1960s built a large convention center. Needing to fill the space, Kortrijk created a biennial design fair called Interieur. D'Haene's father — a local businessman — helped launch the event, which brought some of the world's best designers to town. In the early years, Giò Ponti, Verner Panton, Raymond Loewy, Jean Prouvé, Alessandro Mendini, Philippe Starck and other greats in the field were guests of honor. D'Haene doesn't remember seeing any of them, but he remembers the fair itself, which was definitely not democratic. There was a selection committee, and "only the best design got in," he says, adding, "What I found unbelievable as a child was the amount of effort that was put into the design of every booth. They were perfect, small pieces of architecture."
Asked whether the fair influenced his career choice, D'Haene says he never thought about it. But how is that possible? D'Haene has built his Manhattan firm, D'Apostrophe, on his reputation as a selection committee of one, allowing only the best pieces into his clients' homes. And he says he thinks of his rooms as "perfect, small pieces of architecture." Pressed, the reserved Belgian allows this much: "Attending every two years definitely made me appreciate good design."
In his own career, he has demonstrated that appreciation, and been rewarded for it. His current projects include the renovation of an Upper East Side apartment for a French fashion magnate and a Brooklyn townhouse for a musician and his young family; he is also designing the interiors and exteriors of several new houses in the Hamptons, a house in Santa Monica and a high-end restaurant in Chicago. A perfectionist, he says of himself and his small firm, "There is no limit to the number of times we will design and redesign."
"Every client is different, and we do not copy and paste,"  D'Haene explains. Still, he adds, "We will always stay in the modern and contemporary aesthetic — traditional styles are not our cup of tea."
Sometimes, though, D'Haene has to work in an existing house with traditional details. In that case, he says, "we purify it," by which he means removing unnecessary ornament, including moldings. When he can, he gets involved as the architects are drawing plans, so his stamp is on the house from the beginning. Right now, he's working on the interiors of a house in East Hampton by Ike Kligerman Barkley, a firm known for its shingle-style architecture, but he insists "there's a great synergy." Collaborating with partner Tom Kligerman, he says, the ideas go back and forth, allowing D'Haene to "give the house a modern twist."
Going modern was harder in Montana's Yellowstone Club, a 15,200-acre resort where every house has to look like a mountain lodge. A New York family brought in D'Apostrophe to design the interiors of its 7,000-square-foot house, which seemed to be calling out for wagon-wheel chandeliers.
But the clients, for whom D'Haene had already designed homes in New York and the Bahamas, didn't want a themed interior, Western or otherwise. D'Haene winked at the Montana aesthetic, selecting a buffalo head made by Korean artist Yong Ho Ji out of old tire treads to hang over the living room fireplace. And for the upstairs foyer, he chose a leather Cow bench by the Dutch artist Julia Lohmann. But mostly he installed his usual mix of sophisticated items, making them guests of honor at his own design fair. They include, in the dining room, white-linen-covered chairs by Sérgio Rodrigues around a whitewashed oak table. The living room is centered on a pair of cognac-colored leather sofas by Living Divani.
The pieces are not only unexpected on a mountainside in Montana, but they also have a lot of personality, holding their own against the house's extensive display of timber.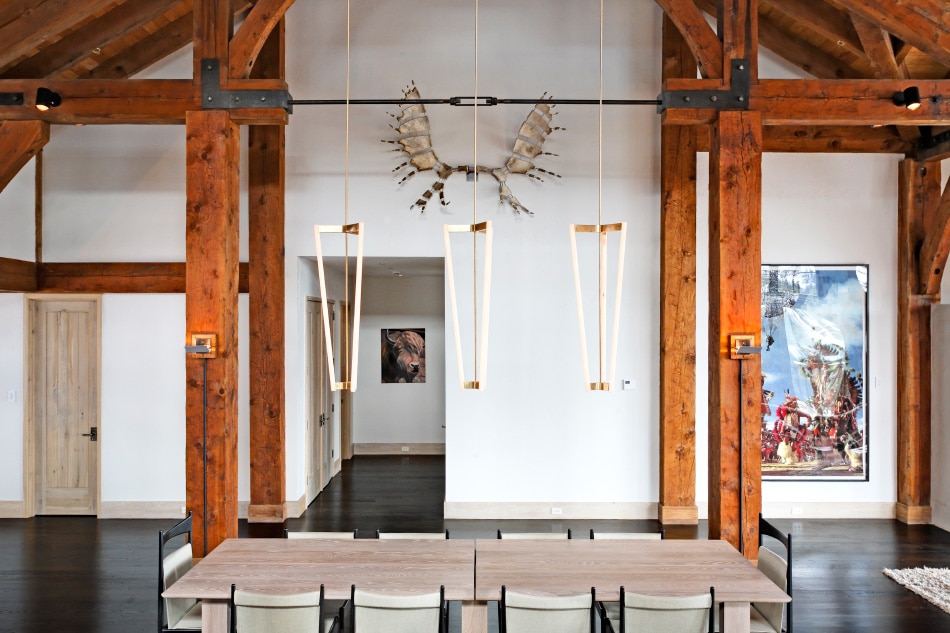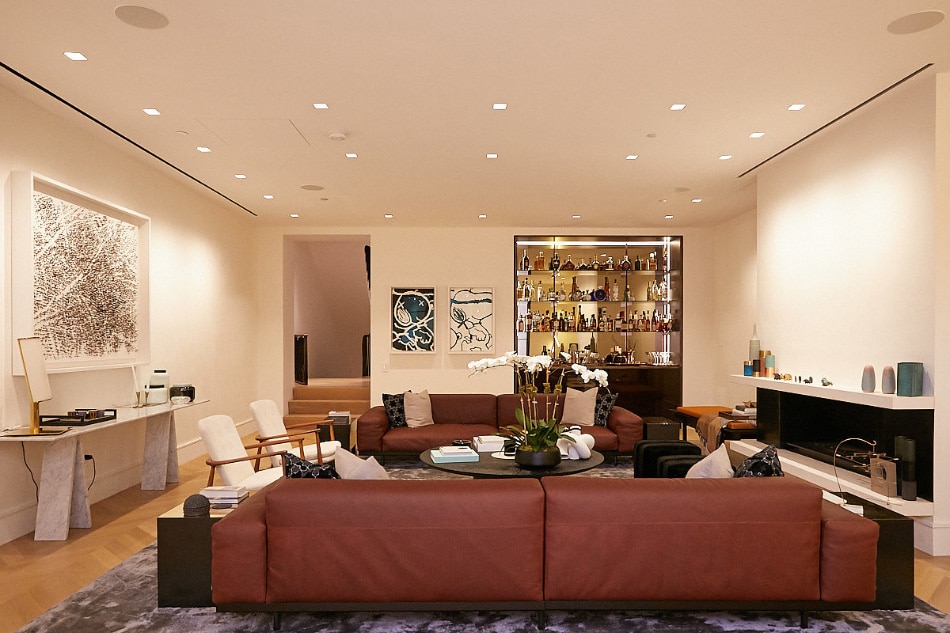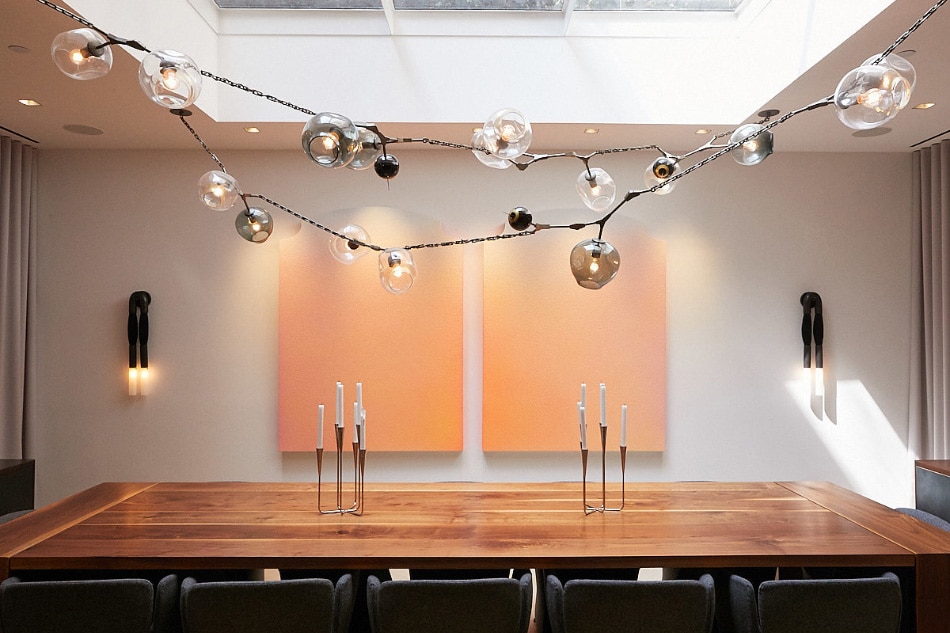 Closer to his Tribeca office, D'Haene recently designed a loft in a just-renovated building for new clients. "It's always very exciting when a young couple buys their first home," says D'Haene. The rooms had large windows set into metal recesses and vaulted brick ceilings, which provide a lot of architectural drama. For the living room, he chose a Christian Liaigre sofa, a George Nakashima coffee table and a Charlotte Perriand daybed. The clean-lined dining room is, he says, "a little more Danish," with Hans Wegner chairs around the table. A millwork maven, D'Haene gave the master bedroom a bookcase unit that frames a Nakashima desk. He designed the bed and nightstands, limiting the room to neutral colors — "nothing too loud, so they can sleep well."
D'Haene has also brought his relaxed, modern look to two restaurants owned by Gabby Karan de Felice (whose mother is Donna Karan), both named Tutto il Giorno, the first in Southampton and the second in Manhattan. There, he wrapped linen banquettes around old and new tables in weathered oak, for a casual but sophisticated look.
Back in his Kortrijk days, D'Haene's parents wanted him to work for the family glass business; he tried it for a few years before enrolling in architecture school in Brussels. In 1992, he moved to New York, thinking he'd observe the design scene for just a few months, but found himself wanting to stay. To support himself, he worked as a freelance draftsman, then took a job working for Mark Zeff, the illustrious interior designer. He learned the ropes and, after three years, was ready to go out on his own.
In 1996, D'Haene opened D'Apostrophe (pronounced da-pos-trofe), named for the first letter and the apostrophe in his last name. ("People remember it," he jokes, "because we have to repeat it so many times.") At first, he worked alone, but his staff has grown to about 15 people, a number, he says, that suits him perfectly. Running a firm that size, he says, he can promise clients that he'll be at every meeting: "I won't just be handing the project off."
These days, he is also seeking commissions in Southern California, where, he correctly observes, "more and more creative people are moving." He opened a small office: two people operating out of NeueHouse, in a classic mid-century building on Sunset Boulevard. But D'Haene, who moved west once, has no plans to migrate again.
Married with three children (his wife is the ceramic artist Jane D'Haene), the 52-year-old lives in a townhouse in Brooklyn that he renovated two years ago but still hasn't finished decorating. "I can't afford myself," he jokes, adding more seriously, "Clients come first."
The house has several artworks from Belgium, including a plaster wall sculpture by Bram Bogaert that for decades presided over his parents' living room in Kortrijk. "When I imagine it there," says D'Haene, recalling his childhood, "then all the other things around it come into focus."