If you ask us, the scariest thing about Halloween is deciding on a costume. There is, after all, a lot of anxiety involved in coming up with a well-executed, original idea that perfectly captures your fantastic taste and blithe wit. But fear not: a wealth of inspiration can be found among the thousands of portrait photographs on 1stdibs. To help you get a head start, we selected 11 costume-ready images from decades past. From the buttoned-up glamour of First Lady Jacqueline Kennedy to the eccentric ensembles of David Bowie, get inspired by chic interpretations of Halloween costumes — approved and accessorized by 1stdibs.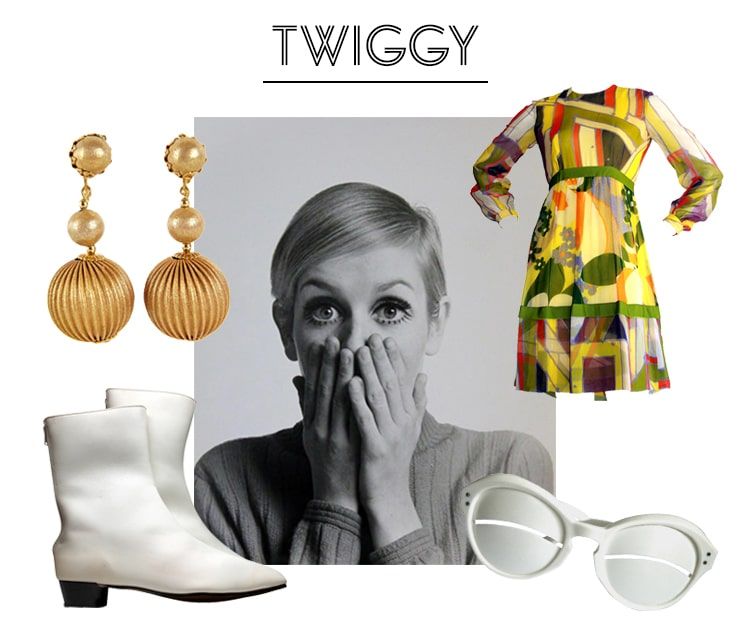 Famed Brit model and muse Twiggy is the poster girl for the swinging sixties. Pair go go boots with mod sunglasses, a bold mini dress and the longest pair of flash eyelashes you can get your hands on.
Go-Go Boots by Bootinos; "Twiggy" Dress by Rodrigues; Gilt Ball Earclips by Miriam Haskell; André Courrèges Lunette "Eskimo Eclipse" Sunglasses
---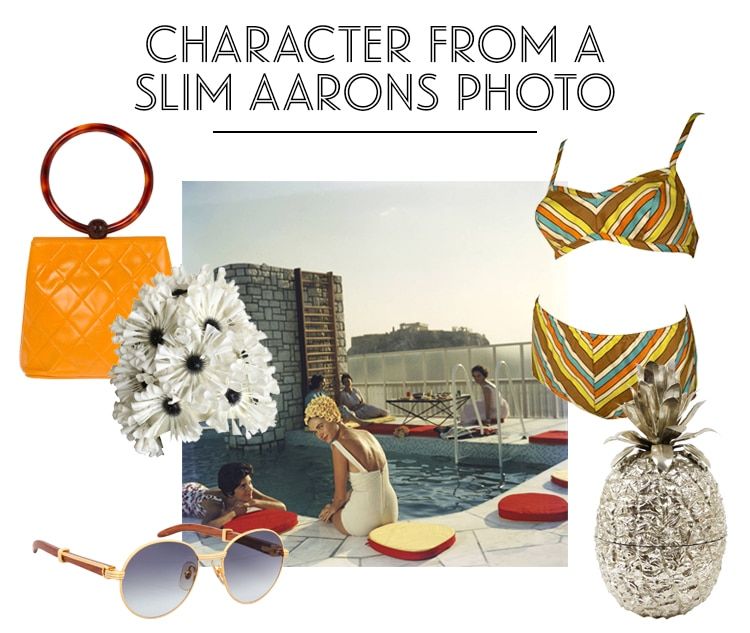 We crave Slim Aarons' summery jet-set photography all year long. Channel poolside perfection with a vintage bikini, retro swimming cap, glamorous sunglasses and — of course — a cocktail.
1950s Floral Swimming Cap; 1990s Cartier Bagatelle Palisander Sunglasses; 1970s Pineapple Ice Bucket in the Style of Mauro Manetti; 1960s Chevron Striped Cotton Bikini; Quilted Handbag by Chanel
---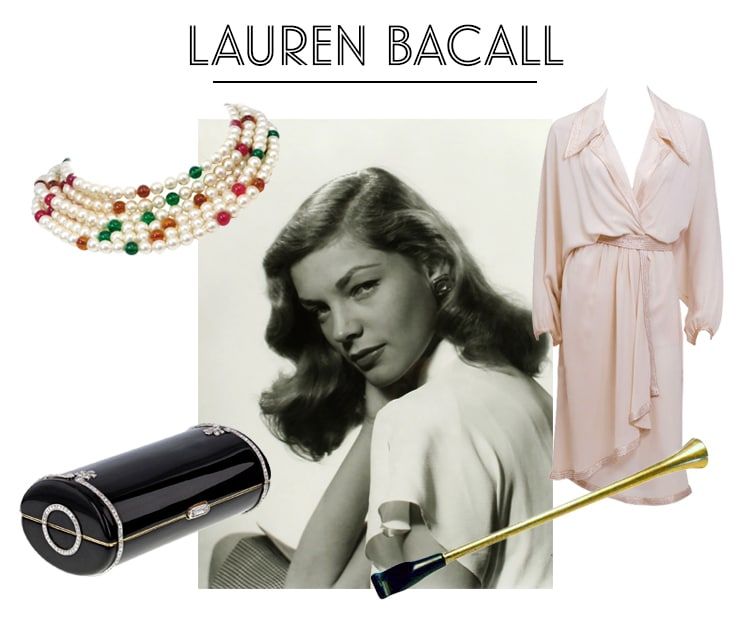 "Lauren Bacall" by Philippe Halsman, 1944, offered by The Benjamin Gallery.
Pay homage to the late Lauren Bacall with a Chloe dress that comes straight from the leading lady's closet. A few smoking accessories will help you approximate Bacall's famously smoky voice.
1980s Dress by Chloe; 1980s Pearl and Gripoix Necklace by Chanel; 1930s Gold Cigarette Holder; 1920s Art Deco Enamel and Diamond Vanity Case by Cartier
---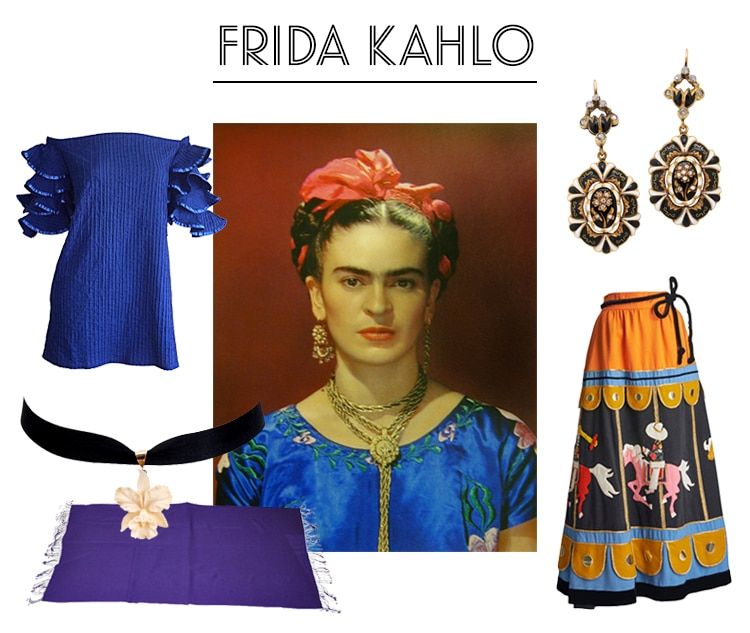 Frida Kahlo's vibrant spirit calls for vibrant attire. Layer a bright-colored blouse and traditional Mexican skirt with a vintage pashmina, delicate dangling earrings and a floral necklace to match.
Nepalese Silk Pashmina; Tiered Ruffle Mexican Blouse by Tachi Castillo; 1970s Maxi Skirt by Malcolm Starr; 1940s Carved Bone Iris Pendant; 1950s Victorian Revival Enamel, Gold and Diamond Earrings
---
Want to rock the Rocketman look? Start with aggressively tall platform shoes and over-the-top rhinestone sunglasses, then add a sharp jacket and flat-brimmed hat. Piano also recommended.
1980s Jacket by Yves Saint Laurent; Haute Couture Boater Hat by Givenchy; 1990s Court Shoe by Vivienne Westwood; 1960s Rhinestone Sunglasses by Dr. Peoples; 21st Century Bechstein B175 Grand Piano
---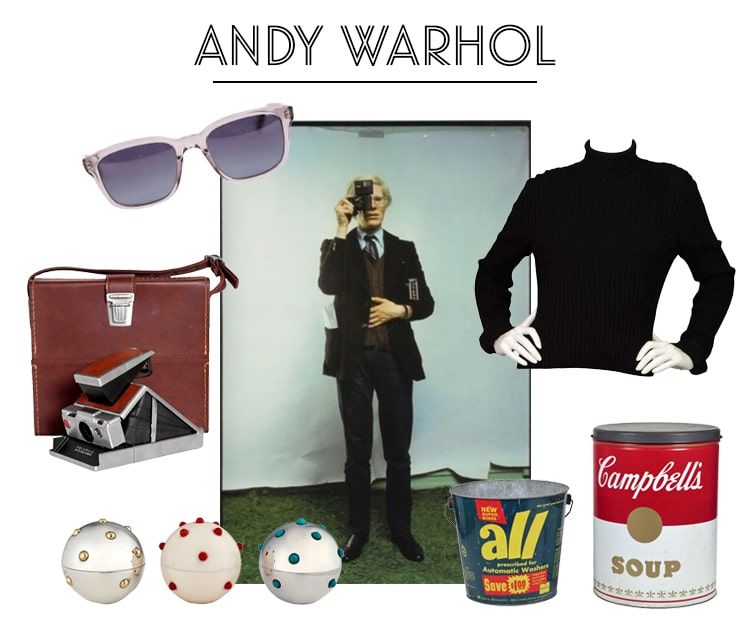 "Andy Warhol, New York 1976" by Annie Leibovitz, 1976; offered by Pink Shrimp Fine Art.
The rudiments of an Andy Warhol costume can easily be assembled with dark sunglasses and a black turtleneck. Then, go the extra mile and tote around a few of the artist's favorite things: a vintage camera, miniature pill boxes and 1960s advertising props.
1970s Polaroid SX-70 Camera with Accessories; Black Ribbed Turtleneck by Chanel; Jean Schlumberger for Tiffany & Co. Pill Boxes; Grey Polarized Sunglasses by Oliver Peoples; Pop Art Advertising in the Style of Andy Warhol, 1966
---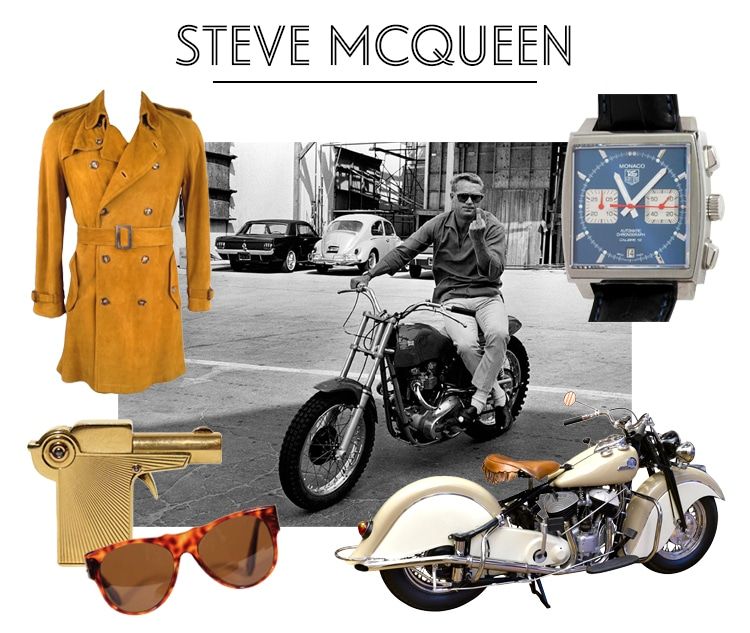 "Steve McQueen, Metisse" by John R. Hamilton, 1966, offered by Morrison Hotel Gallery.
Hollywood heartthrob Steve McQueen was an expert in looking dapper and dangerous at the same time. Look sharp with a suede coat, Persol sunglasses and a chronograph watch. Intimidate with a gun-shaped lighter and a 1940s-era motorcycle.
Tortoise Brown Andrea 52 Sunglasses by Persol; Suede Belted Coat by Michael Kors; 1910s Gold Lighter by Cartier, ca. 1916; Stainless Steel Steve McQueen Monaco watch by Tag Heuer; Indian Chief Motorcycle, 1964
---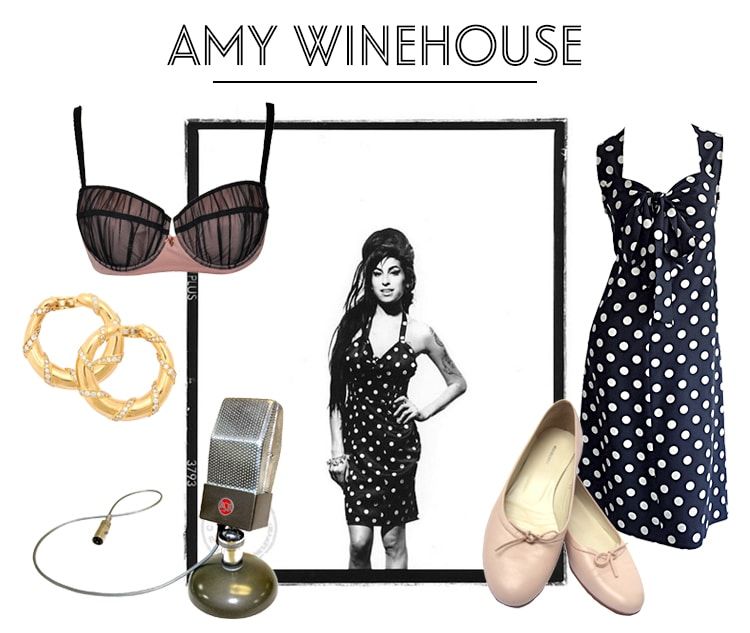 "Amy Winehouse, 2008" by Ross Halfin, 2008, offered by Morrison Hotel Gallery.
The acclaimed documentary Amy reminded us that the British chanteuse had a personal style almost as distinctive as her soulful voice. Capture her particular hybrid of 1950s rockabilly meets North London street style with a polkadot dress, vintage lingerie, ballet flats and gold hoops errings.
1980s Dress by Yves Saint Laurent; Diamond and Gold Hoop Earrings by Cartier; Blush Pink Leather Ballet Flats by Burberry; 1990s Lace Bra by Moschino; 1930s Vintage Studio Microphone by RCA
---
Jackie Kennedy epitomizes American elegance. Capture her feminine poise with a pair of oversized black sunglasses, a thick rope of pearls and a neatly tailored skirt suit.
Sunglasses by Chanel; 1960s Couture Suit by Madame Gres; Opera Length Pearl Necklace; Faux Diamond and Pearl Earrings; 1990s Silk Scarf by Celine; 1960s Black Handbag by Gucci
---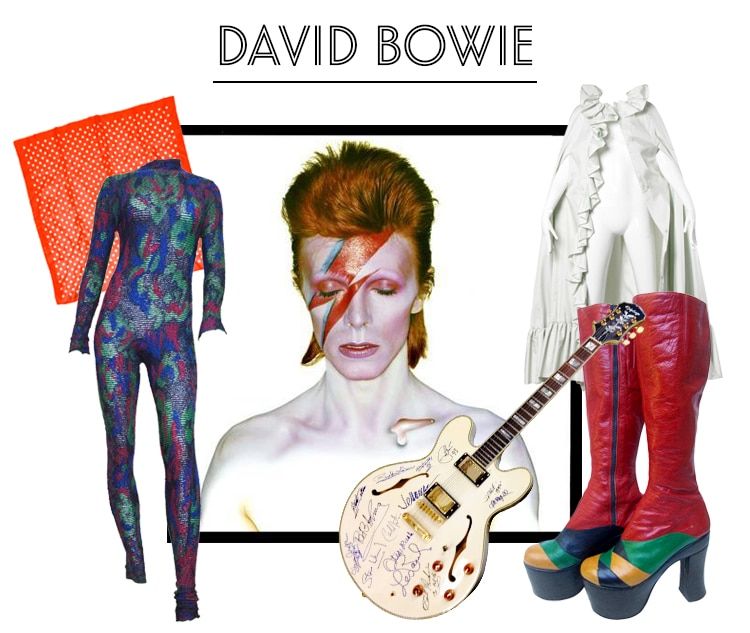 Rock legend David Bowie was famous for pushing the envelope when it came to personal style. Channel an out-of-this-world Starman-inspired ensemble with a kaleidoscopic bodysuit, ruffed cape and knee-high platform boots.
1970s Knit Bodysuit by Missoni; Mint Green Cape by Donald Brooks, 1975; 1970s Leather Platform Boots; 1970s Polka Dot Silk Scarf by Christian (Paris); 1990s Ephiphone Sheraton Guitar Autographed by Music Legends
---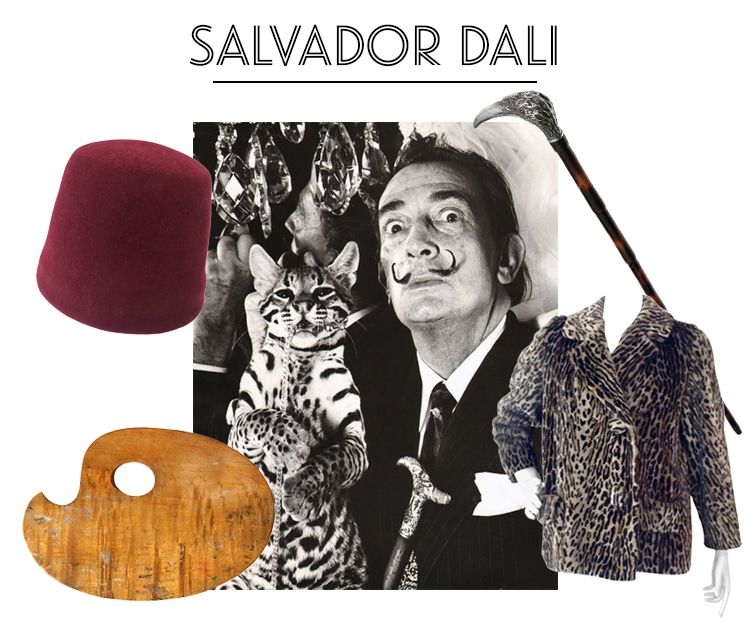 "Salvador Dali, 1964" by Pfizenmaier, 1964, offered by Jackson Fine Art.
There's something spooky about the eccentric artist Salvador Dali. His hair-raising mustache is arguably the most important part of this costume, but you can pretend to be the painter with a vintage palette, fez hat, leopard coat and cane.
1950s Faux Fur Leopard Print Jacket; 1930s Birch Painter's Palette; 1970s Fez Hat by Yves Saint Laurent; Cane with Silver Bird Head Handle
---