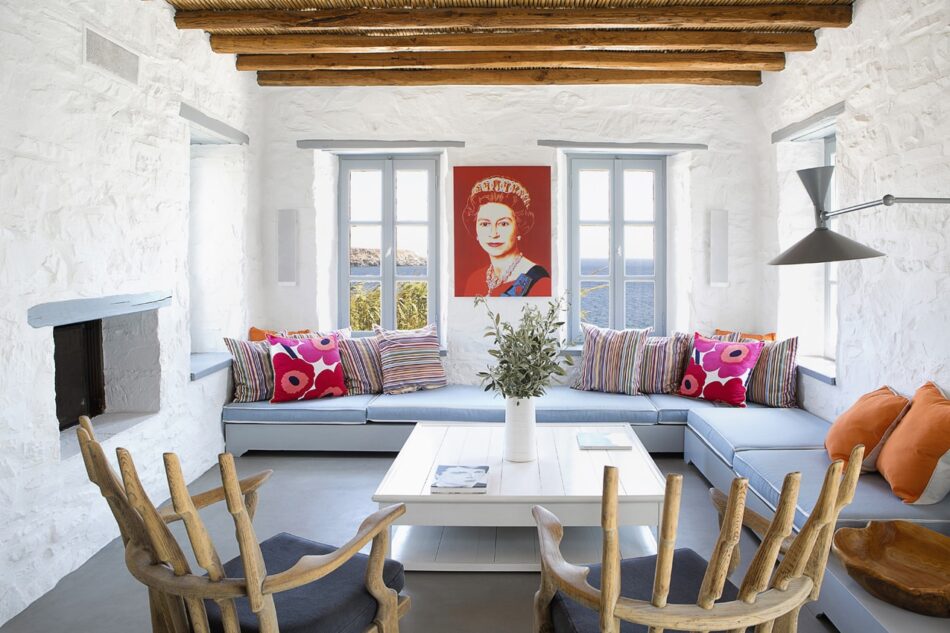 The unmistakable clarity of Greek light informs this loungey living room, found in Pembrooke & Ives principal Andrew Sheinman's own unassuming Aegean island retreat. The home's traditional architecture and vernacular building materials couldn't be simpler, a stylistic departure from the luxurious residential projects — in spots like Palm Beach, Aspen and the Hamptons — for which the firm is best known.
From the concrete floor underfoot to the raw bamboo slatted ceiling, texture is both king and queen. Actually, Andy Warhol's Queen Elizabeth II is queen — and a nod to Sheinman's British heritage. Elsewhere, the room speaks French with a polished accent: Guillerme et Chambron armchairs join a Le Corbusier articulated light for reading, while just out of view are a Mathilde Penicaud console and lamp.
"The furniture is an eclectic mix of vintage and modern pieces that gives a contemporary twist to the interior," Sheinman explains.