In the pandemic era, a "desk" may be whatever surface you can work on in an alcove or guest bedroom. So, we must remind ourselves that the piece can be noble and reach great heights of artistic achievement: Just look at the Regence-style marquetry writing desk offered by Adrian Alan Fine Art & Antiques, in London.
Made around 1870 in France but incorporating elaborate German marquetry dating to the 17th century, it is a glorious hybrid of European styles executed in ormolu and wood.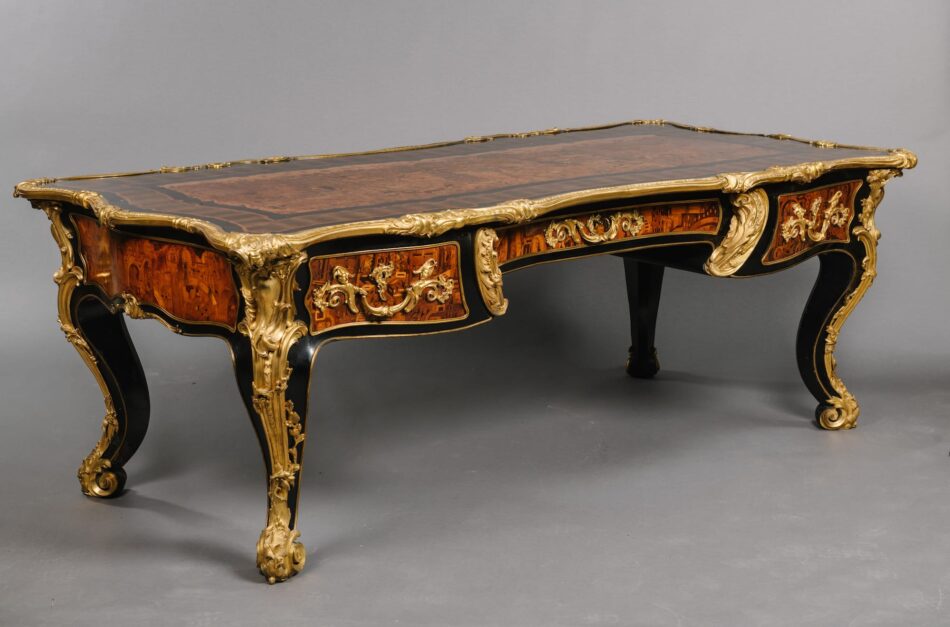 "The scale is distinctive because it's very large," says James Graham, director of the gallery, which specializes in the finest French furniture of the 19th century.
The 88-inch-wide piece pulls off the trick of looking both massive and elegant. And it boasts yet another distinction: "It's a true partners desk," Graham says, "with drawers on both sides." (Attention all couples working from home!)
The gleaming gilt-bronze mounts are original. Like the cabriole legs capped by cartouches, they are in great condition.
Graham notes that the marquetry top from an earlier period is what makes it truly special — normally such a desk would have plain leather there. "The 19th century was a melting pot of design, and people reused elements if they were exceptional," he explains.
The composition depicts knightly exploits, fair maidens and hunting parties. Anyone trying to accomplish mundane tasks at this remarkable piece of furniture can escape into another realm for a moment by merely glancing down.