In the early 2000s, Maarten Baas, a young Dutch artist-provocateur working on his graduation project at the prestigious Design Academy Eindhoven, took a reproduction of a tall ladder-back Hill House chair originally created in 1888 by pioneering Scottish modernist Charles Rennie Mackintosh and set it aflame. Then, he preserved the chair's blackened skeleton with clear epoxy resin.
For his audacious U.S. debut exhibition, "Where There's Smoke," at Murray Moss gallery in Manhattan's SoHo neighborhood in 2004, Baas showed the Hill House chair alongside more than 20 other burned reproductions of modern design classics by the likes of Charles and Ray Eames, Antoni Gaudí, Gerrit Rietveld and Ettore Sottsass.
Dennis Freedman, a creative director at the time for W magazine and later for Barneys New York, was then a few years into an all-consuming design-collecting habit and stopped by the gallery the day before the show opened. "I was immediately drawn to the Hill House I chair," Freedman recalls. "I think it's the most haunting piece in the series, with a delicacy and fragility further intensified by its charred state."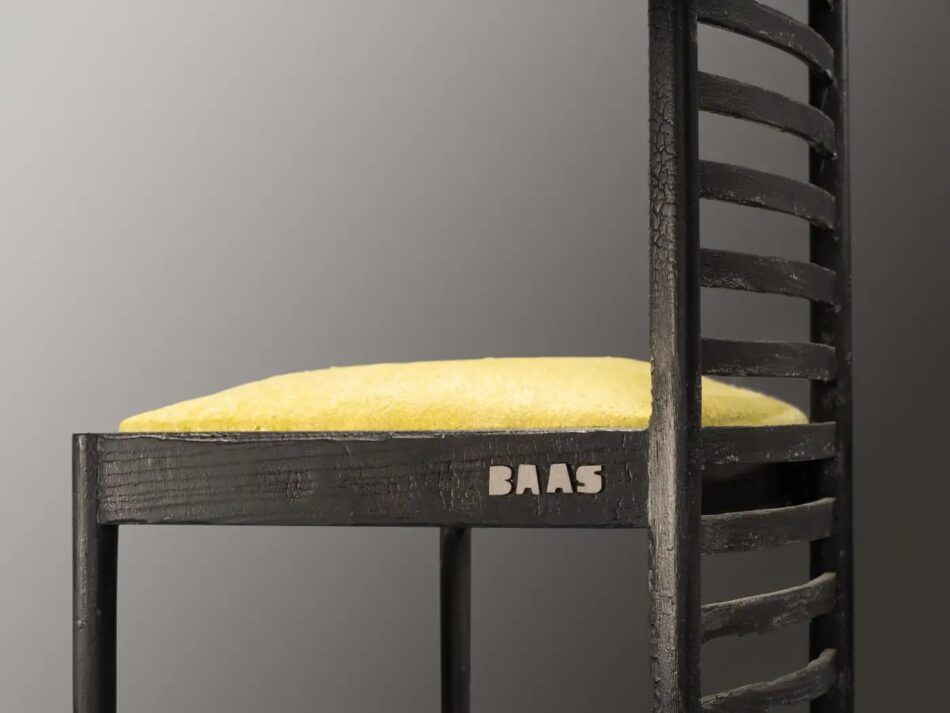 Baas's scorched Hill House I chair, with its (unburned) apple-green raw-silk and wool upholstered seat, is among more than 50 examples from Freedman's acclaimed collection currently on view at the Tribeca gallery R & Company through August 11. Alongside it are important and rare works by such design giants as Gae Aulenti, the Campana Brothers, Pierre Paulin, Shiro Kuramata and Joris Laarman.
"The idea of the exhibition, in a way, is to teach people how to collect," says gallery cofounder Evan Snyderman. "It feels like you're walking through someone's mind."
And through the history of design that Baas was so engaged with. Original chairs in the show by Rietveld and Gaudí are the same iconic designs that Baas transformed in his "Smoke" series, for example, and the material subversion and blackened surface of Hill House I echoes Alessandro Mendini's Celidonia armchair, which looks like patinated bronze but is actually painted wood and fabric.
Freedman sees a direct link between Baas's fiery experimentation and a 1974 performance piece for which Mendini set ablaze two identical chairs of his own design in front of the offices of Casabella, the influential Milanese design magazine. "It succeeded in blurring the line between art and design," he notes.
Baas did the same with his "Smoke" series, says Snyderman. "It was very radical. Baas chose famous design icons of the 20th century and burned them all. He was making a statement. He was burning modernism down."
In doing so, he created his own legacy. The Hill House I chair was "an act of transformation, of alchemy," says Freedman, explaining that Baas took "a worthless reproduction of a seminal object and turned it into a brilliant new work." One that will endure, Snyderman believes. "It is a very significant work. You'll see it in the history books."