When British-born furniture designer Andrianna Shamaris embarked on a year-long hunt for a New York City apartment, she had two nonnegotiable requirements: The apartment had to be in estate condition and it had to have views of nature. She also made clear that she wanted a restoration, rather than a renovation, project. When she finally found the perfect place on Central Park South, she enlisted architect Thomas Leeser to help her achieve her vision of an organic-modern retreat.
The first order of business was reproducing the original moldings, which were in such bad shape they couldn't be reclaimed. "I didn't want the new moldings to be perfect," Shamaris says. "Try explaining this to a contractor!"
The next step in preserving the character of the prewar home was to reinstall all the original crystal knobs on custom white resin doors, which hang on pivots rather than hinges. In another unique touch, the designer custom produced a wall covered in shell-encrusted teak to divide the kitchen and living room.
"I don't like the bourgeois look or anything too minimal, as that style lacks warmth," she says. "So, even though I might say less is best, having a few objects with a story behind them is far more interesting to me than a room full of objects."

---
Entrance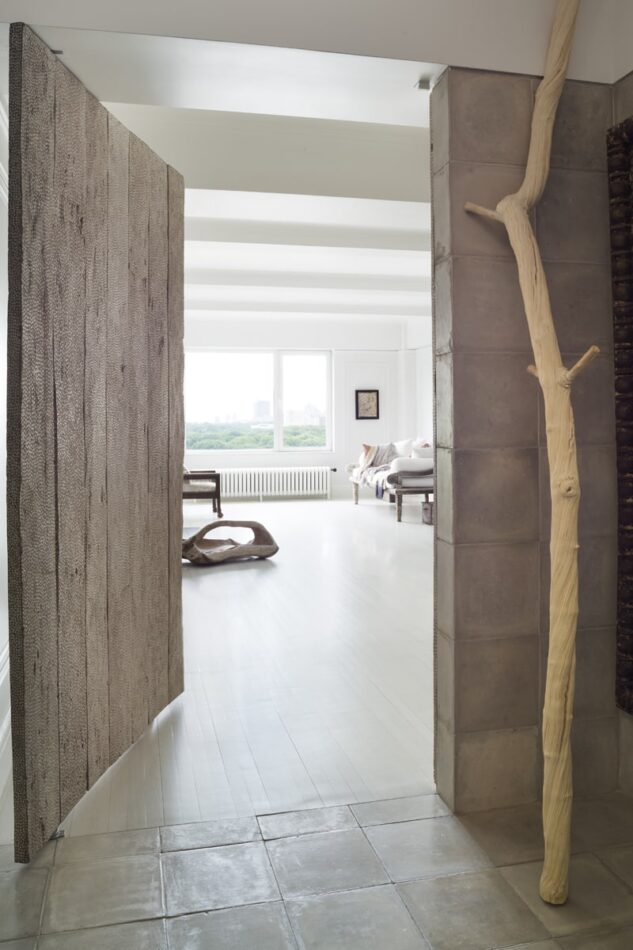 "The floor-to-ceiling liana vine is both sculptural and has a purpose," Shamaris says, referring to the sinuous piece leaning against the apartment's front door. To make the space feel welcoming, she installed clay-colored tiles in the entryway and added wooden pegs to the vine to have it serve as a coatrack. But the entry's real "wow" factor, Shamaris admits, is the view of Central Park.

Living Room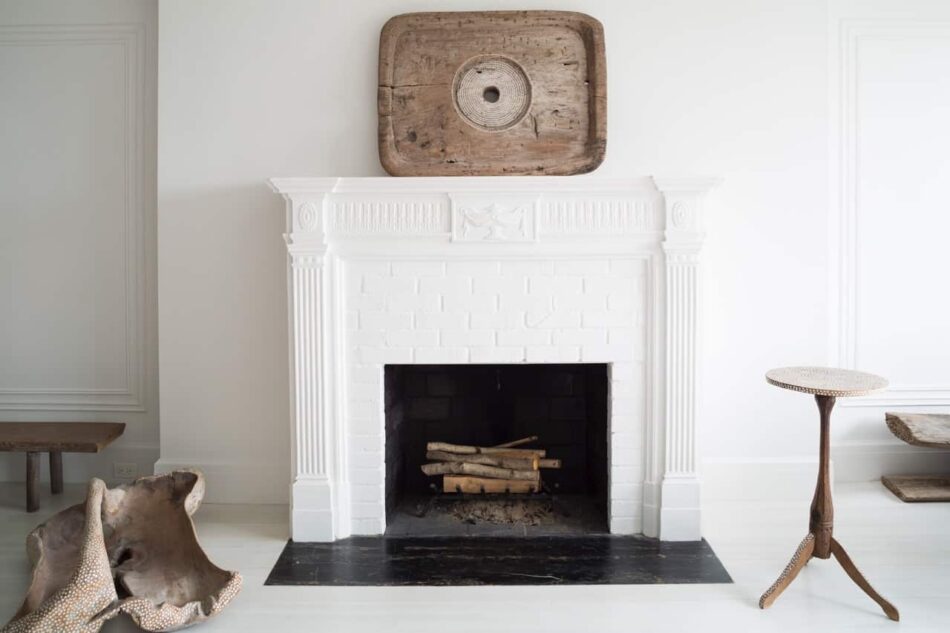 When Shamaris moved into the apartment, in 2008, the fireplace was sealed shut. She and architect Leeser decided to open it up, keeping the original black marble in front and painting the surrounding frame a strong white. "We left it very clean and wabi-sabi so that it blended into the wall," Shamaris says.
As her apartment attests, Shamaris is a believer in the Japanese concept of wabi-sabi, which finds beauty in imperfection. In fact, she has curated an entire collection based on this simple aesthetic and sells it on her 1stdibs storefront and in her New York showroom.
On the fireplace mantel, to enhance the rusticated feel of the room, Shamaris balanced the top of a 100-year-old Indonesian rice pounder, which she adorned with a shell inlay. Many of the pieces she sells bear similar details, added to antiques, most of which come from Sumatra, Indonesia.
The entire apartment is accented with pieces from Shamaris's studio in Sumatra, where she lived for nearly a year after a stint in sales at Ralph Lauren's Bond Street flagship. During her travels around the world, she collected antiques along with design inspiration.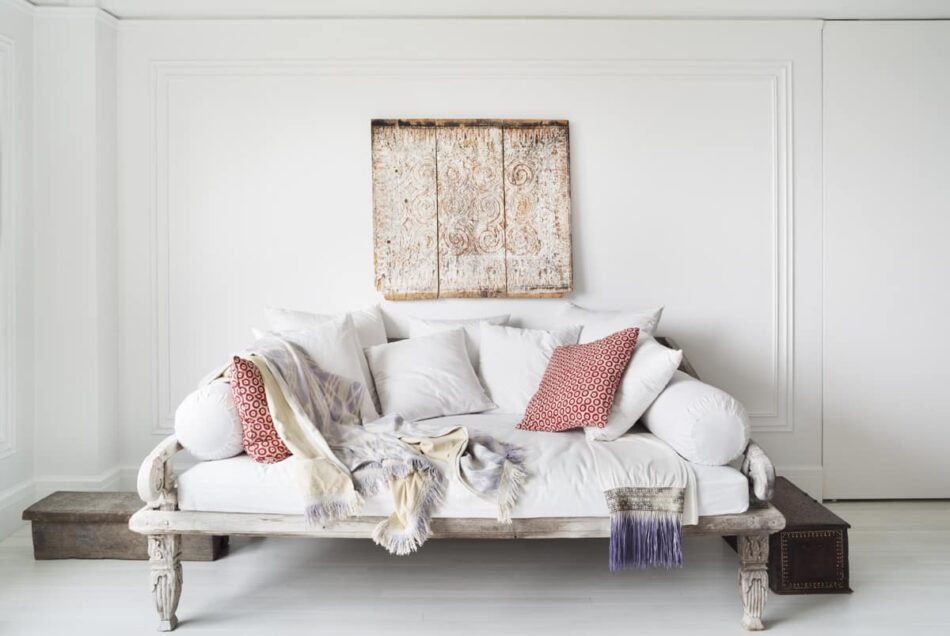 "I love this antique daybed because has beautiful hand-carved legs, yet it's very simple," Shamaris says. "The depth is fantastic, too," To achieve the grayish-white hue of the Indonesian-sourced frame, she left it outside to weather in the sun for more than a year. The red and white pillows are made from an antique textile found on the Indonesian island of Sumba.

---
Bedroom
"I did contemplate adding shell to these antique closet doors," says Shamaris, "but decided to leave them, because the original patina is so stunning with the natural imperfection of the wood. No door handles, just a simple line of pivoted closet doors for that minimal effect."
Like the rest of the apartment, the decor of the master bedroom is mostly white, but it's broken up by large areas of slightly distressed natural materials, such as the teak wall that doubles as pivoting doors.

---
Master Bath
The bathtub and sink are from Wetstyle's Cube collection. "I fabricated the vanity from white resin, and I have a petrified-wood stool that's part of my wabi-sabi collection," Shamaris says, describing the minimal decor in her bathroom. "I decided to not have any fixtures installed, which further emphasizes the minimal aesthetic." A slender window reveals a slice of Central Park just across the street.

---
Dining Area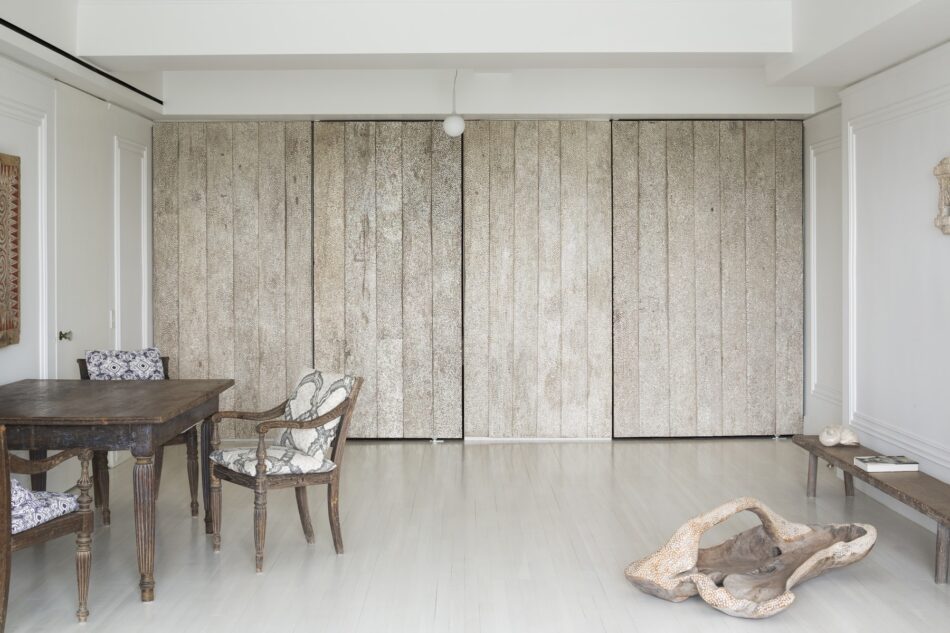 In the simple dining area, full-height shell-encrusted-teak pivot doors conceal the kitchen and apartment entrance. An antique dining table is surrounded by three colonial teak dining chairs covered in antique Balinese ceremonial sarongs. The floors were bleached three times to achieve their stunning shade of white.