A dinner-party conversation starter from any angle, this brooch was made in the 1960s by the legendary French jewelry house Boucheron. It's about the size of a cucumber round or a blini. And, keeping with the canapé metaphor, the topper is a lavish mound of artfully assembled round and baguette diamonds set in platinum, while two small emeralds garnish the gourmet gem with pops of vibrant green.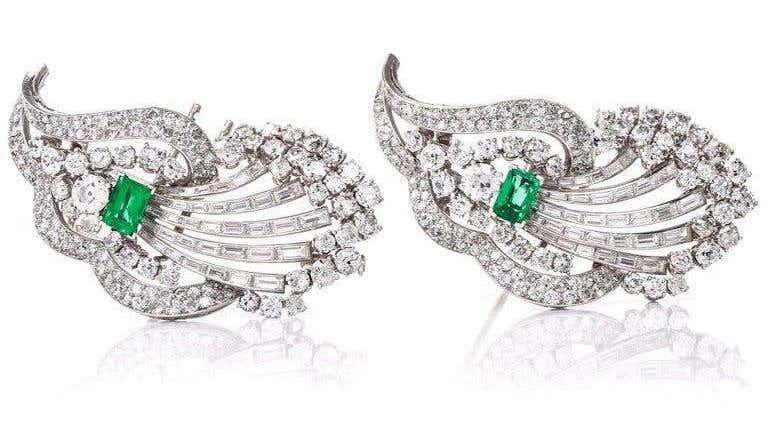 Hamid Sadr, CEO of Miami-based Dover Jewelry, tells us the brooch came directly from Boucheron's shop on Paris's Place Vendôme and once belonged to a wealthy collector from South America. The piece also has a surprise bonus feature: It disassembles into two dress clips, which Sadr says would have been worn on the lapel collars of a blouse or affixed to the straps or shoulders of an evening gown.
On its back, you can make out the inscription "Monture Boucheron." "The monture indicates that the jewel was specially made for someone," Sadr explains. Since dress clips were more of an Art Deco–era adornment, one imagines the original owner might have commissioned the brooch to wear as is or as a pair of barrettes in upswept hair.
Separated, the two parts mimic paisley shapes, or a pair of birds with resplendent plumage, or tendriled leaves, all delicious complements to a glamorous bouffant hairstyle à la Brigitte Bardot — or, as is more likely today, a messy bun.