Often, the most beautiful things in life are also the most impractical; but perhaps it's their lack of utility that lends to their allure. Since such things don't exist for utilitarian purposes, there's an implicit invitation to admire them purely for their form. That's only one of the many reasons why there's something stunning about an all-glass abode. Below, delight in images that provide a voyeur's view of glass houses and structures built by the likes of Ludwig Mies van der Rohe, Philip Johnson and more. While the old expression about throwing stones comes to mind, we can't help but disagree: after all, who could criticize beauties like these?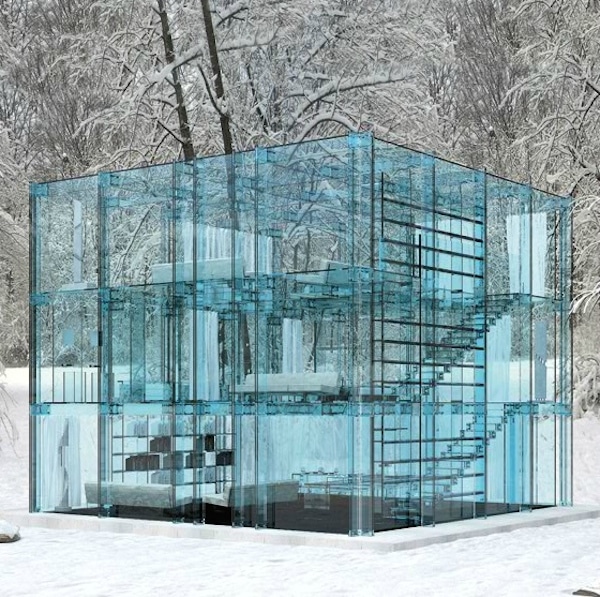 In Milan, a client request spurred glass designer and architect Carlo Santambrogio to construct a home made almost entirely of blue-tinged glass — including the furniture inside. The exterior walls are composed of specially fabricated six- to seven-millimeter glass that can be heated on demand, a handy feature given the home's wintry wooded surroundings during the colder months.
---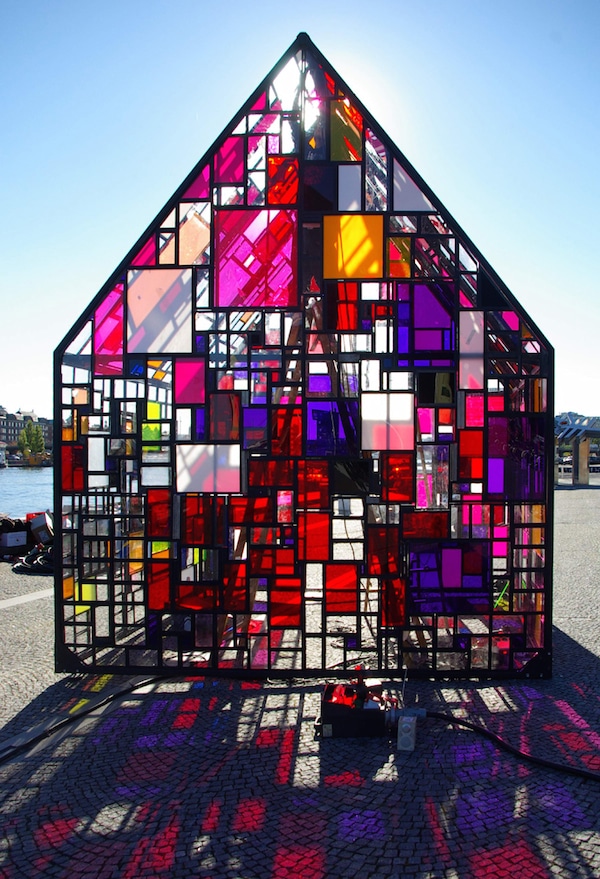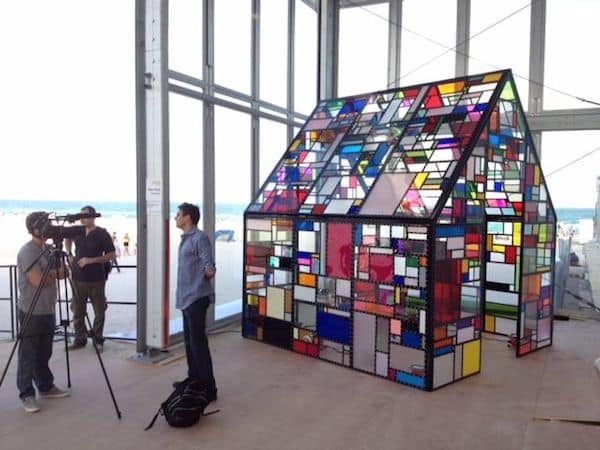 2. Tom Fruin, the Brooklyn-based artist known for working with found objects to create colorful works of art, built a 12 foot by 14 foot outdoor sculpture installation in 2010 with steel, found plexiglass and paint. Dubbed the Kolonihavehus, it debuted at the Royal Danish Library in Copenhagen in 2011 and traveled throughout Denmark, Austria, Sweden and the US over the next several years, most recently taking up residence in Brooklyn Bridge Park and complementing another Fruin creation installed nearby in 2014: a water tower with similar Mondrian-inspired features, overlooking Pier 5.

The Kolonihavehus installation's playful squares of color have drawn considerable crowds in each city it's visited. Curious visitors watch the sunlight stream through its translucent panes, casting candy-hued shadows on the ground below, and perhaps return home having been inspired to infuse a bit of color into their own homes as a result.
---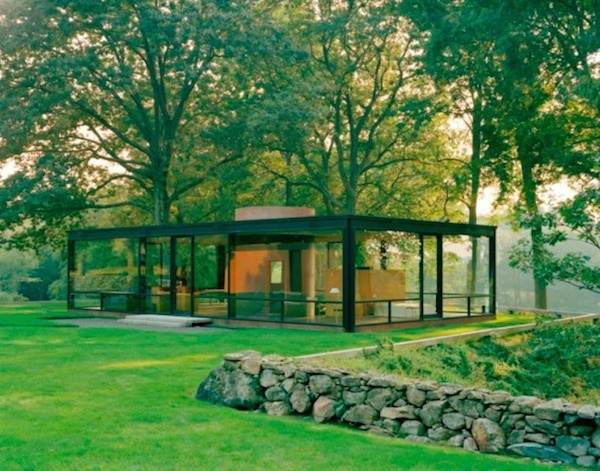 3. Influential American architect Philip Johnson's legacy is multifaceted. For one, Johnson was founder of the Department of Architecture and Design at the Museum of Modern Art. Additionally, he's known as much for his New York City landmarks as for his work on the Crystal Cathedral in Orange County, California. Johnson's oeuvre also counts a more modest but no less stunning structure among its accomplishments: that of The Glass House in New Canaan, Connecticut.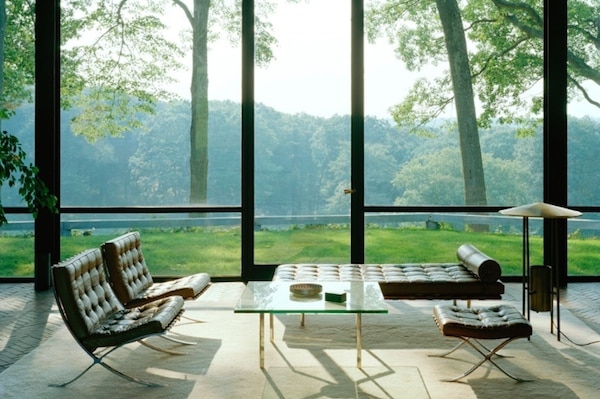 Built in 1949, The Glass House — also known as The Johnson House — is situated on a promontory overlooking a pond and wooded area in the distance. Spanning 55 feet in length and 33 feet in width, it was home to Johnson himself until his passing in 2005. The home is open to visitors from May through November, along with its surrounding structures, including the architect's studio, painting and sculpture galleries, pavilion and Ghost House.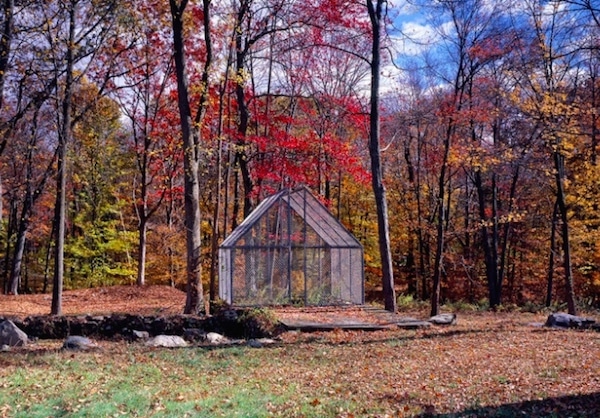 The Ghost House, built as a vehicle for tongue-in-cheek artistic expression rather than a functional abode, stands atop a 19th century barn foundation and was built in homage to both Frank Gehry's love of everyday building materials, and postmodernists Robert Venturi and Denise Scott Brown's use of rectangular bases beneath peaked roofs.
---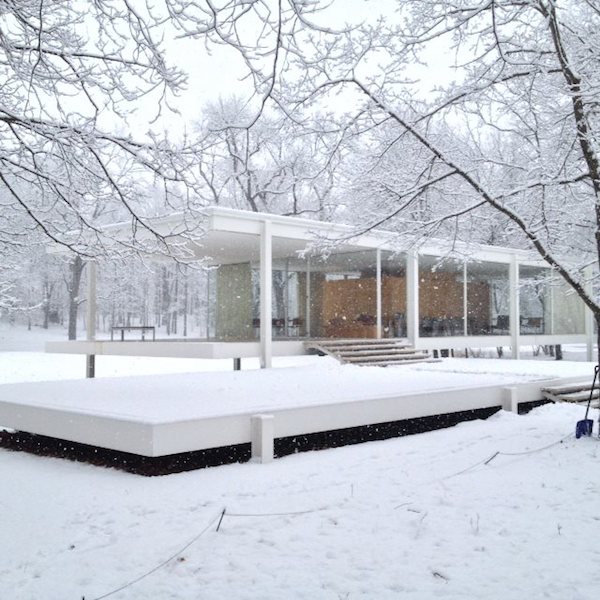 4. Designed and constructed between 1945 and 1951 for Dr. Edith Farnsworth, the Farnsworth House in Plano, Illinois is Ludwig Mies van der Rohe's masterful contribution to the American glass home canon. Designated as a National Historic Landmark, the home is now open to the public, offering an up-close glimpse at the design legend's juxtaposition of sleek, modern design against an organic backdrop, which nearly camouflages the elegant structure during snowfall.
---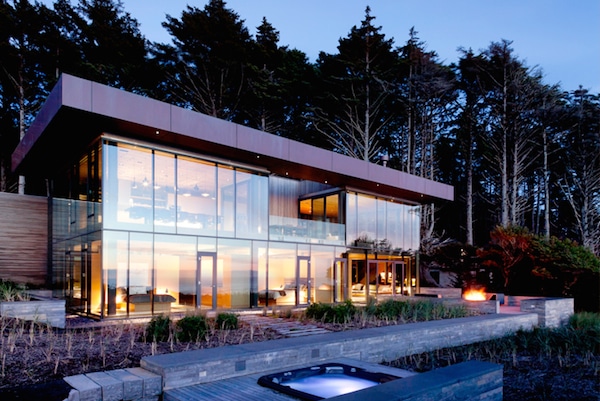 5. When Boora Architects in Portland, Oregon were approached by clients to design their dream home on Arcadia Beach, the directive was simple: "The site is ruled by the sea, the landscape and the climate, and the homeowners wanted to keep it that way." So, they took a page from a few midcentury icons and let the landscape do the talking. The result was a 3,300-square-foot shelter dubbed "the 360 house" for its sweeping views of the ocean to the west, the forest to the east, and a long stretch of shore between the two.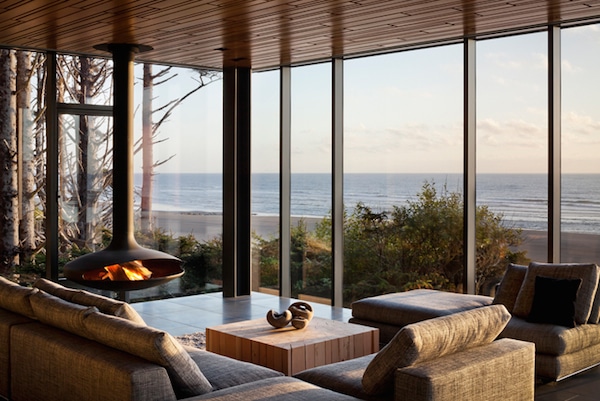 To optimize the space, homeowners Ryan and Mary Finley worked with Boora to sequester the kitchen, storage area and bathroom to the center of the home, freeing the perimeter from obstructions. A lone hanging fireplace and structural beams punctuate the view, leaving the rest open to the world beyond.
---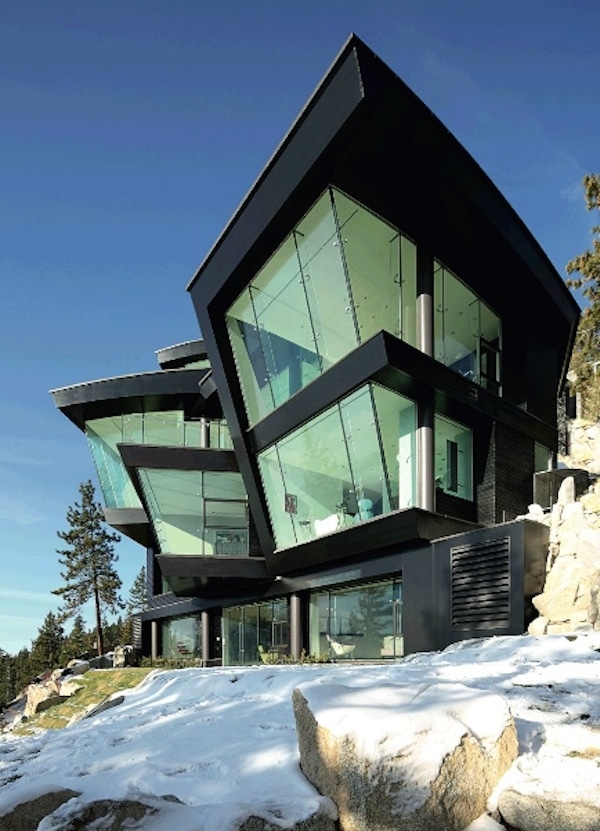 6. Architect Mark Dziewulski is the man responsible for this vertiginous house in Crystal Bay, Nevada, jutting out from the steep cliff into which it's built. Five cantilevered levels offer stunning views of Lake Tahoe from their precarious perch, inhabiting 8,500 square feet of space. Dziewulski's exuberant, exhibitionist creation shares little DNA with 20th-century modernism, but provides an equally compelling and magnificent mode of integrating nature and structure.