The freewheeling pastiche of design styles known as postmodernism combined historical motifs dating from antiquity to the modern era with an insouciance that often seemed more about fun than function. Its heyday was the 1970s and '80s; its best-known practitioners were Michael Graves, in the U.S., and Ettore Sottsass, in Italy.
Postmodernism gave rise largely to "art furniture" — pieces produced in limited editions for collectors or museums. Luxurious materials and exquisite craftsmanship were the order of the day.
The three Sternensessel ("Star chairs") currently offered on 1stDibs by Lovaas Projects, a Munich-based art space, are prime examples of the genre. "The chairs have eclectic design elements going back to ancient Egypt and so many different materials," including bird's-eye maple, gold leaf, ebony and rare blue marble, says David Agoston, who sells vintage modern furniture, primarily European in origin, through the gallery. "They're really a pinnacle of postmodernism."
Produced in an edition of 100 in 1989 by the German manufacturer Draenert, which has been making adventurous furniture for more than five decades, the Star chairs were designed by a trio of architects: Norbert Berghof, Michael Landes and Wolfgang Rang, all based in Frankfurt (hence the chair's alternate appellation, Frankfurter Stuhl F3).
One landed in the permanent collection of the Metropolitan Museum, in New York, others in prominent museums in Germany and Japan. Many were scooped up by collectors.
Agoston acquired his three Star chairs from a Swiss collector's estate; they are for sale separately or together. "They're intricately handmade," he says, too fragile to be heavily used. "I see each as a standout piece, maybe in a prewar apartment on Central Park West."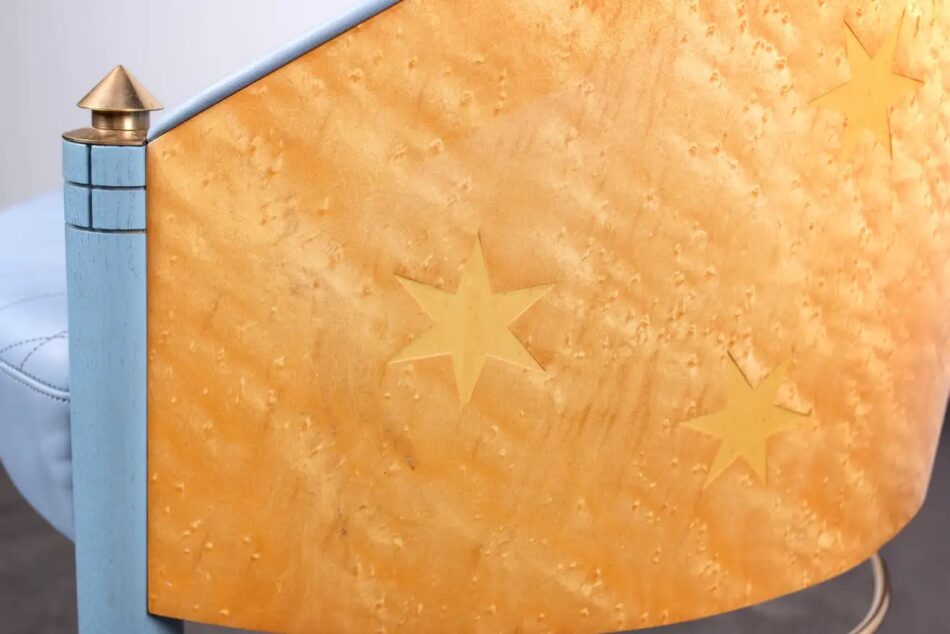 Agoston grew up in Sydney, Australia, "living and breathing design," he says. Now a "reformed investment banker," he moved to Munich six years ago. "Vintage furniture is my passion. It came to a point where to satisfy my fetish, I had to start selling some."
Named for their star-shaped inlay work, the chairs reflect the dreamy, poetic and fleeting moment that was postmodernism. But the '80s could be on the verge of revival, according to 1stDibs' online survey of anticipated design trends for 2023. It was the choice of 28 percent of interior designers asked to name which decade since the 1950s was due for a resurgence — more by far than for any other time period. Word to the wise.