From cupolas to cookware and fine art to filaments, copper metal has been used in so many ways since prehistoric times. In years spanning 8,700 BC (the time of the first-known copper pendant) until roughly 3,700 BC, it may have been the only metal people knew how to manipulate.
Its valuable deposits were first extracted on the Mediterranean island of Cyprus around 4,000 BC — well before Europe's actual Bronze Age (copper + tin = bronze). Tiny Cyprus is even credited with supplying all of Egypt and the Near East with copper for the production of sophisticated currency, weaponry, jewelry and decorative items.
In the 15th, 16th and 17th centuries, master painters such as Leonardo da Vinci, El Greco, Rembrandt and Jan Brueghel created fine works on copper. (Back then, copper-based pigments, too, were all the rage.) By the late 19th and early 20th centuries, decorative items like bas-relief plaques, trays and jewelry produced during the Art Deco, Arts and Crafts and Art Nouveau periods espoused copper. These became highly valuable and collectible pieces and remain so today.
Copper's beauty, malleability, conductivity and versatility make it perhaps the most coveted nonprecious metal in existence. In interiors, polished copper begets an understated luxuriousness, and its reflectivity casts bright, golden and earthy warmth seldom realized in brass or bronze. (Just ask Tom Dixon.)
Outdoors, its most celebrated attribute — the verdigris patina it slowly develops from exposure to oxygen and other elements — isn't the only hue it takes. Architects often refer to shades of copper as russet, ebony, plum and even chocolate brown. And Frank Lloyd Wright, Renzo Piano and Michael Graves have each used copper in their building projects.
Scroll down to see 14 immaculate copper pieces, from bookends to storage consoles and objects in between.
---
Copper Mood Board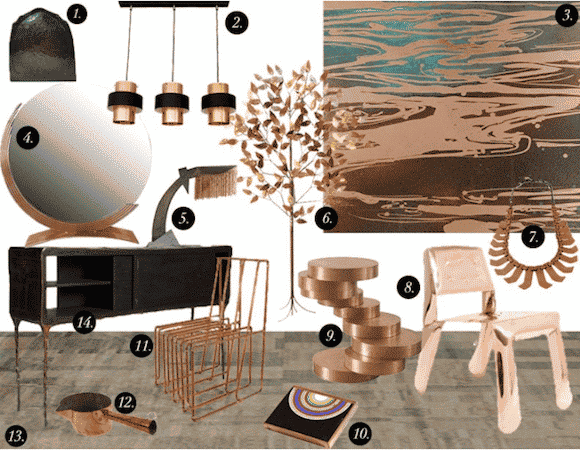 1. Carl Sorensen bookends, ca. 1910. 2. Jo Hammerborg for Fog & Mørup Tunika pendant light 1963. 3. Onsen, 2015, by Richard Hawk. 4. Art Deco–style mirror, 1970. 5. Conrad Fehn table lamp, 1925. 6. Curtis Jeré tree sculpture, 1970s. 7. Matisse-Renoir Aztec necklace, 1950s. 8. Oskar Zieta Chippensteel 0.5 chair, 2009. 9.Mauro Mori Movimento Four end table, 2015. 10. Jean Goulden enamel box, 1931. 11. T.J. Volonis Chair in Copper, new. 12. Thomas Mills & Brother spouted pot, ca. 1865. 13. Doris Leslie Blau verdigris rug; 2016. 14. Valentin Loellmann console, ca. 2015.