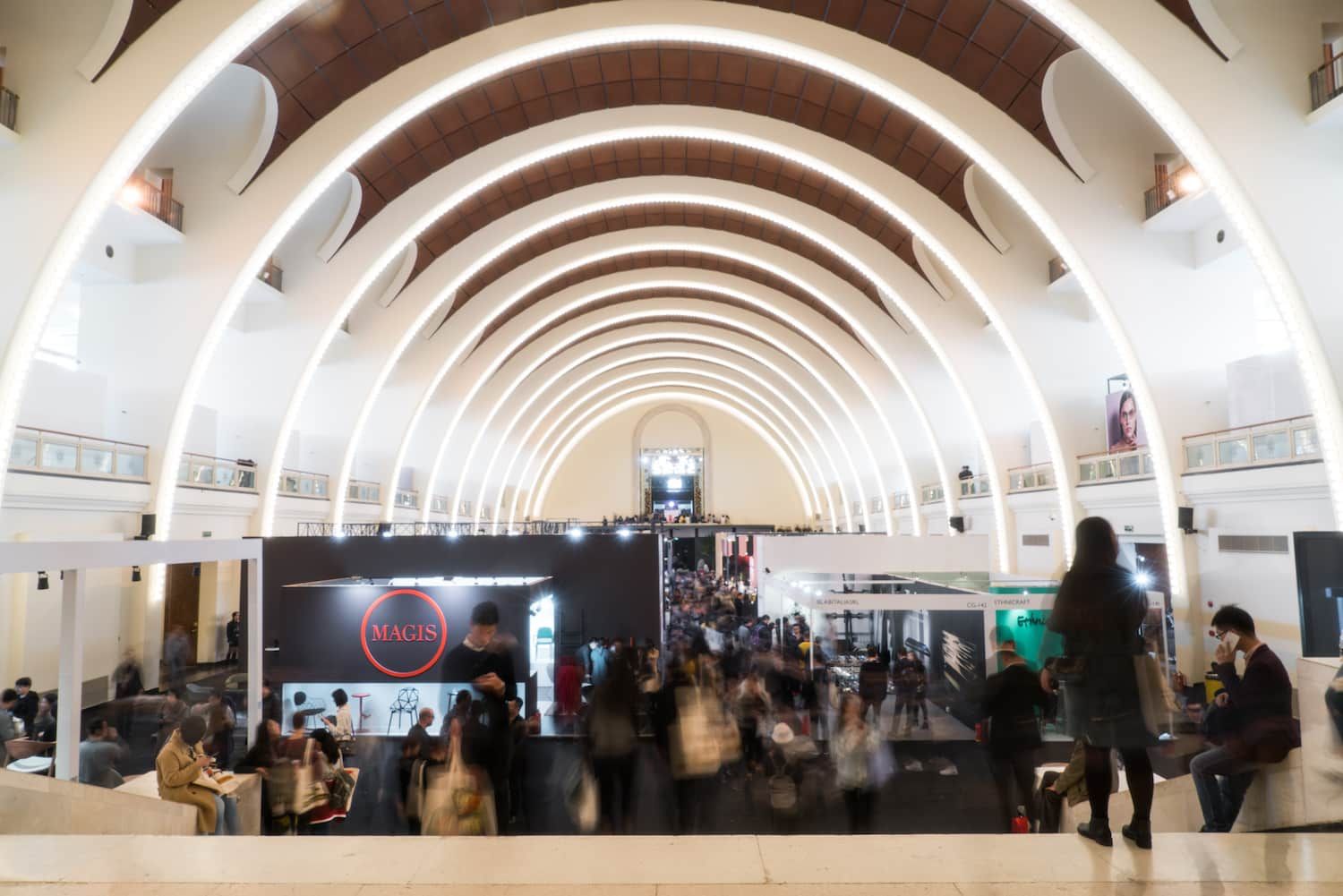 The fifth annual Design Shanghai, one of Asia's leading design fairs, is shaping up to be the biggest and most comprehensive to date. From March 14 to 17, the world's top dealers and makers will spread their offerings throughout five thematic exhibition halls inside the breathtaking Empire-style Shanghai Exhibition Center.
For many exhibitors, this will be a first foray into the Far East design market and the perfect excuse to pull out all the stops. Out of the thousands of remarkable works to discover at the event, we highlight 10 standouts below.
---
Hans Wegner's C22, C23, C24 and C25, Carl Hansen & Søn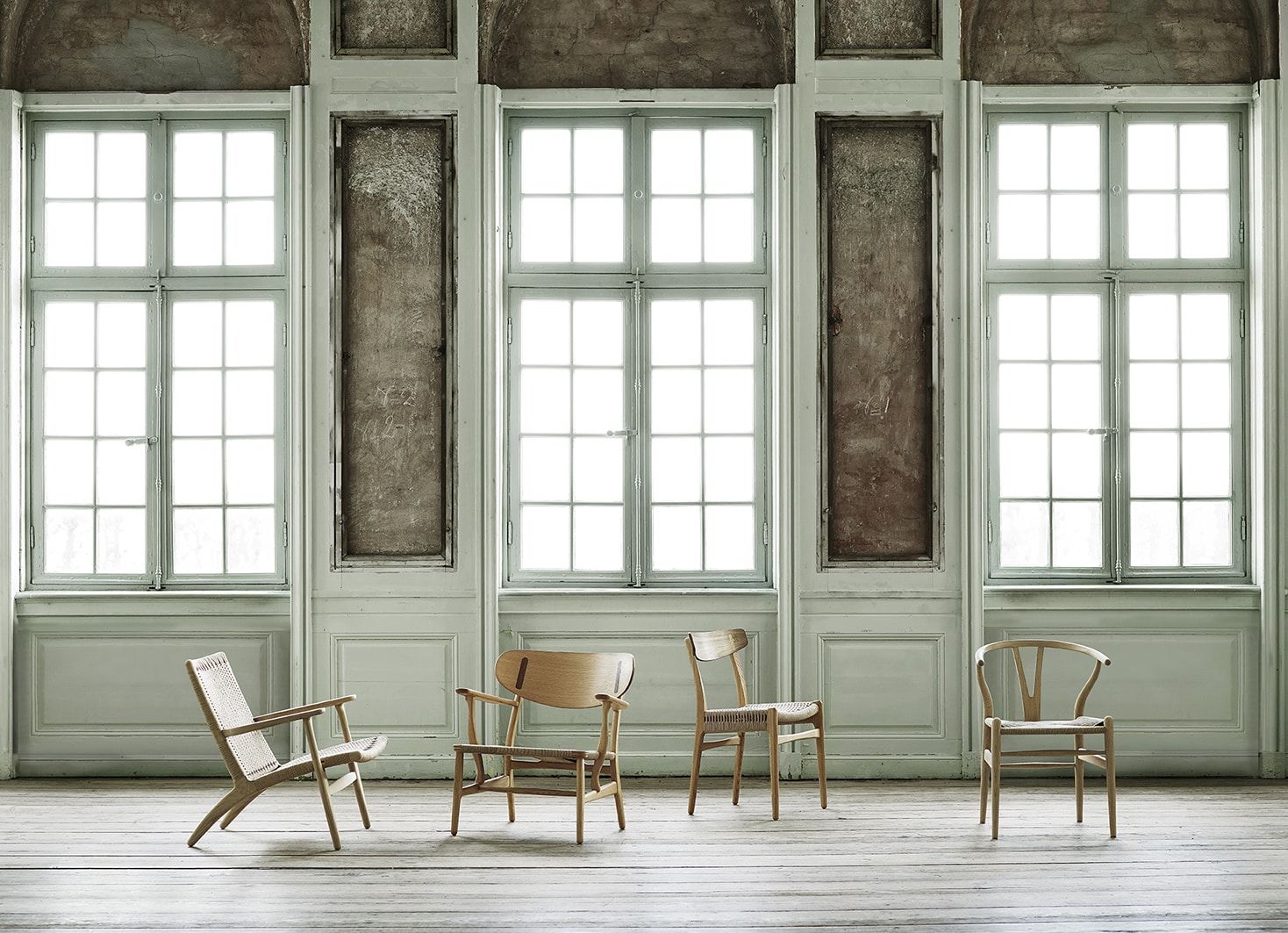 The first four chairs produced by Hans Wegner instantly solidified the Danish creator's place in 20th-century design history. Made exclusively for Carl Hansen & Søn and originally introduced in 1950, the CH22, CH23, CH24 and CH25 demonstrate Wegner's mastery of steam-bending and hand-weaving techniques to coax out the organic-modern forms he's most known for.
As Knud Erik Hansen, the third-generation CEO of Carl Hansen & Søn, explains, "Wegner's first chairs had a totally unique expression, and their quality was first class. Each chair had its own original look and contained characteristic elements that were later included in other designs." With the relaunch of the formerly out-of-production CH22 and CH23, all of the first four masterpieces are once again being manufactured at the same time.
Photo courtesy of Carl Hansen & Son
---
Ma Yansong's MAD Martian Console Table, Gallery All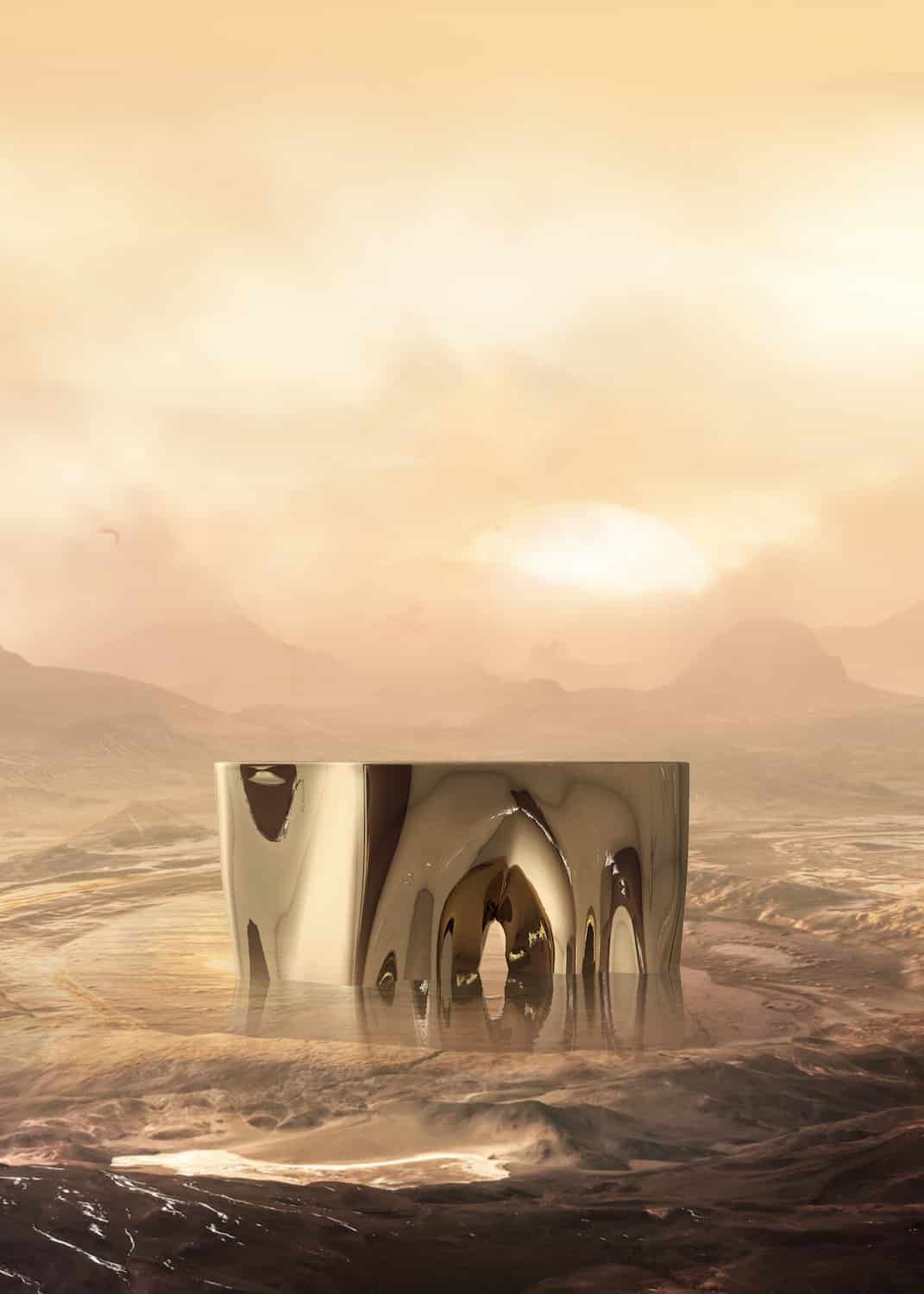 A Design Shanghai exhibitor since the very beginning, Los Angeles– and Beijing-based Gallery All brought works by Chinese artists who represent "a fresh wave of creativity," says managing partner Michael Snyder. "Each of these works is an imaginative expression of a world beyond earthly constraints." Snyder's description certainly applies to the MAD Martian console table (above) by renowned Beijing architect Ma Yansong, as well as Zhipeng Tan's sinuous Walking Floor Lamp, consisting of biomorphic forms rendered in shimmering bronze.
Photo courtesy of Gallery All
---
Josef Hoffmann's 1905 Pendant Light, Woka Lamps
Austrian designer and Wiener Werkstätte cofounder Josef Hoffmann conceived this strikingly modern pendant back in 1905. Rendered in various finishes like brass, nickel and chrome, it reflects the workshop's rejection of ornamentation in favor of genial simplicity. "In my opinion, Hoffmann was the guide to modernism," says Wolfgang Karolinsky, CEO of Vienna-based Woka. "The item was chosen, I think, because it is suitable to modern China."
Photo courtesy of WOKA Lamps
---
Bartoli Design's BD13 Sideboard, Laurameroni
The BD13 cabinet by Bartoli Design perfectly epitomizes what Italian brand Laurameroni, a newcomer to Shanghai Design, is all about: luxe materials, interesting surfaces and creative craftsmanship. Its carved rosewood facade re-creates the random patterns found on the wooden platforms used by marble carvers during the cutting process.
Photo courtesy of Laurameroni Design Collection
---
Zaha Hadid Design's Cell Candleholder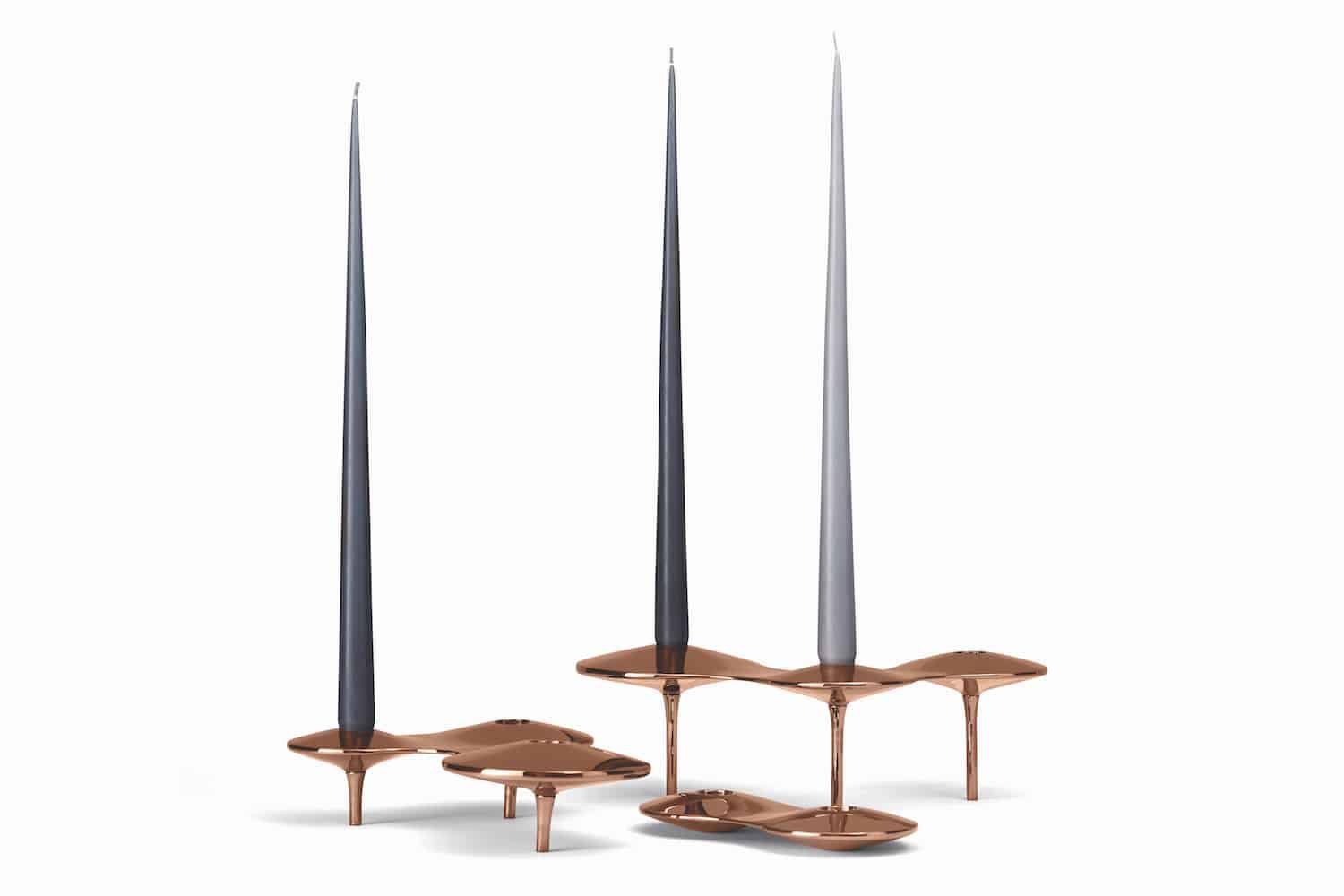 Inspired by the "replication and growth of cellular organisms," says Woody Yao, director of Zaha Hadid Design, the Cell collection of three polished metal candleholders appears to levitate in space. Its various heights, sizes and finishes "invite the user to multiply, reconfigure and stack the different elements like modules," says Yao, while its "subtle, uncompromising quality" is emblematic of Hadid's best work. With a strong presence in China since the late architect first visited the country in 1981, the company has participated in Design Shanghai for the past three years.
Photo courtesy of Zaha Hadid Design
---
Brand van Egmond's Victoria Collection
Inspired by a quote from the Great Gatsby that reads, "I like large parties. They're so intimate. At small parties there isn't any privacy," the Victoria Collection was designed to evoke the dynamism of the Roaring Twenties. As the designer-owner of Brand van Egmond, William Brand elaborates: "I wanted to transform the raw energy of that era into delicate new lights." Victoria is just one of the dozen or so completely customizable collections by the Dutch firm on display at Design Shanghai.
Photo courtesy of Brand van Egmond
---
Kelly Hoppen with Resource Decor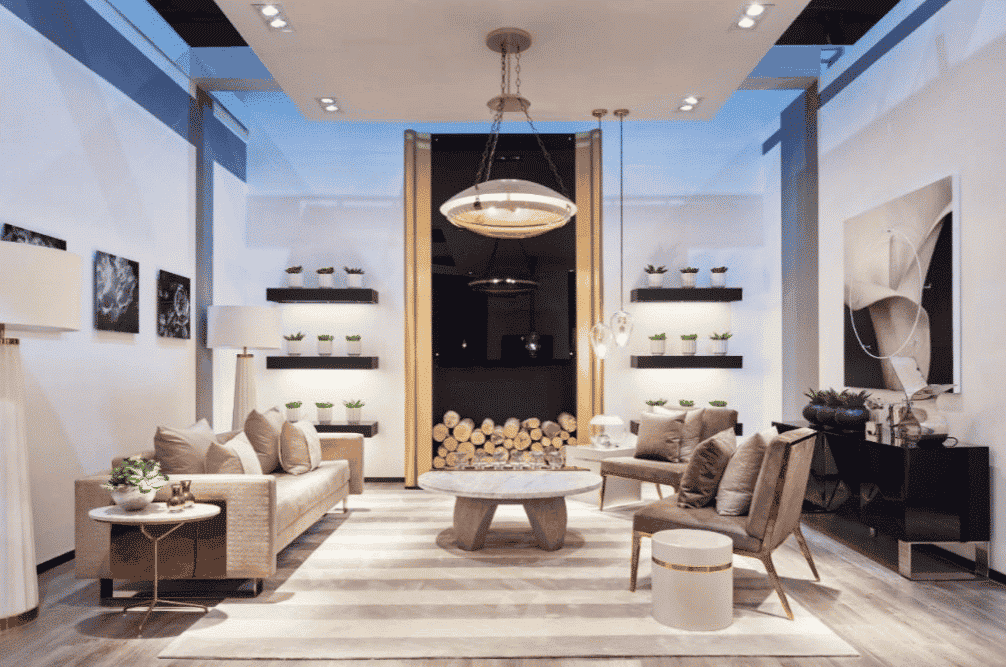 What better outlet to present the newest additions to the Kelly Hoppen Home line than Design Shanghai? London-based Hoppen has long been recognized for her clean lines and East-meets-West design philosophy. These latest creations, in collaboration with Resource Decor, have a vintage appeal but the same level of timelessness that the world has come to expect of Hoppen's interiors.
Photo courtesy of Kelly Hoppen
---
Pierre-Yves Rochon's Coutard Table, Lalique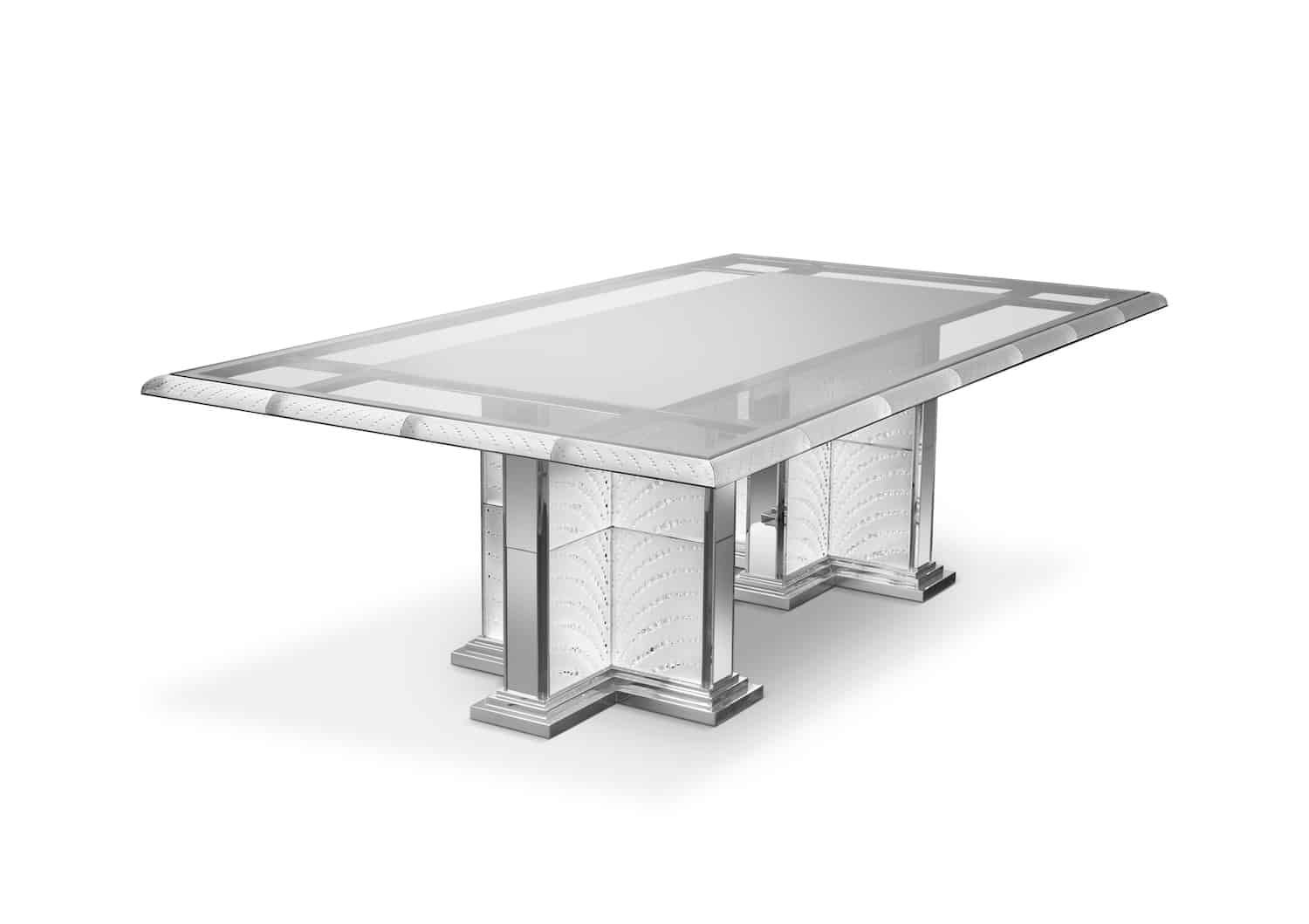 The Coutard table was "born from the quest for the most beautiful aesthetic effect," says French interior designer Pierre-Yves Rochon, who conceived the piece to evoke the qualities Lalique is known for: luminosity, brilliance and a maddeningly precise attention to detail.
Master glassmaker and decorative artist René Lalique designed the iconic droplet pattern on the base, which resembles a fine spray of crystals, in 1935. The table itself is composed of 16 mirrored panels, a bright nickel base and extra-white crystal.
Photo courtesy of Lalique
---
Roche Bobois's Zephyrus Sideboard
Roche Bobois, the Parisian manufacturer whose output has been dubbed "haute couture in furniture," is bringing a showstopper to the fair, in the form of the spacey, sculptural Zephyrus sideboard by Giacomo Garziano. To add to its otherworldliness, the limited-edition lacquered blue MDF case piece has butterfly doors that open from the top.
Photo courtesy of Roche Bobois
---
Teckell's Cristallino Foosball Table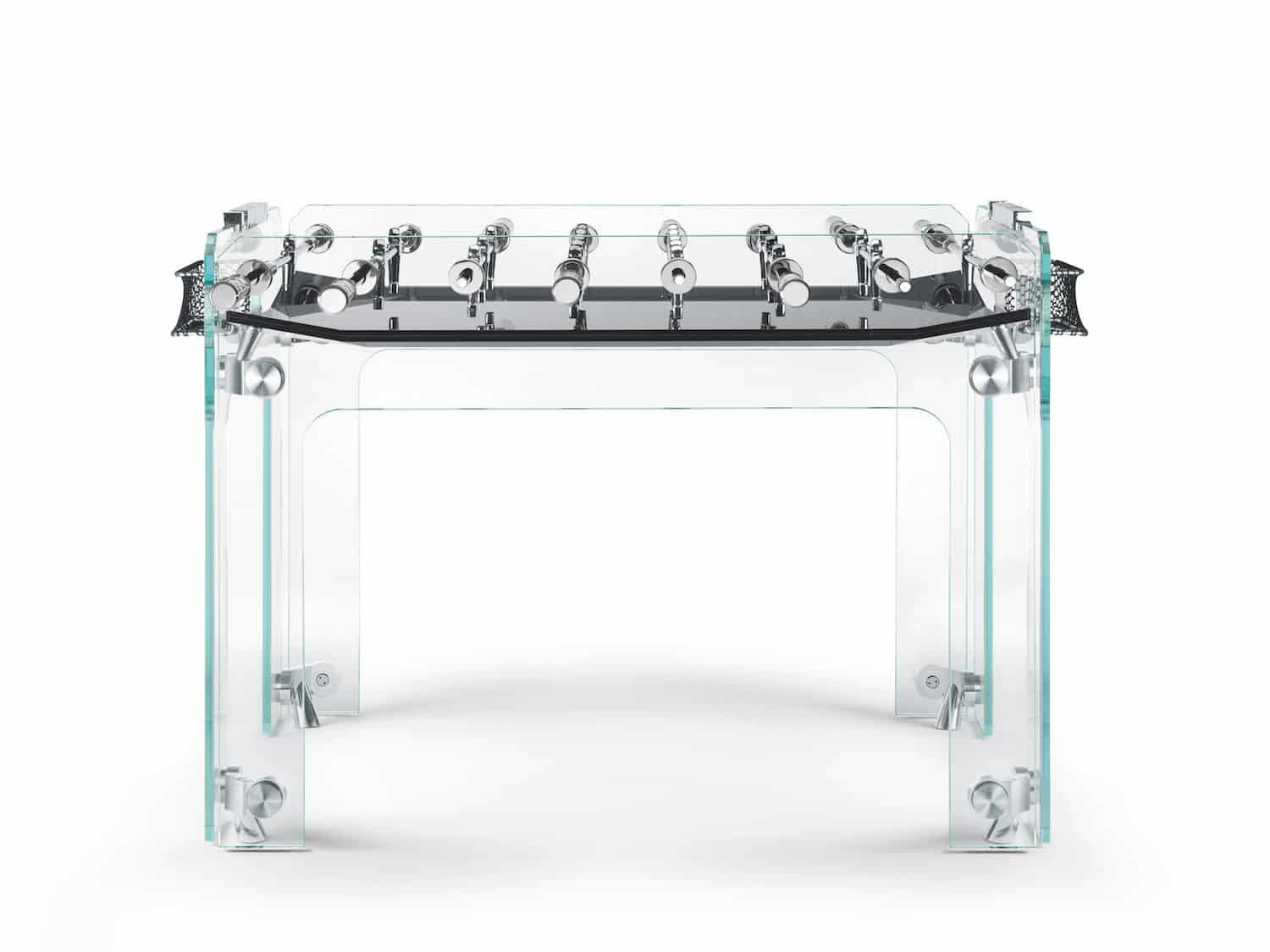 Described by Italian company Teckell as a "combination of nature and technology's finest offerings," this see-through playing field is as stunning for its transparency as it is for its sturdiness and strength. Crafted with thick-tempered crystal to help increase the game's speed, its playing field is actually a molded sheet of laminated crystal that gently slopes at the corners.
Photo courtesy of Teckell