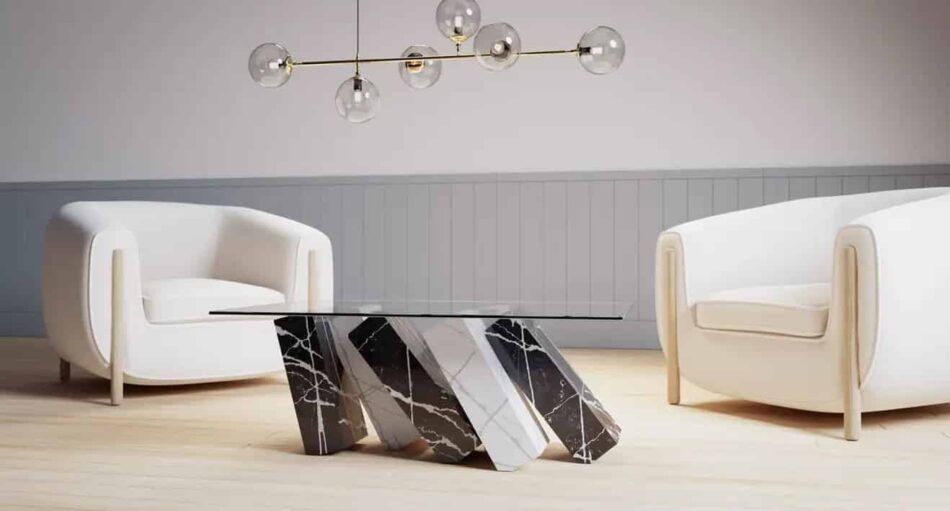 Few exercises in precision engineering pack the philosophical punch of the Megalith coffee table by Duffy London, a furniture company whose concept-driven art pieces are handmade in the East London industrial district of Royal Docks.
The Megalith is composed of a glass top set on a group of six rectangular blocks — made of mirror-polished gold or white-veined Marquina black marble, along with several other options — that look on the verge of toppling like dominos.
The piece is "made possible by the advanced CAD programs we use today, creating an illusion of something that couldn't possibly stand up," says Christopher Duffy, who was something of a design wunderkind when he founded Duffy London, in 2002, shortly after graduating from the University of Brighton with a degree in product design.
Like every design in the company's catalogue, the Megalith is an unabashed statement piece. Duffy's take on the meaning of the trickily balanced table? "The more substantial and solid something appears, the more devastating it is when it all comes crashing down, such as a false belief, held up and thought to be true when it's in fact the opposite. It's the shock upon realizing this that rocks you to your core."
Duffy London wants to rock us to our core. The Megalith table is an homage to two of Duffy's heroes, the science-fiction writer Arthur C. Clarke and the filmmaker Stanley Kubrick, who created a cultural touchstone with the foreboding black monolith in 2001: A Space Odyssey.
"Naming the table after the film is my way of expressing gratitude for the new worlds they opened for me," Duffy says.
It's not the only Duffy London piece that aims to take us to another realm. The Abyss line of tables uses elaborate cross-sections of wood to produce a mesmerizing illusion of depth. In the playful Balloon series, what look like floating helium balloons support a glass tabletop.
The inventive and daring Swing series turns a boardroom or dining area into a playground, with hanging seats suspended from a frame around a tabletop, allowing grown-ups to take a meeting or a meal while enjoying the childhood sensation of dangling off the ground.
This is for sure: Duffy London does not make boring furniture.