The life of Gabriella Crespi has been one of beauty, glamour and mystery that could well have been the stuff of an Antonioni movie, if any of his captivating heroines had ever achieved spiritual transcendence.
Born in Milan in 1922, Crespi was unusual for an Italian girl at the time, earning an architecture degree at the prestigious Politecnico Milano. Although she made a spectacular marriage to wealthy scion Giuseppe Maria Crespi, she remained determined to be a designer. By the 1950s, she had embarked on a solo career — sketching sculptures and objects that she had local artisans fabricate. Ideas spouted from her with the fiery force of a volcano, according to her daughter Elisabetta, her longtime production manager and archivist.
At the height of her success, in 1986, Crespi met the guru Shri Muniraji and everything changed. She quickly disposed of almost all the trappings of her fashionable life, save her penthouse in Milan, and went off to seek enlightenment in the Himalayas. She might still be there if she hadn't broken her leg while visiting Milan in 2006.
Since then, Crespi has supervised new editions of several of her most prized works, with the help of Milan dealer Rita Fancsaly. This time, though, she's fabricated them in bronze, a favorite material that's difficult to work with at such a scale, making her accomplishment all the more satisfying. Most recently, she has created new furnishings that build upon past designs, like the brass Wave desk, whose sinuous yet simple shape speaks of the infinity with which this nonagenarian designer has long communed.
Just how timeless all of Gabriella Crespi's designs are is apparent in this tour of her Milan penthouse, which she designed in the 1970s, long before her spiritual quest.
---
Still beautiful and elegant, Gabriella Crespi sits on the couch in her living room, flanked by her Fungo lamp and bronze penguin, both resting on a Rising Sun side cabinet. In front of her is an Ellisse coffee table made of brass. It's one of her daughter Elisabetta's favorite pieces: "Despite its simple shape, there is a regality about it." On the table is Crespi's turtle sculpture and a silver-rimmed coconut shell that was a souvenir from a far-flung adventure. Crespi covered the walls of her home in a Chinese fabric woven from vegetable fibers with bamboo borders.
---
One of Crespi's Lune lamps sits among the photographs and ancient pottery displayed on an antique chest of drawers, while another version adorns the windowsill. Her magical Eclipse side tables in red lacquer and polished steel adds some brilliance to the space. Resting on the table is a bronze sculpture of turtles by the designer and her 8 Moon Sphere, cast in brass with Plexiglas. To the left by the ottoman is an Asian-inspired lamp of her design.
---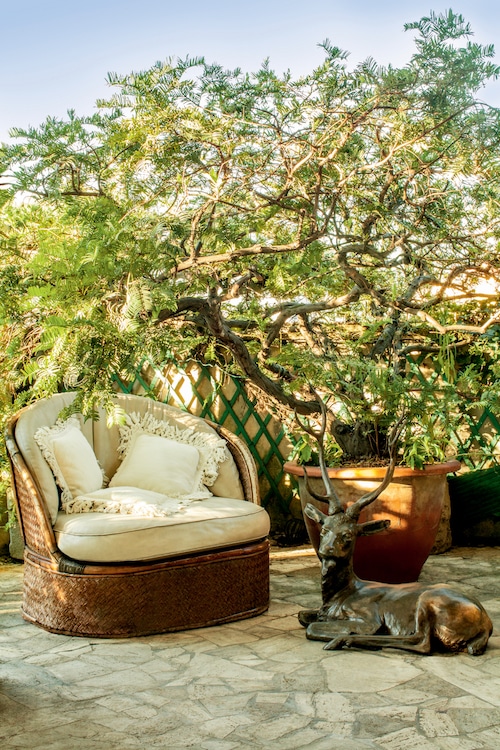 Furnished with a generously scaled Rising Sun armchair, one of her bronze antelopes and a stately mimosa tree, Crespi's patio puts one in mind of an exotic land rather than central Milan, which bustles below.
---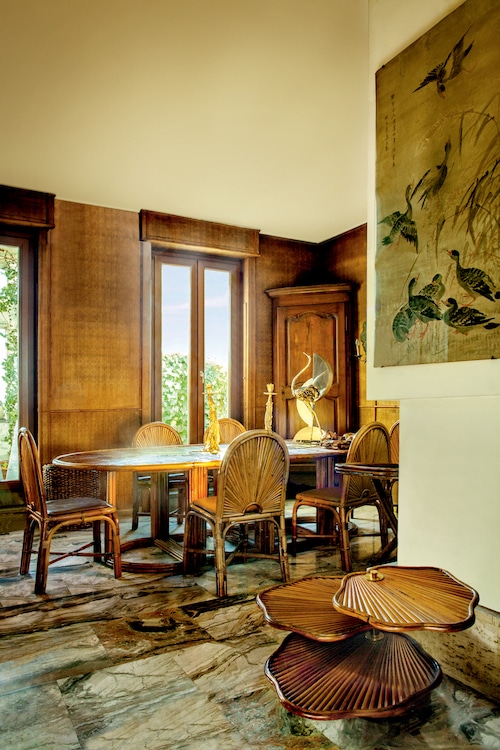 Crespi's dining area is outfitted with her Rising Sun bamboo table, which she designed to be extendible to any length, and matching chairs. On the table are two of her "Gocce Oro" sculptures and a bronze ostrich from her "Animal" series. In the forefront is the swiveling Lotus Leaves table, another favorite. "It was love at first sight," Elisabetta says, due to its novelty.
---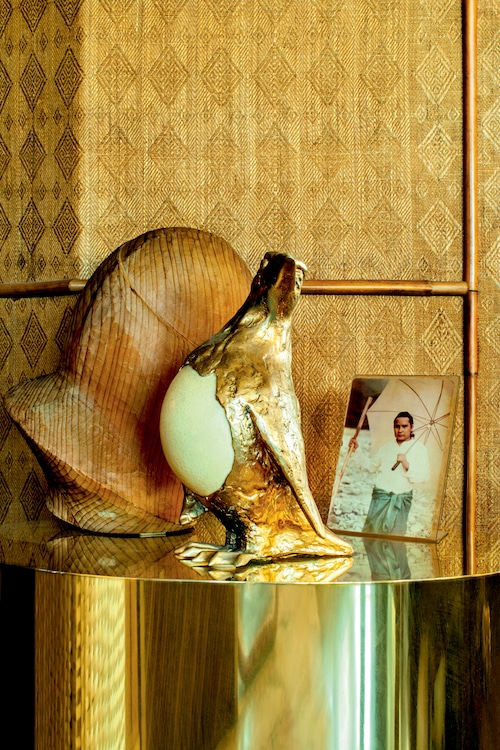 Casually displayed on her glistening Oval bar in brass are the contrasting symbols of Crespi's extraordinary life: a photo of Sri Babaji, believed to be an avatar of Shiva, of whom she is a devotee; a wood sculpture evocative of universal forms; and Crespi's lavish creation of a bronze penguin with an ostrich-egg belly.
---