Tree lightings, caroling, gift giving. This time of year brings a lot of time-honored traditions with it, but none so treasured as the holiday get-together.
Still, as any seasoned party host will attest, planning the perfect holiday celebration — with decor that looks like it could have been ripped from an issue of Architectural Digest, and a menu that rivals something concocted by Thomas Keller — isn't a walk in the park, and living up to expectations set by the ghosts of parties past can be daunting.
Looking for some tips and tricks on how to elevate the annual at-home holiday party, we asked some of our friends (each an expert entertainer) for advice on everything from decor to flowers to menus to music. Consider this your guide to making your holiday party the coveted invite of the season.
---
Set the Scene
Bronson Van Wyck has planned bashes for the likes of Chanel and the White House, and, no surprise here, an invite to one of his personal holiday soirees is about as coveted as it comes. His key piece of advice for setting the right tone in terms of holiday party decor? "There are seven colors in the rainbow, so don't feel limited to red, green or white when it comes to Christmas lights," he says. "I love to use deep blues, ambers, and golds to really give your tree a unique glow."
Texture is also a key component. "If you're hosting a holiday party at your home, use natural textures to dress up the living area," Van Wyck advises. "Organic elements like wreaths and garlands are also a good way to add a festive and fragrant touch. Juniper smells divine!"
Don't be afraid to add a personal touch, too. "Whether it's a tartan from your clan or a family collection of bells that come out each season, incorporate your memories into your decorations," he says.
Last, but not least, don't forget to make room for fun. "Always make room for the impromptu late-night dance party," he says. "Your favorite chairs might take up too much space, so try to move out any cumbersome furniture beforehand.
---
Flower Power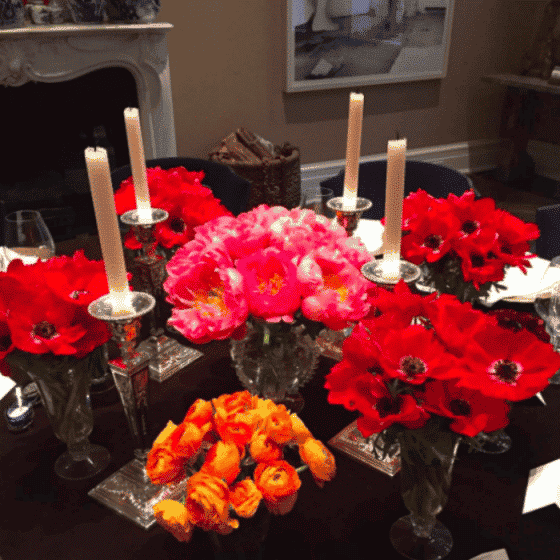 New York City–based interiors stylist Carlos Mota is trusted by Architectural Digest to make spaces look just right. And, according to Mota, flowers are essential. "I love using amaryllis, peonies, carnations in deep colors like red, purple or even white," he says. "I [also] love using moss and different types of foliage, like lemon and magnolia leaves, mixed with different types of pines."
Once you've selected your flowers, Mota says, "Use black glass containers to add a touch of glamour and drama. I also like silver metal containers, and copper is a great addition, too."
As for how this interior design guru dresses up his tree, the key he says is to think organic. "Real and dry flowers and fruits," are a mainstay, Mota says. "I also use vintage ribbons in one or two colors like lavender and green."
---
The No-Fuss Menu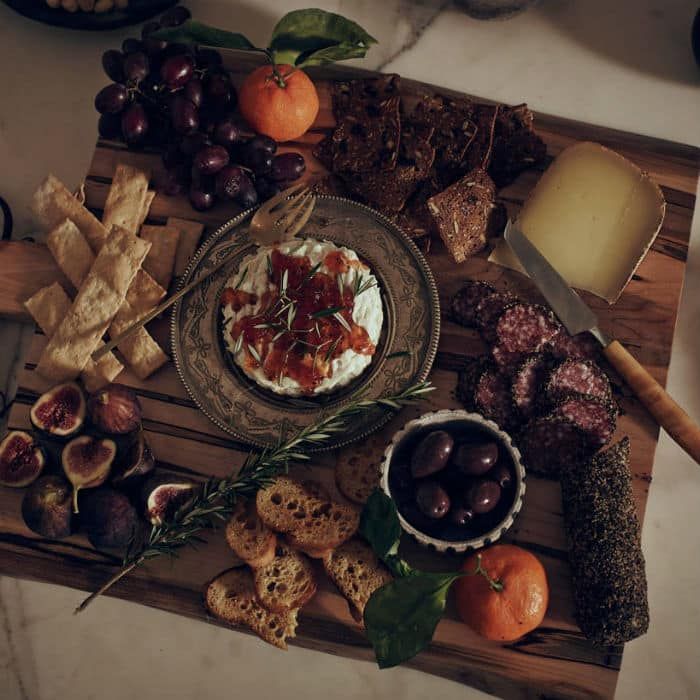 "I never approach a menu with absolute certitude," explains Athena Calderone, the talent behind the popular lifestyle blog Eye-Swoon. "Especially for the holidays, I'll write and rewrite and come up with a billion combinations, and then usually when I food shop I buy more than planned and see how I'm feeling as I'm going."
Whether you are hosting a formal dinner party, or a more relaxed cocktail affair, Calderone advises to have plenty of food on hand that people can nibble on. "Everybody loves a cheese plate, and it's so easy to assemble," she says. "I start with a few favorite cheeses, and then I like to add figs or a sweet chutney, charcuterie and olives. Just something to nibble on."
Some other holiday friendly dishes to try this season according to Calderone: a winter squash and ricotta toast inspired by a dish from Jean-Georges Vongerichten's ABC Kitchen and a blood orange galette. "Don't make things overly fussy," Calderone says of her holiday menu mantra.
---
Punch It Up
Regular entertainers are big fans of serving punch at parties because once you've made a batch, your work as bartender is essentially done. "The beauty of punch is that you can make it ahead of time and stick it into a punch bowl and get on with the job of having fun and entertaining," says Jack McGarry, managing director of New York City's The Dead Rabbit. "It's perfect for the holidays." McGarry's punch pick? The Dead Rabbit's Knock-Out Punch.
Recipe (Serves 8-10)
Zest of 12 lemons
150 g caster sugar
300 ml fresh lemon juice
500 ml hibiscus tea
350 ml dry cider
500 ml Jameson Black Barrel
200 ml cranberry liqueur
2 oz elderflower liqueur
15 dashes Burlesque bitters
Muddle zest and sugar until all the oil from the zests has been extracted. Add lemon juice, tea, cider, whiskey, liqueurs, and bitters. Strain through a chinois and finish with freshly grated nutmeg.
---
Master the Playlist
Lastly, a holiday party, and great music, go hand in hand. DJ du jour Mia Moretti created the perfect holiday playlist to get your party into the holiday spirit. "I started the set with one of my favorite Betty Wright tracks of all time, 'Tonight Is the Night.' You have to listen to it for yourself, but I'll tell you, it's not the night before Christmas she's singing about. This track sets the tone for the rest of the set, which is a mix of my favorite Christmas renditions by the likes of Elvis Presley, Mariah Carey and the Jackson 5, and new releases."
1. "Tonight Is the Night," Betty Wright
2. "I Saw Mama Kissing Santa Claus," The Invaders
3. "Santa Bring My Baby Back (To Me)," Elvis Presley
4. "All I Want for Christmas Is You," Mariah Carey
5. "Under My Umbrella," Margo Guryan
6. "Have Yourself a Merry Little Christmas," Sam Smith
7. "Xmas Twist," The Twisting' Kings
8. "Santa Claus is Coming To Town," Jackson 5
9. "How Big, How Blue, How Beautiful," Florence + The Machine
10. "Ex's & Oh's," Elle King