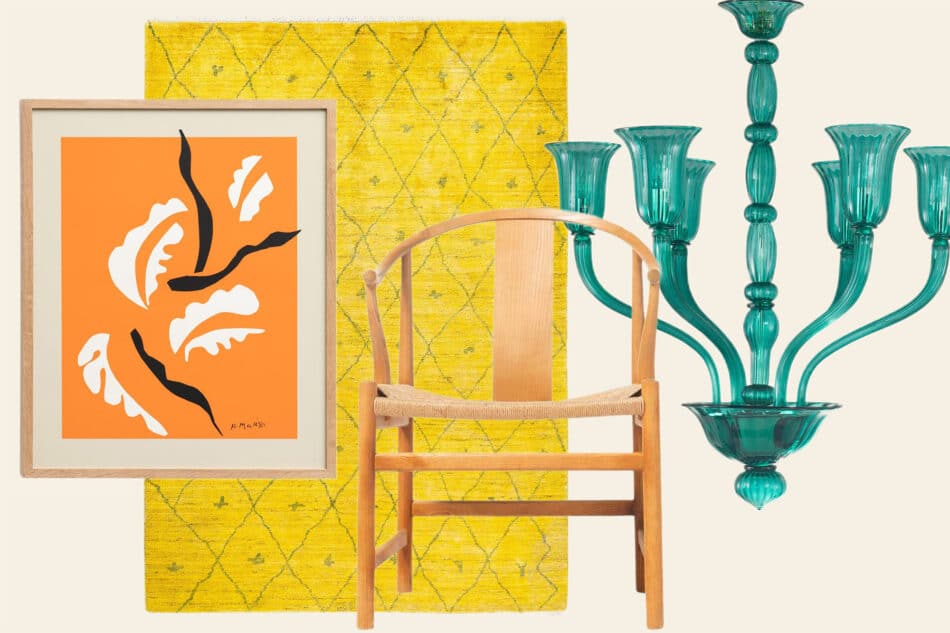 There are many reasons to appreciate good design. It can be innovative, useful, aesthetic, long-lasting. Good design at a great price? Irresistible.
If you enjoy the thrill of unearthing that special item, whether by an iconic designer or one you've just discovered, the 1stDibs Design Lover's Sale is for you. It's a great opportunity to indulge your passion for beautifully crafted pieces while scoring impressive deals and not blowing your budget.
Here, we're highlighting 10 design gems available at a discount, right now.
---
Danseuse Acrobatique, by Henri Matisse
Painter, printmaker, sculptor and modern-art master Henri Matisse (1869–1954) is famed for his bold use of color. In the 1940s, after cancer surgery limited his mobility, he adopted the paper cut-out as his primary medium. This circa 1970 lithograph, Danseuse Acrobatique, was printed after the original 1949 cut-out gouache and signed in the stone.
---
Multiforme Murano Glass Chandelier
Since 2009, Italian lighting company Multiforme has specialized in handcrafted Murano glass chandeliers. Its artisans combine ancient techniques with updated design concepts, as exemplified by this Art Deco–style blown-glass chandelier in a dreamy emerald green.
---
René Holten for Artifort Pinq Chair
Inventive, eye-catching and comfortable, this René Holten Pinq chair covered in golden yellow Kvadrat upholstery checks all the design boxes. Holten (b. 1961) was head of product development at renowned Dutch maker Artifort from 1993 to 1998. Although he left to concentrate on his eponymous Maastricht-based studio, he continued to design for the brand, creating the Pinq in 2010.
---
Jorge Zalszupin for L'Atelier Credenza
Jorge Zalszupin (1922–2020) was born Jerzy Zalszupin in Warsaw, Poland. He immigrated to Brazil in 1949, and in 1959, he opened his design firm, L'Atelier San Paulo. A master of many materials, he pioneered the marquetry technique seen in this credenza, in which varied pieces of rosewood veneer are assembled into a sublime patchwork.
---
Dutch Chippendale Burl-Walnut Linen Press
This Chippendale-style linen press was handcrafted from burl walnut in the Netherlands in the late 18th century. The piece features original floral brass fittings and glorious acanthus-trimmed ball-and-claw feet. Talk about a treasure chest!
---
Sarah Roseman Anemone Vessel
The work of Canadian-born, Netherlands-based designer Sarah Roseman (b. 1999) blurs the boundary between textiles and objects. Roseman handcrafted this Anemone vessel — part of her "Reef" series, which draws inspiration from coral reefs and undersea life — from polypropylene rope and parachute cord. After creating the basic form, she sculpted it into shape with epoxy and coated it with nylon fibers for a fuzzy, flocked finish.
---
Hans Wegner for PP Møbler Chinese Chairs
Renowned Danish designer Hans J. Wegner (1914–2007), who is credited with creating more than 500 different chairs, prioritized comfort. He also insisted that his chairs embody fine craftsmanship and, of course, have pleasing shapes. The first version of his iconic Chinese chair, inspired by images of Danish merchants sitting in traditional Ming seats, came out in 1944. This pair, produced by PP Møbler in the 1990s, is made from oak and paper cord.
---
Marcel Duchamp Rotorelief
The French-born painter, sculptor and writer Marcel Duchamp (1887–1968) merged his interests in science and art to generate his Rotoreliefs, colorful discs designed to spin on a turntable and create optical effects. Although he met with little success when he tried to sell his new inventions at a 1935 science fair, today they are heralded as pioneering developments in sculpture and kinetic art. This mesmerizing example is from German publisher Walther König's 1987 reedition.
---
Solo Rugs Moroccan-Style Area Rug
Crafted in the style of traditional Moroccan rugs — long prized for their elegance, comfort and utility — this sunny design from Solo Rugs features a soft wool pile and 40 hand-tied knots per square inch. Produced in Pakistan, it's colored with natural, eco-friendly dyes made from botanicals, such as larkspur and chamomile.
---
Maurice Mourra Frères Sofa and Armchairs
Born into a family of upholsterers in Reims, France, Maurice Mourra founded his own furniture workshop after World War II and, in collaboration with designer François Letourneur, developed a line of avant-garde seating. Although his firm, now run by his son and grandchildren, still operates in Paris, his original designs are no longer in production. Examples of his early work, such as the set on offer, are extremely rare.