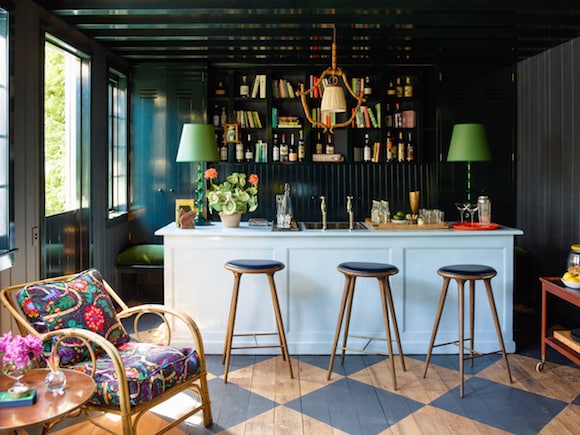 In a Northern California house,
Rita Konig
outfitted this wood-paneled room with a vintage bar,
Julian Chichester
stools and sink fittings by Lefroy Brooks.
Photo by Eric Piasecki/OTTO
---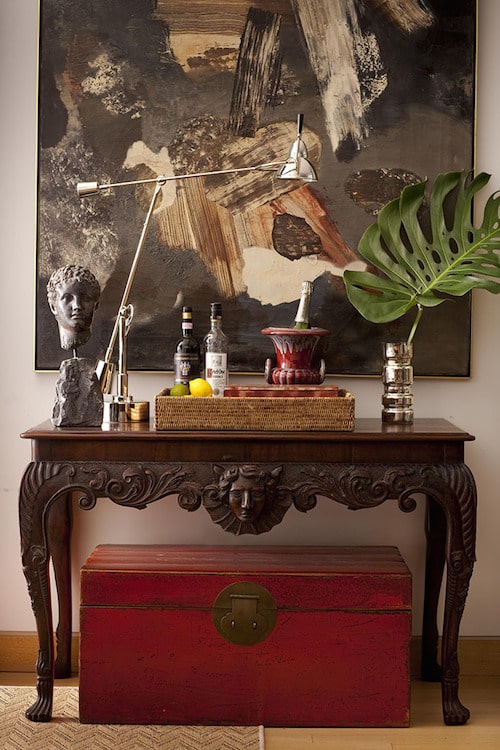 An abstract painting by Michel Cadoret hangs over a Georgian mahogany console table that serves as a bar, visually dividing the space between the living and dining rooms in a Manhattan home by Nick Olsen. The console includes a counterpoise lamp in polished nickel, a Burmese tray and a mercury-glass vase.
Photo by John Bessler
---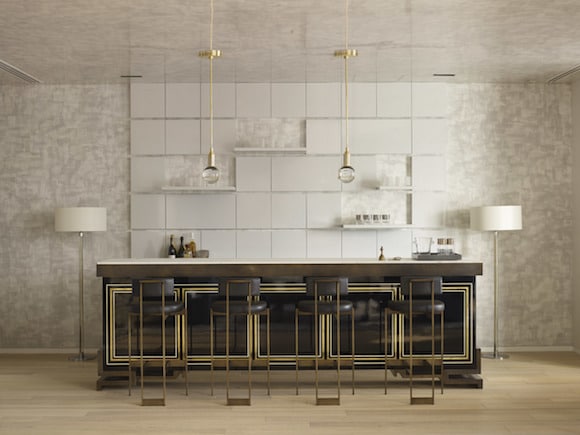 Sara Story sought to converge Asian and Art Deco style in the rooms of a Singapore penthouse. Carlton House Restoration created the lacquered-wood bar with brass and marble inlay, whose sleek lines are accentuated by Powell & Bonnell's Alto stools. A pair of Le Tre Streghe pendants hangs above the bar.
Photo by Robert McLeod
---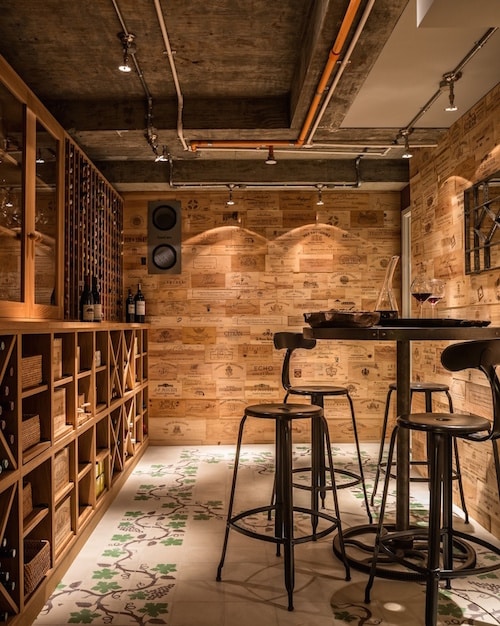 Maddux Creative converted the garage of a London Mews house into a wine cellar and tasting room. The designers covered the garage door with a wall of vintage wine boxes, some of which Maddux sourced from a few favorite sommeliers, who saved their best crates.
Photo by Andreas Von Einsiedel
---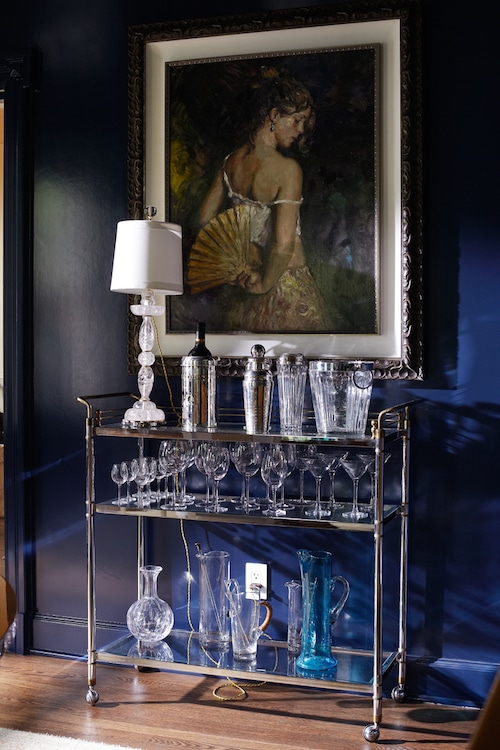 Topped with the homeowner's barware collection, a silver serving cart pops against the midnight blue walls of an Austin, Texas, dining room by Jan Showers.
Photo by Stephen Karlisch
---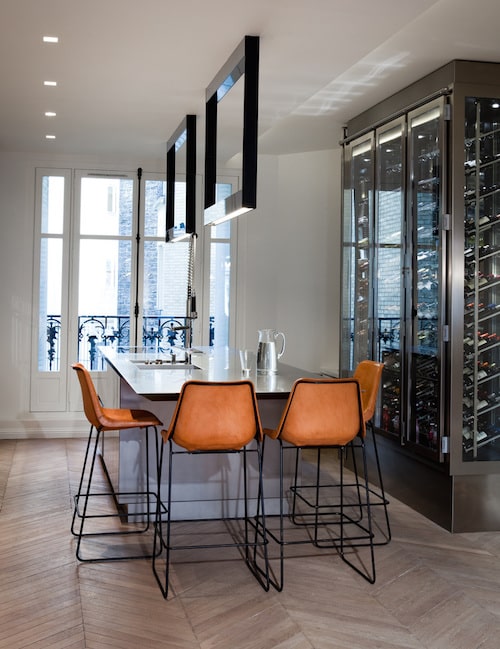 In this Paris home, Isabelle Stanislas Architecture had to create a multiuse area that would function as a kitchen, bar and gathering place for friends and family. The space includes a Boffi stainless-steel island and custom Provintech wine cabinet.
Photo by Olivier Löser
---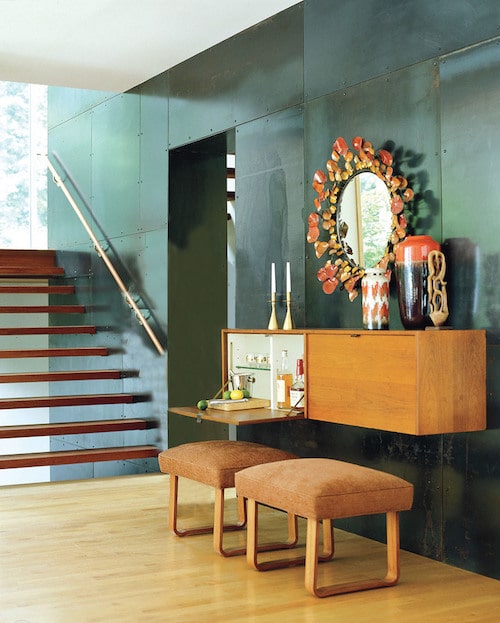 Amy Lau chose a vintage Florence Knoll wall-hung bar for the foyer of this open-plan home in Upstate New York. The pair of benches are by Edward Wormley for Dunbar, purchased from Mark Frisman, and the mirror comes from the Amy Lau Studio Four Season collection.
Photo by Josh McHugh
---
---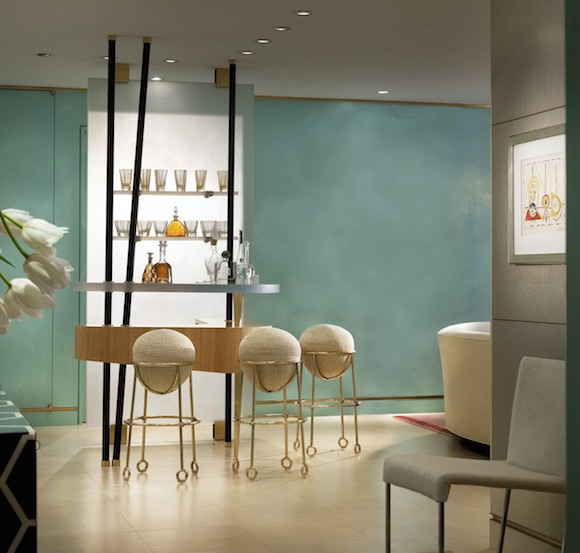 Jean Royère Yoyo stools are arranged around the bar of this Ike Kligerman Barkley-designed Park Avenue apartment in New York City.
Photo by Durston Saylor
---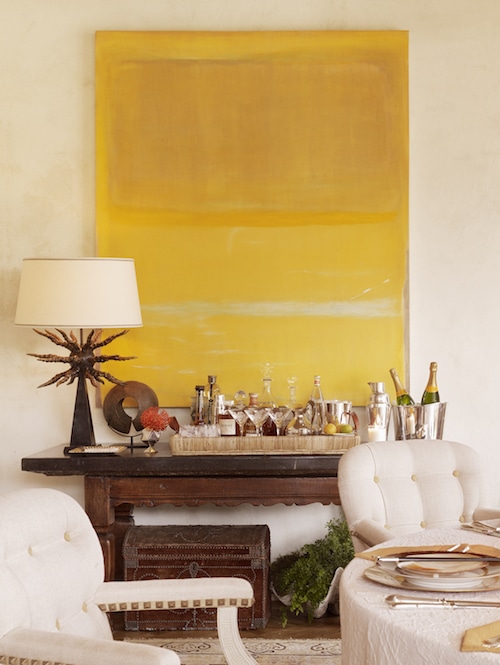 Yellow #5 by Carole Pierce hangs above an antique Swedish console table with stone top in the dining room of a Normandy-style mansion designed by Tucker & Marks for the 2010 San Francisco Showcase. A cocktail tray sits between a bronze lamp sits and a set of silver bar accessories.
Photo by Matthew Millman
---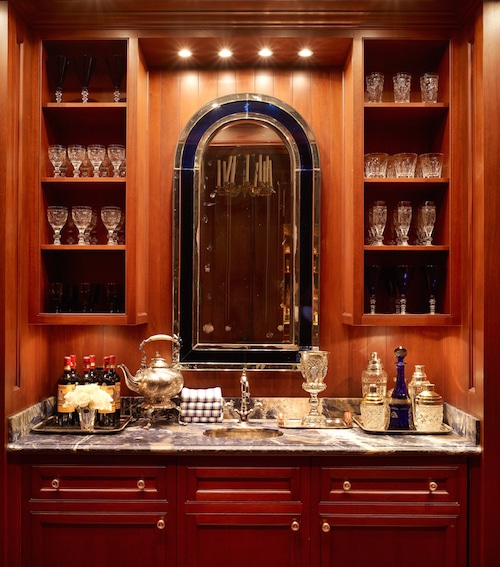 On Manhattan's Upper East Side, a townhouse by Kirsten Kelli features a mahogany bar, where an Art Deco mirror hangs over the lapis-blue marble countertop. To the left of the sink is an antique Russian samovar, and the blue decanter on the right was a gift from the Dallas Cowboys.
Photo by Stephen Karlisch
---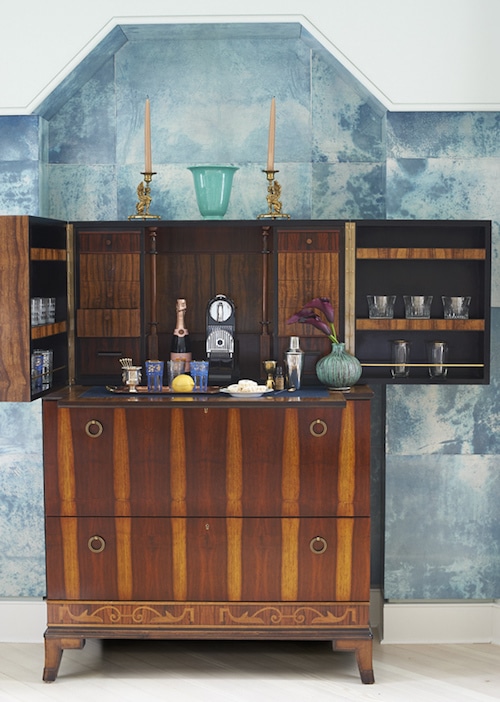 The master bedroom of a Long Island, New York, beach house by Alexandra Loew features a 1920s Swedish secretary by Erik Chambert, which was retrofitted with a Sub-Zero fridge and freezer drawers. Doors on the top half of the secretary open up to reveal rows of glasses and a Nespresso machine, alongside pottery by Arne Bang from Freeforms.
Photo by William Waldron
---

For the the dining room of this year's Hamptons Designer Showhouse, the Mendelson Group brought in a 1960s cerused bar cart, which includes a double-sided drawer and flip top. The cart sits below the wood sculpture c.16, 1978, by Gunnar Theel.
Photo by Eric Piasecki
---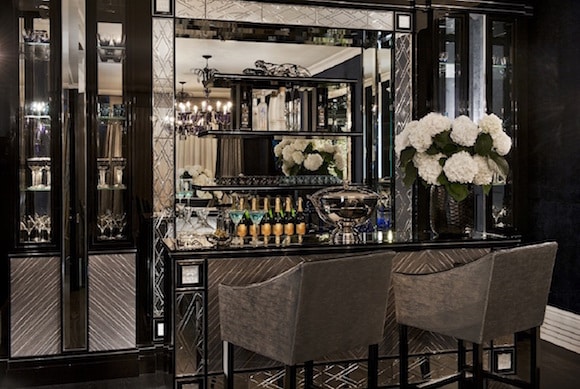 A custom Lalique bar in the dining room of a London villa by Argent Design features a bespoke tabu harewood veneer, custom-etched Venetian glass panels with metalwork detailing and a smoked black onyx bar top with floating inlay onyx shelves.
Photo by Argent Design
---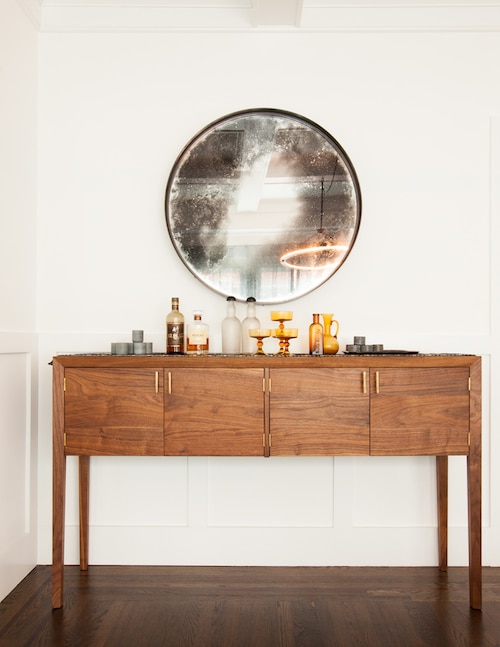 A console cabinet and mirror comprise the simple, streamlined bar area of this Oakland, California, home by Geremia Design.
Photo by Melissa Kaseman
---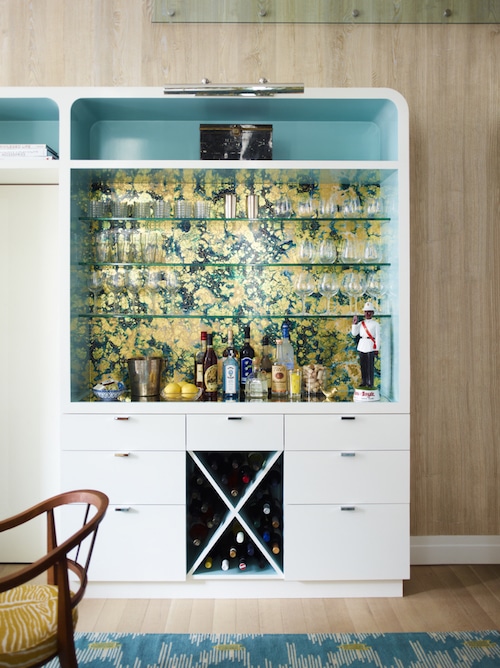 In the living room of a West Village apartment by Katie Ridder, the bar unit features Stark's China Lack wallpaper.
Photo by Eric Piasecki
---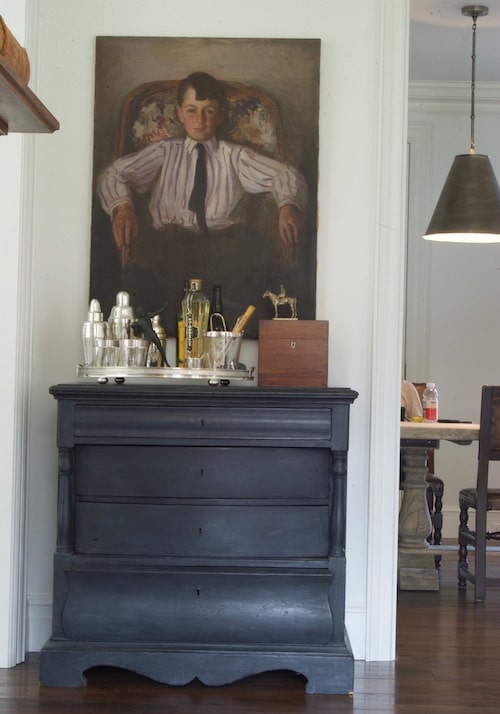 The bar area of this
Amagansett, New York, beach house by Vaughn Miller Studio
is located in the foyer, and it's composed of an ebonized wood chest of drawers with a sterling-silver tray and bar accessories, plus bronze and metal statues and decorative objects acquired at the Brimfield Antique Show.
Photo by Derrick Miller
---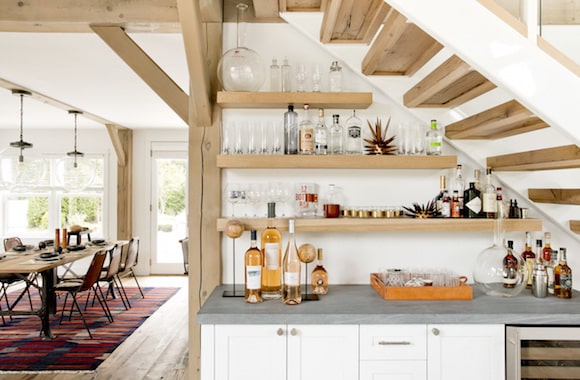 In this Hamptons home by Timothy Godbold, a nook under the stairs was converted into a bar, which features custom open shelving. The leather and glass accessories from the Future Perfect, and the spiky objects are from Towne Palm Springs.
Photo by Rikki Snyder