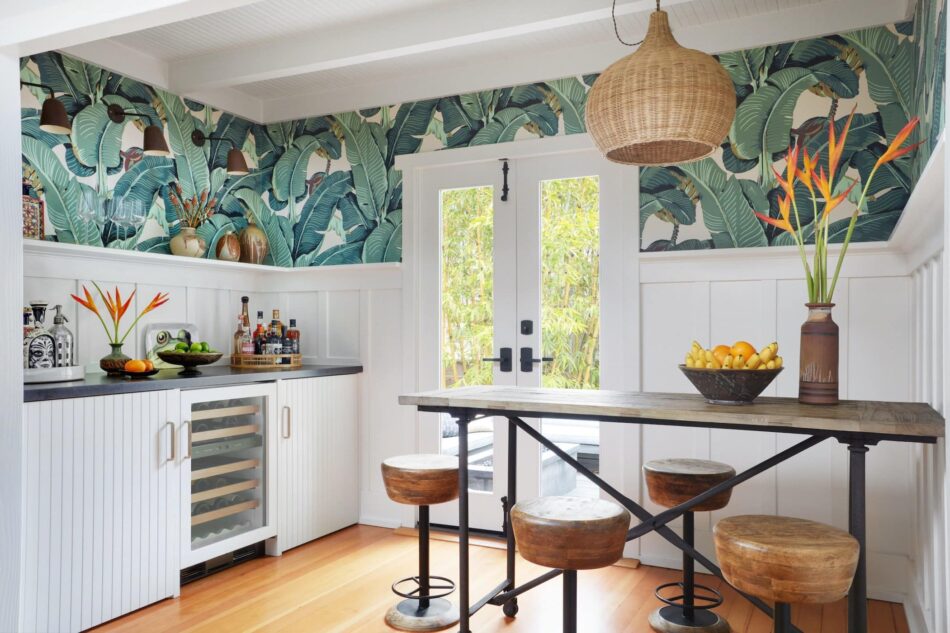 Tasked with restoring and refreshing the clients' circa 1910 bungalow in Venice Beach, California, Jeff Andrews rose to the challenge. In this funky bar area, the relatively small space didn't deter him from going big and bold.
For inspiration, he looked to a longstanding Hollywood hangout: "The palm pattern by CW Stockwell is the actual wallpaper used at the Beverly Hills Hotel," Andrews says.
---
For their assigned space in the Sotheby's Show House, the Daun Curry Design Studio team took their cue from the Jean-Pierre Cassigneul portrait. Its sensuality and warm palette are echoed in the Vladimir Kagan sofa, with a counterpoint provided by the funky Judy Kensley McKie baboon sculpture, which serves as a fully functional bar, and the stark Ed Ruscha painting.
---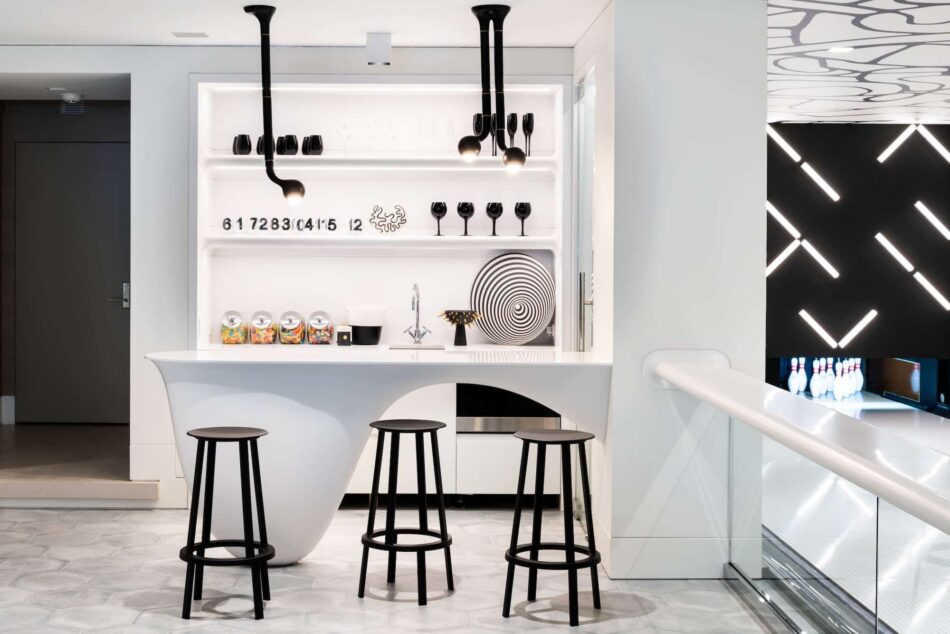 In designing this ultra-contemporary Hamptons bar, Kelly Behun discovered her muse in an unusual spot: the neighboring bowling alley. "The wallpaper around the alley is inspired by French artist Jean Dubuffet's Chambre au lit sous l'arbre," she explains, "a remarkable sculptural room that had a strong effect on me from the moment I saw it. It was nice to create this little homage to his genius."
---
This basement-level bar on Martha's Vineyard "was meant to feel like a cross between a men's club, speakeasy and Soho loft," says its designer, Heather Wells. It may look like an old-school haunt, but all the furnishings, including the Restoration Hardware chandelier and the Bright Group stool, are contemporary finds.
---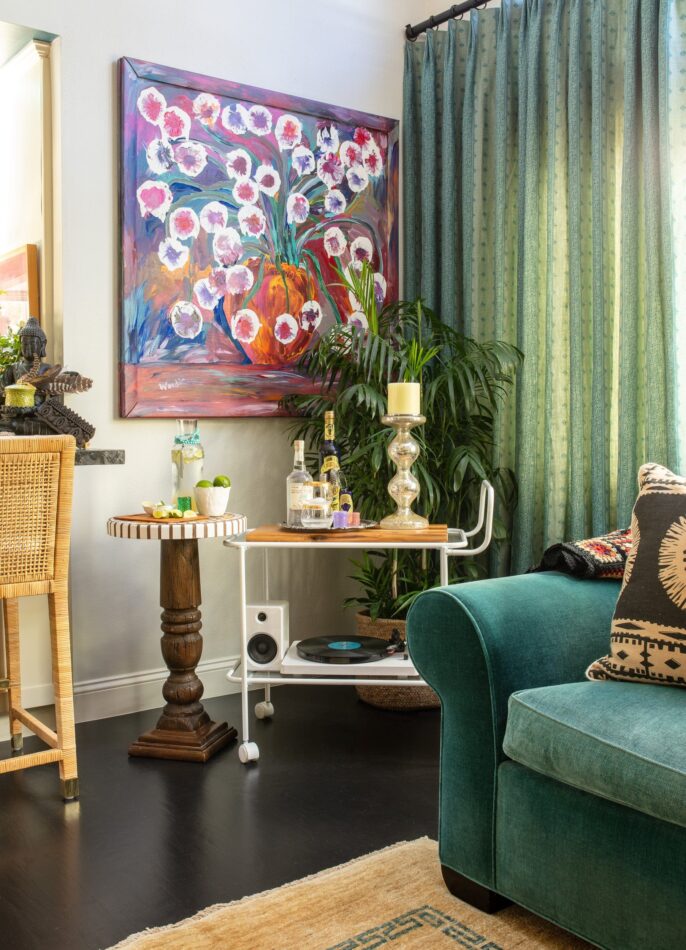 In decorating her own Calabasas, California, home, Lisa Queen enlisted the help of her daughter and business partner, Sara. "Our design intention for the entire home," says Sara, "was to use color to create spaces within spaces, which is a time-honored Christopher Alexander design technique." Setting the color scheme in the bar and game room is an enormous floral painting by a 20th-century American folk artist.
That work is just one of the space's vintage treasures, which also include the 1970s metal bar cart. The drink table next to it is a sort of customized readymade. "The base is a scrap piece of molding Lisa found in the early 1990s," explains Sara, "and she had her friend the artist Melissa Koch handcraft a mosaic-tile top for it."
---
For this Chicago billiards room, Sasha Adler's goal was cozy yet sophisticated. An abundance of walnut creates warmth, seconded by subtle design details like the navy suede upholstery just below the ceiling and the custom charcoal-gray felt on the pool table.
And the sophistication? That's provided by the pair of matching vintage metal pendant lights from 1stDibs.
---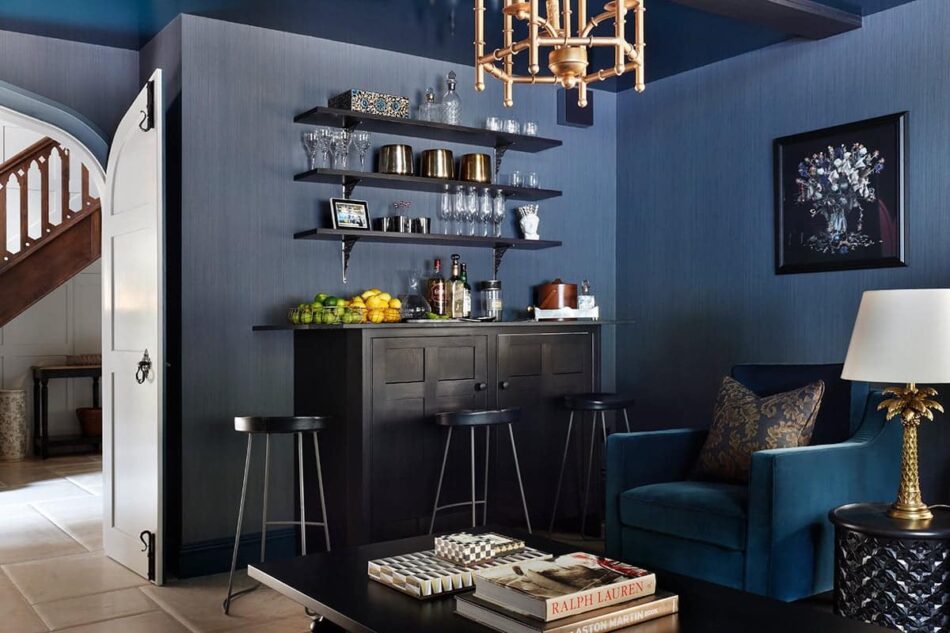 Tiffany Duggan designed this bar area for clients who "were keen to create a moodier evening space that added an extra dimension to their otherwise light and airy Hertfordshire home," the designer explains. "We chose a tone-on-tone blue palette and played with contrasting textures." Bright accents are provided by the pineapple table lamp and lantern, both vintage.
---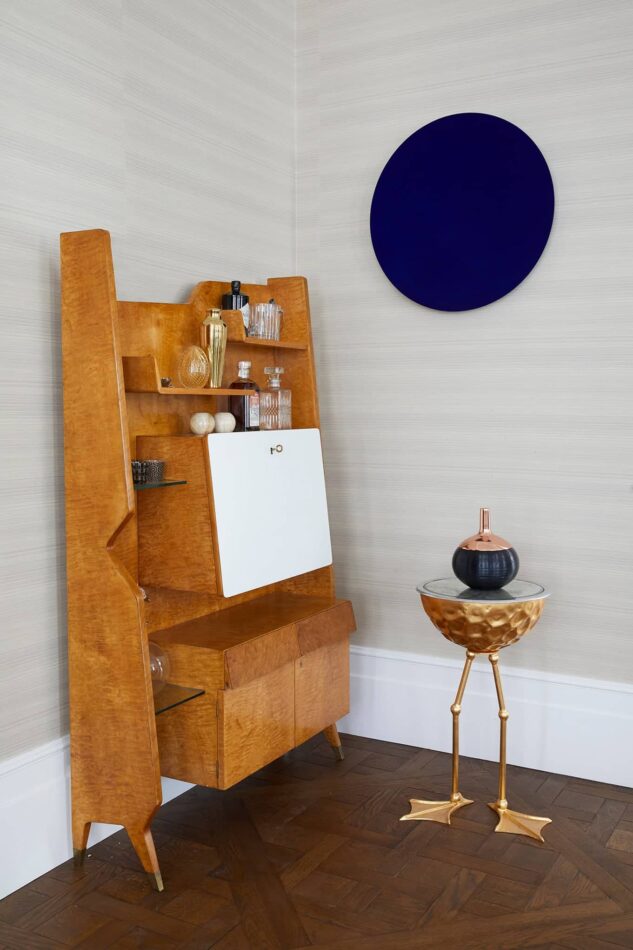 "The client wanted to a bar that didn't look like a bar, so we found this antique Giò Ponti cabinet and changed the use," says Peter Mikic, describing this West London space. Other star pieces include an Anish Kapoor dot and the duck-legs table, which the client already owned.
---
This Dubai bar by Alix Lawson is infused with a spectrum of neutral tones recalling the surrounding desert. Except for the Oluce table lamps and rattan tables, the furniture is all custom designed. "To create the clean and fresh yet warm look, I layered tone on tone with the stone, veneer and fabrics," says Lawson. "The pops of color come from the palms and the poufs."
---
In designing this Palm Beach, Australia, hideaway bar, Blainey North looked to distant continents and times, borrowing the abstracted forms, colors and straight lines of the Dutch De Stijl movement, spiced with the glamour and ultra-cool of America icon Frank Sinatra.
---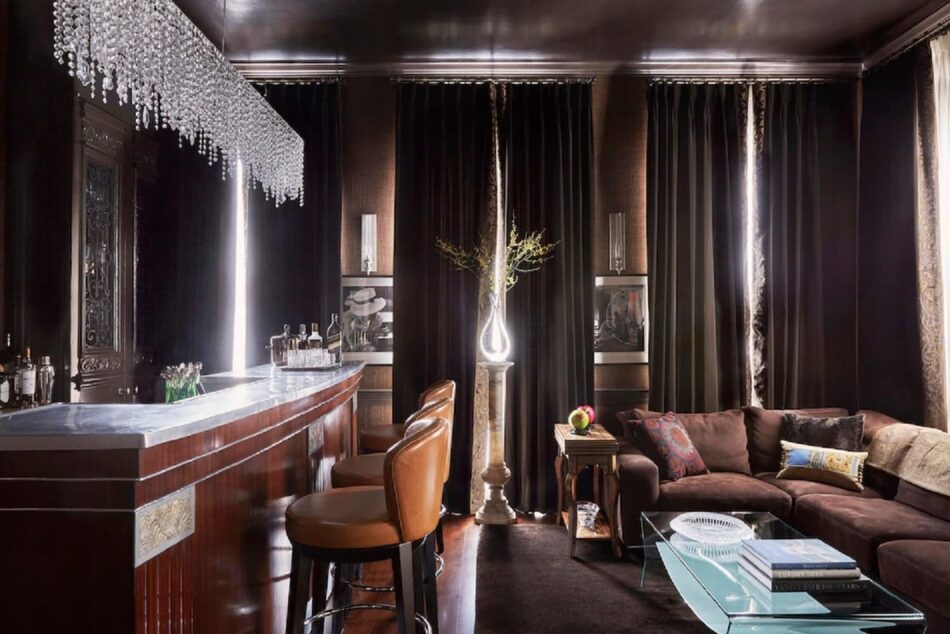 "The client wanted a space that had a true bar ambience in their Washington, DC, home," says Mona Hajj. "That gave me the idea of creating a moody, comfortable, inviting lounge space." She pulled it off with the aid of pieces like the Italian crystal chandelier, 19th-century French bar doors and, of course, the 1930s Art Deco French bar.
---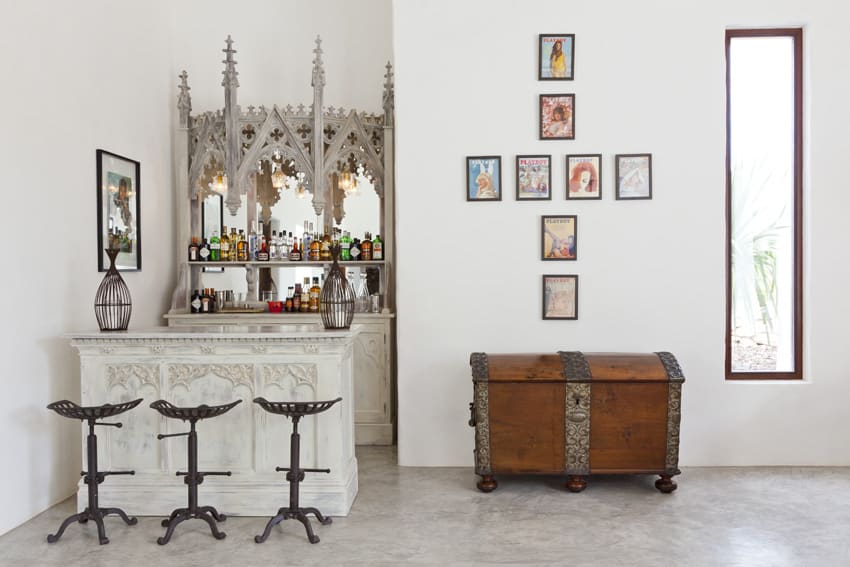 Ed Godrich and Rupert Hunt transformed a former farm on the Spanish island of Ibiza into a sophisticated oasis. In the living room, the designers fashioned a bar out of pieces of church furniture. Keeping in theme, Godrich and Hunt arranged a collection of vintage Playboy covers in a cross formation.
---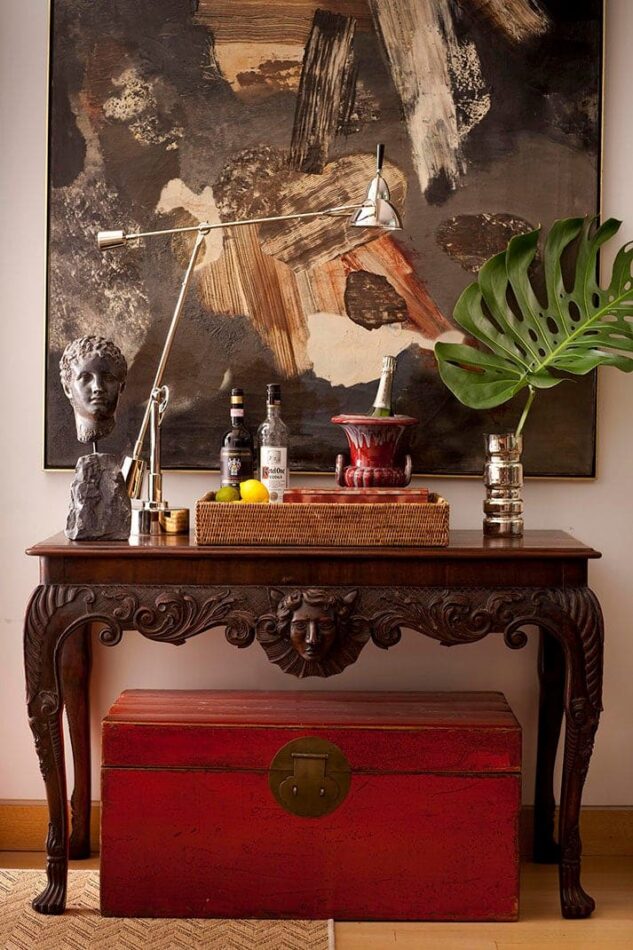 An abstract painting by Michel Cadoret hangs over a Georgian mahogany console table that serves as a bar, visually dividing the space between the living and dining rooms in a Manhattan home by Nick Olsen. The console includes a counterpoise lamp in polished nickel, a Burmese tray and a mercury-glass vase.
---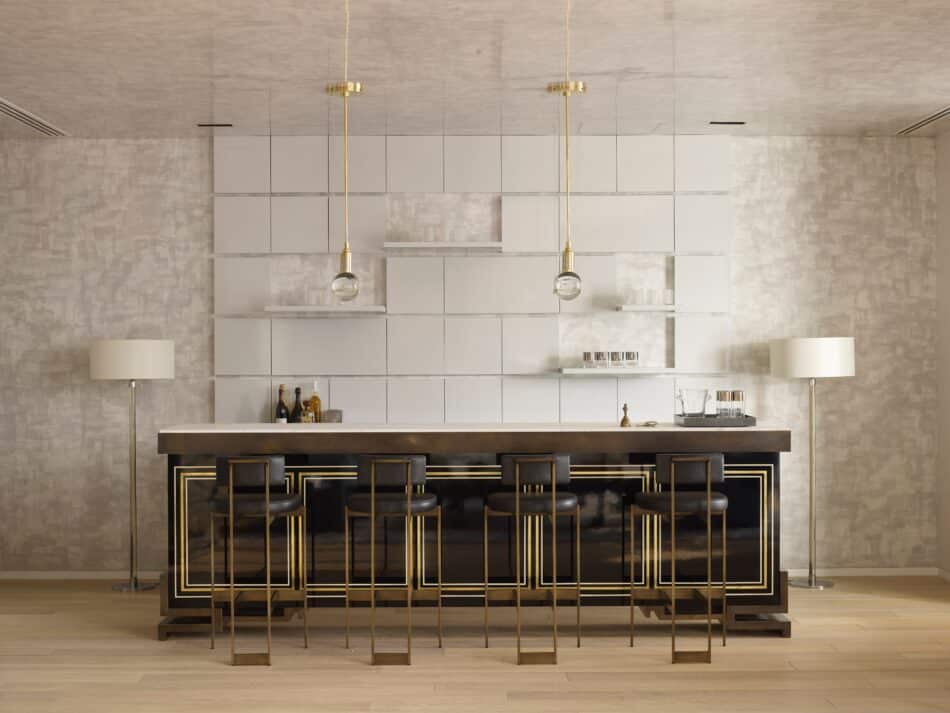 Sara Story sought to converge Asian and Art Deco style in the rooms of a Singapore penthouse. Carlton House Restoration created the lacquered-wood bar with brass and marble inlay, whose sleek lines are accentuated by Powell & Bonnell's Alto stools. A pair of Le Tre Streghe pendants hangs above the bar.
---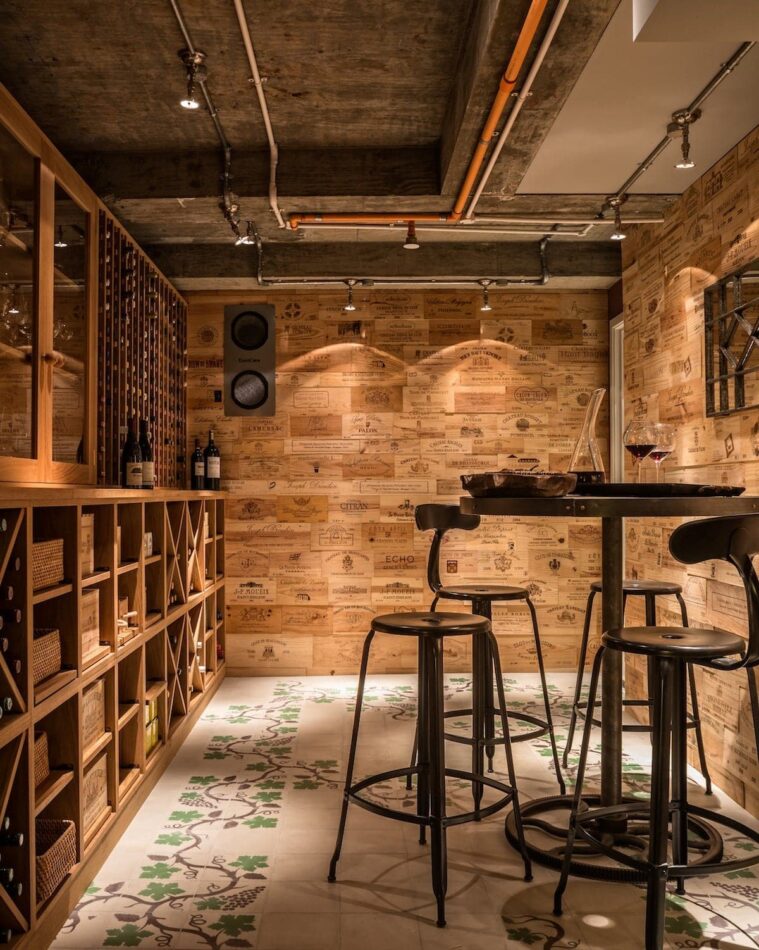 Maddux Creative converted the garage of a London Mews house into a wine cellar and tasting room. The designers covered the garage door with a wall of vintage wine boxes, some of which Maddux sourced from a few favorite sommeliers, who saved their best crates.
---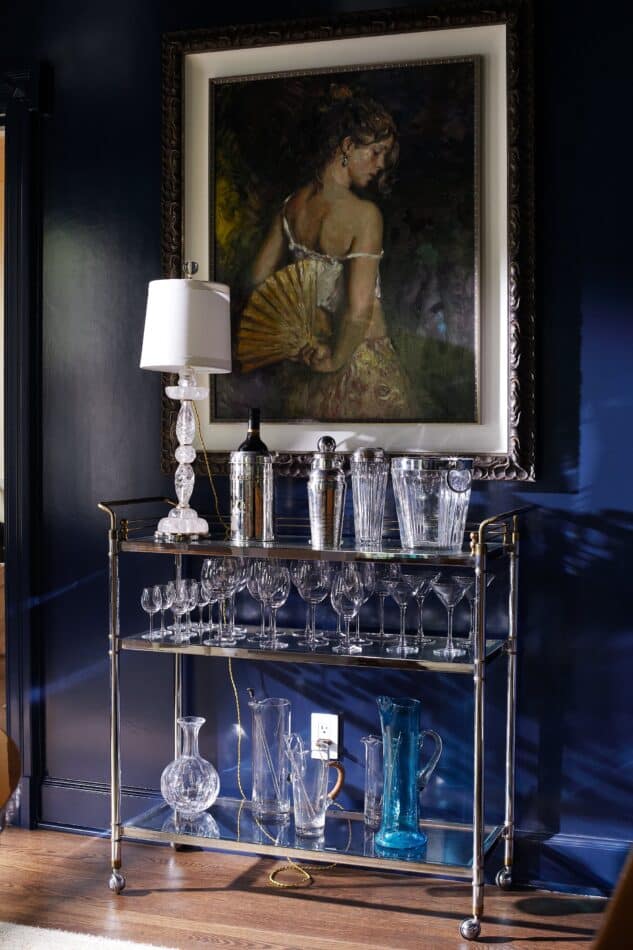 Topped with the homeowner's barware collection, a silver serving cart pops against the midnight blue walls of an Austin, Texas, dining room by Jan Showers.
---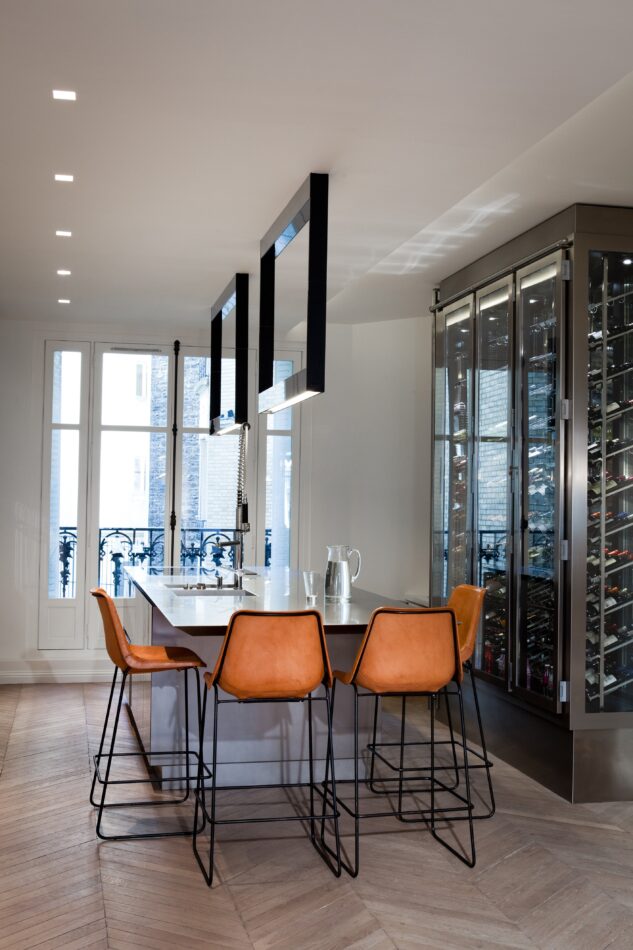 In this Paris home, Isabelle Stanislas Architecture had to create a multiuse area that would function as a kitchen, bar and gathering place for friends and family. The space includes a Boffi stainless-steel island and custom Provintech wine cabinet.
---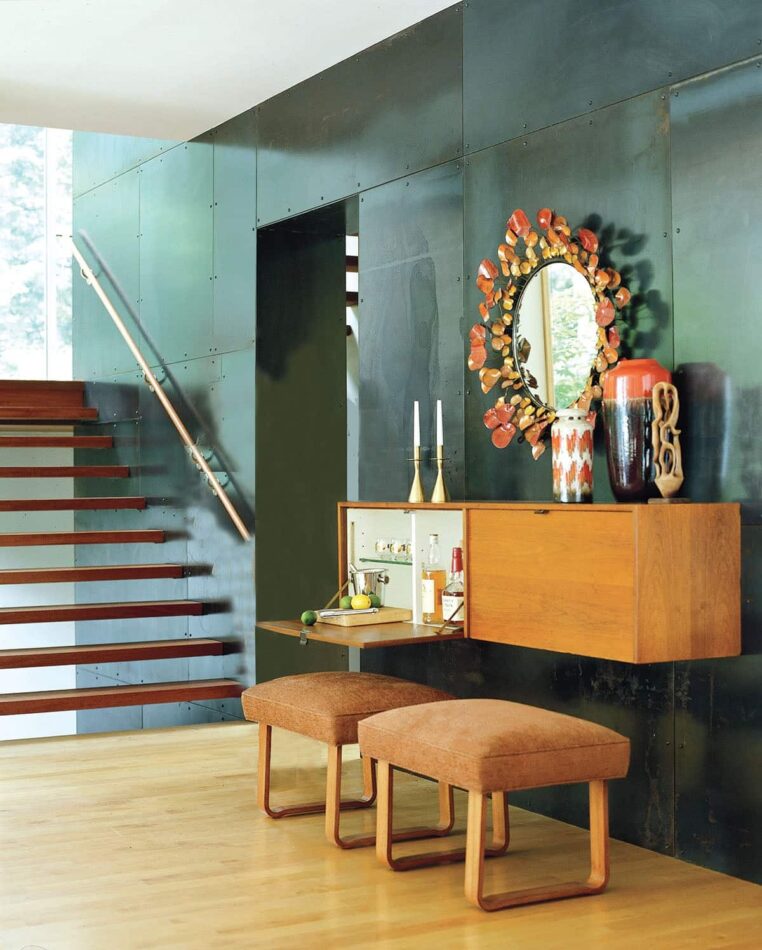 Amy Lau chose a vintage Florence Knoll wall-hung bar for the foyer of this open-plan home in Upstate New York. The pair of benches are by Edward Wormley for Dunbar, purchased from Mark Frisman, and the mirror comes from the Amy Lau Studio Four Season collection.
---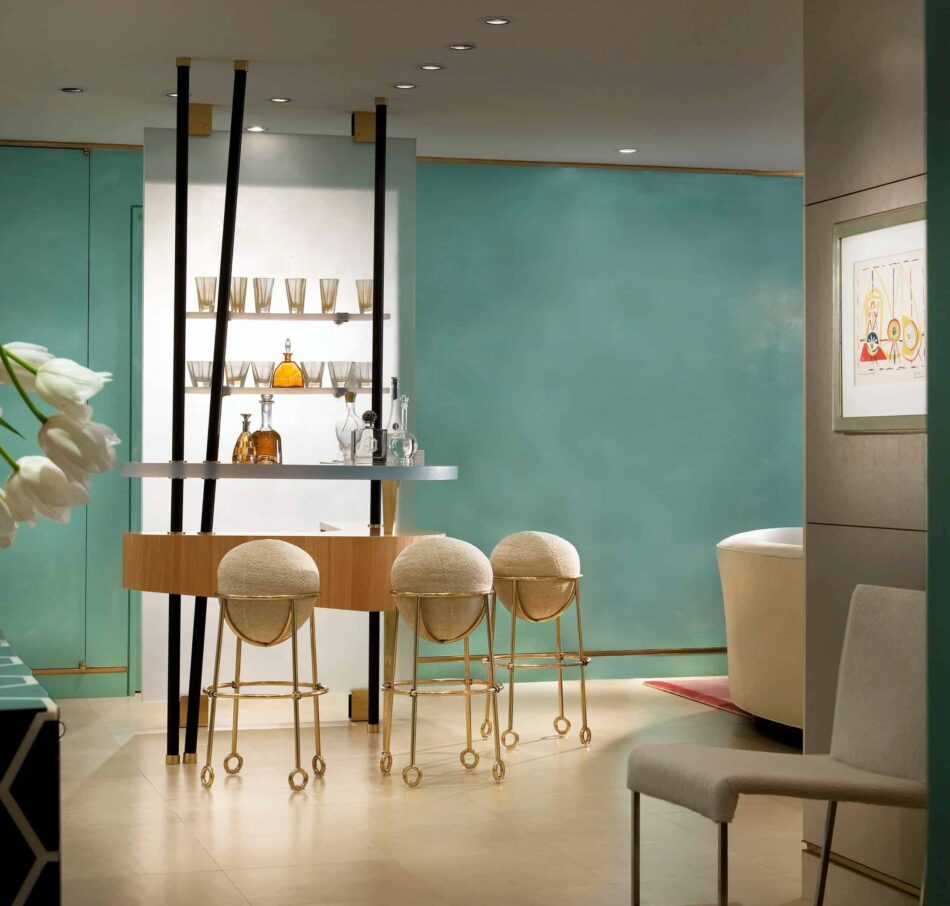 Jean Royère Yoyo stools are arranged around the bar of this Ike Kligerman Barkley-designed Park Avenue apartment in New York City.
---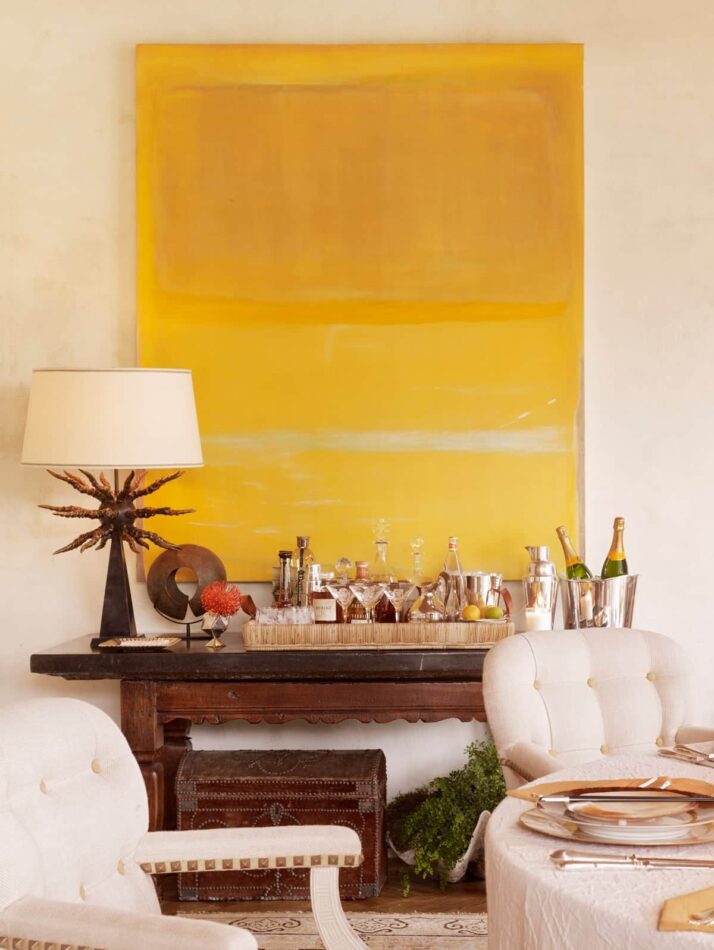 Yellow #5 by Carole Pierce hangs above an antique Swedish console table with stone top in the dining room of a Normandy-style mansion designed by Tucker & Marks for the 2010 San Francisco Showcase. A cocktail tray sits between a bronze lamp sits and a set of silver bar accessories.
---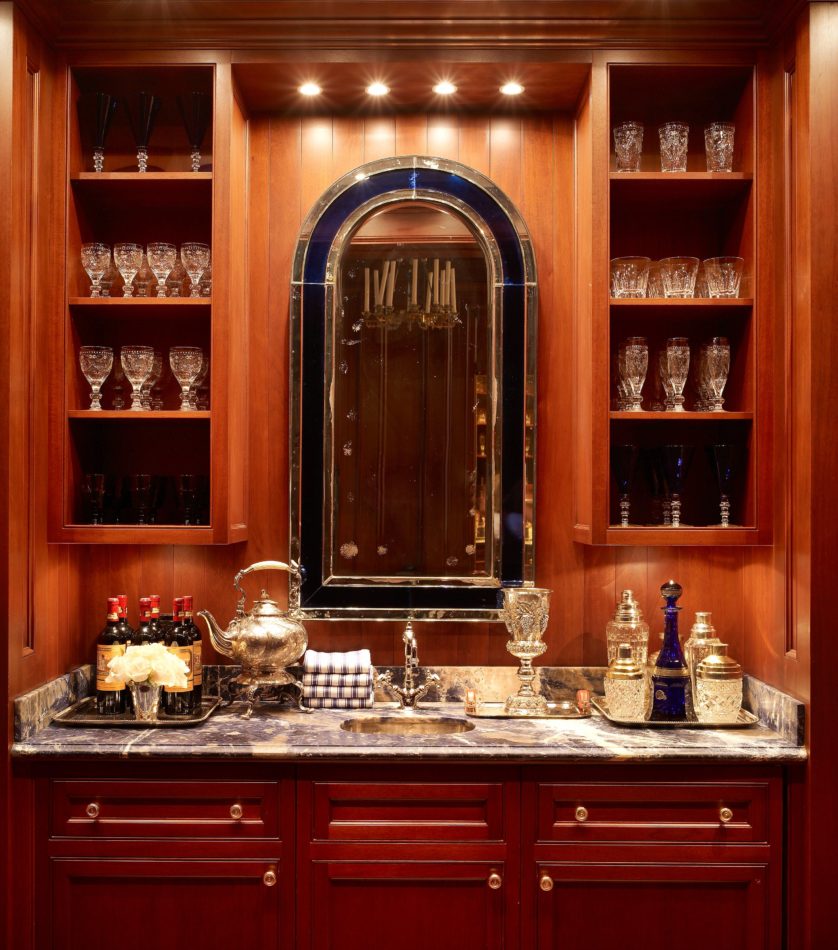 On Manhattan's Upper East Side, a townhouse by Kirsten Kelli features a mahogany bar, where an Art Deco mirror hangs over the lapis-blue marble countertop. To the left of the sink is an antique Russian samovar, and the blue decanter on the right was a gift from the Dallas Cowboys.
---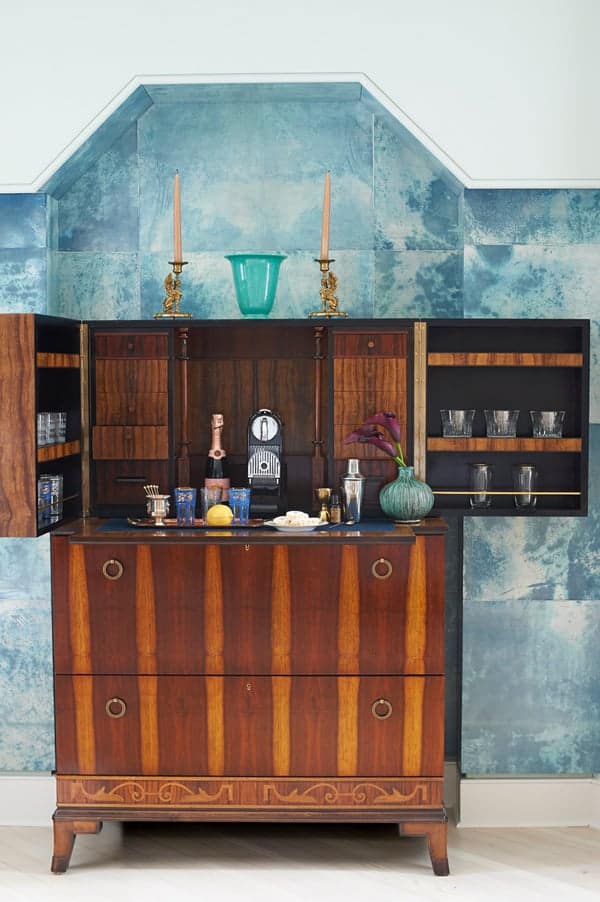 The master bedroom of a Long Island, New York, beach house by Alexandra Loew features a 1920s Swedish secretary by Erik Chambert, which was retrofitted with a Sub-Zero fridge and freezer drawers. Doors on the top half of the secretary open up to reveal rows of glasses and a Nespresso machine, alongside pottery by Arne Bang from Freeforms.
---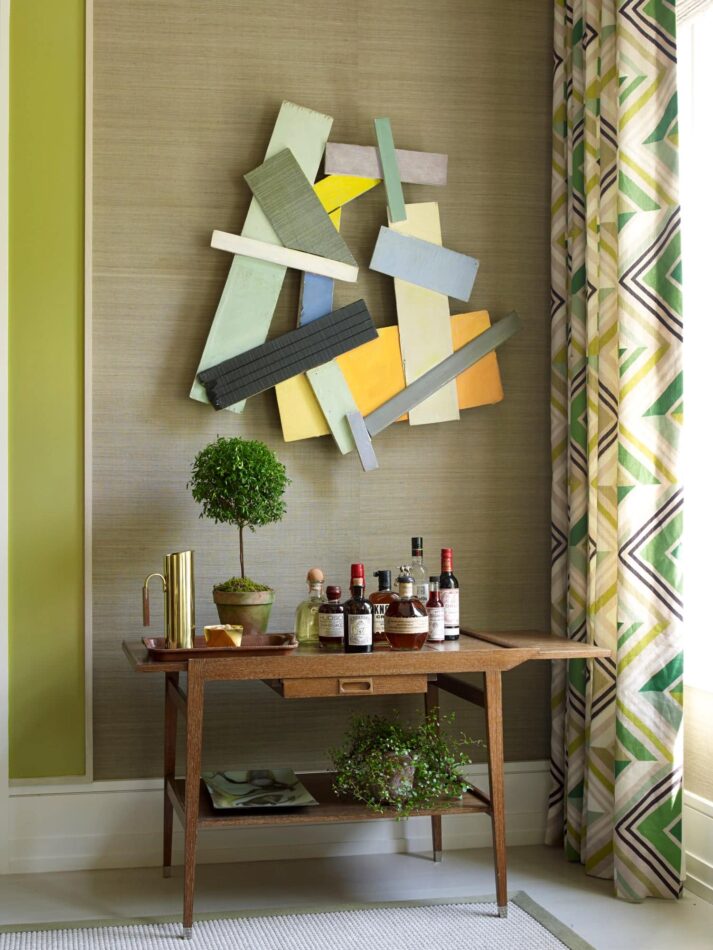 For the the dining room of this year's Hamptons Designer Showhouse, the Mendelson Group brought in a 1960s cerused bar cart, which includes a double-sided drawer and flip top. The cart sits below the wood sculpture c.16, 1978, by Gunnar Theel.
---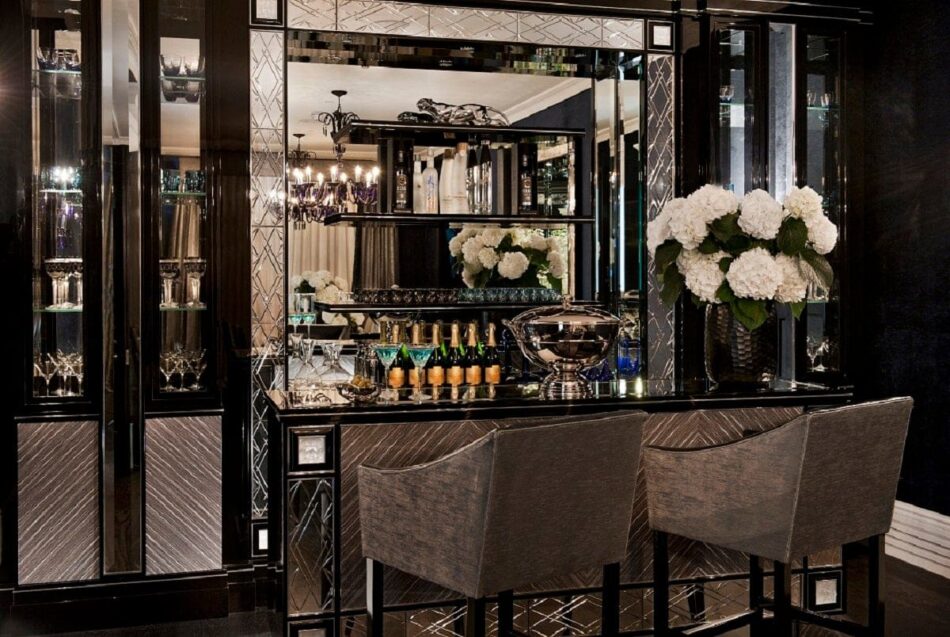 A custom Lalique bar in the dining room of a London villa by Argent Design features a bespoke tabu harewood veneer, custom-etched Venetian glass panels with metalwork detailing and a smoked black onyx bar top with floating inlay onyx shelves.
---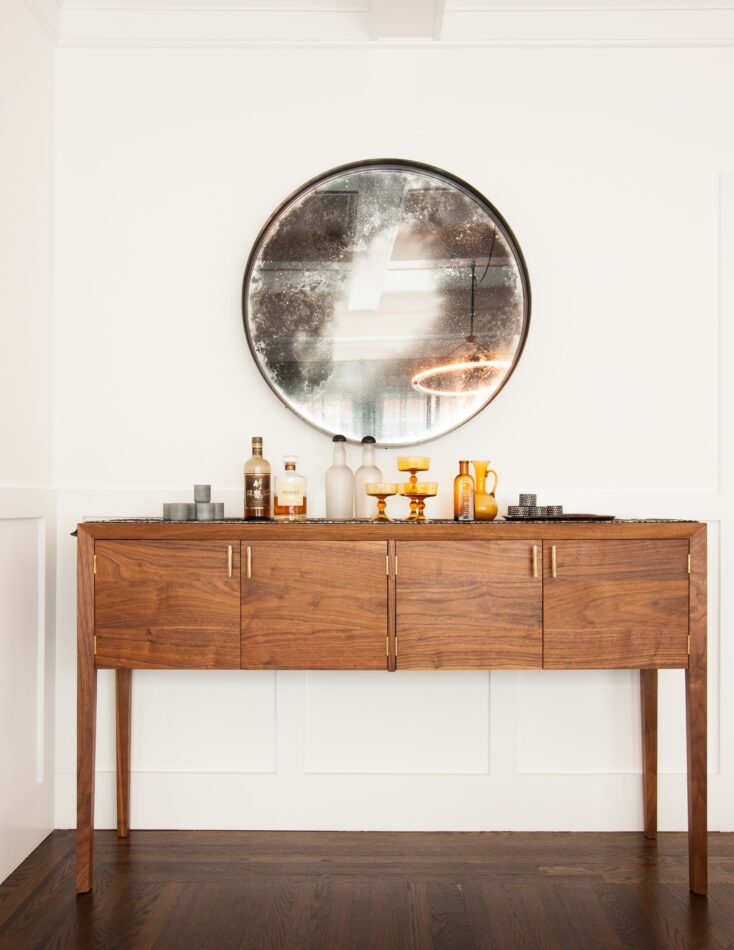 A console cabinet and mirror comprise the simple, streamlined bar area of this Oakland, California, home by Geremia Design.
---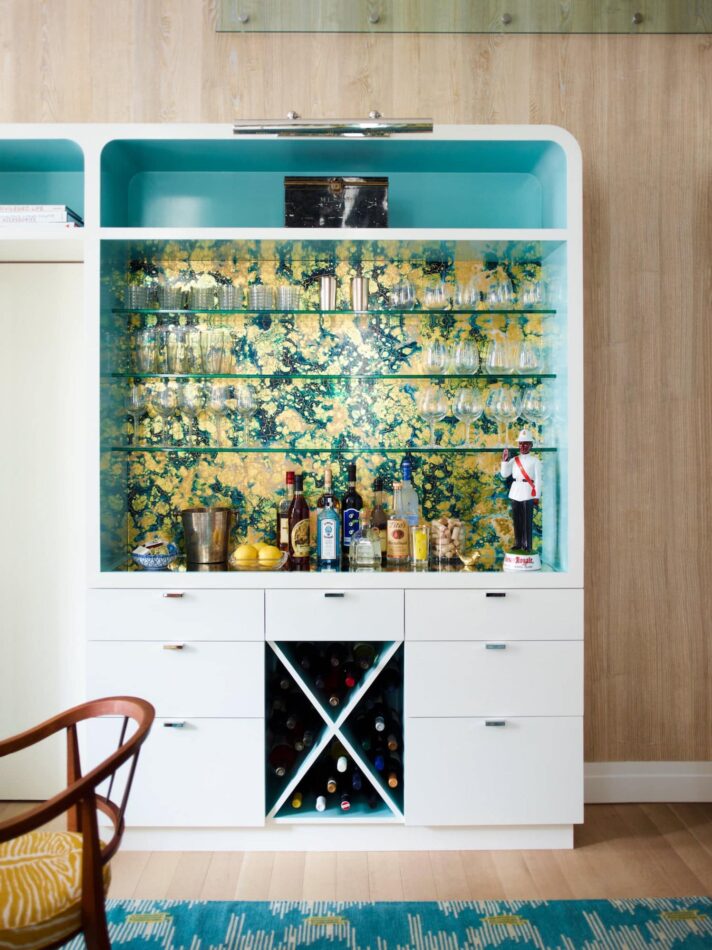 In the living room of a West Village apartment by Katie Ridder, the bar unit features Stark's China Lack wallpaper.
---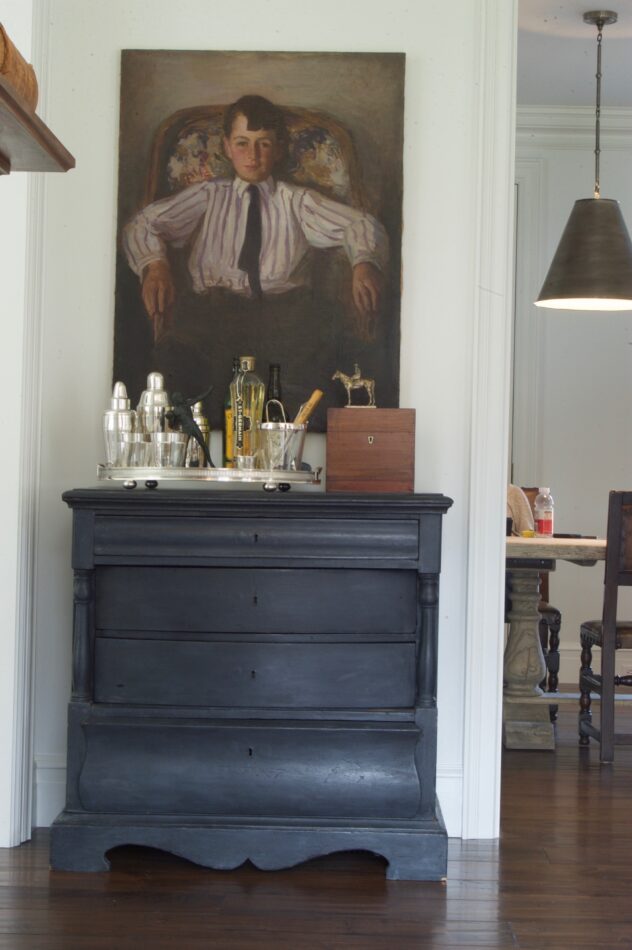 The bar area of this Amagansett, New York, beach house by Vaughn Miller Studio is located in the foyer, and it's composed of an ebonized wood chest of drawers with a sterling-silver tray and bar accessories, plus bronze and metal statues and decorative objects acquired at the Brimfield Antique Show.
---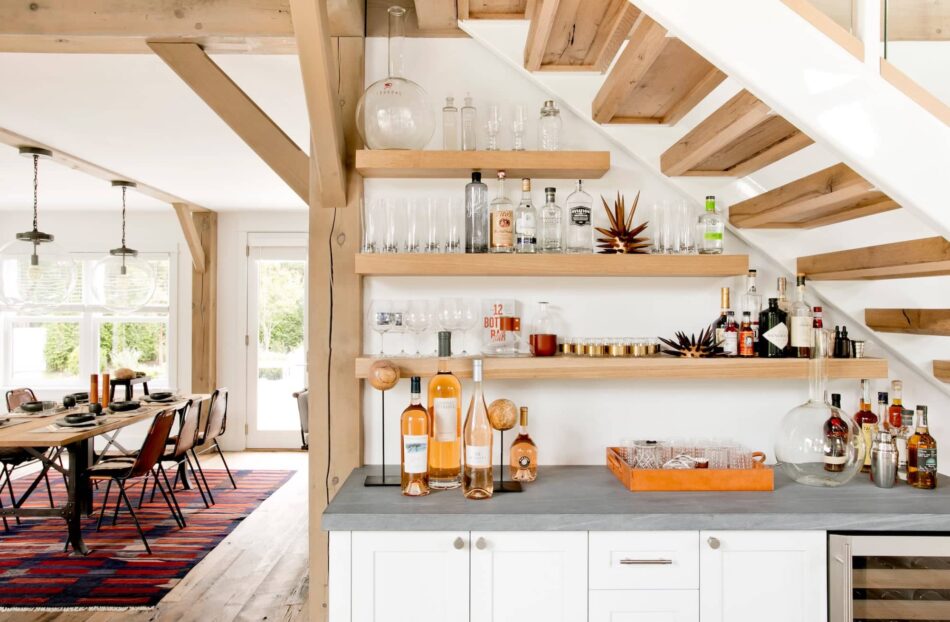 In this Hamptons home by Timothy Godbold, a nook under the stairs was converted into a bar, which features custom open shelving. The leather and glass accessories from the Future Perfect, and the spiky objects are from Towne Palm Springs.