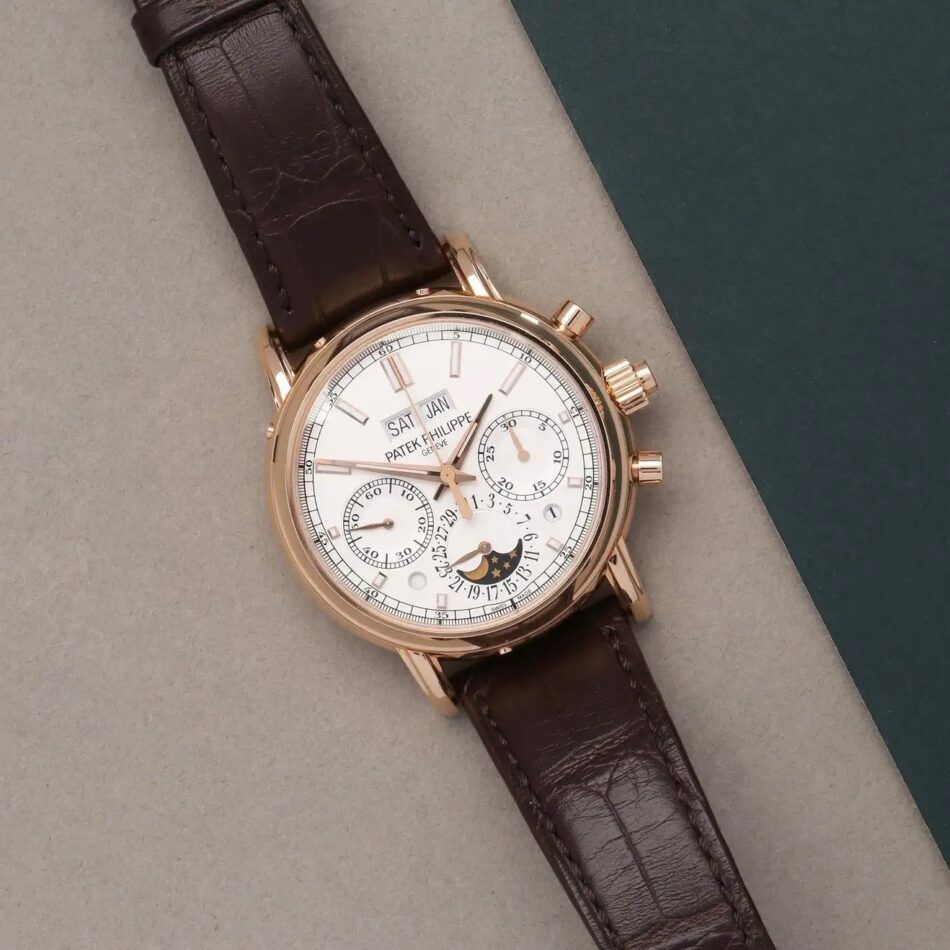 Admirers of Swiss watch manufacturer Patek Philippe range from Queen Victoria to Jay-Z. Johnny Cash gave a Patek to his dentist. TV mobster Tony Soprano gave one to his cousin. Ed Sheeran is a superfan. In short, the brand elicits respect and awe from the world's most famous and powerful people.
Watchmakers Antoine Norbert de Patek and Jean Adrien Philippe launched the eponymous maison in 1851. From the beginning, Patek Philippe has opted for quality over quantity — a decision that has resulted in another lure for collectors: rarity. It's estimated that fewer than one million Patek Philippe watches have been produced since the company's founding.
"Since day one, their product has been superior," says Jeff Cohen, of Chicago-based watch purveyor N. Green & Sons. "They just invented a better mousetrap."
This technical virtuosity has transformed watchmaking. "Historically, Patek Philippe has created the most complicated watches ever made," says Rajendra K. Jain, of WatchCentre, on London's New Bond Street. He points to the Henry Graves Jr. Supercomplication pocket watch.
Completed in 1933, the timepiece has 24 complications. In addition to being one of the most famous watches in the world, it is also one of the most expensive. In 2014, it sold at Sotheby's for $24 million, a record not broken until 2019, when a Patek Philippe Grandmaster Chime reference 6300A-010 brought $31 million at Christie's.
Although that's far beyond the cost of the average Patek Philippe Calatrava or Nautilus, the brand's prices are nevertheless high enough to make its timepieces attractive targets for counterfeiters.
Avoiding the knockoffs means placing your trust in respected dealers with years of hands-on knowledge (all 1stDibs sellers have been thoroughly vetted by our in-house experts). "An experienced eye can always distinguish a fake from an original," says Jain. But how can you tell the difference between a real and fake with your own two eyes? Here are some details to look for.
---
Real or Fake Dial
It takes four to six months to create a Patek Philippe dial. No surprise — the brand takes exacting care in creating every watch face. Doing so requires 50 to 200 separate operations, and after each and every one, the dial gets an ultrasound bath, which cleans the surface without damaging it.
Given these measures, any flaw on the dial is evidence of fakery. Experts recommend that you examine a watch you're considering using a loop and compare it with the same model in a reference book or auction catalogue.
Question everything. For example, is the blue face the right blue? Are the numbers the right font, size and color? Are the hands the right style and length?
Things you won't find on the dial of a real Patek Philippe: misspellings, a rough or inconsistent finish and visible mechanisms (except in skeletonized versions, where all the inner workings are deliberately exposed).
Finally, instead of plastic or glass, the house uses sapphire — which is almost as hard as a diamond — for the watch crystal (the dial's clear protective cover). So, a crystal that is scratched or shattered should raise serious suspicions.
---
Real or Fake Case
Created in-house and by hand, real Patek Philippe cases will feel substantial. There will be nothing slight or irregular about them. Crafted in noble metals — gold and platinum — as well as stainless steel, they will always have a considerable heft and a smooth, lustrous finish.
Make sure the crown (the knob used to set the time) and pushers (buttons used to control features such as a stopwatch function) work properly — the ones on fakes are often just for show. And compare them to those on an authenticated watch of the same design.
Case backs are generally not engraved or decorated (with the exception of limited-edition styles), and importantly, serial and model numbers will only be printed on the inside of the watch, never on the back.
---
Real or Fake Movement
Let's begin with an easy catch. Unlike many other luxury watchmakers, Patek Philippe does not blue its screws. In this process, screws are exposed to high heat, which hardens them and, as the name implies, gives them a blue hue. Because the house relies on top-notch materials, the screws it uses are hard enough without bluing. When you're on the lookout for fakes, identifying this common counterfeiter misstep can save money and regret.
Next, consider the movement's aesthetic composition. You'll want to familiarize yourself with the refinement of the real thing — something a counterfeiter cannot replicate on the cheap. Smooth and immaculate, each component of a Patek Philippe watch is hand finished using techniques passed on through the centuries. The creation of one small gear, for example, takes 65 separate steps to complete.
Lastly, movements produced before 2009 will bear the Geneva Seal, while those made from 2009 on will be etched with the Patek Phillipe Seal. Established in 1886, the Geneva Seal is granted to locally manufactured watches that meet high quality standards. Confident that its standards were higher still, Patek announced at Baselworld 2009 that its watches would thenceforth be marked with its own seal. A Patek Philippe fake may have an imperfectly executed seal or the wrong one for its supposed date.
---
Real or Fake Bracelet
In assessing the bracelet, begin with the standard questions: Does it have the appropriate heft? Is it smooth and polished? Are the color and finish correct? Are the links the right size and perfectly aligned?
Assembled and finished by hand, metal bracelets will be platinum, 18-karat gold or stainless steel and printed with the Patek Philippe name and a model number. The Calatrava Cross, the company logo, will be featured on the deployant clasp.
Leather straps are printed inside with the Calatrava Cross. The logo will appear again on the clasp, as will notation of the metal type. The composite-rubber Tropical strap, first created for the Aquanaut, in 1997, will be sturdy yet flexible and stamped inside with the logo and company name. Of course, these are easy details for counterfeiters to mimic — but likely not with the care and precision of the real thing.