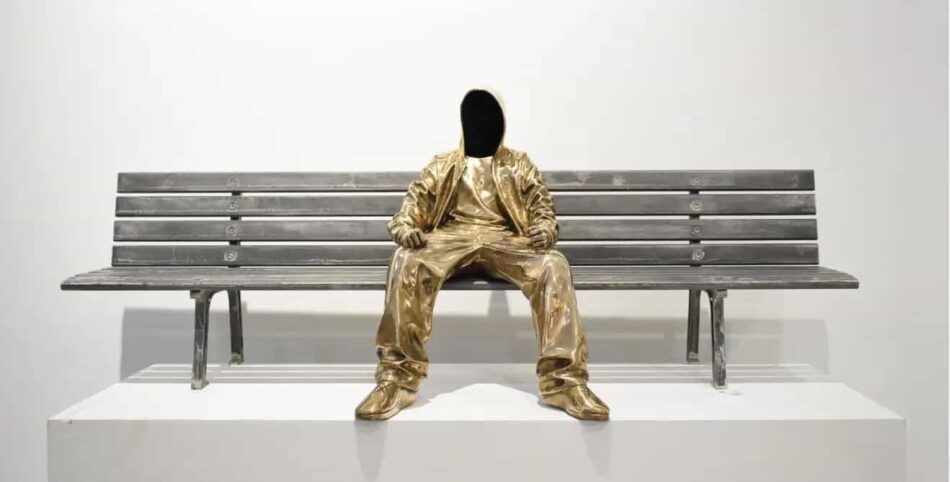 Huang Yulong's "Be My Side" series (2015–20) puts a whole new spin on the term benchwarmer. Each sculpture, available in a limited edition of eight, features a faceless bronze figure seated in a distinctive pose on an aluminum park-style bench.
"I took half a year to 'shape' the concept," puns the well-known Chinese sculptor, who uses a blend of bronze and crystals to conjure his anonymous marvels, speaking on a video call. "I was sitting alone on a bench one day, struggling with the idea of ​​a new sculpture, when the idea struck me."
His epiphany was a sculptural reflection of himself. As alone in the art world as on that bench, "I was always a misfit in the mainstream art scene in Beijing," Huang says. "I use my work as a channel to express the swell of emotion that takes over me when I listen to rap or dance to hip-hop music."
In Be My Side II (2020), the lone figure, clad as usual in a hoodie, gazes outward, albeit without a face. This void provides a view of the kaleidoscope of emotions often hidden below the surface. On either side of the figure, the bench is unoccupied, inviting any who might want to sit beside the artist.
Huang's figurative sculptures are serious business, coveted by collectors, displayed in museums and represented by several international galleries, including Art WeMe Contemporary Gallery, in Kuala Lumpur, and JM Art Management, in Los Angeles. Given his current stature, you might think the upper echelons of the art world were always in his sights. But he is quick to shoot down the notion.
"I never expected my sculptures to attract the attention of art scholars, critics or curators. I was just following my artistic beliefs," Huang says, gyrating into the background as the woofer pumps out a hip-hop beat.