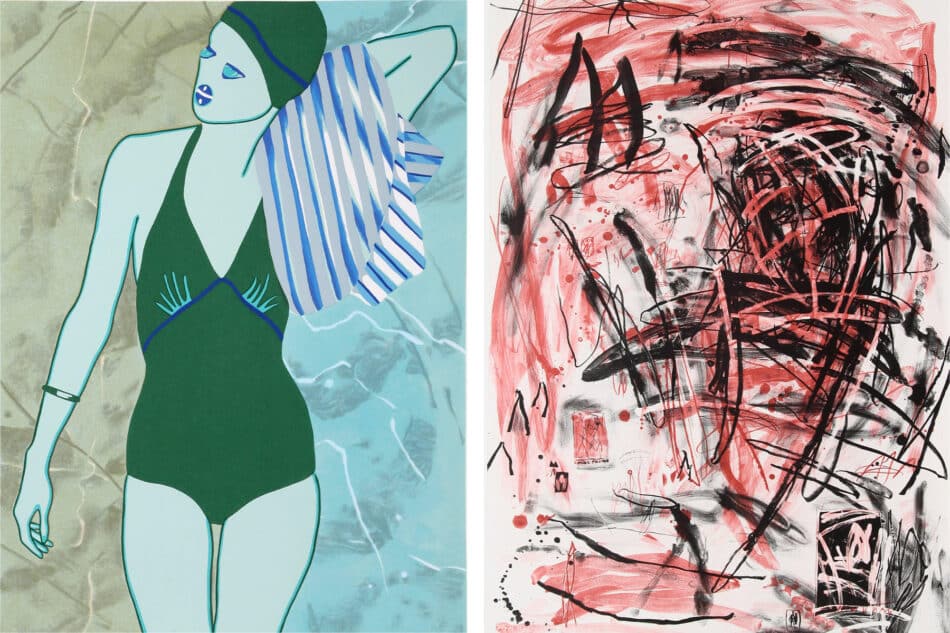 Gail and Robert Rogal started New York–based RoGallery more than four decades ago, in part by buying up collections of editioned prints from publishers and other galleries. Although they also offer paintings, drawings, photographs, sculpture and other mediums, their inventory of prints is particularly vast, representing a wide variety of iconic artists — such as Andy Warhol and Salvador Dalí — as well as those who have flown under the radar.
If one thing can be said about women artists, it's that there are many thrilling discoveries yet to be made, past and present. In honor of Women's History Month, we're turning the spotlight on prints by women in the RoGallery Auction on 1stDibs.
---
Flotilla, by Helen Frankenthaler
In the early 1950s, when Helen Frankenthaler first poured turpentine-thinned paint onto raw canvas, she blazed a trail that many of her male contemporaries would follow. Her process, which came to be known as Color Field painting, was described as "the bridge between Pollock and what is possible" by the artist Morris Louis, an early adopter of the technique.
Frankenthaler also experimented widely with printmaking. This screen print, from an edition of 120, was made after a painting for Lincoln Center's prestigious List Poster and Print Program, launched by the art-loving philanthropist Vera List in the 1960s to raise money for the institution. "Everyone knew Frankenthaler was a great artist, but now her prices are finally catching up to those of Louis and Kenneth Noland, whom she worked side by side with," says RoGallery assistant director Jaime Villamarín.
---
Mountain, by Louisa Chase
"By the time of her death, Louisa Chase was seen as a leader of the neo-Expressionist movement," says RoGallery's Emma Reinhardt. "Her work continues to be incredibly influential in Expressionistic practices today."
Chase first gained momentum in the early 1980s as one of the few female painters making waves in New York. She was included in the U.S. pavilion at the 1984 Venice Biennale in a show organized by the New Museum of Contemporary Art. Her pieces became increasingly abstract over time, and her intense mark making — she often excavated her canvases — translates well to the medium of print. She published more than 60 different editions, including woodcuts, etchings and lithographs, several of which appeared in the major exhibition "Louisa Chase: Below the Surface," at the Parrish Museum in Water Mill, New York, from 2018 to 2019.
---
Untitled I, by Sybil Kleinrock
The lyrical Xs of this Expressionist lithograph inspired a collection by jeweler David Yurman, Sybil Kleinrock's husband. As his longtime muse and creative partner, Kleinrock (who is also known as Sybil Yurman) is the living proof that behind so many great men is a great woman.
The two artists met while working in the studio of sculptor Hans Van de Bovenkamp in the late 1960s. Kleinrock drew attention to Yurman's sculptures by wearing them as jewelry. She went on to cofound Yurman's business and fuel his creative vision. This print, which spotlights Kleinrock's affinity for texture, was made in 1978, as the X symbol was becoming her trademark. Throughout her work, "she approaches the X multiple times, like Monet and his haystacks, in different light and colors," says Reinhardt.
---
Bathing in Green, by Kiki Kogelnik
Austrian artist Kiki Kogelnik moved to New York in the 1960s to get closer to the action and quickly fell in with the Pop art scene. Although she remains less well known than some of her contemporaries in that fiercely male arena, Kogelnik was radically creative and carved out a truly original body of work. She staged happenings, incorporated dystopian futuristic imagery in her paintings and experimented with materials like vinyl, all while retaining serious aesthetic appeal.
In the 1970s, she began critiquing the representation of women in popular culture and turned her eye on fashion magazines, creating images of model-esque women with features slightly awry. The bathing beauty's face in Bathing in Green, for example, is strangely cyborg-like. "She was on the cutting edge in her time and just under-recognized — that's changing," says Villamarín, who notes that the National Gallery of Art in Washington, DC, just bought a major Kogelnik painting. "Her graphic work is still accessible, but there will be a time when it's not."
---
Burgundy Blue, by Barbara Lynch Zinkel
It's not surprising that Barbara Lynch Zinkel was a textile artist before moving on to printmaking, working out ideas of composition and color in weavings. Her geometric forms often have a very tactile presence that lifts them off the page, despite their graphic flatness. After earning a BA in political science at UC Berkeley in the late 1960s, she studied at Wayne State University, in Detroit, with Robert Kidd, who had been head of fiber arts at the renowned Cranbrook Academy of Art.
Zinkel was deeply fixated on color, playing different hues off one another for a variety of dramatic effects. This silkscreen is one of several directly inspired by color theorist Josef Albers's legendary "Homage to the Square" series. But Zinkel reveals much more of her hand in her slightly imperfect geometric forms and staggered edges. The effect is refreshingly lively and personal.
---
Analitica 1, by Carmen Aguade
The Catalan artist Carmen Aguade, also known as Carme Aguadé i Cortés, came of age amid the tumult of 1930s Europe. When she was 19, her family fled from Barcelona to Paris, a hotbed of creativity at the time. They eventually landed in Mexico, but Aguade later returned to Barcelona, where she established her career.
She picked up a variety of creative influences along the way, as evident in Analitica 1. The fragmented, stylized landscape nods to Cubism, Surrealism and geometric abstraction, but Aguade has made them her own. "Looking at this piece, you feel that you have accidentally peeked in on a page of a travel diary, earnest and dripping with a nostalgia that you can recognize but not quite grasp for yourself," says Reinhardt.
---
Doric Game II, by Evelyn B. Johnson
Evelyn B. Johnson's screen prints merge hard-edged abstraction with a surprising softness and luminosity. Her work from the 1980s takes inspiration from architecture. With its updated take on classicism, Doric Game II channels postmodernism while paying homage to Op art.
"It's a triumphant beacon of the '80s, complete with blurry pastel gradients and nearly neon translucent diagonals," says Reinhardt, who connects Johnson's design ethos to that of the Memphis Group, the Italian design collective that helped define the look of that era. The print, which hails from an edition of 25, feels quintessentially '80s in the best way, capturing a sense of the pixelated visual field being generated by computers at the dawn of the digital age.