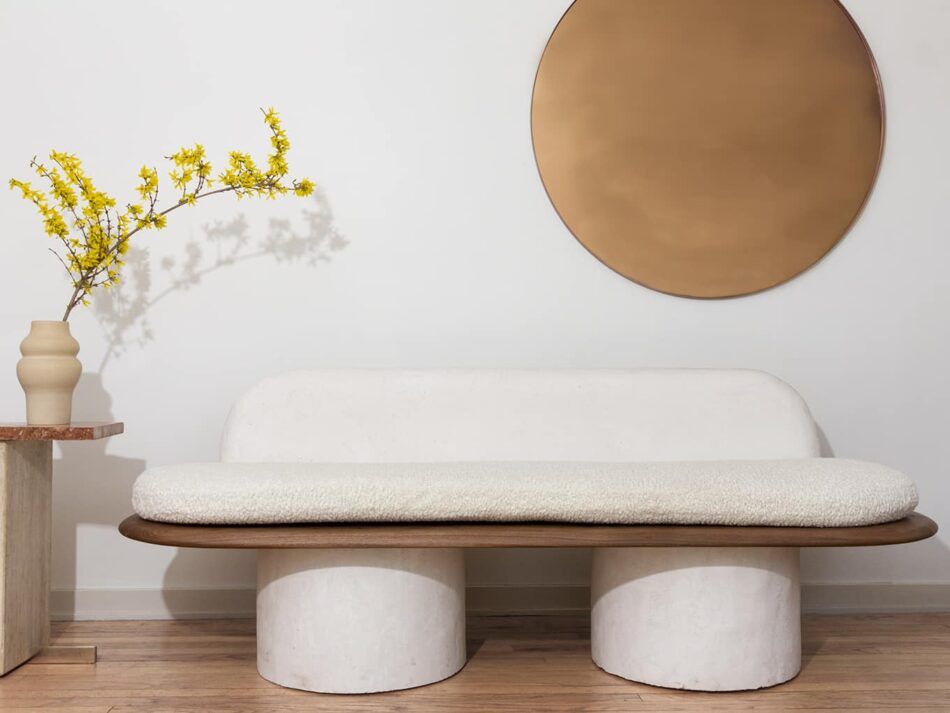 Curves both gentle and exaggerated, varying volumes and a playful sensibility find balance in the whimsical, disarmingly simple furniture of Jackrabbit Studio, the Hudson Valley, New York, design practice of Brett Miller. Miller's recent works began as experiments with circular and cylindrical geometries.
The curves of his Funky Bunch trio of chairs, Plato floor lamp, Primary chair and Rotunda coffee table are thanks to Miller's experiments with his lathe, in a process he likens to surfboard shaping, a fitting reference for the San Diego native.
"It all evolved from an intuitive experimentation with material," he says. The rounded shapes themselves describe and make material a "circular, more abstract approach."
Miller's Rotunda coffee table, for example, features three generous curves bulging into one another, with exaggerated, pill-shaped legs — almost reminiscent of a partially complete balloon animal. Miller designed the bleached-maple table to be seen from above, citing a relation to both painterly abstraction and "cherubim features."
The exaggerated roundness might also recall the paintings of Fernando Botero, with their cartoonishly puffed-up characters. (These artistic associations are perhaps also visible in the butt-shaped seats of Miller's chairs.)
However, the fact that the table is meant to be seen top down means that any "chubbiness," like the kind that trended over the past few years, is complemented by a certain flatness, a tension between bulbous and more slender shapes visible throughout the series.
Take the Funky Bunch dining chairs, which have inflated legs that are similar to those of the Rotunda table but are balanced by a narrow arc of maple in the Bend chair and pushed to ironic exaggeration, with solid pillow-like shapes layered on one another, in the Stack chair, a kind of visual pun.
"I don't overthink it, but there are these juxtapositions," Miller says when asked about the way flatness and thinness meet rounder, fuller shapes in his recent work. "I don't necessarily have the answers to how these elements resolve, but there are questions that these pieces beg."
In the Plato lamp, a large black-walnut form is supported by what seem like nearly impossibly small spheres of maple. They look something like the miniature legs of a critter, not of a chair, the copper neck and porcelain lamp a sort of head. The Funky Bunch chairs balance on two legs — stubby and thick but still hinting at an impish instability. (Despite their appearance, Miller promises the chairs are in fact easy to sit on; even fidgety kids can do it.)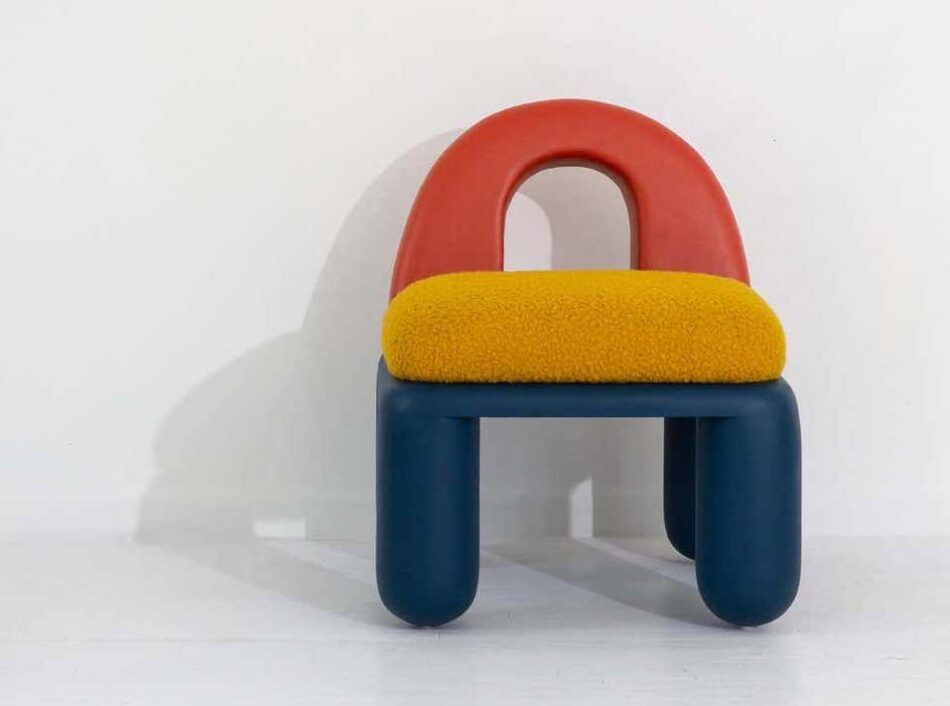 And although the seating that composes the Funky Bunch is left with a light wood finish, Miller is hardly averse to color: The Primary chair features a bold but not brash arrangement of red- and blue-painted poplar and mustard bouclé upholstery.
The heavyset legs of the chairs and the solid base of the Plato lamp are also reminiscent of Miller's Pillar sofa, which features a black-walnut seat upholstered with creamy bouclé atop two wide pillars.
These thick, stout columns aren't "chubby" but rather monumental. The pillars are clad in plaster — a material Miller became fascinated with while working on a historic home restoration in Hudson, New York.
"Plaster leaves a gorgeous finish," he says, noting that it's generally used for outdoor architectural elements in dryer climes, but he wondered how he might use it in furniture. Form followed material, with columns citing classical Mediterranean architecture.
However, the Pillar sofa defies being read as just visually hefty: The rounded black-walnut seat acts as a sort of horizon, offering room to breathe, while the upholstery is soft and inviting without being overstuffed. It looks like support itself.
---
This piece is part of Sight Unseen's 2020 Offsite Offline coverage. To purchase Jackrabbit Studio's designs on 1stdibs, follow this link!