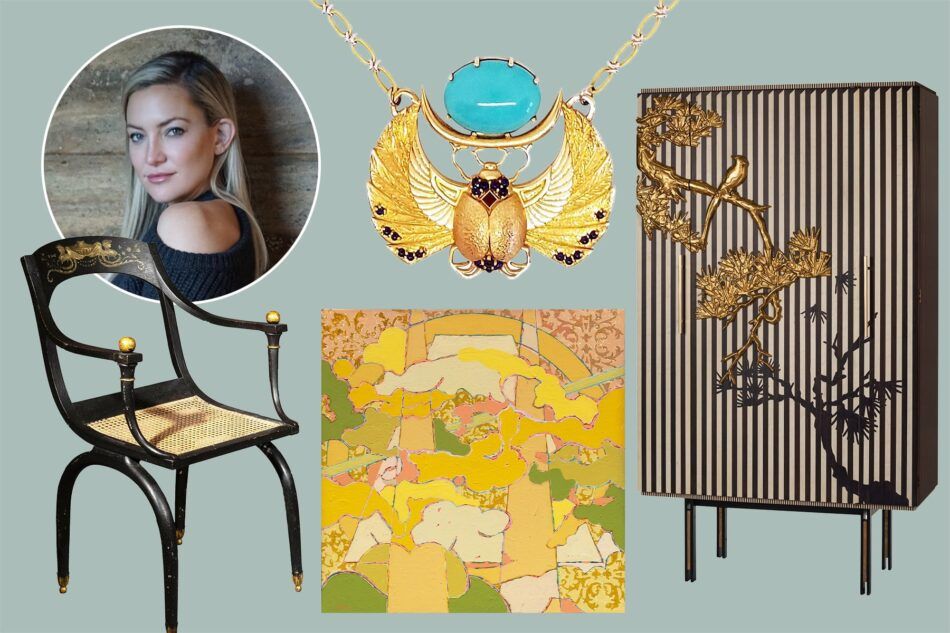 Actor, author and entrepreneur Kate Hudson confesses that, before going to sleep at night, she often spends time browsing 1stDibs. She's even dubbed herself a "1stDibber." As such, she's curated a special collection of objects she loves from among the furniture, art, jewelry and fashion on 1stDibs Auctions.
In recent years, the Hollywood darling, who was awarded a Best Supporting Actress Golden Globe for her performance in Almost Famous and won hearts in the box-office favorite How to Lose a Guy in 10 Days, has cofounded fitness brand Fabletics, authored two best-selling books and launched several brands, including King St. Vodka and beauty and wellness company INBLOOM, all while raising three children and decorating her Los Angeles home.
"I'm such a fan of 1stDibs Auctions," Hudson says. "They have such unique, curated pieces that range from expensive to affordable. You never know what you might find, and you might find it for a great price."
For Hudson, the 1stDibs experience is an artistic adventure. "I love that it's a very creative place to shop, with so many different styles. I could spend hours looking at the most beautiful furniture, whether new or antique, from incredible designers or people I may not have heard of but get to discover. There's something for everyone — every style and mood."
Because Hudson lives in the Pacific Palisades house she grew up in, she knows all about making the old new again, plus she appreciates ethical shopping opportunities.
"I really love upcycling, which makes shopping on 1stDibs Auctions so much better for the environment," Hudson says. "There's beautiful vintage clothing, antique furniture — whatever you're looking for, there are always the most interesting and unique items to be had."
A few of Kate's handpicked favorites are spotlighted below.
---
LAGU Minio Swivel Chair
Ufuk Ceylan's first furniture collection was born out of pieces he created for his own home. The founder of Istanbul-based design studio LAGU, Ceylan combines natural materials with the latest production techniques and technology.
The Minio chair rotates 360 degrees and seems to embrace the sitter in its plush arms.
---
Amy Glaswand Pearl Earrings
New York City maker Amy Glaswand trained as a fine artist and worked in textile and costume design before turning to jewelry. Her pieces are often inspired by architecture and classical ornamentation.
Here, ancient Greek and Art Deco influences meet in a pair of red-carpet-ready pearl drop earrings.
---
Hebanon Studio Bonsai Cabinet
Giovanna, Maria and Nicola Basile are the fifth-generation cabinetmakers behind Hebanon Studio. The female-led outfit is located in Nocera Superiore, in southwest Italy, where the trio create contemporary designs from ethically sourced, nontoxic materials.
This ash armoire, with an East-meets-West bonsai motif, is inlaid with rosewood, maple and ebony and embellished with gold leaf.
---
Sky Pilot, 2012, by Joseph McAleer
American contemporary artist Joseph McAleer creates his layered abstract canvases instinctively, sometimes painting with tennis balls or gloved fingers instead of a paintbrush.
His intuitive efforts yield colorful compositions, such as this bright 2012 piece.
---
Pair of Curule Chairs
These 1890s parcel-gilt chairs are made in the style of Jean-Joseph Chapuis, an early-19th-century Belgian furniture designer who pioneered the use of laminated bentwood.
They're inspired by the ancient Roman curule bench — a seat reserved for Roman magistrates and later used by emperors and kings. Today, they make perfect perches for Hollywood royalty or anyone in a regal mood.
---
Versace Evening Dress
Italian fashion house Versace has long been associated with sexy, body-conscious looks.
This museum-quality maximalist dress, with a front slit and an open back, features the label's graphic style ornately rendered in beads and sequins.
---
Tom Castor Egyptian Revival Necklace
For more than 40 years, platinum- and goldsmith Tom Castor has emphasized responsibly produced and ethically sourced materials in his design practice, ensuring that his jewelry is untarnished by associations with violence and environmental depredation.
In this Egyptian-themed necklace, turquoise from Arizona's Sleeping Beauty mine, prized for its robin's-egg-blue hue and lack of veining, sits atop a winged scarab set with sapphires.