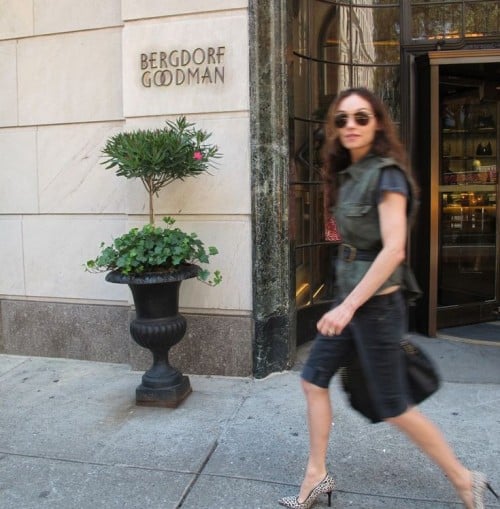 Kelly Wearstler first teamed up with Bergdorf Goodman when she was hired to design the department store's seventh floor restaurant in 2005. Ten years later, the space is an iconic example of Hollywood Regency style —not to mention a go-to spot for socialites, business executives, and the store's best customers — and the partnership between Wearstler and Bergdorf's is still going strong.
Their latest collaboration? "The World of Kelly Weastler," an entire exhibit dedicated to and curated by the designer. The display, which opened in late August and runs through October, sits in the hallway adjacent to her boutique at the store, and showcases exclusive art, brand-new furnishings, one-of-a-kind sculptures and an entire wall dedicated to her recent collaboration with Compartés chocolate. In a sentence, it truly is the world of Kelly Wearstler.
We recently got a chance to talk to the designer about curating the exhibit, her relationship with Bergdorf's, her ever-evolving list of projects and more. Read on to find out what she had to say, and then browse a selection of over 40 pieces from her Bergdorf's exhibit, for sale exclusively on 1stdibs.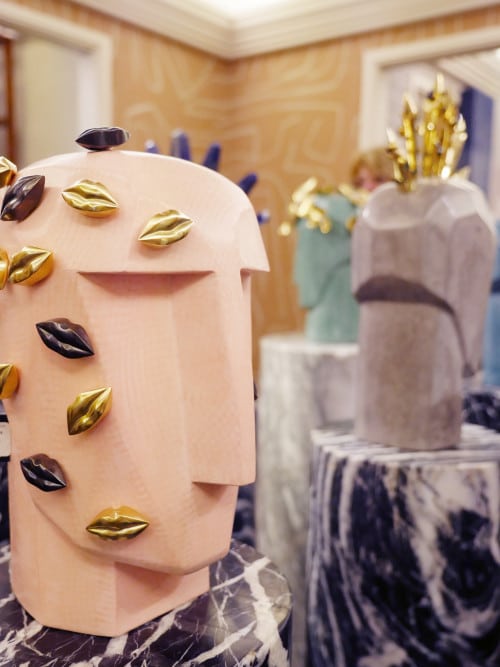 Tell us a little bit about your new exhibit at Bergdorf Goodman. How did it come about?
KW: Bergdorf Goodman is one of the first to know about new product designs coming out of our studio. Our relationship over the years has been incredible. The hallway tells a story. It is a curation of pieces from my world – everything from gallery limited editions to lighting and furniture and special collaborations with new artists. It is so intimate and special, each element personally selected and thoughtfully placed.

What's currently on display that isn't part of your regular boutique there?
KW: Many of the pieces are one-of-a-kind. As a designer, I am drawn to anomalies. Some of my favorite designs from my collections are one-offs. The display features pieces from my new furniture collection, lighting and wall coverings as well as art collaborations, sculpture and ceramics. There is a wide mixology. The wall of chocolate, my collaboration with Compartés, has limited edition flavors created especially for Bergdorf's.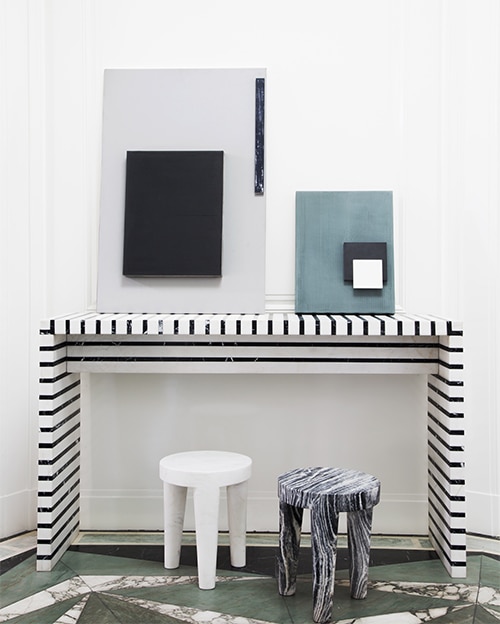 You designed the exhibit personally. What was the idea behind the space?
KW: It is very bright and chic, with just a sort of wink to California cool. The art is inspired by my love of bold geometric pattern and vibrant color. The materiality is very organic, lots of marble, stone and mixed metals, juxtaposed with jewel tones and punk. The tension of refined classics and unexpected details is spirited and sexy.
The exhibit includes your "Headtrip" sculpture gallery. Can you tell us a little more about this series?
KW: The Punk movement has always fascinated me. The anarchy, the self-expression and the tongue-in-cheek spin on culture. Punk always feels modern and cool. It has a sense of humor, which is critical in design — not to take anything too seriously. The heads grew out of my love of figural sculpture and raw stones. We started with bejeweled eyes and mohawks. Over the years, they have evolved into a full family of characters, from surfers to more dapper bow-tie wearing fellows. They each have such distinctive personalities. Each design is one-of-a-kind and comes in a super cool handmade fur and leather pouch.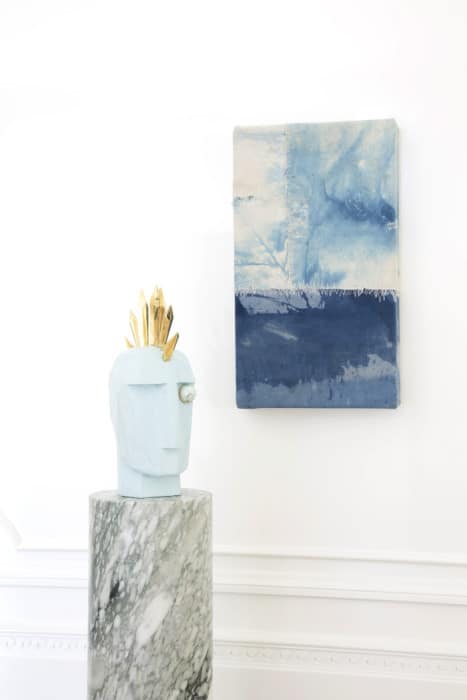 You'll also be debuting a selection of items from your new furniture collection. What sets this collection apart from your existing lines?
KW: I often create pieces for clients when designing simply out of not being able to find exactly the right piece on the market. It has been so exciting to see these designs come to fruition. They are transitional and sleek, contemporary pieces that harmonize with a wide range of spaces. Each piece within this collection carries a singular voice, while a shared vocabulary enables designs to both fill a room and stand alone. I wanted the collection to possess a proper hierarchy. Materiality is a spirited mix of metal patinas, heirloom woods, and raw hand-cut stones paired with artisanal, hand-cast touches.
You've announced a number of partnerships recently, but one of the most unexpected has to be your collaboration with Compartés chocolates. What was the creative process like for developing your chocolate bars?
KW: So fun! The entire process was delightful, from coming up with creative ingredient combos to the graphic design of each package to naming the bars. I love working with local California brands and am a big fan of Compartés. Their packaging and ingredients are so thoughtful. The process starts with hand painted design in my studio or graphically manipulated prints. The flavors are inspired by the artwork. The wall of chocolate at Bergdorf's marks Compartés Chocolatier's East Coast debut. We created eight new bars specifically for the store. They are little works of edible art that are insanely delicious — dark chocolate is my go-to indulgence!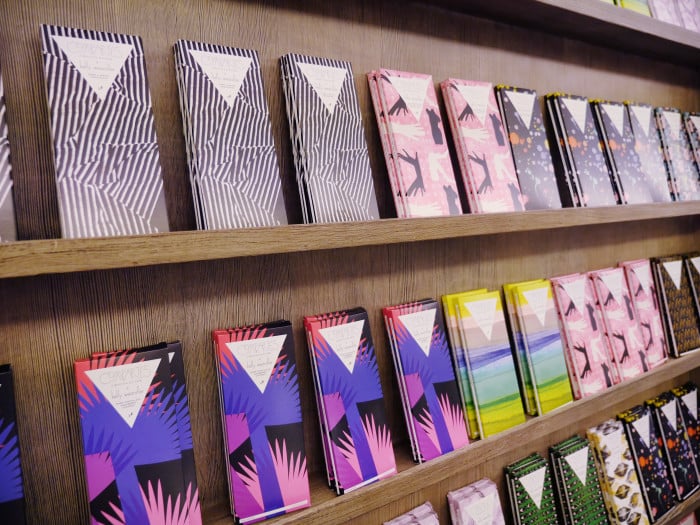 As part of the exhibit, you worked with a number of artists to curate exclusive collections. What sorts of art (or artist) catches your eye?
KW: Design is falling in love over and over again. I seldom if ever buy art simply for a big name. I have pieces in my home from flea markets in Miami and Paris. I buy what moves me. Art should make one feel something. I gravitate toward geometric prints, op-art, 3D sculpture and anything with diverse texture and movement. It brings depth and dimension to a space. My favorite LA artists include Ben Medansky and Morgan Peck, Sassoon Markarian and Kelly Davis, and Darren Franks. Rachel Beach in New York is also incredible.
In general, were there any major design trends or ideas that influenced your latest collections?
KW: I am hugely influenced by both architecture and fashion. The symmetry and grace involved is so precise yet expressive, but I also focus on creating something functional. There is a big geometry theme in my current collections. Nature is a persistent muse, especially since I live in California. Mixing raw elements with curated, elegant materiality creates a beautiful synchronicity that feels natural, improvised and cool. I'm constantly trying to bottle California cool. There is an ease to West Coast iconicism.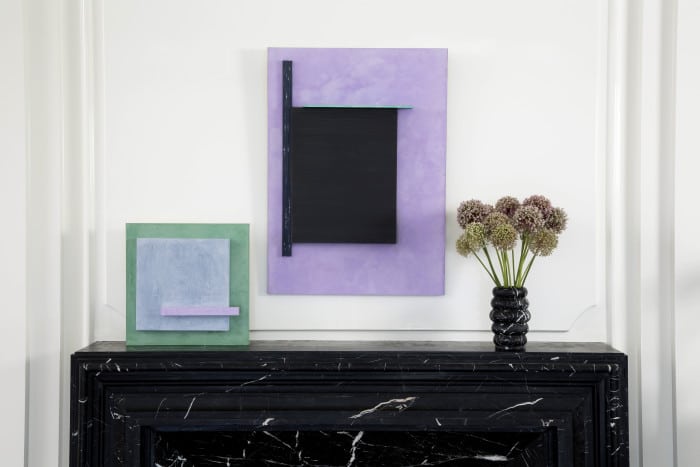 You have a history with Bergdorf's, first redesigning their iconic café, and later establishing a boutique there. What makes your brands so symbiotic?
KW: I would like to think it is a mutual celebration of great design as well as an appetite for curating thoughtful, out-of-the-box narratives. Bergdorf's has an impeccable sense of storytelling at the root of their aesthetic. Every space tells a story. It's a glamorous and joyful store. There is an effervescence and spirit to shopping there. We both like a little soul.
If you had to choose a favorite element of this latest collaboration what would it be?
KW: Working with the artists to create works with an unexpected materiality, from textile art to colorful assemblage. Curating the offering, bringing in the artists and deciphering how best to present the work was such an enjoyable and rewarding process from start to finish. My favorite item might be the Bauble Blossoms. They have a feminine allure coupled with a certain fierceness. They are elegant without being precious. Raw stones and minerals have so much soul.
Story by Kaitlin Madden. Madden is a lifestyle blogger and editor, and you can find her at @kaitmadden on Twitter and Instagram or her blog, Lux & Concord.