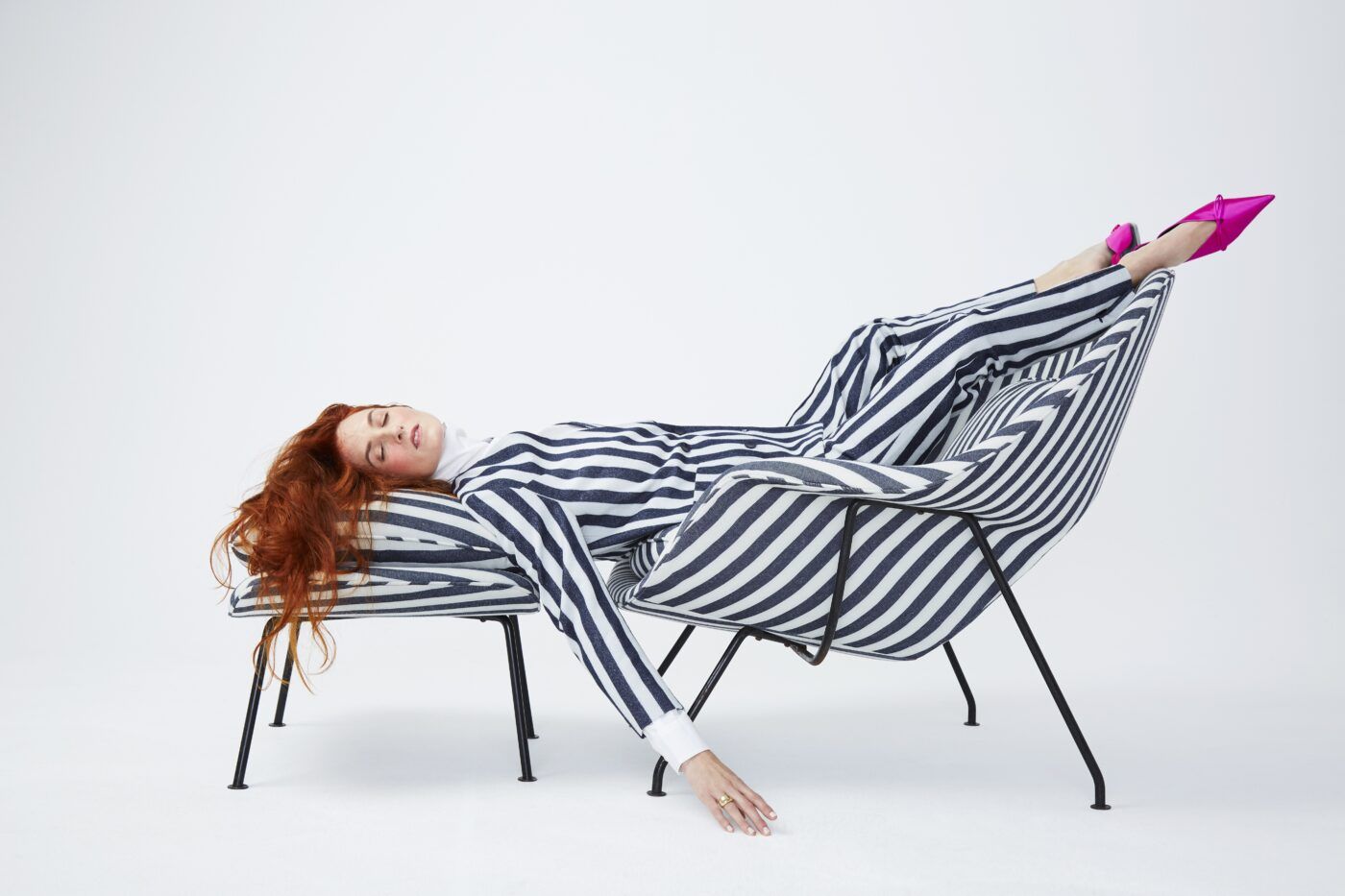 Stripes are having a moment. It's true that, as patterns go, stripes are about as classic as they get. But an influx of clothing collections sporting barred designs suggests that the familiar motif has found a new freshness. And its appeal extends beyond crewneck shirts.
When designer Nikki Kule, founder of stripe-centric fashion brand KULE, was seeking a special piece of furniture for her new home, she connected with twin sisters Maggie and Anne Genovese, of the St. Louis art and design gallery Forsyth, whose work she discovered on Instagram.
Kule considered purchasing an Arne Jacobsen Egg chair covered in sheepskin but wasn't entirely sure about it. So, Anne suggested, "Why don't we recover a chair in your KULE stripes? Make the chair meaningful to you."
That collaboration prompted KULE and Forsyth to partner on a seating collection — an Eero Saarinen Womb chair, four Ludwig Mies van der Rohe BRNO chairs (in navy and cream) and a George Nelson bench — as well as various throw pillows, all covered in stripes.
"I've always been inspired by beautiful interiors and architecture, so home is a natural extension for me," Kule says. "I love how Forsyth takes incredible vintage pieces and makes them new and fresh."
The Study spoke with Kule and Anne Genovese to learn more about their collaboration, which is now on display in Forsyth's booth at the 1stdibs Gallery.
---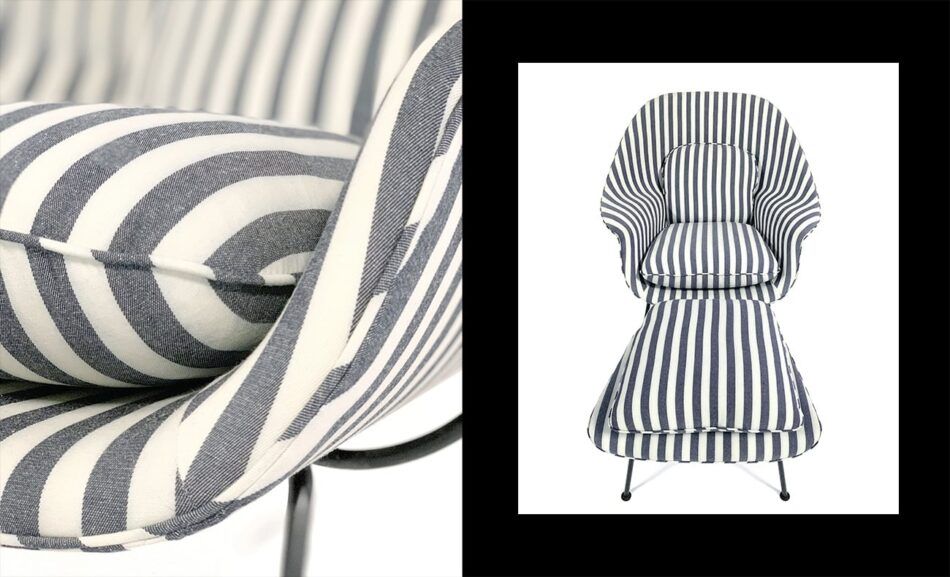 The pieces are all iconic designs. Anne, how did you decide which furniture items to use in this collection?
Anne Genovese: "You hit the nail on the head with the word iconic. It's the reason for our choices. We wanted pieces that are true icons of the past, sought after, of important modern design and, most of all, that would look completely cool in stripes."
How much restoration work went into getting these pieces in shape for the collaboration?
AG: "Our mantra is simple: We take it to the bones. Our master upholsterers remove all old foam and inner materials and literally go down to the frame of each piece we restore. Our restored chairs are virtually new but still have that vintage character and soul. Restoring the Womb chair is an especially difficult process because all the old, yucky glue is scraped away little by little from the wood frame."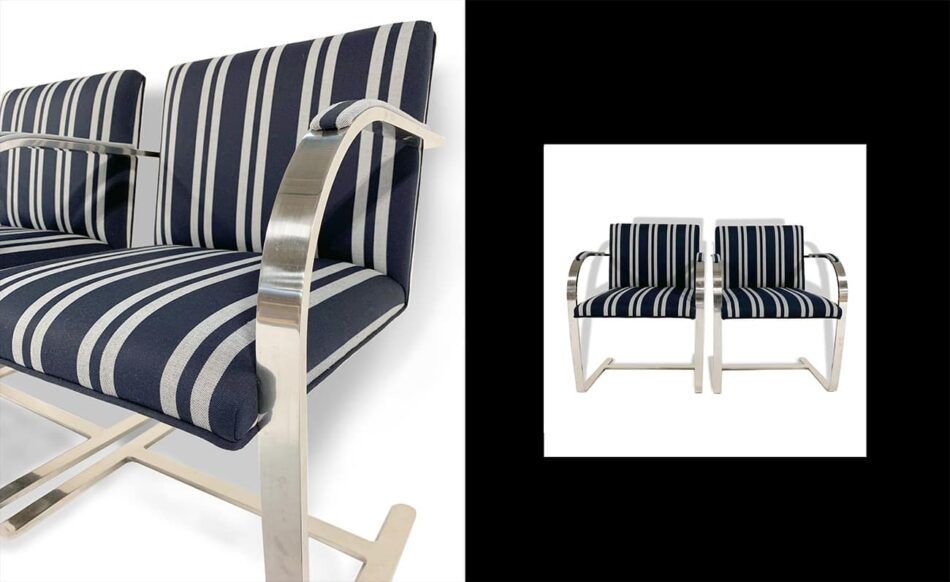 Nikki, as a stripes expert, how did you choose which pattern would go with which item of furniture? Or was it a group decision?
Nikki Kule: "We developed the fabrics with a storied Italian mill. They had to be bold stripes so they could be interpreted for home furnishings. It was a group decision as to which styles of chairs we would upholster, and it was fun reviewing with Anne and Maggie which stripes would be best interpreted for these iconic chairs."
You were recently highlighted in a New York magazine piece about striped shirts. Why do you think stripes are having such a moment?
NK: "I think people are starting to recognize that stripes are timeless and classic and worth investing in. It has been a part of my aesthetic ever since I can remember."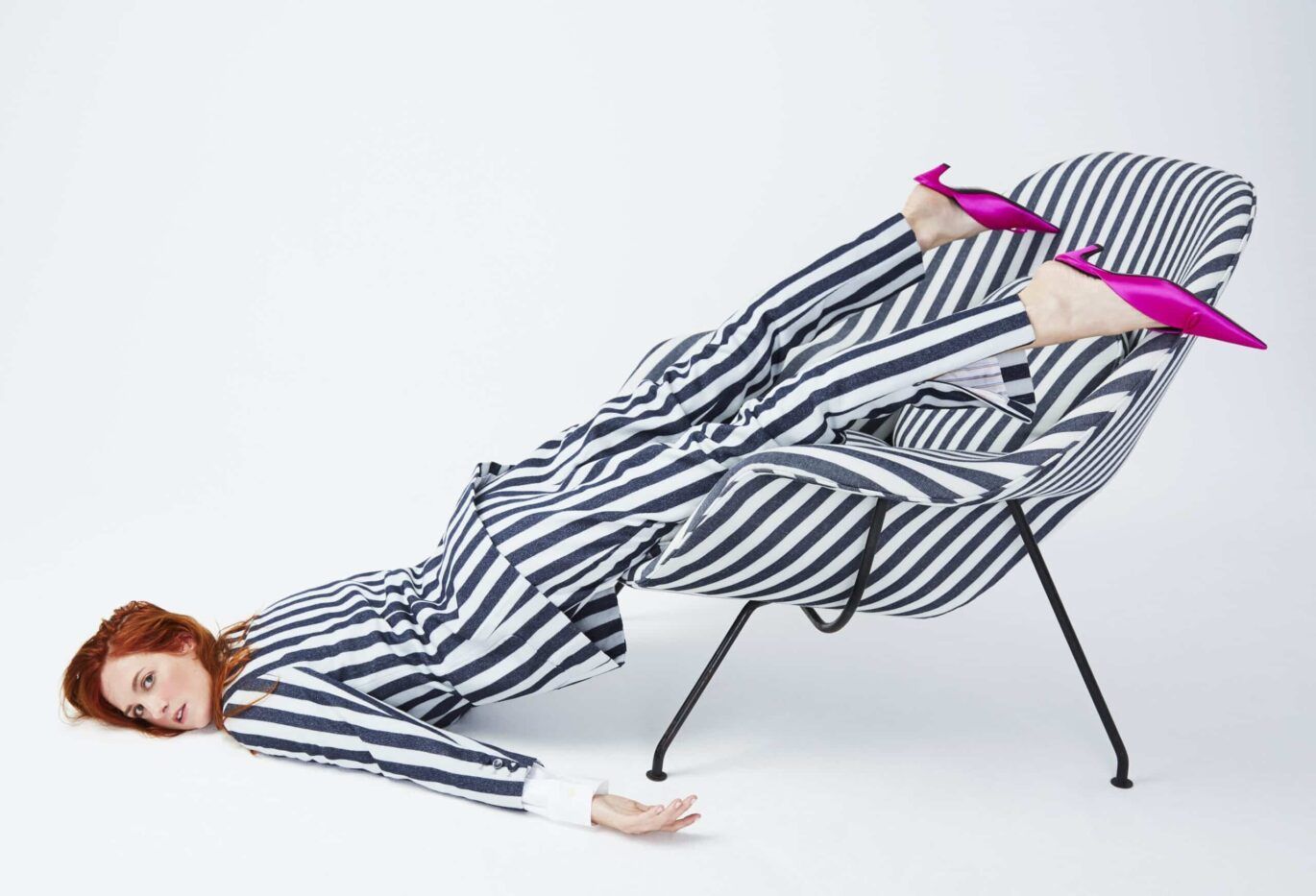 Do you have a favorite piece in the collection?
AG: "We love the Womb chair and ottoman. The look of the KULE fabric as it covers the curves and lines of the iconic design is just SO good. And, just as in fashion — the stripe shirt is for all seasons and occasions — the striped chair is for all styles of interiors.
But it was the Taylor Tomasi Hill photos that really made it special for us. As Hans Wegner once said, 'A chair is only finished when someone sits in it.'"