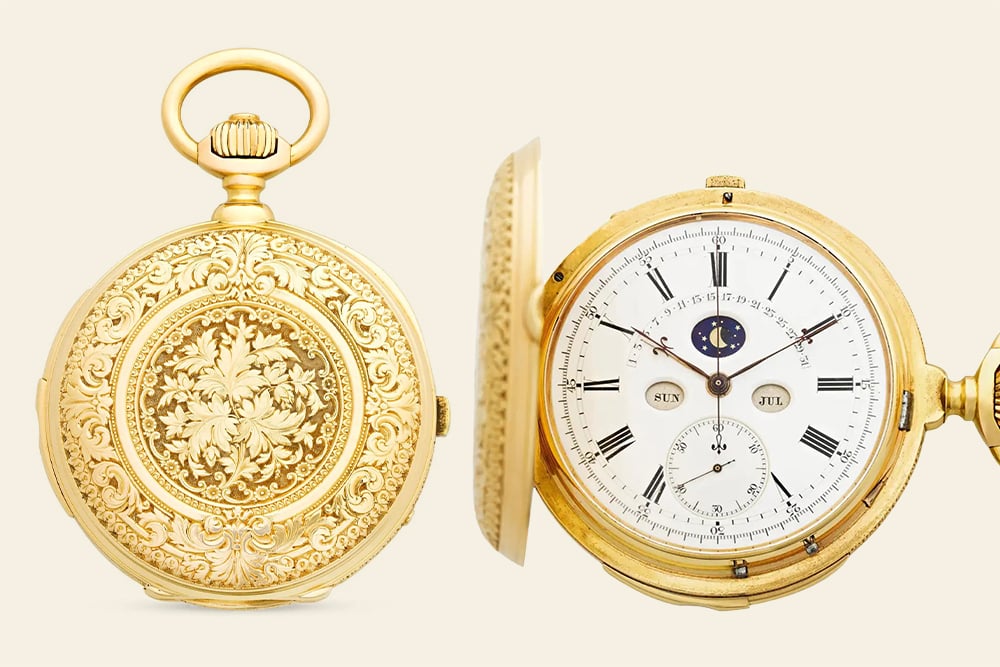 Collectors of pocket watches will tell you that what they love about them is their generous scale. These timepieces are big, and that means a larger canvas provided for functions without crowding the dial, as well as a case that just begs for decoration.
A case in point is this 57.15mm-wide Marius Lecoultre pocket watch — a perpetual calendar, chronograph and minute repeater with a retrograde jump date, subsidiary seconds and moon phase. That's a lot of functions on a dial that still manages to look elegant.
Made circa 1890, during the heyday of complicated pocket watches, it is by definition a Grand Complication timepiece, since it combines three of watchmaking's most important achievements: the perpetual calendar, the minute repeater and the chronograph.
"The main features are the minute repeater and perpetual calendar, two complications which are each very desirable," says watch expert Chris Drake, of M.S. Rau, which is offering the watch on 1stDibs. "The minute repeater provides an on-demand chiming of the hours, quarter hours and minutes, allowing the user to know the precise time without looking at the watch. The perpetual calendar has indications for the day, date and month."
The date indicator runs across a discrete retrograde scale via a hand that jumps back to one at the end of each month. Since it's a perpetual calendar, that means it automatically jumps back at 30, 31 or, for February, 28 (29 in a leap year). "The addition of a moon phase on top of these two other complications just makes this an even more impressive and more beautiful watch," says Drake.
The month and the day of the week appear in windows below the moon phase under the date scale, and the central chronograph seconds hand charts elapsed time on an index on the outer main dial. As was the custom with watches bearing such prestigious movements, the 18-karat rose-gold case cover is elaborately engraved, in this instance with foliate and scroll motifs.
A distant relative of Antoine LeCoultre, of Jaeger-LeCoultre fame, Marius Lecoultre was an award-winning watchmaker and retailer specializing in highly complicated movements and ornamental watches. He mostly created ébauches (partially completed movements) for other elite brands but often cased special pieces, like this stunning example, himself.