Megan Offner spends her days in Kingston, New York, talking to emotional homeowners considering removing their trees, fearing damage from severe weather, and with commercial clients yearning to create jaw-dropping statement interiors. The cofounder of New York Heartwoods, a sustainable furniture and woodworking business, Offner helps clients part with their broken, diseased or fallen trees by turning them into sleek furniture.
If unusual, her occupation is hardly surprising, given Offner's outdoorsy upbringing in Missoula, Montana. The daughter of a grant writer, she spent a lot of time camping in national parks like Glacier and while visiting family in Oregon. Those trips revealed to her the prevalence of clear-cutting in forests and the harm it does, which left a lasting impression. "People in the city experience wood as something that comes from Home Depot," she says with a laugh. "For me, I experience a tree as a conscious being."
Still, it would be decades before Offner found her calling. A self-described creative, she fell into set design after moving to New York City a few years after college. "I was building things that just ended up in the dumpster after a week," she says of her creations for magazine shoots and ad campaigns.
The attacks of 9/11 provoked existential doubts about her career and where it was headed. Looking for an alternative, she enrolled in a sustainable design program at Yestermorrow Design/Build School in Vermont.
After finishing her certificate, she began volunteering on a property in Upstate New York, where she met Dave Washburn, who taught a workshop on harvesting dying and diseased trees to improve the health of a forest. Washburn eked out a living transforming these trees into boards for flooring.
"It was a model of how one could have a beautiful and a creative life that produced no waste," Offner says. "I had this a-ha moment of 'That's what I'm going to do.' "
Washburn introduced her to another mentor who would influence her career trajectory. Jed Bark, a fine art framer, had purchased a sawmill in Warwick, New York, to make lumber for his frames and agreed to train Offner there.
In 2011, Offner cofounded New York Heartwoods on Bark's land with Washburn (who continued to work for the company for about two years). Initially, they sold lumber and slabs made from fallen trees to New York designers. Soon, however, the firm was fielding requests from tree services and landowners to turn their downed trees — which otherwise would have wound up in chippers or landfills — into one-of-a-kind tables.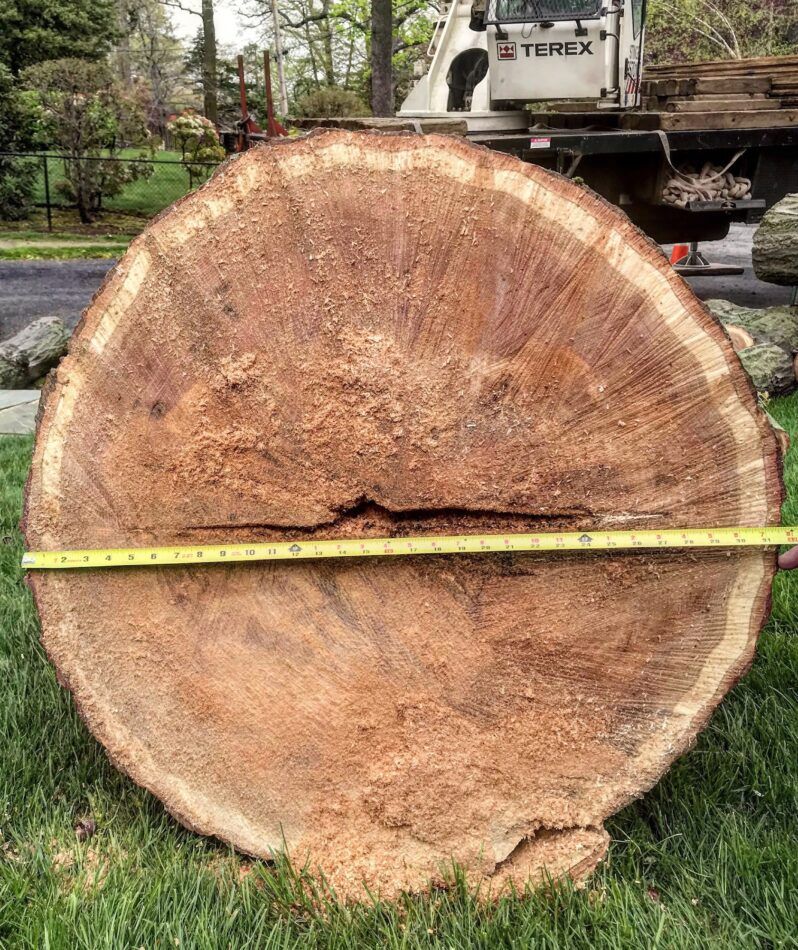 There were also impressive commercial commissions, such as fabricating holiday displays for Eileen Fisher and, in 2016, supplying 100 dead or dying pine saplings for the premiere of Kanye West's Yeezy Season 3 fashion collection at Madison Square Garden. A particularly meaningful project was the construction of a massive wraparound bench made of ash for upscale kaiseki restaurant Uchu, on the Lower East Side.
The species is disappearing across North America, so "it was one of the last big ash trees we might work with," says Offner, who considered the opportunity to do so an honor, and especially apt that it was for a Japanese client whose traditional culture is known for revering nature.
At her workshop in Kingston, where Heartwood moved several years ago, Offner likens milling to meditation: "You're walking through the log, sawdust is flying in your face. It's very visceral," she says, explaining that, as layers of bark are stripped away, the tree's history is revealed. "There are pockets of ants or a squirrel's nest or pieces of barbed-wire fence that the tree grew around."
The different species also speak to her differently. Walnut, for instance, which Offner has used for a stunning mid-century-style credenza, appears emerald and amethyst before it's cut, but once it meets air, she says, "there's this magical moment" when the colors start to change. It's a kind of alchemy. As, indeed, is Offner's work.