With each passing summer, inflatable floats — giant swans, rainbow donuts and winged unicorns — become less of a juvenile toy and more of a design element.
Now, trendy poolside decor is giving the funky buoyant forms a run for their money, with famed contemporary designers entering the field. From galvanized-steel chairs to unusual planters, this summer's playfully chic pieces are making pools a showplace for bold style.
Here are a few of our favorites.
---
Galanter & Jones Helios Metreo
Made of cast stone and stainless steel by the brother-and-sister duo behind Galanter & Jones, the Helios Metreo gives people the sensation of relaxing in a hot tub without getting wet. How, you may ask? It's heated, reaching as high as 120 degrees!
---
Mondo Collection Alpha Side Table
With its sculptural silhouette, the stone and fiberglass Mondo Collection Alpha side table makes a chic statement, whether placed between two chaises or standing on its own.
---
Patricia Urquiola for Kartell Jellies Glassware
Patricia Urquiola's whimsically stylish Jellies collection for Kartell looks and feels like high-end glassware, but the chic cups and pitchers are actually shatter-proof acrylic. Available in an array of soft jewel tones, they are the perfect poolside accessory.
---
Muller Van Severen Wire S #5
Made in Belgium by Muller Van Severen and produced by Barcelona's Side Gallery, the Wire S #5 falls somewhere between art and furniture. "Taking inspiration from the Bauhaus school, modernism and minimalism, the chairs seem to transform simple shapes into different functional objects in an effortless way," says Side Gallery's Luis Sendino. "Also, they have a clear, distinctive palette that comes instinctively for them, in a natural way."
---
Misha Kahn Bellyflop Pool Float
Artist Misha Kahn designed her Bellyflop pool float — the latest Cultured Commission, presented in partnership with Prospect NY — to be one with the water. "When I thought about what I would want in my pool, I was drawn more to camouflage," says Kahn. "The result is these beautiful bubble objects that almost blend in to the background. Almost."
---
Minh Singer Platter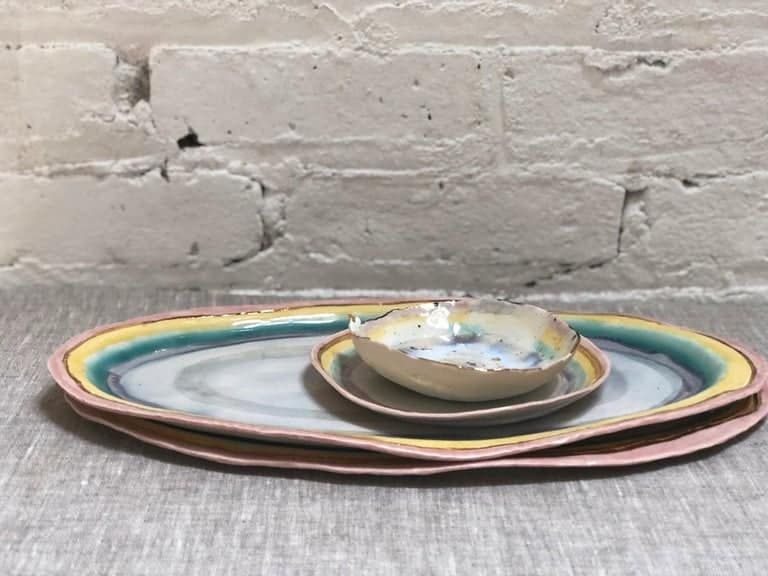 Artist Minh Singer handcrafted her iconic oval platter of mother-of-pearl and 22-karat gold, giving it a touch of luxury that doesn't overpower the simple design.
---
Bend Goods Hot Seat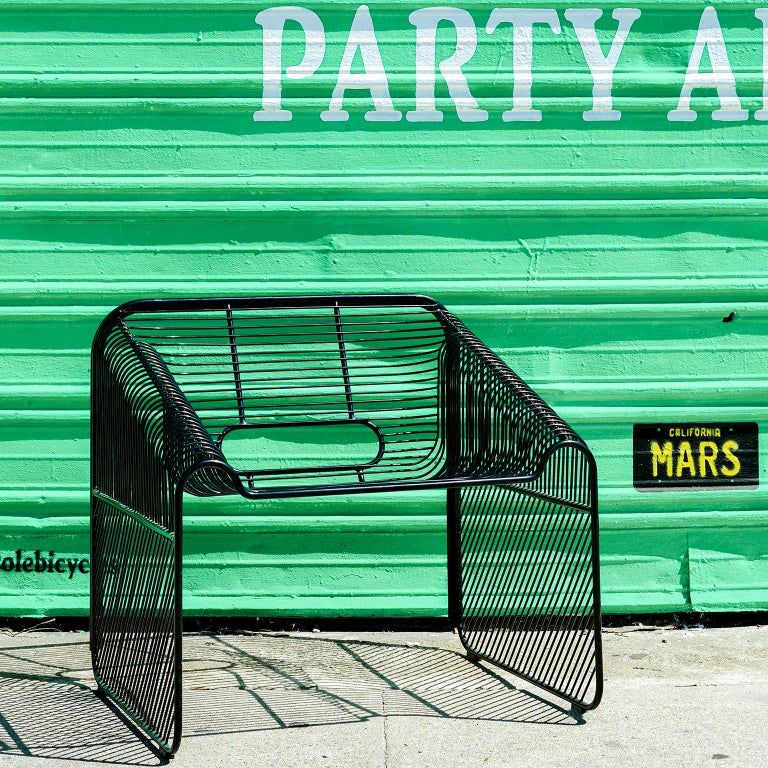 Los Angeles–based Bend Goods updated its Hot Seat with a classic mid-century look in mind. "The Hot Seat's design is inspired by the French designer Pierre Paulin," says Bend Goods founder Gaurav Nanda. "We love it so much because it is the perfect relaxing chair for any occasion, whether its having your morning coffee, an in-depth interview or a sit-down by the pool."
---
Jonathan Nesci A_Stool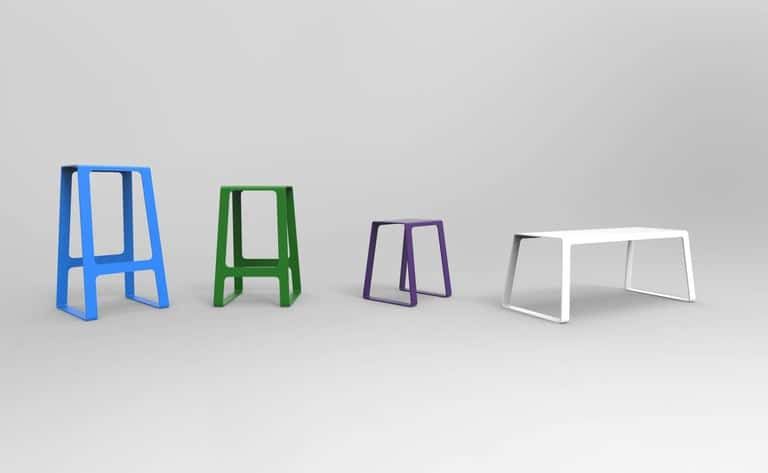 With his simple A_Stool, Jonathan Nesci makes a strong case for powder-coated aluminium decor. "I've had 12 years to refine this minimalist stool," says Nesci, "and I still have ideas of new materials, finishes and applications for it. I love when a design opens itself to so many possibilities. And I love to collaborate with my clients to make the options work for their space."
---
Ben Barber Studio Pluto Coffee Table
"Any time you use a spherical shape in furniture it's going to look playful," says Canadian designer Ben Barber in reference to his aluminum, brass, steel and glass Pluto coffee table. "Balls are used in sport and play, so that shape translated into furniture will naturally evoke a sense of youthfulness. The choice to debut the table in pink was used to pump up this emotion even further. Pink is and will always have a whimsical resonance."
---
Nahoor Ikon Lantern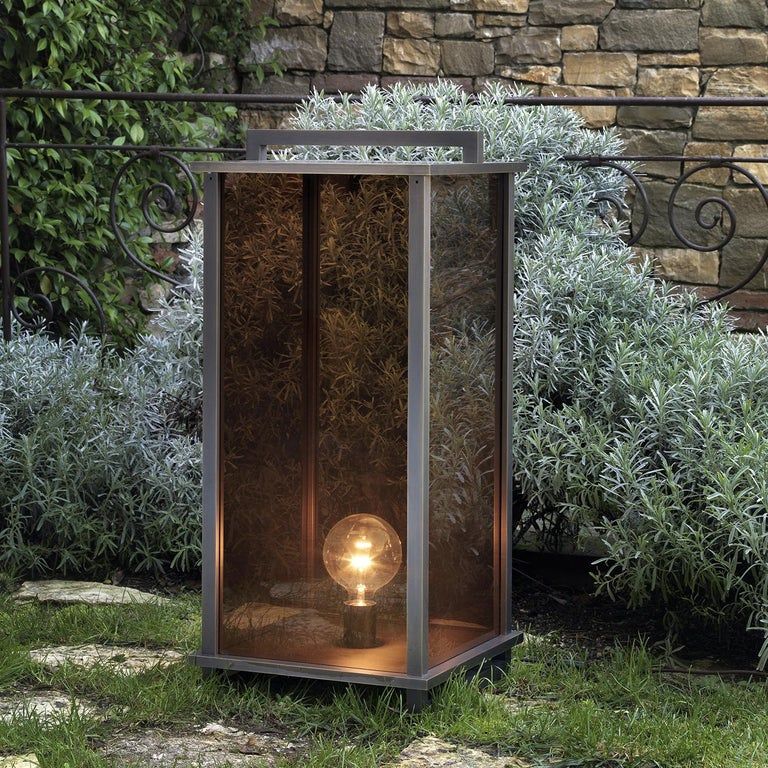 Nahoor's burnished metal lantern has cognac-colored polycarbonate shades that partially dim the light, adding a sensual element to the pool area suited to evening entertaining or night swimming.
---
Gordon Guillaumier for RODA Teka Table
The RODA Teka table seamlessly combines clean lines with natural materials: glass, teak and stone.
---
Laun Confetti Indoor/Outdoor Side Table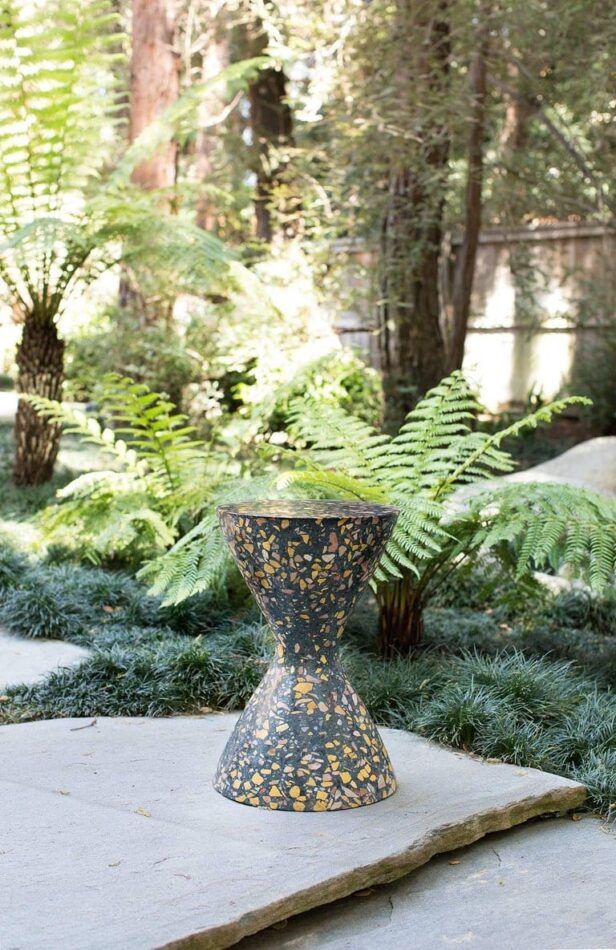 "The Confetti side table was inspired by the architecture of Hollywood's Golden Era, particularly the Streamline Moderne architecture found on the east side of L.A." explains Rachel Bullock, who, along with fellow architect Molly Purnell, launched the Los Angeles–based Laun last year. "Because we are lucky enough to live in a place where we can enjoy the outdoors year-round, we endeavored to create outdoor furniture that is as considered as contemporary indoor furniture."
---
Chris Wolston Topanga Plant Chair
New York– and Medellín, Colombia–based artist Chris Wolston crafted the Topanga Plant chair out of terracotta alone. "I love Chris Wolston's plant chair for so many reasons," says Patrick Parrish, whose Tribeca gallery sells the planter. "The natural color, its ability to house a plant of your choice and the unique handmade nature of the design." In fact, the surface pattern is composed of prints left by Wolston's fingers.
---