Lieutenant John Macready was an ambitious guy and not one to one let circumstances slow his progress without a fight. As a pilot in the U.S. Army Signal Corps, he'd experienced the debilitating headaches caused by the bright sun high up. In the 1930s, he took action, partnering with eyewear manufacturer Bausch & Lomb to develop sunglasses specifically for aviators like himself and his colleagues.
The result of their collaboration, glasses with teardrop-shaped green-tinted lenses designed to block the intense rays, was released to the military in 1936 and to the public in 1937. It was patented as the Ray-Ban Aviator in 1939.
Although Ray-Ban has since given us some of America's most iconic sunglass styles — the Wayfarer, the Clubmaster — Macready's creation is in a class of its own, with a roster of devotees who include the current U.S. president. "When I think of Ray-Bans, I think of the Aviator," says Patrick Michael Hughes, fashion and decorative-arts historian at Parsons School of Design. "Aviators reflect the idea that form follows power. They express charisma and heroism — a pilot takes us forward through danger, and there is no going back. That makes them an interesting choice [of frame] for President Joe Biden."
In 1999, Bausch & Lomb sold Ray-Ban to Italian eyewear company Luxottica, but whatever the maker, the brand's sunglasses remain practically synonymous with American cool. Of course, that means they've become as popular with counterfeiters as they are with consumers. The best way to avoid counterfeit Ray-Bans is to make sure you go to a reputable seller. That said, here are a few tips for telling the real deals from the fakes.
---
Frames
When the Wayfarer was released, in 1952, it was the first sunglass frame made from acetate. With a design inspired in part by mid-century Cadillac tail fins, it caught on with silver-screen stars. Early adopters included James Dean and Marilyn Monroe, who were soon followed by other artists, like Bob Dylan and Andy Warhol.
Now, if you think none of these megastars would accept cheap and flimsy plastic frames, you're right. The center portion of a pair of Ray-Ban acetate sunglasses — which holds the lenses — is cut from a single block. If you feel a seam where two pieces of plastic, front and back, have been glued together, just say no.
Also, look out for glue and uneven edges. These are telltale signs of counterfeit production. The final product should have a sturdy, substantial hand. Flimsy construction is a no-no.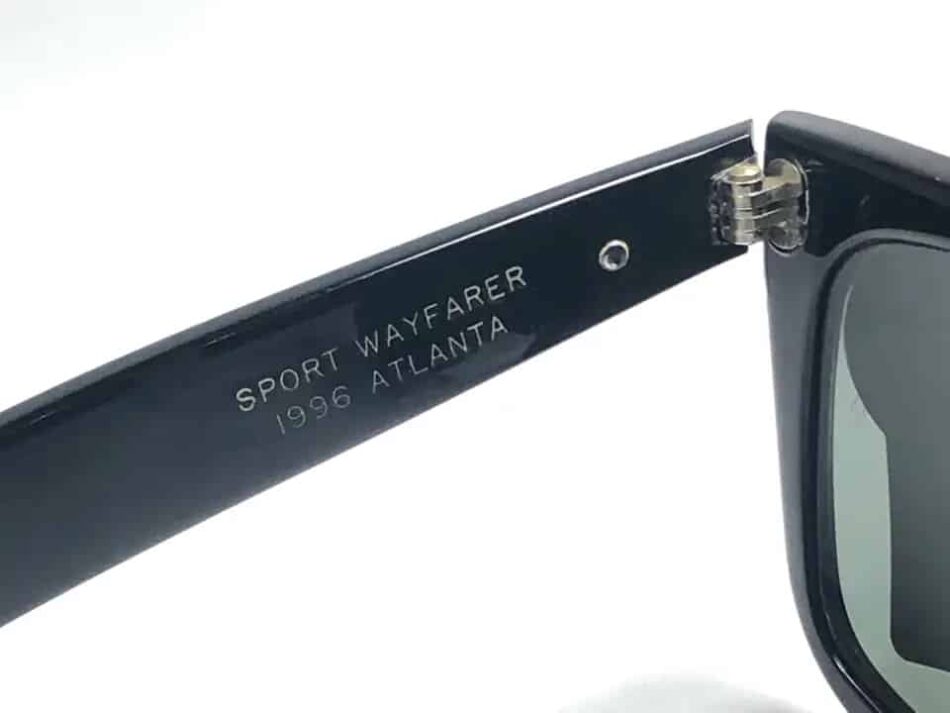 The lettering inside the temples, or arms, is another good indicator of authenticity. The text should be cleanly etched, perfectly centered and aligned. (Some genuine models with thin frames, like the Aviator, may not include etching.)
In many older models, the right temple will be marked "B&L Ray-Ban U.S.A." in neat lettering, while the left will bear the style name.
In glasses produced after the Luxottica acquisition, the right temple will include the Ray-Ban logo, the phrase "Made in Italy" or "Hand Made in Italy" (or even, in some authentic styles made after 1999, "Made in China") and, for the European market, a CE mark. If the lenses are polarized, that will be indicated here. The left temple will have the serial number, which is a little more complicated.
---
Deciphering Ray-Ban Serial Numbers
Ray-Ban serial numbers include a style code (beginning with RB) plus codes representing the color of the frame; the lens, bridge and temple measurements (the temple length is often omitted); and the conditions in which the lens was designed to be worn. In the example above, the serial number translates to Ray-Ban Classic Wayfarer, black, 50mm lens diameter, 22mm bridge width; standard lens for use in bright conditions.
Keep in mind, however, that the details and format may differ depending on the age of your Ray-Bans (which is one more reason to make sure you buy only from trusted resellers).
---
Cases
Ray-Ban's faux-leather cases come in black, brown and occasional special-edition colors. What you won't find on a real case is frayed or uneven stitching. What you will find, on newer cases, is a snap closure inscribed with a perfectly centered and executed signature logo and, at the left, a larger logo stamped on the case, sometimes in matte gold or black. Counterfeiters often paint this logo on instead of stamping it, and they use paint with a glossy finish. Again, the same rules may not apply for vintage Ray-Ban cases, which exhibit a variety of colors and details.
---
Lenses
Most Ray-Bans have glass lenses, although some have plastic ones. The glass lenses should feel substantial, not light. And if you tap them with a fingernail, the sound produced will be muted, not loud or harsh.
There will be a prominent Ray-Ban signature logo in the upper corner of the right lens and a very subtle BL (for glasses made before 2000) or RB (for those made in 2000 or later) etched on the left one. The logos appear on the opposite sides for prescription lenses.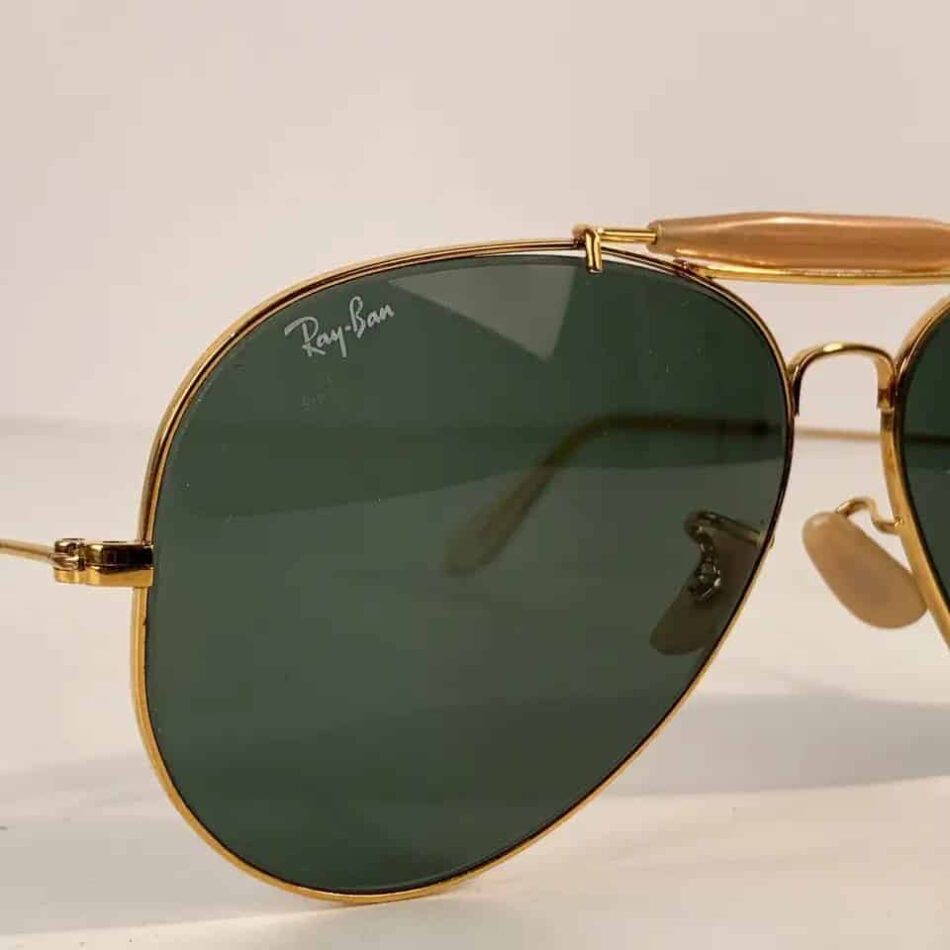 Vintage shoppers should be aware that, like everything, Ran-Ban's branding has changed over the years. For example, instead of the signature logo, glasses from the late 1930s to early 1940s had a small triangle inside a circle etched at the top of each lens. That symbol was replaced with a BL2 from the mid-1940s to 1950s. From the late 1950s until the mid-1970s, some glasses had no etching at all. The white Ray-Ban signature logo first appeared on the right lens in 1982.
---
Nose Pads
Nose pads are usually made from clear or translucent rubbery silicone. They should feel firm yet soft and are usually mounted on metal brackets inscribed with an RB logo. Wobbly, hard plastic or otherwise subpar nose pads are evidence of a counterfeit.
---
Hinges
If faced with Ray-Bans of questionable provenance, remember: The truth may hinge on the hinges. Ray-Bans will always have solid metal, not plastic, hinges, and they will be attached to the frame with screws or rivets, not glue.
There are some style nuances, too. For example, Ray-Ban Original Wayfarers manufactured before 2010 use standard (barrel) hinges with seven interlocking barrels. Those created after 2010 use three-barrel hinges.
Finally, the metal on the hinges and on the frame should match. But that's not news — it's just good taste, isn't it?