It looks like marble, but it isn't stone, and it's not found in nature. In fact, this decorative plaster is perhaps even cooler than marble.
Scagliola has a venerable pedigree and a look that conjures exotic palaces. But today it's found new and ingenious applications in the shops of cutting-edge makers like Francis Sultana, Mtharu, Cupioli Luxury Living, Odd Matter and General Life, which employ the plaster to create vibrant stools, trippy coffee tables, powerful planters and sausage-shaped benches.
Scagliola, whose name comes from the Italian scaglia, meaning "chips," dates back to ancient times. The Egyptians used a complex mixture of plaster, water, glue and pigment to coat the walls of tombs. The Greeks lined aqueducts with a similar material.
Details about such early applications are hazy, but most scholars agree that the scagliola technique was revived in Italy during the Renaissance, used by monks as an affordable way to restore decorative details in their monasteries; in the early 17th century, artist Guido Fassi was among the first to employ it for inlaid altar panels. Mimicking precious stones with this man-made plaster was seen as far easier and less expensive than quarrying and transporting the real thing.
By the late 17th century, scagliola was widespread in Europe, used for columns in the Medici palaces and framing the chimney in the Queen's Closet at Ham House in London. Scagliola was also a fixture of everyday life, appearing in finely detailed marquetry on tabletops, cabinetry, walls and floors.
By the 18th century, scagliola was also a mainstay in architecture. The Music Room of Buckingham Palace features John Nash's bold columns of fake lapis lazuli. And the ceilings of baroque churches in Britain, Austria and Germany dazzle with heavenly scagliola clouds. (In the United States, marezzo, a cheap alternative to scagliola developed in the late 19th century, brought the luxe marble look to the masses by way of state capitols, railway stations and theaters.)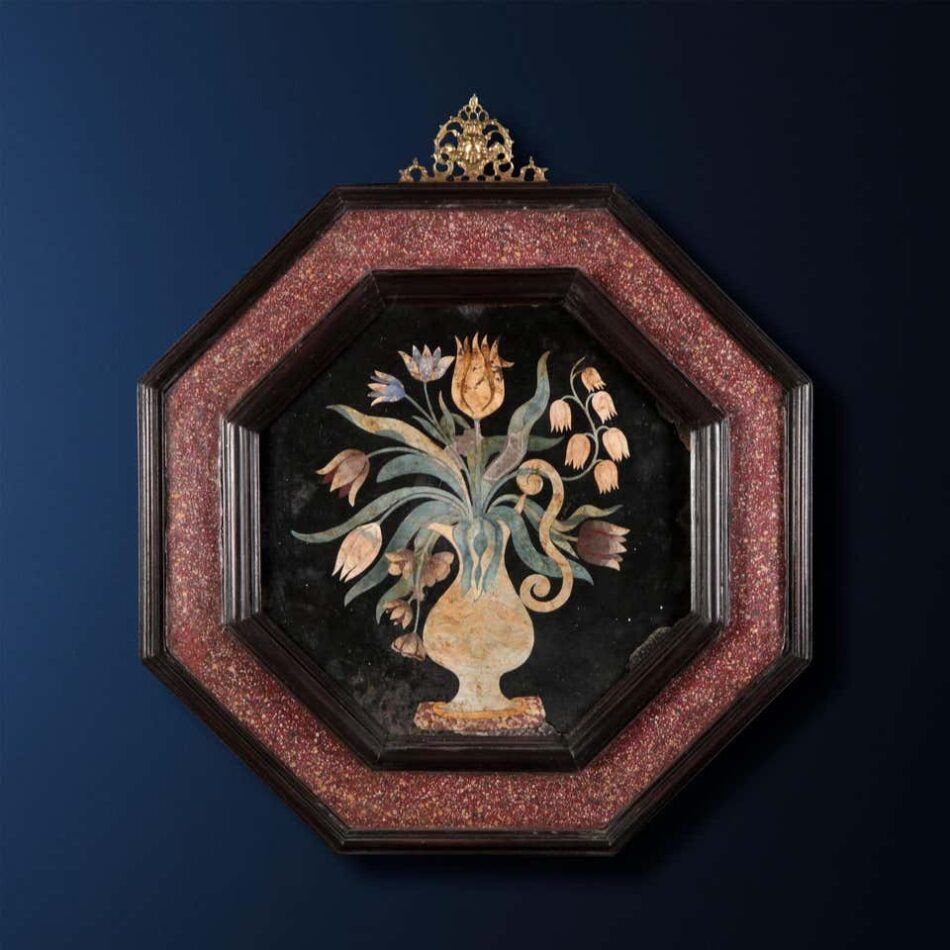 As scagliola went mainstream in Europe, the monk Father Enrico Hugford elevated the craft to an art form. Blending powders of colored oxide, clay and glue, he evoked the beech and fir forests of his home in Vallombrosa, Italy, with remarkable feeling and depth.
Hugford's work was celebrated in Tuscany and beyond, so much so that four of his pieces were included in the 1737 painting exhibition organized in the cloister of the Florentine church of Santissima Annunziata. His technique inspired many later Italian artisans. Among these was Lodovico Cupioli, founder of Cupioli Luxury Living, in Rimini.
Cupioli became captivated by inlaid scagliola work in the 1950s, while restoring antique tables and altar frontals damaged in the war. Today, Cupioli Luxury Living — led by Luca and Sonia Cupioli, the children of Lodovico and his brother, Renzo — marries the ancient craft with a decidedly modern look.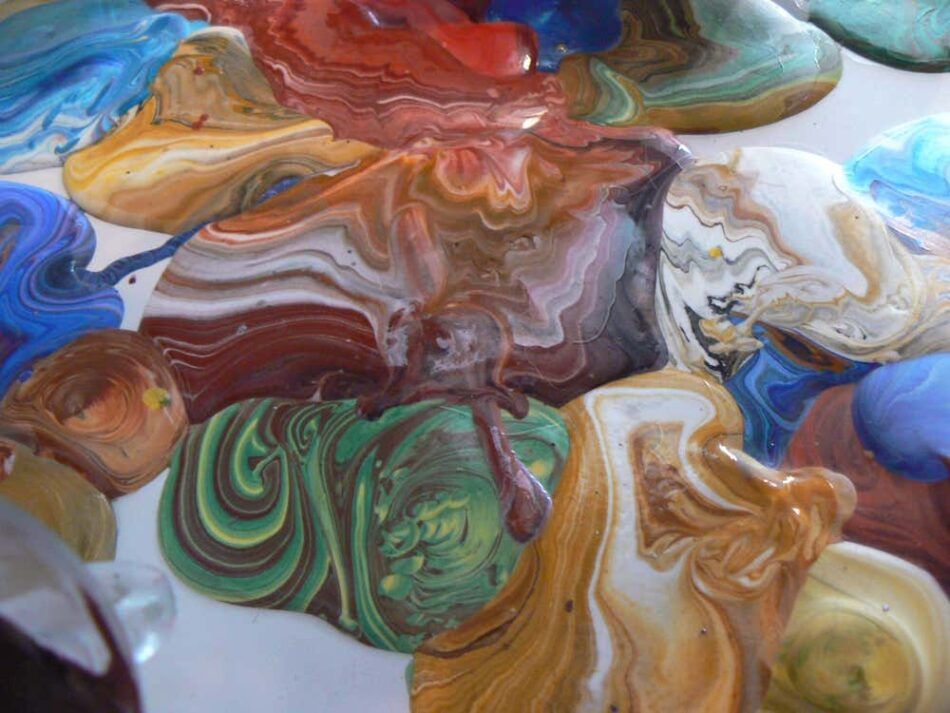 The technique the firm uses is no less complex than that employed by earlier masters. The first step is to draw an intricate pattern, which is then carved into a matrix and filled with a mixture consisting of selenite powder, pigments and natural glues. Hours are spent getting the veining and color just right.
When the mixture is dry, the surface is smoothed, the excess is cut, and the remainder is polished. The Ametista coffee table, with its mind-bending amethyst swirls, is a stunning example of Cupioli Luxury Home's scagliola work.
Other artists have reimagined scagliola entirely — Sumer Singh, of Mtharu studio, in Calgary, for example. Years ago, Singh relates, after weeks of experimentation and "about 100 pounds of failed mixes," he developed a "new hacked recipe that was stronger, more durable and more than just a surface appliqué." It looks a lot like concrete.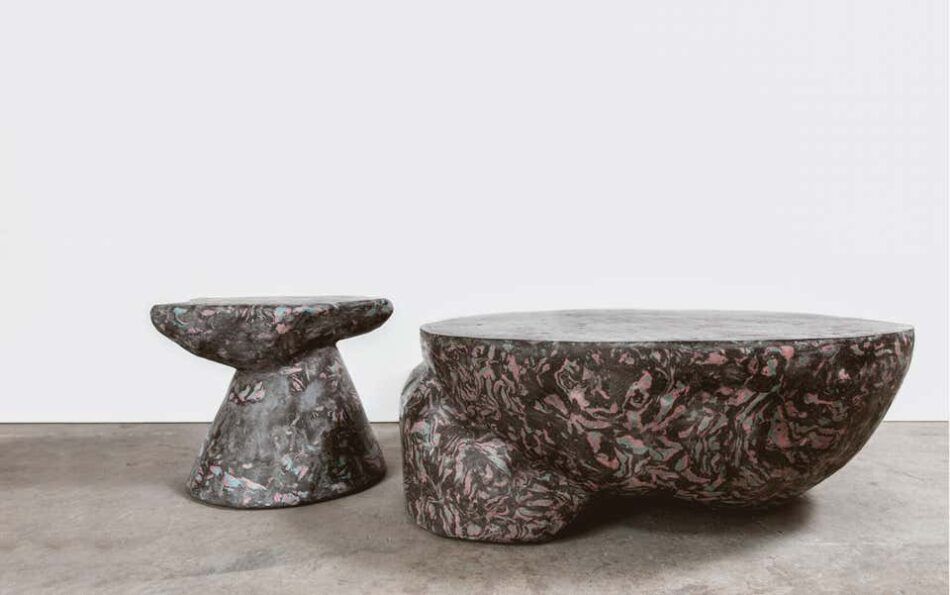 Singh's process begins with selecting a pattern, which determines the colors of the veins or marbled elements. He whips up several batches of his "super cake," as he calls it, of ingredients such as cement, latex and basalt, making sure to keep the colors separate even if they touch. He'll roll, mash up or slice the cake to create the pattern, then gingerly apply strips of the material to a digitally designed base form.
When everything's dry, Singh fills the gaps with cement and polishes his work over and over. "In the end, we are left with a beautiful pattern that comes to life," he says. His bulbous Plote and Prov tables prove his point.