Los Angeles–based Studio Hus blends historical references and modern finishes to create rooms with strong personalities. "We believe that interior design can be fine art, but it should also live and breathe," says Tatum Kendrick, the firm's founder and head designer. "We like when things are a little off-center, aged or worn."
Here, Kendrick describes six renovation projects that embody Studio Hus's approach to revitalizing existing spaces.
---
Modern Kitchen in Brentwood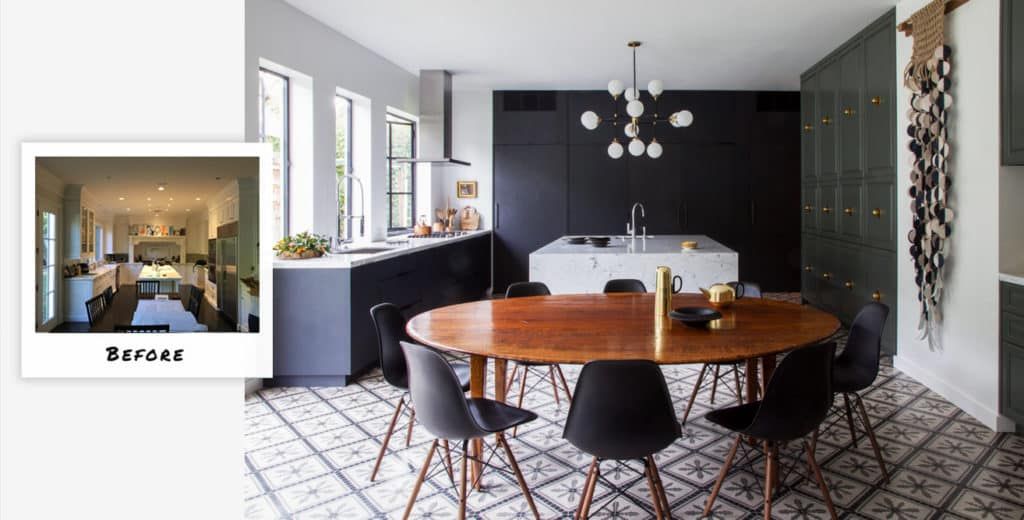 "Our goal was to create a highly functional and modern kitchen that felt bright and airy and possessed old-world charm. We started by widening the existing kitchen layout and adding steel doors and windows to increase the amount of light in the space. An oversized marble island anchors the room and offers a ton of storage and prep surface on both sides of the kitchen," Kendrick tells us.
"We designed floor-to-ceiling cabinetry by Nu Design with custom brass hardware to house our clients' dishware and pantry overflow, and we hid all the appliances on the back wall behind paneled doors. There is also a concealed jib door leading into a huge walk-in pantry. An antique drop-leaf table pairs with modern Eames chairs. The vintage-pattern tile floors are from Exquisite Surfaces."
---
Eclectic Kitchen in East Hampton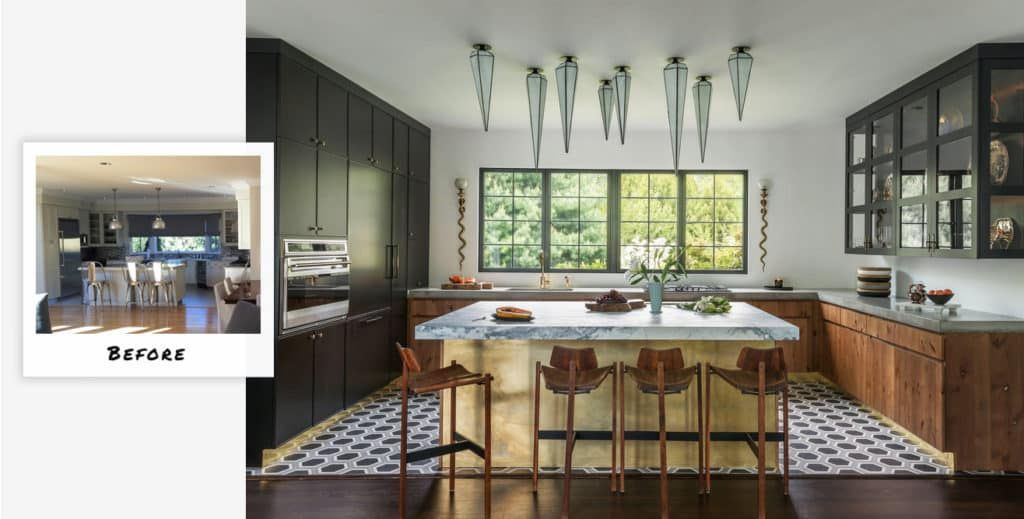 "Updating this kitchen meant cleaning up the lines and the chunky cabinetry. We removed a bay window and heavy upper cabinetry and opted for a larger window looking out over the garden. The palette is quiet but not boring, with a balance of active elements like the graphic octagonal cement tile floor by the Cement Tile Shop and the island by Hunter Cabinets with its brass front and kicks and turquoise island marble," the designer says.
"We wanted the lighting to be extra special and worked with Jason Koharik of Collected, who created the custom fixtures that are reminiscent of stalactites. Other elements are vintage walnut bar stools and vintage brass snake sconces from Galerie Andre Hayat."
---
Neoclassical Bathroom in Brentwood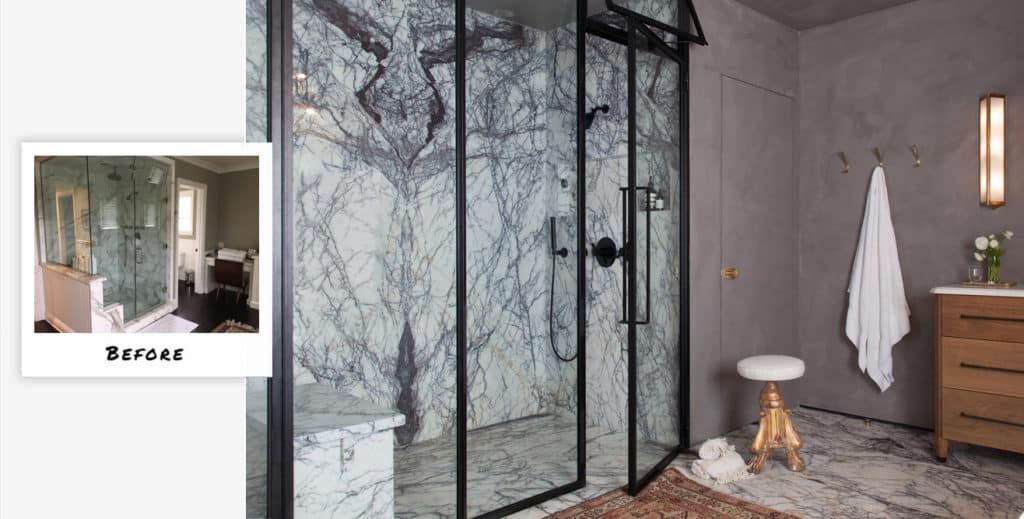 "We wanted to create a neoclassical bathroom that was serene yet rich. We removed the heavy moldings and wrapped the walls, doors and ceilings in smooth stucco. The tiled floors and shower walls are lilac marble and we customized a shower bench in the same material. The vanities were custom made by L'Artigiano Studio in the likeness of neoclassical commodes, which offer a richness and keeps things from feeling too modern," notes Kendrick.
The gilt stool is from Castle Antiques, and the towel hooks were purchased through 1stdibs.
---
Bold Kitchen in Orange County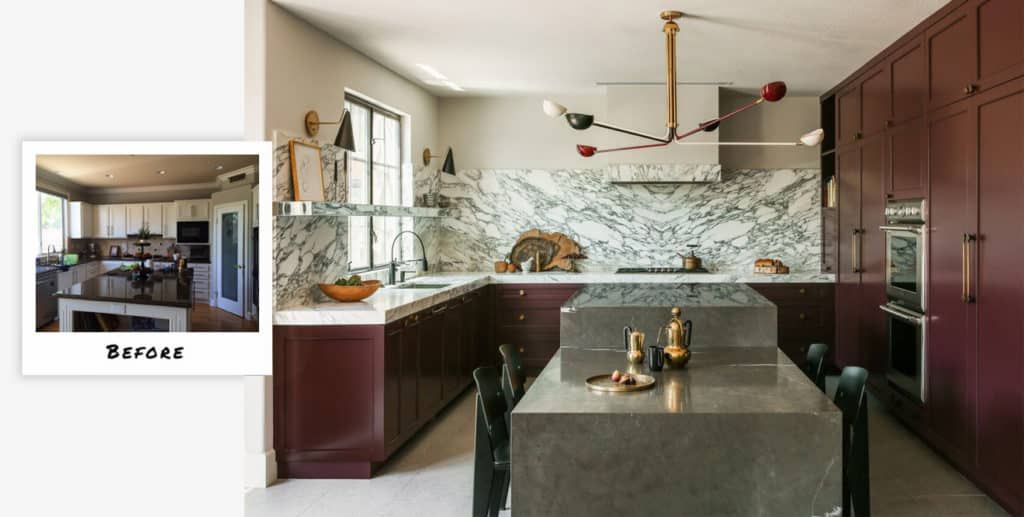 "Our client is a huge foodie and needed a highly functional kitchen that could also accommodate a small breakfast eating area. We began by cleaning up the layout, removing the awkward corner pantry, which wasn't very functional, and decided to forgo the traditional upper cabinetry to open it up," Kendrick says of this bold kitchen.
"To make up for the loss of upper storage, we designed floor-to-ceiling cabinetry on the right side of the kitchen and maximized the space under the island, leaving our clients with even more storage than before. Beautiful Arabescato marble wraps the countertops and high backsplash. A mirror-polished stainless-steel shelf floats in front of the window offering a place for everyday cups and bowls."
The chandelier is by Jason Koharik, the chairs are from Design Within Reach, the sconces are by Circa Lighting, the marble is from Tristone and the kitchen appliances are from Pirch.
---
Bohemian Dining Room in Venice Beach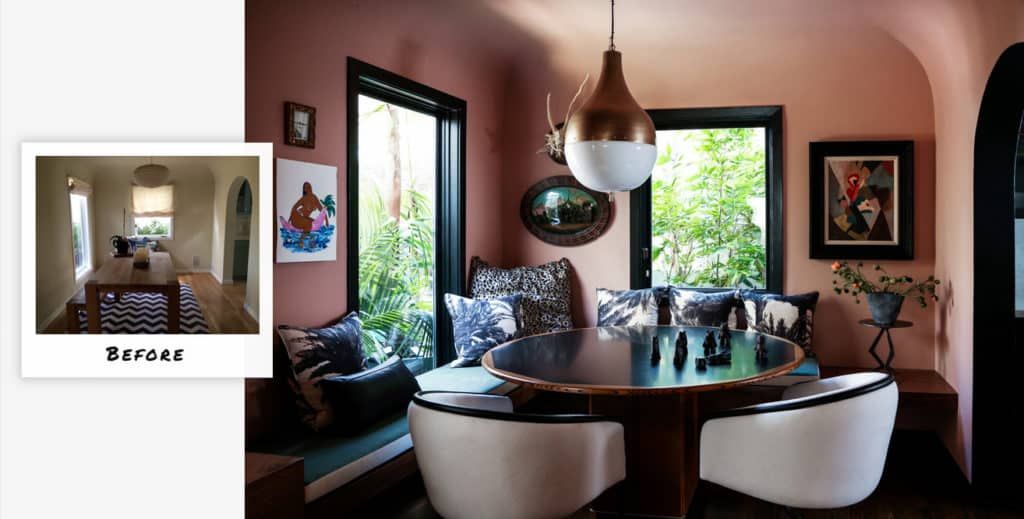 "The dining room connects the main entrance and kitchen to the rest of the house. We wanted to reorient the seating and create a space that felt cozy and inviting. We designed a floating walnut banquette that wraps two full walls, providing cushioned seating," Kendrick explains.
"The round dining table by New Order Modern and seating by Jason Koharik are directly connected to the kitchen space, allowing for easier flow through the home. The space was naturally a little dark, so we choose a warm pink paint and filled the walls with artwork, giving the room a laid-back Venice Beach vibe." The pendant light is by Eccola.
---
Old-World Powder Room in East Hampton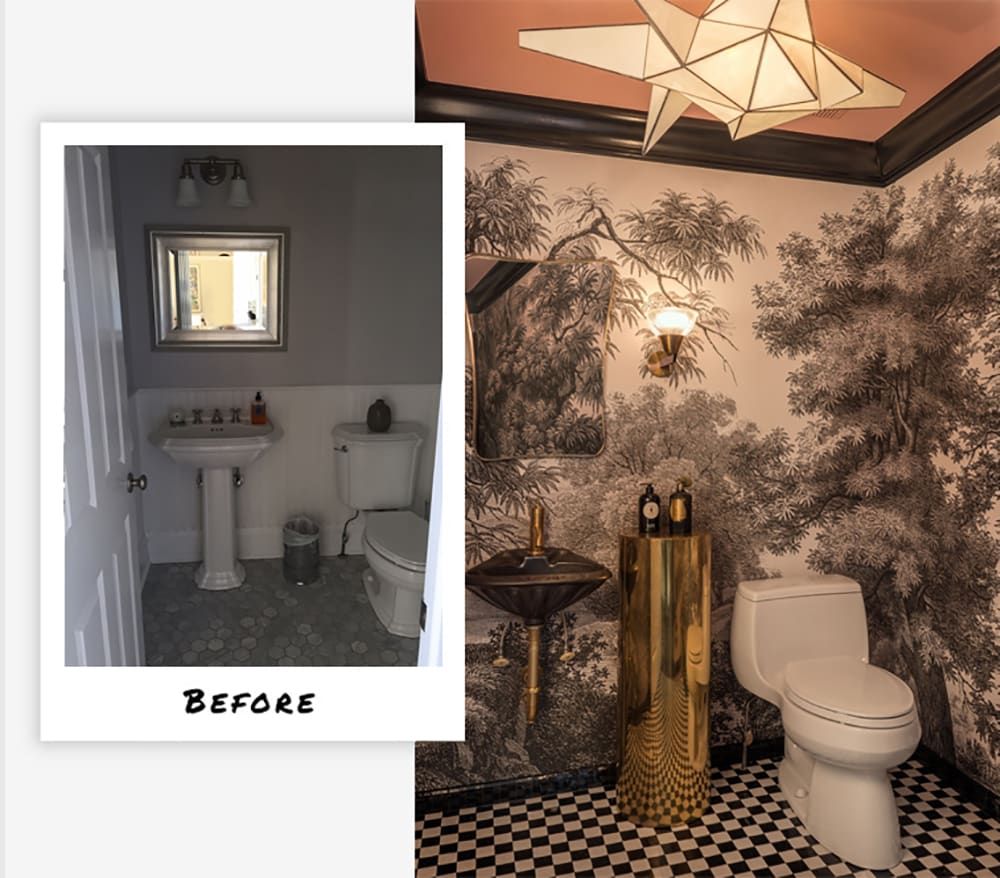 "We decided to amp up the wow factor when designing this powder room in East Hampton. Given this was our clients' country house, we wanted it to feel in line with the old-world country vibe," the designer says.
"We used an antique etching of a forest scene by Ananbo on the walls, contrasting that with a black-and-white zellige checkerboard floor and an antique floating sink purchased through 1stdibs. To bring it back to modernity, we used a rounded-edge Italian mirror and a cylindrical brass pedestal for holding soaps and essences." The light fixture is by Jason Koharik.