Tatum Kendrick has created homes with soul for 15 years. "I was kind of brought up working on a lot of the residential high-rise buildings with developers," she recalls, "then I started doing their private homes in the city and the Hamptons."
Six years later, she struck out on her own with Tatum Kendrick Designs in New York City. After the stock market crashed in 2008, she made another big leap, this time to Copenhagen, where she gave birth to her son and fell in love with the Scandinavians' humble approach to living.
When Kendrick finally resettled again, this time in Los Angeles, she got inspired by Southern California's indoor-outdoor living and refreshingly casual lifestyle. Today, her firm Studio Hus designs homes with natural materials and vintage pieces that beg to be used. "I look to furniture to really make you feel cozy and protected," she says of the voluminous B&B Italia couches she favors. "I always go back to the human element. We're really designing for comfort."
Below, Kendrick gives us a tour of her bohemian bungalow in the trendy Silver Lake neighborhood of L.A.
---
"I really just started gathering things that I loved," says Kendrick of her initial approach to decorating her bungalow, which she's rented for two years. "I started with the sofa and built around that. I wanted it to feel collected and to feel kind of light and airy and almost like a salon — kind of sexy and feminine without going too girly."
"This is a Noguchi Cloud sofa, which is kind of an iconic classic sofa I found at an auction. We upholstered it in these color-blocked hues — a gray mohair base and a dustier pink velvet. It's just a really great sculptural sofa. The credenza isn't signed, but I think it's Italian from the 1950s. It's a marquetry piece with porcelain discs and hand pulls." The beige leather chair is by Marcel Breuer.
---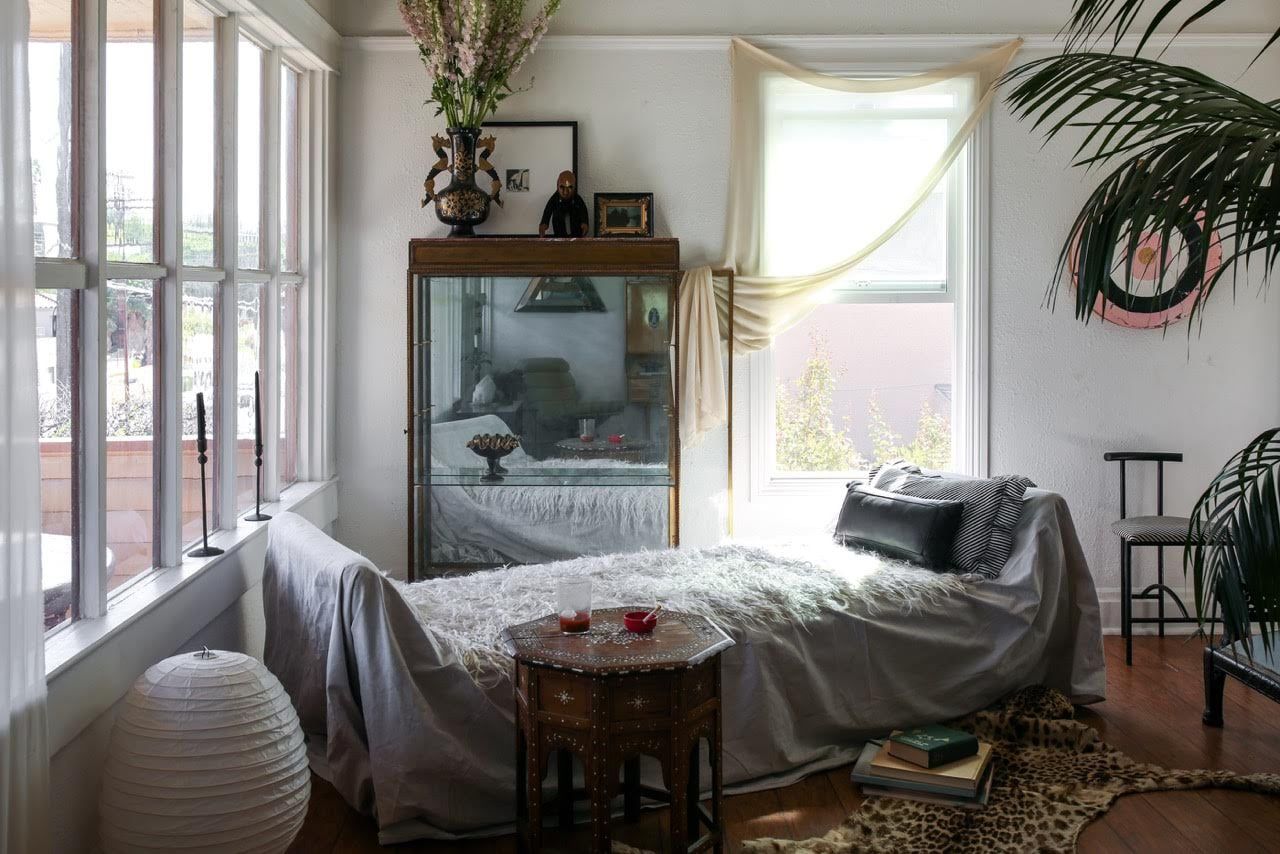 "On the other side of the living room is a daybed I bought at an auction densely covered with a kilim rug. The vintage vitrine I got at an auction on the East Coast. The Moroccan table was purchased there. The little lamp to the left is a Noguchi light sculpture, and to the right is a Tokyo side chair by Rodney Kinsman. My friend made the target," the designer says.
"If weight wasn't an issue and I could have superhero strength, I would probably take that vitrine and the Venetian painting above it," Kendrick adds of what she'd save in a house fire. "It's actually a night scene of the Venice canals, and I love night paintings. I got it at an antique store in Pasadena."
---
"I wanted this room to feel very moody," says Kendrick of the burgundy and lavender color scheme. "It's kind of like my dressing room where I have my cabinets and daybeds." The latter was custom made and upholstered in a Brunschwig & Fils floral fabric. The hanging glass pendant was a Rose Bowl Flea Market find. "I call this back room my den. It was funny because that woven piece I bought at the Rose Bowl they use in yurts. There's a frieze between my ceiling and the wall moldings, and it fit the exact length and height as it wrapped around the room."
---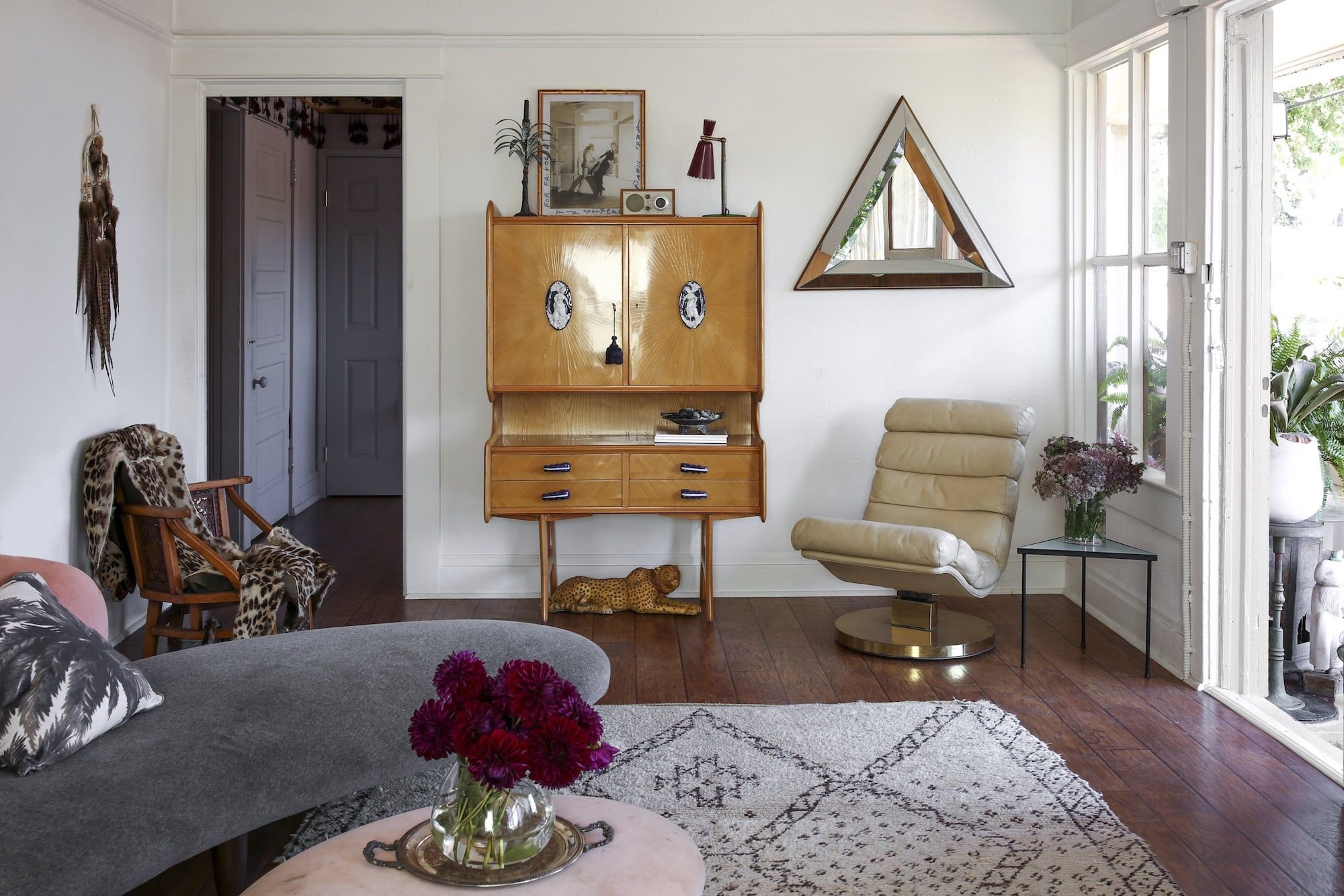 "I think my home suits me," says Kendrick. "It feels kind of lived-in and eclectic." A black-and-white photo by Helmut Newton rests atop the credenza. The jaguar was a gift from a Rose Bowl vendor. "It's kind of my totem animal," says Kendrick. "They're powerful and they're graceful and they're a bit of a loner. The Beni Ourain rug is from Morocco. I bought a ton of rugs there and had them shipped back."
---
A Chinese Art Deco rug and a pair of vintage wicker chairs that "feel very French 1950s" sit in the hallway. The leather-upholstered shelf was made by a friend and is "where all the junk collects," jokes Kendrick. She loves how the space feels like a New England mudroom: "Coming from Maine, it kind of feels like home."
"The vase on the right reminded me of what Cleopatra would wash her hair with. The Picasso-esque piece was another vintage find. The Navajo pottery vessel I actually turned upside-down so it almost looks like this orb. The landscape painting of the ocean in Maine is something my aunt did."
---
"That vintage Copenhagen piece came from the Danish Royal Ballet. I grabbed that painting of this woman's portrait in these really smoky blue hues. It says, 'As you sow, you shall reap.' It was something that my dad had written to me. I think it's a good reminder of how to live your life."
"These are a bunch of vintage Peruvian and Mexican straw hats that I wear. The house is so small, and there's no storage, so I literally made it a place to store my hats."
---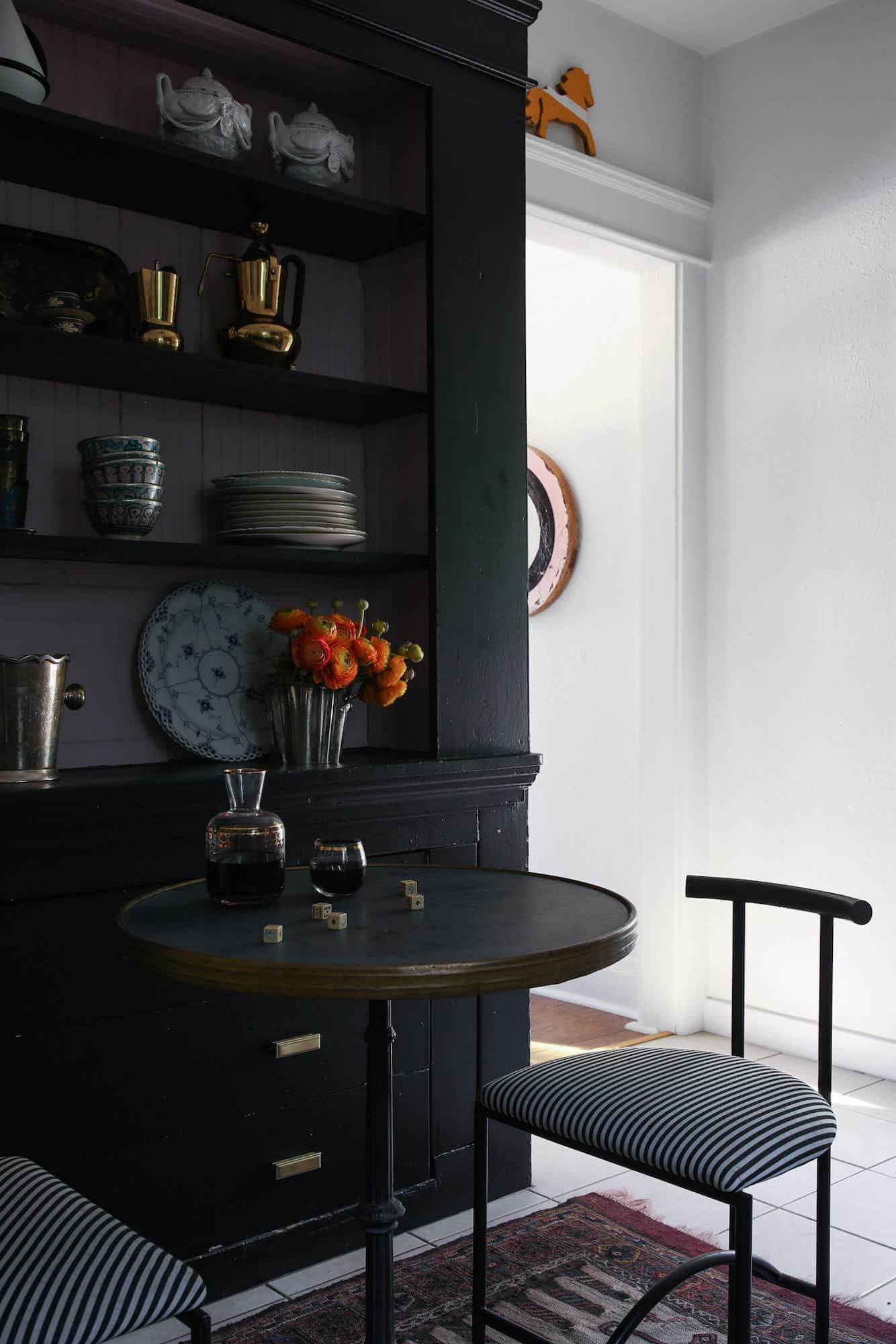 "Covet and obsess almost as much as you can," advises Kendrick, "even the functional stuff, the plates, the forks. Even though it doesn't look that way, for me, my goal at this house was to have two towels but two fantastic towels."
"That's a Rodney Kinsman chair that I reupholstered with an outdoorsy striped fabric. The café table felt Parisian, and I basically just painted that butler pantry black so it'd kind of stand out from the rest of the wall. I filled it with all the stuff I find and collect. I love to use that stuff on a regular basis."