As vanity tables and wall hangings are enjoying revivals of interest, designers are reinvigorating another home furnishing for the digital era — decorative mirrors. Everywhere you look, makers are reimagining mirrors for our times, be it by subverting the opulent tastes of the late 18th-century European aristocracy or by paring the familiar shape of a Master Lock down to its most basic elements.
The trend isn't only reflected in home decor, though. For Dior's Spring 2018 collection, presented at the Musée Rodin in Paris, creative director Maria Grazia Chiuri devised a literal hall of mirrors. The feat took 80 people 20 days to build, not to mention 80,000 pieces of mirror and 7.2 tons of concrete. Models strutted down the catwalk in striped shirts emblazoned with the question "Why have there been no great women artists?" and Chiuri's feminist collection seemed as much fodder for the Snapchat generation as a commentary on the societal standards women feel they have to live up to.
So are designers distorting mirrors to wink at our selfie-obsessed culture? Does it matter? These pieces look chic, and there's something for everyone. Here, we've rounded up five standout mirrors, along with thoughts from their creators on how to hang them.
---
Consisting of four different mirrors, each with an aristocratic name like Marchese or Barone, the limited-edition Rococut series pokes fun at European nobles by embedding gilded Rococo-style frames with glass that appears to have been "cut by a sword," notes designer Nina Alexandra Gunnell. Nearly every aspect of the mirrors, whose sizes are customizable, is done by hand at Barberini & Gunnell's atelier in Ancona, Italy.
How to Style It: "Mixing the antique with the contemporary — this is how we like to use these mirrors in the interiors we create," says Gunnell, who is currently juggling projects with Tonelli Design and Gruppo Doimo, "throwing together the old and the new and putting together artworks and furniture pieces that have a story to tell with those which will conquer the future."
---
Los Angeles designer Leah Ring, who goes by the moniker Another Human, is intrigued by "the healing and metaphysical properties of crystals." She likes to scatter crystals around her apartment to clear the energy, but with the Aura mirror "I wanted to explore bringing this into the home space in a way that wasn't just a loose crystal," she says. More precisely, "I wanted to play with piercing these incredibly gorgeous stones created by nature with a mirror that is so clearly man-made to explore the tension between them."
How to Style It: "When I designed the Aura mirrors," says Ring, who fabricates most of her designs in L.A., "I imagined them living in several places in the home — on a vanity or dressing table, in the living space on a shelf or mantle or in a bedroom on a dresser or bedside table."
---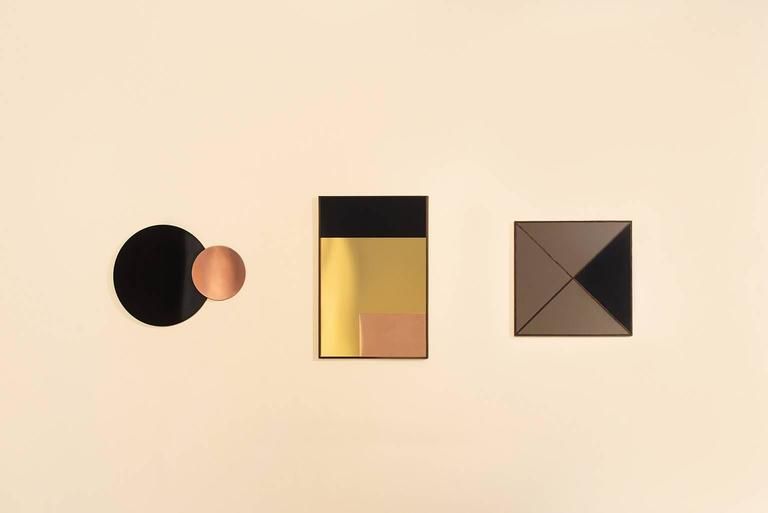 Is it art or is it functional design? For Detroit designer Nina Cho, whose Constructivist mirrors are made from polished copper and hand-crafted acrylic, the answer is a little of both. "People want to have designed objects in their home not only for functional purposes," she says, "but also for the aesthetic enjoyment. I created these three unique designs for people to enjoy a new experience with mirrors in their home."
How to Style It: Cho, who was born in the United States and raised in Korea, advises collectors to treat the Constructivist mirrors like paintings. Created by matching geometric shapes of different proportions, "my mirrors display a rich harmony and simplicity of materiality," she says. "Two of the mirrors are finished with wooden frames made from local oak that I ebonized through a natural process."
---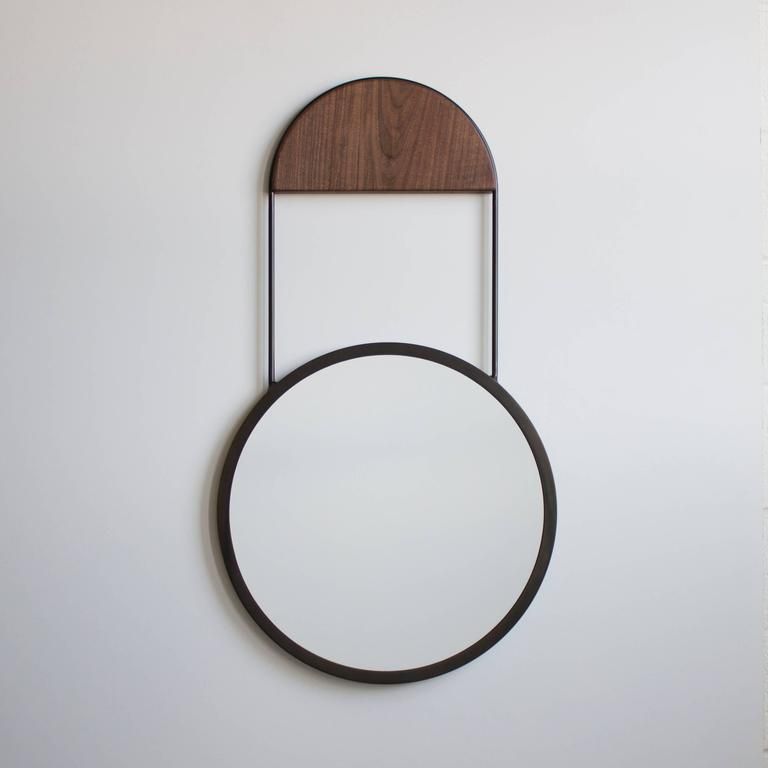 For months, Baltimore design studio Crump and Kwash — a.k.a. Justin Kwash and Paul Crump — had struggled to come up with a clever idea for a hanging wall mirror. After about 100 sketches and "a few arguments," Kwash says, "we ended up with a line sketch of the outside of a Master Lock that we thought was interesting but not quite there. The addition of the wooden hanger, and especially the way the metal bar nestles around the hanger, filled out the piece and helped it hold its own in a space."
How to Style It: Kwash, who got his start making large-scale sculptures, says the versatile 20-inch mirror "works well above a bathroom vanity, as well as in a hall or atop a credenza." The 36-inch version would look equally chic above a sofa or mantle.
---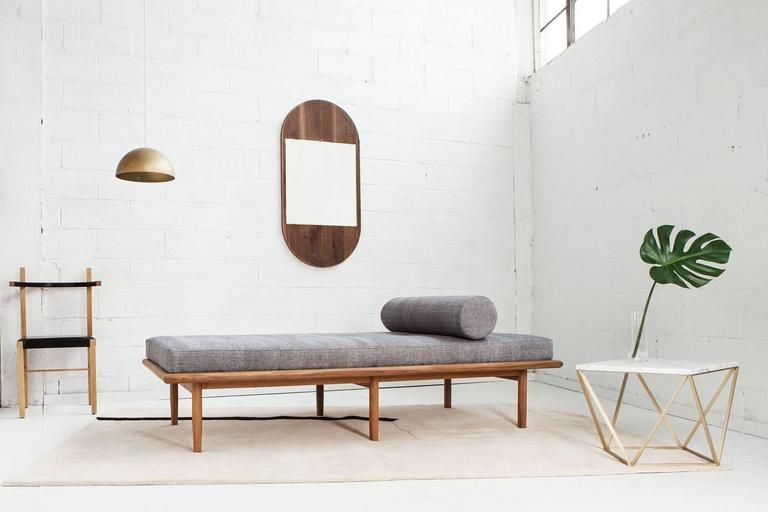 About the Piece: "My task when designing the June mirror," says Coil + Drift founder John Sorensen-Jolink, "was to combine the dynamic and intriguing '70s feeling of concentric ovals with clean and modern materials that I am drawn to, like oiled hardwood and mirror."
How to Style It: The mirror can be hung vertically in an entryway or horizontally over a couch or sideboard, says the Brooklyn-based Sorensen-Jolink, "and it's often used as a functional piece of art." He adds: "I think its symmetry definitely lends itself to being placed in the center of a wall."