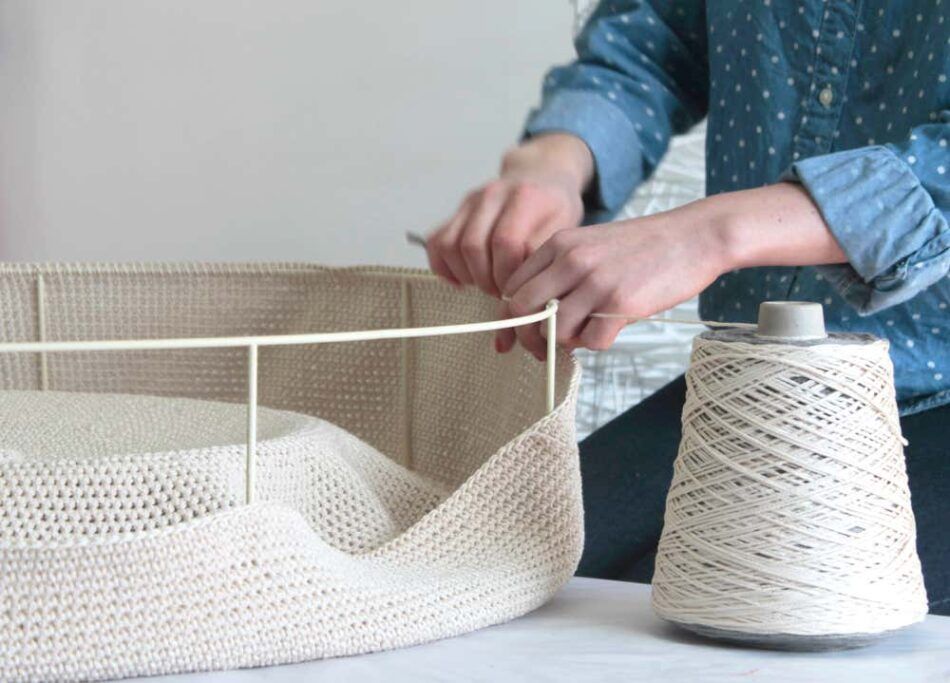 The ski chalet may be as old as Europe itself, but inventive designers are putting a totally fresh spin on snow-worthy decor.
In her studio in London, Naomi Paul works closely with her highly skilled team to crochet perfectly shaped pendants, while across the pond in Brooklyn, Andrew Boos explores the interplay of light and space through traditional tapestry processes.
Here's what those designers and others told us about their handmade creations just right for wintry weather.
---
Moses Nadel
"We are drawn to work with leather because it is a natural material that has inherent beauty and durability," say Moses and Lara Nadel, founders of Long Island, New York, studio and boutique Moses Nadel. Constructing their elegant handmade animal-hide items, however, is no easy task.
Their ball-shaped shearling and leather ottomans, for example, are carefully filled with micro-foam, which is harder to do than it sounds. And being sticklers for details, the husband-and-wife duo don't just gloss over the natural variations in the hides. "We are always working to incorporate the inconsistencies and nuances of different skins and tannages," they explain. "We want to achieve a very luxurious aesthetic that also provides functionality."
Mission accomplished with the hand-stitched ottomans, which would lend an edge to any ski club.
---
Studio Variously
Studio Variously prides itself on using ancient weaving and printing techniques that have stood the test of time. To that end, the firm's Detroit-based founder, Anjali Purohit, travels the world seeking third- and fourth-generation artisans to collaborate with on its high-end collections of hand-woven scarves and throw blankets.
The designer is similarly mindful about the materials she uses. "Linen is sourced from Belgium, merino from Australia," says Purohit, who incorporates in her dyes natural elements like eucalyptus. The flax-colored Terra throw, is a perfect example of her approach. Handwoven by artisans in Nepal, it achieves "a clean contemporary look by exploring the use of hand knots and soft gradations in color with textures," Purohit explains.
This type of work entails coping with complicated logistics, not to mention the time it takes to fully flesh out designs. "Some of the other challenges are weather restrictions in cases where textiles are dried naturally, the dye is extracted from local natural resources or the yarn is developed in small local farms," says Purohit, adding, "We are already seeing the impact of global warming on accessibility to higher-quality natural yarns."
---
Naomi Paul
Like many artists in high-rent cities, Naomi Paul had to rethink her practice's scale to afford to work in London. After completing a degree in contracted textile weaving, Paul realized she couldn't cover the cost of a studio with a loom.
So, she turned to crochet as a low-cost option and set her sights on lighting. "The simplicity of crochet gave me the freedom to explore, evolve and reinterpret materials and fibers into new forms with just my hands and thoughts," she says. "I love the way crochet stitches change in a molecular way, enabling me to sculpt almost like a potter at a wheel."
Every product in her stunning pendant collection is entirely handmade. It's also made to order, which can be both a blessing and, when she's on a tight deadline, a curse.
A pendant takes from 8 to 60 hours to complete, with some bespoke versions taking as long as six months. Once the pendant is woven, it is hung, dusted and steamed. During that last process, Paul gently smooths and pushes the shade into shape from inside the pendant with the back of her hand. The piece then hangs in the studio for up to two weeks, gradually dropping to its final height.
---
Karen Gayle Tinney
"My materials are quite straightforward," says Long Beach, California, designer Karen Gayle Tinney. "It's really how I combine them and manipulate them that makes them special." Case in point: her glazed-stoneware vase #607, which, with its three ponytails, achieves just the right level of quirky.
About five years ago, Tinney began incorporating fibers into her curvy ceramics. "The two materials seemed to go together so naturally," she says, "but it's a combination you rarely see." She found that red clay paired perfectly with bone-white cotton threads or puffs of shearling.
For Tinney, weaving is a meditative process, on which she spends up to a month. A ceramic vessel, in contrast, can be built in a day. The challenge comes in fusing the two materials together so that the result looks like one piece, "not two separate things stuck together," she says.
---
Andrew Boos
"I love how rugs can be an art object that you interact with," says Brooklyn designer Andrew Boos. "Unlike a static painting on a wall, a rug is something that you walk on, lie on. It's something that can center a space or mark a division." And when a soft rug is juxtaposed with a hard surface like concrete, it's even better.
It's not surprising that Boos is drawn to wool, which is both soft and durable. It also has another distinction. While it's great at absorbing natural dyes, its natural off-white tone and lanolin can affect the final hue. Given Boos's fascination with the interplay of color and shape, this potential for variability in shade is key to his practice.
"When I weave, I allow myself to make changes to the design as I work. Because nothing is fully planned and I'm not just executing a design I already drew out, I get to remain fully invested in the process from start to finish," Boos explains.
"I like to work as big as possible so that my work doesn't exist as an afterthought or an accent piece but as the dominant force in the space," he adds. "I love brutalist architecture, and I especially love how the wool rug can act as an almost complete opposite of those sterile cement-lined environments. While brutalism offers an immersive experience designed to make the viewer feel small, I hope that my rugs offer the type of immersive environment that someone would want to dive into."