As a jeweler, Van Cleef & Arpels is known for its exquisite Mystery Set creations and its instantly recognizable Alhambra collection. As a watchmaker, it's known as the champion of poetic complications — elaborate functions designed to delight — and fanciful motifs.
The dials often tell a story: A fairy casts a magic spell, butterflies play hide-and-seek in the clouds. Or, in the case of the Pont des Amoureux watch, lovers meet in the moonlight on a romantic bridge to indulge in a kiss.
The narrative is sweet and simple, but the movement is complex. It's a double retrograde with automaton indications moving across a single arc, with the hour displayed on the left and the minutes on the right.
The hour is tracked by a woman carrying an umbrella, making her way up one side of the bridge. The minutes are marked by a man holding a flower, who inches up the other side.
He reaches the apex 24 times a day, advancing with every minute and retreating on the hour. Twice a day, at noon and midnight, the woman also makes her way to the top, where the lovers kiss for 10 seconds.
The bridge was inspired by the legendary Lovers' Bridge in Annecy, France, and the couple by the real-life love story of Estelle Arpels and Alfred Van Cleef, whose families founded the Paris company in 1906.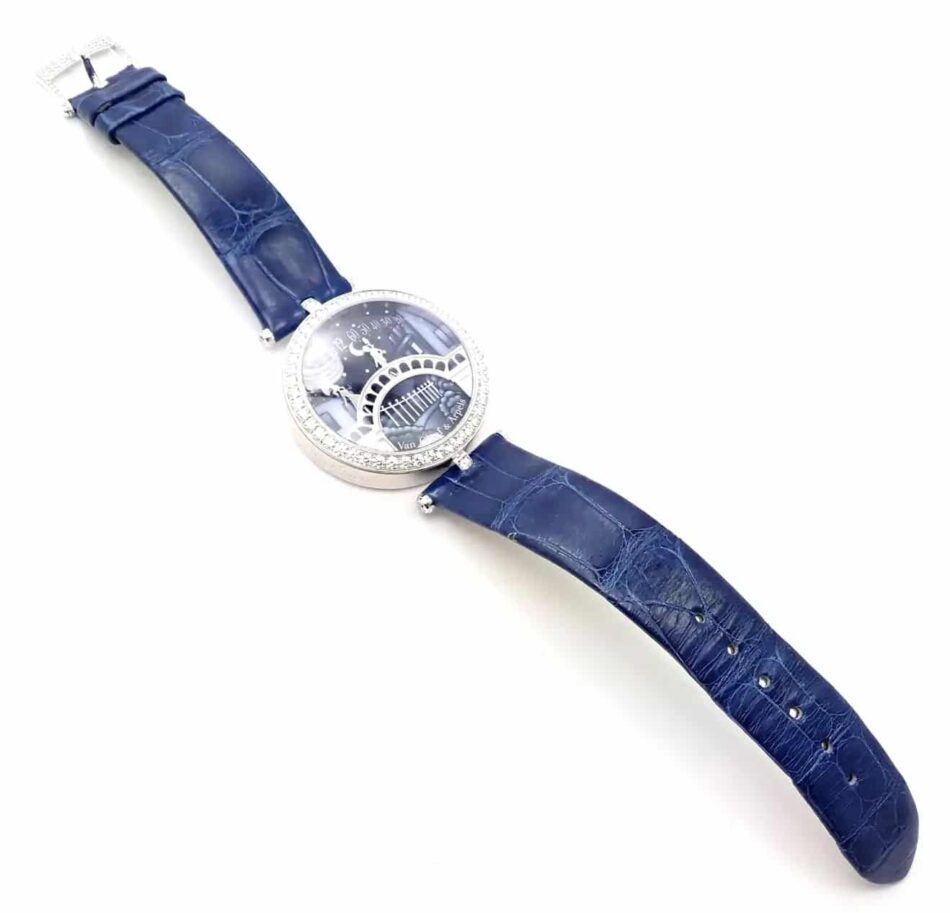 "We have not had anything like this for sale before," comments Susan Cherkassky, of Pennsylvania-based Fortrove, which is offering the watch on 1stDibs. "The Pont des Amoureux was made in an extremely limited-production series, so it is very hard to find it in the secondhand market. This one is in mint condition." It also features a diamond bezel and clasp, as well as two alligator bands — one blue and one white.
The Pont des Amoureux won the Ladies' Watch Prize in the Grand Prix d'Horlogerie de Genève when it was introduced, in 2010, and it drew accolades for its complex movement, created exclusively for Van Cleef & Arpels by Agenhor, a Swiss boutique movement maker. The watch has been in high demand by collectors and lovers ever since.