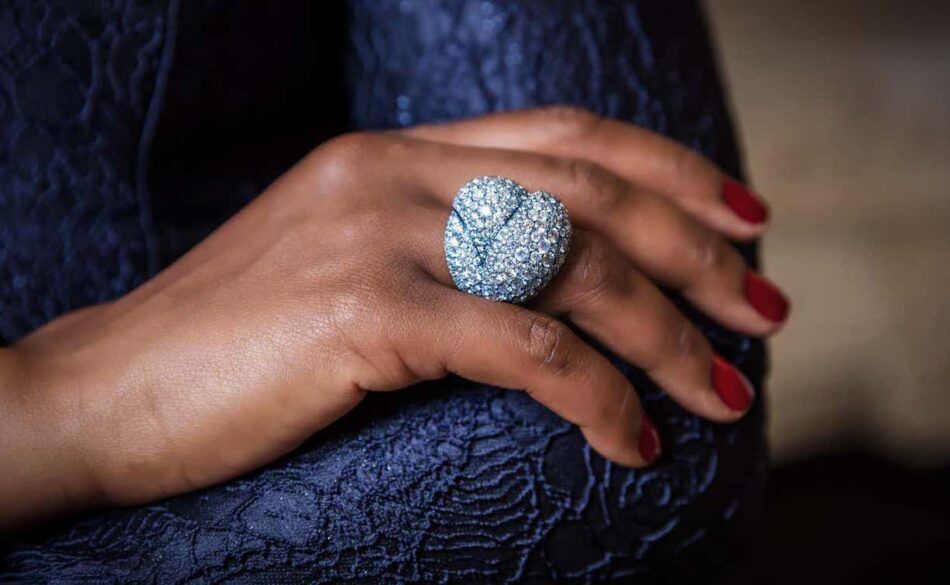 You see a cocktail ring lavished with diamonds against a background of vibrant blue metal. The designer Vania Leles of the London-based jeweler Vanleles Diamonds saw a vision of snow falling on Mount Kilimanjaro, the crown jewel of the East African country of Tanzania.
Her decision to use anodized titanium in the design was not by accident. The metal's inherent strength lends itself to the sumptuous, sloping curves and height that Leles intended for the ring. It also has an incredible lightness — surprisingly, the ring doesn't feel bulky or heavy on the hand, despite its magnificent presence.
"Titanium is so intriguing to me. It's this duality of strong and fragile, and when they collide in fine jewelry, the result for me is a stunning sculptural jewel," says Leles. "It also gives us the possibility to go as grand as we want while also making it something comfortable for women to wear. Plus, titanium can be anodized to change into all colors of the rainbow, in this case an intense sky-blue hue."
Leles, who is of West African heritage, frequently looks to her native land for inspiration. In addition to the Kilimanjaro collection, there is also Enchanted Garden (based on a floral pattern found in African batik fabrics) and Nile, which incorporates an arabesque motif often seen in North African architecture.
Whenever she's designing, she has a clear muse in mind: "a dynamic and elegant woman who isn't afraid to wear grand jewelry with the same ease while in jeans and a white shirt or in a gown," Leles says. "In fact, we had a similar ring purchased by a lady in Palm Beach, and she wears it while playing golf but also to chic dinners with friends. I create jewelry that should be worn as often as the woman wants."