Was the fashion industry the first to revive velvet's popularity? Or had interior designers been championing the resplendent fabric all along? Velvet definitely made a strong return to the spotlight as the fabric du jour back last autumn on coveted catwalks, like those of Vetements, Stella McCartney and Saint Laurent.
One could argue that once velvet hit those runways, the interior-design world took notice. But lest we trick ourselves into thinking velvet will soon be "so over," this plushest of fabrics is a true classic in every sense. And there doesn't seem to be an end in sight for its popularity. (Even Gucci recently unveiled a surrealist line of home decor heavily featuring, of all things, embroidered velvet cat cushions.)
First appearing in China during the Qin dynasty (around 221 BC), velvet was subsequently produced in Iraq and Egypt. The tactile textile reached large-scale distribution in Italy from the 12th through the 18th centuries, and the European Renaissance catapulted velvet into fancy manses and boudoirs. Finally, from the 1920s through the 1990s, the material became absorbed into mainstream culture.
Velvet in all of its iterations — including crushed, flocked, devoré and brocade — is luxurious and supremely swaddle-worthy, always beckoning us to just reach out and touch its fuzzy nap. Its richness elevates even the most ordinary objects, making it the perfect fabric to pair with furniture, objets d'art and, of course, ready-to-wear clothing. Scroll down for a few of our favorite velvety items on 1stdibs.
---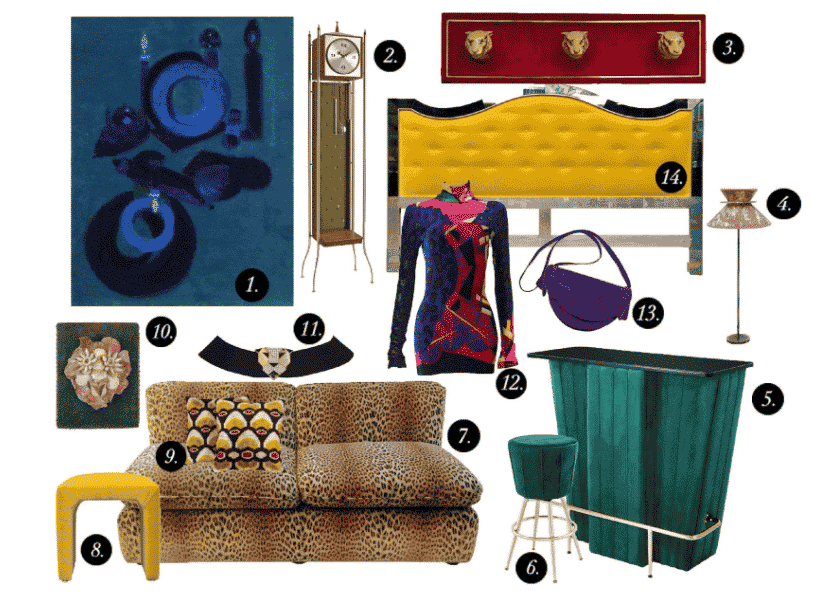 1. Turquoise Still Life, 2016, by Meg Franklin. 2. George Nelson grandfather clock with velvet background, 1957. 3. Neoclassical-style coat rack with bronze lions on red velvet, 1955. 4. Sabrina Landini Daisy table lamp in brass, velvet and silvered glass, new. 5. Pacific Compagnie saloon bar in green velvet, new. 6. Pacific Compagnie saloon stool in green velvet, new. 7. Cyrus Company leopard-print velvet sofa, 1980s. 8. Milo Baughman for Thayer Coggin yellow velvet footstools, 1980s. 9. Pair of silk velvet Uzbek pillowcases, new. 10. Pair of shell masks mounted on velvet backboard, 19th century. 11. Gianni Bulgari Enigma gold and diamond panther choker on velvet ribbon, 2000s. 12. Gianni Versace printed-velvet stretch minidress, 1994. 13. Christian Dior velvet and passementerie evening bag, 1970s. 14. Mirror-framed tufted velvet headboard, ca. 1940.
---
Velvet Interior Inspiration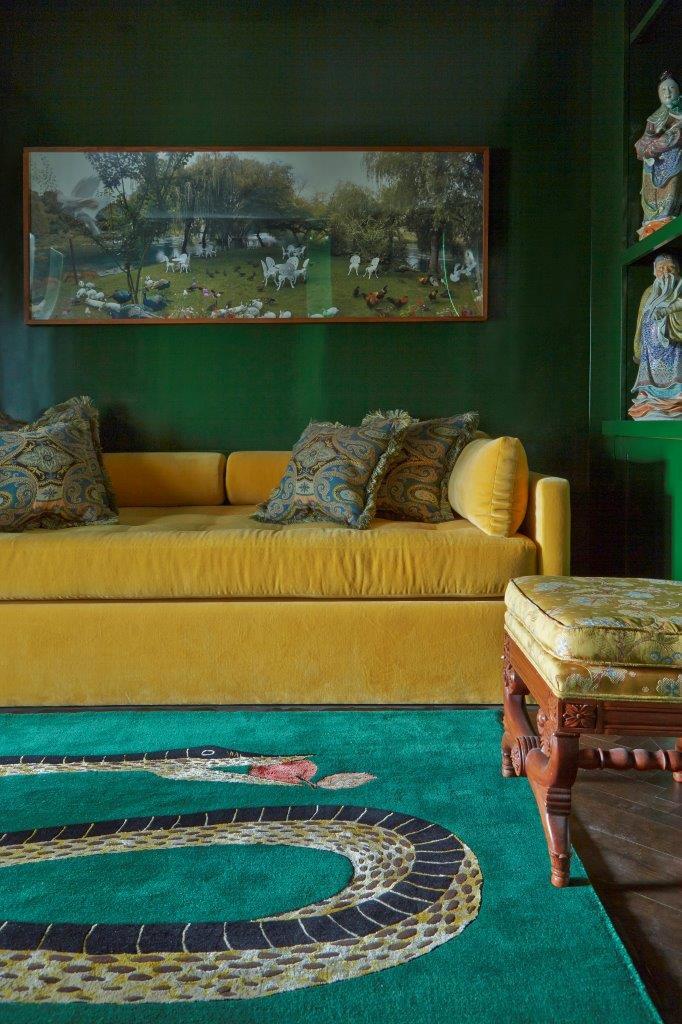 A mustard-yellow velvet sofa contrasts beautifully with the kelly green walls of this eclectic bar and game room in a New York penthouse by John Barman. Photo by Anastassios Mentis