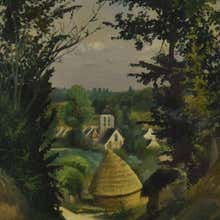 LOUIS HAYET (FRANCE, 1864–1940)
Louis Hayet was born to a modest family in Pontoise, near Paris, and despite early evidence of considerable artistic and academic talents, he began his career as a travelling salesman. 
Eventually joining with the Neo-Impressionist group of painters centred upon Camille Pissarro, Paul Signac and Georges Seurat, Hayet's inherent predisposition for painting revealed itself as he experimented with colour, texture and light. Hayet established a friendship with Camille Pissarro, and Pissarro's eldest son Lucien, a year after moving to Paris in 1885. 
Curiously, Paul Signac removed mention of Hayet from the Pointillism manifesto. Yet, from his studios at Montmartre and La Frette, Hayet was a prolific artist who produced a diverse body of work that always sought to be true to the nature of colour itself. 
Bearing the influence of Seurat, Hayet would often work en plein air with a fast-moving, decided technique that foreshadowed the evolution from Impressionism to Neo-Impressionism. He was drawn to themes such as the circus, modern urban scenes and landscapes. 
The science-based principles of Neo-Impressionism followed Hayet to the end of his painting career, after which he dedicated his time to scientific research into pigments.
(Biography provided by Stern Pissarro Gallery)
Previously Available Items
Landscape - 19th/20th Century Post-Impressionism, Farmhouse in Hills by L Hayet
By Louis Hayet
Located in Marlow, Buckinghamshire
A charming and expressive oil on board of a landscape by Louis Hayet. Signed lower right with Cachet of artist's estate Louis Hayet had a difficult and itinerant childhood, due to t...
Category
1910s Impressionist Louis Hayet Art
Bord de LOise a laube Pontoise by Louis Hayet
By Louis Hayet
Located in New Orleans, LA
Louis Hayet<br> 1864-1940• French<br><br> <em>Bord de L'Oise a l'aube, Pontoise</em><br><br> Signed and Dated 'L. Hayet. 88' (lower right)<br> Oil on Canvas<br><br> This enchanting ...
Category
Late 19th Century Louis Hayet Art
H C: 20 1/2" F:30" in. W C: 28 1/4" F:28 1/4" in.
Artists Similar to Louis Hayet