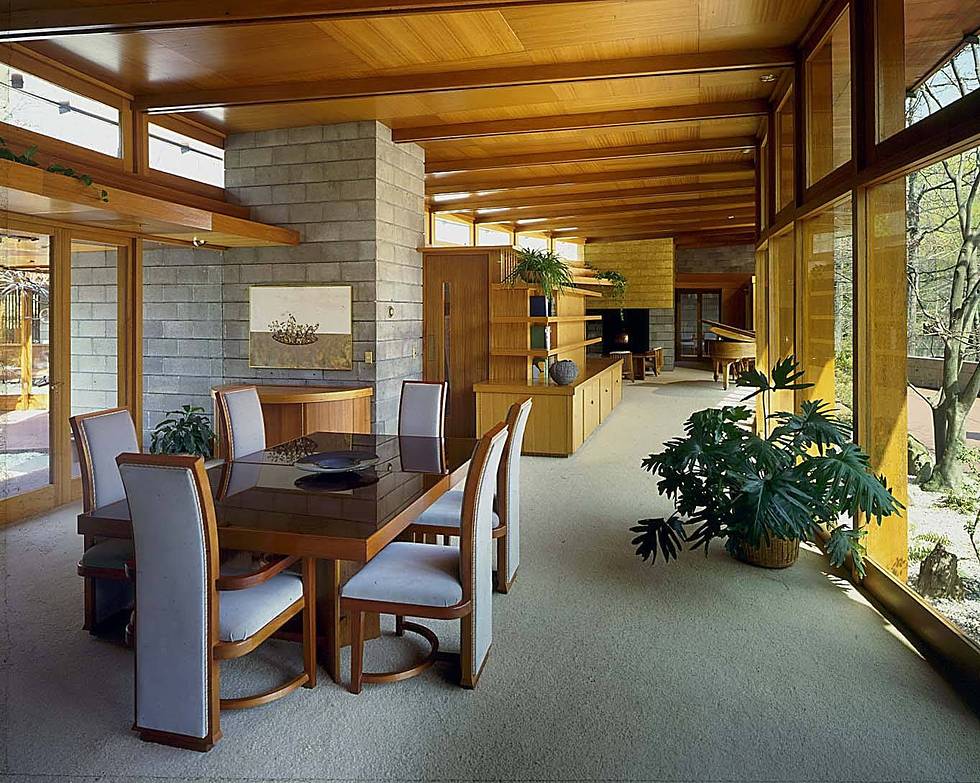 Iconic Designs
Taliesin Group
Named after the home he built in 1911 in Wisconsin, and inspired by the Arts and Crafts movement, the Taliesin series, created by American architect and furniture designer Frank Lloyd Wright (1867–1959), embraces the use of natural materials, basic geometric shapes and traditional craftsmanship. The line — initially intended for mass production and moderately priced — comprises more than 60 pieces (and complemented a series of textiles for F. Schumacher & Co.). It was the fruit of Wright's partnership with North Carolina's Henredon furniture company in 1955. At the time, Henredon had a cross-licensing agreement with the Heritage furniture company, and vintage Wright furniture is often labeled Heritage-Henredon.
After dropping out of the University of Wisconsin-Madison in 1887 to explore opportunities at architecture firms in Chicago, Wright briefly worked for Joseph Lyman Silsbee and then, later that year, for Louis Sullivan, who is credited with having developed early skyscraper designs. Wright was fired six years later from Sullivan's firm, but the experience heavily influenced the young architect's Prairie School style, which informed Wright's Taliesin furniture. 
While the angles and hard geometric forms of Wright's furniture continued to mirror those of his architectural structures, the Taliesin Barrel chair sees a refreshing integration of curved lines and riffs on ideas he had previously introduced in his work. Mahogany Taliesin cabinets are characterized by sharp-edged shapes, while Taliesin dining tables and end tables are defined by distinct angles and clean straight lines. Wright, who worked until his death in 1959, used many pieces in the Taliesin series in his own home. Contemporary reproductions of the series are manufactured by Cassina.
Shop Designs in the Collection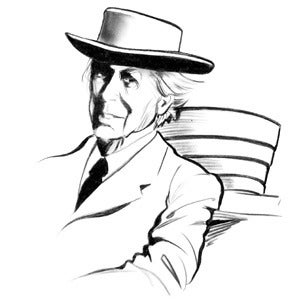 Without question the greatest architect the United States has ever produced, Frank Lloyd Wright and his philosophy of "organic architecture" — of buildings that exist in harmony with their natural surroundings — had a profound influence on the shape of modern life. Wright gave us some of the most elegant and iconic buildings in America: residences such as Fallingwater, in rural Pennsylvania, the Robie House in Chicago, and Taliesin, Wright's own home; and masterful institutional structures that include the Unity Temple in Oak Park, Illinois, the Johnson Wax headquarters in Racine, Wisconsin, and the Guggenheim Museum in New York. Whenever possible, Wright designed the furniture for his projects, to ensure an affinity between a building's exterior and interior.
Wright's wooden chairs and tables for his "Prairie Houses" of the early 1900s have sleek, attenuated forms, influenced by both the simplicity of traditional Japanese design and the work of Gustav Stickley and other designers of the Arts and Crafts movement. For Taliesin and several residential projects, Wright designed severely geometric chairs that are marvels of reductivist design. He revisited many of these forms in the 1950s in furniture licensed to the firm Henredon, adding a decorative frieze-like element to the edges of tables and stools.
The works on 1stDibs also show how happily Wright embraced new forms and materials. His desks and chairs for Johnson Wax have a streamlined look and use tubular steel to the same effect as designer Warren McArthur, who collaborated with Wright in the interiors of the Arizona Biltmore Hotel. For the Price Tower (1956) in Oklahoma, Wright designed angular wooden desks as well as upholstered pedestal chairs made of chromed steel — audacious furniture for his tallest completed building project.
The beauty of Frank Lloyd Wright's furniture designs is that while many of us wish we could live in one of his houses, his vintage sofas, storage cabinets and armchairs connect us directly to his architecture, and to the history he made.
More Frank Lloyd Wright Designs