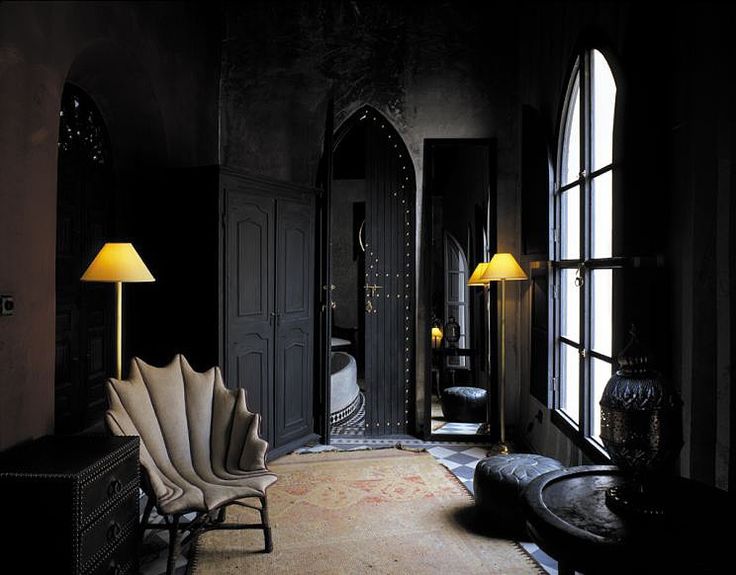 Low, brooding lighting. Gothic arch windows. Spiky, anthropomorphic furniture. The exquisite, richly layered Riad Dar Darma hotel in Marrakech, Morocco, epitomizes dark elegance.
---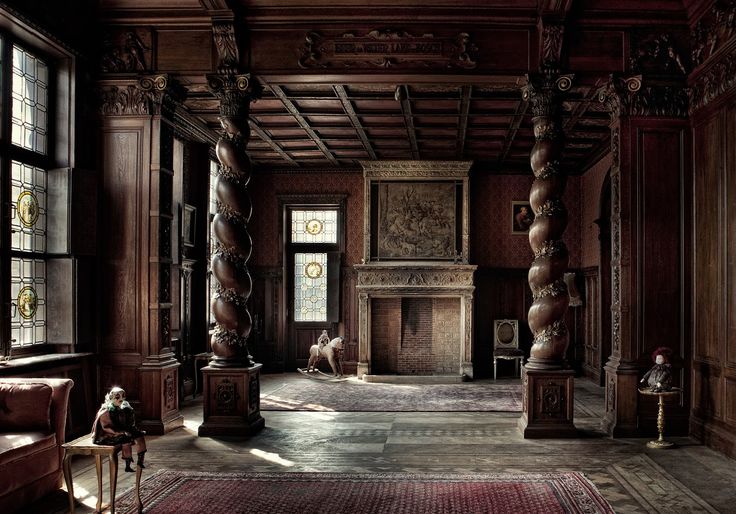 In an abandoned Belgian townhouse, a coffered ceiling and extensive, intricate wood carvings — accessorized only with antique dolls — create an atmospheric, eerie vignette.
Photo by Andrea S via 500px.
---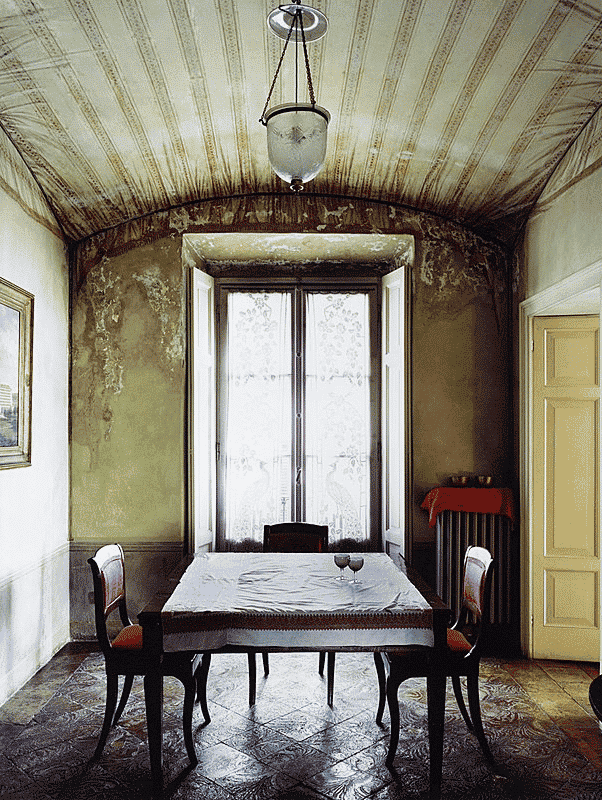 In his Milan dining room, interior designer Roberto Peregalli used a trompe l'oeil tent to cover the ceiling but left visible water damage stains on the wall. The effect is one of moody, stylized abandonment.
---
For the late-1990s film "Practical Magic," the decidedly A-list design duo Roman and Williams built and decorated a Victorian-inspired home. The home's dark, candlelit interiors were modeled on East Coast lighthouses — and perfectly suited to host a coven of fictional witches.
---
Above, a room from Il Vittoriale degli Italiani, the northern Italy home of Gabriele D'Annunzio, the controversial writer and politician of the early 20th century. D'Annunzio referenced Dante's allegory in designing his home, filling it with an appropriately macabre mix of objets including death masks, taxidermy and coffins. Today the property is a museum.
---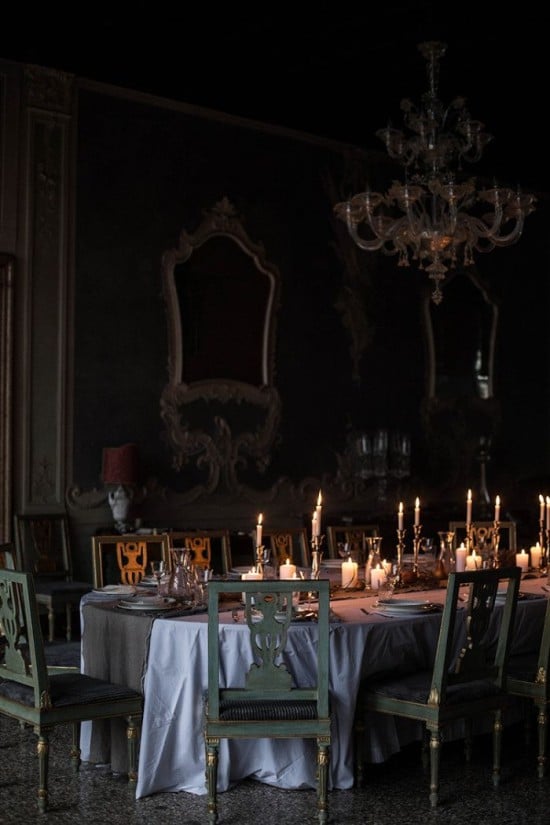 Terrazzo flooring and frescoed walls provide the perfect backdrop for an atmospheric, candlelit table inside a centuries-old, unnamed Venetian palazzo.
---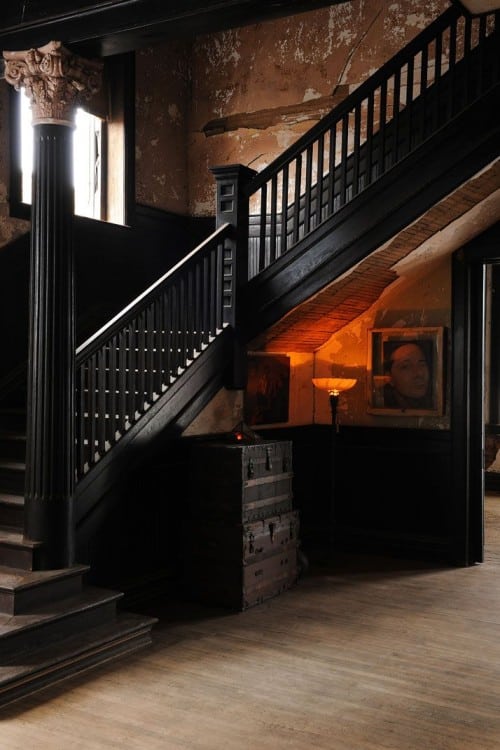 Industrial designer and architectural consultant David Hurlbut applied a "neo-Gilded Age steampunk" aesthetic when renovating this abandoned 1909 social club in Selma, Alabama.
---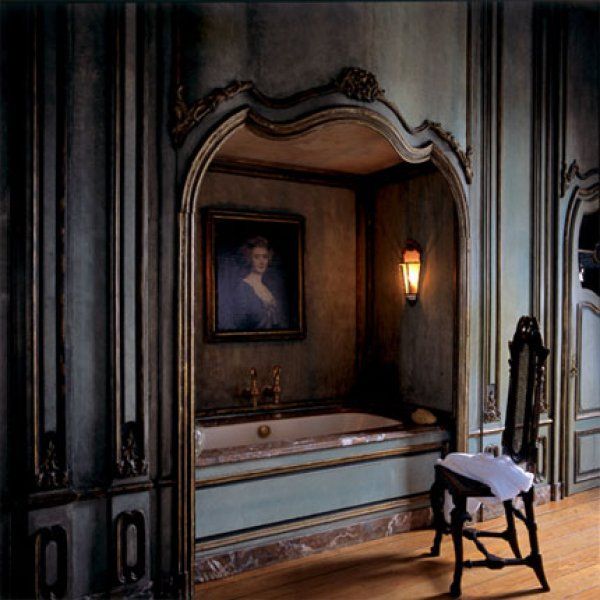 At Axel Vervoordt's Belgian château, baths are drawn in an intimate alcove adorned by Italian 18th-century boiserie. Nearby, an antique Baroque chair faces a portrait — attributed to Thomas Gainsborough — depicting one of King George III of England's nine daughters.
---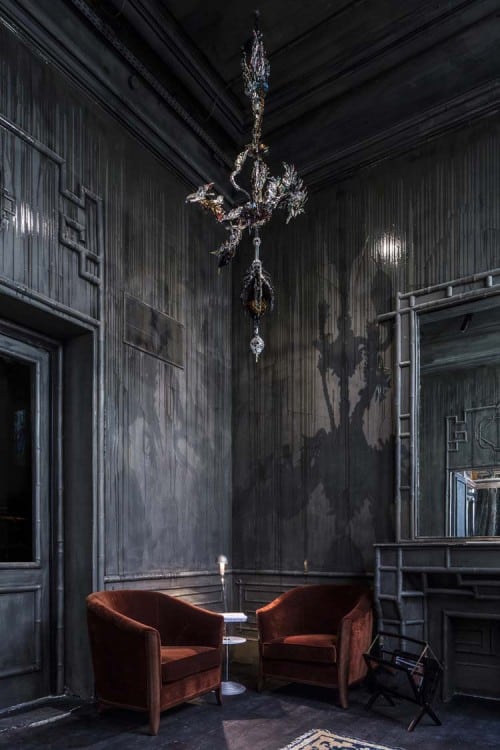 In May 2015, designer Tristan Auer spearheaded the renovation of the infamous Paris nightclub Les Bains. His inky, charcoal-hued spaces hint at Les Bains' decades-long history of debauchery.
Photo by Paul Raeside via superfuture.
---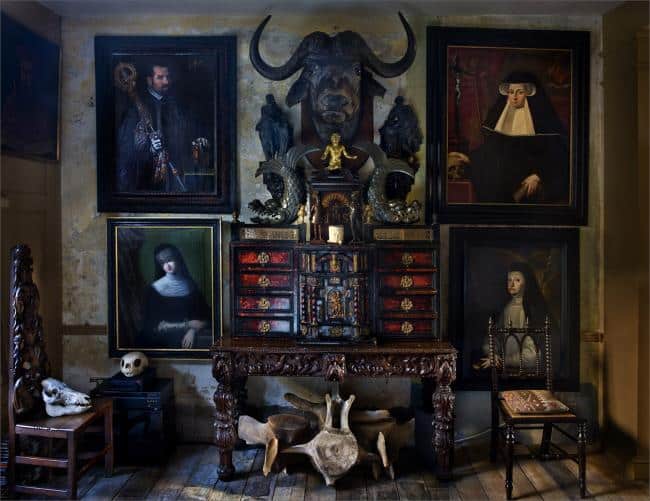 London's historic Malplaquet House is widely regarded as one of the city's most unusual residences: the 18th-century Georgian mansion is a cabinet of curiosities in the truest sense, filled with objets that include human skulls, taxidermic dachshunds and ancient Egyptian religious relics.
---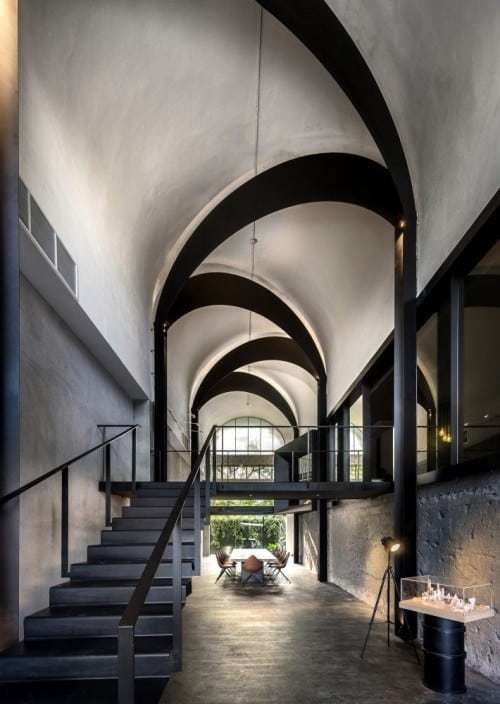 For their headquarters in Singapore, architecture firm Park + Associates used a series of black-rimmed barrel vaults to lend an air of severity to a converted schoolhouse building.
Photo by Jordan Lewis via ArchDaily.
---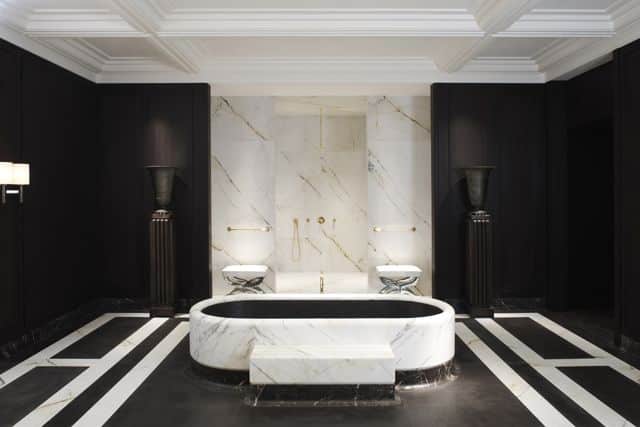 Composed primarily of Italian Calacatta marble and ebony-hued boiserie, the windowless, minimalist bathroom created by Joseph Dirand for AD France's AD Intérieurs 2012 showhouse could pass for the world's chicest mausoleum.
Photo Adrien Dirand via Some/Things.
---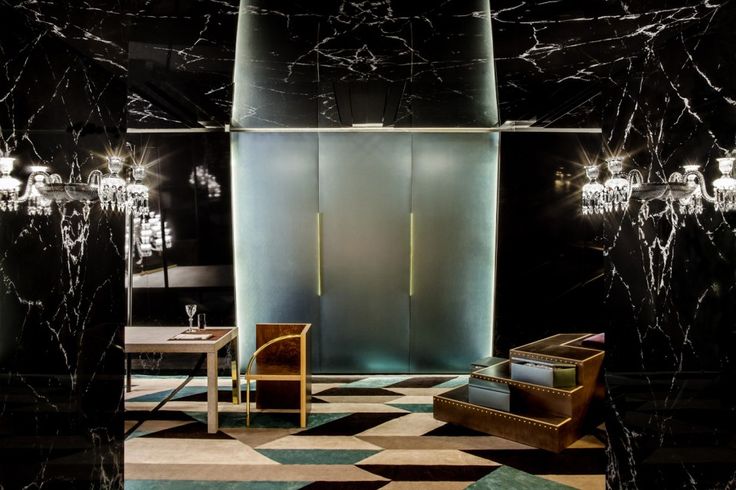 Designed in partnership with Baccarat, Rafael de Cárdenas' ghostly yet glamorous multipurpose living space functions as a dining room, office and bedroom.
---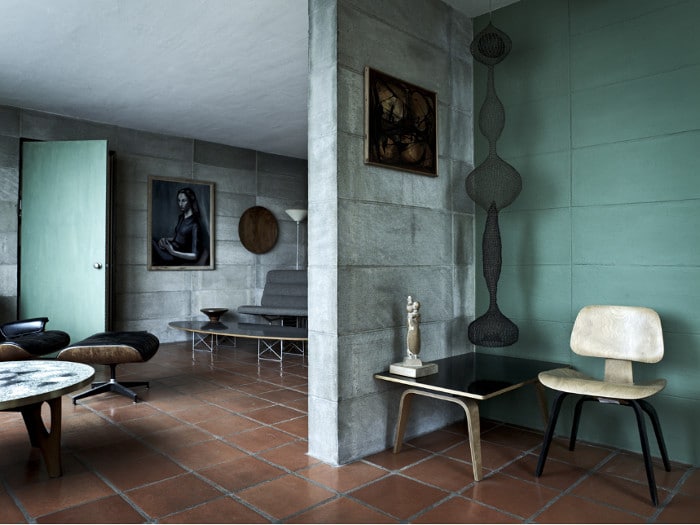 A specter of modernism. The typically cheerful silhouettes of an Eames molded plywood chair and lounger take on a darker character when contextualized alongside brooding portraiture and an ectoplasm-like Ruth Asawa sculpture.
---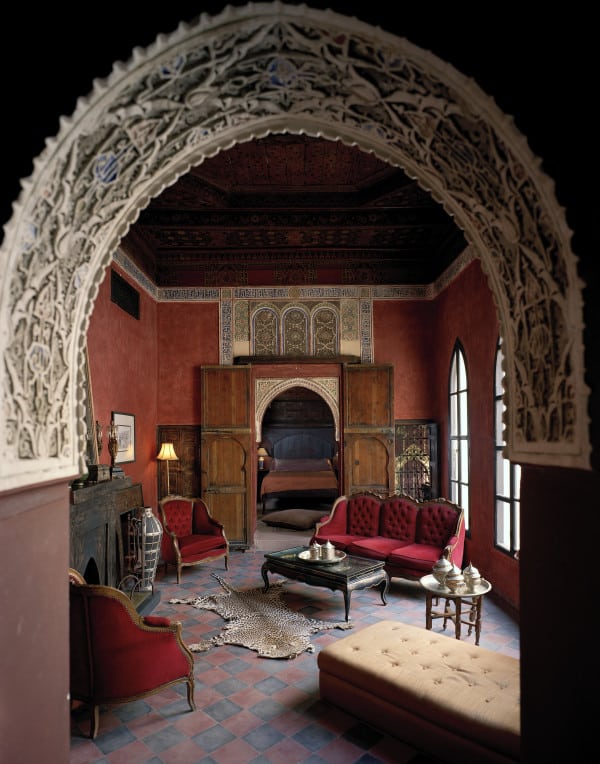 Another atmospheric image from the Riad Dar Darma.
---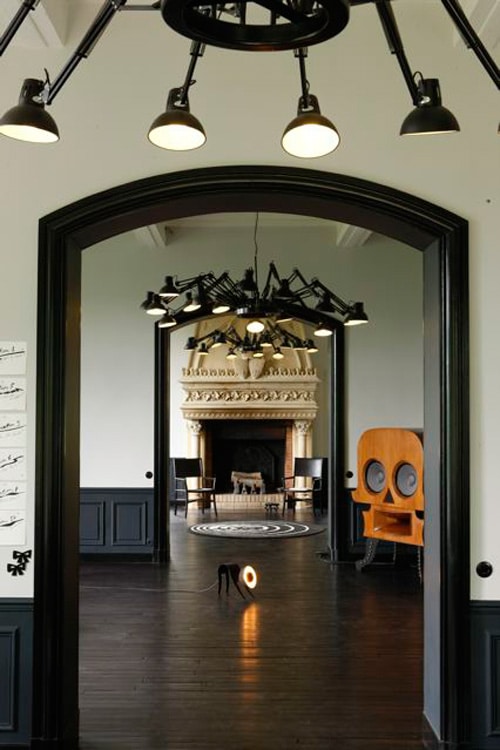 This lofty space, designed by Marianne Evennou, makes stylized use of familiar scary talismans, including spidery chandeliers, an abstract black cats sculpture and a skull-shaped case piece.
---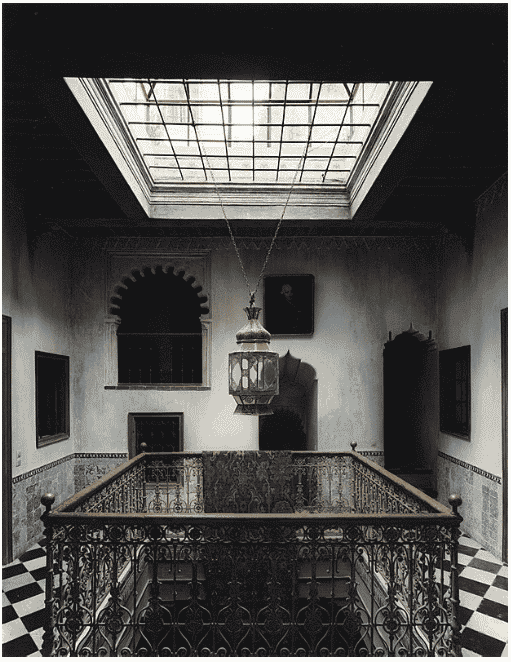 Roberto Peregalli built his home in Tangier, Morocco, within the shells of several abandoned houses. "It's what a European in the 19th-century would imagine an old Moroccan house would look like," he says. The filtered light within the covered courtyard, lined with 18th century tiles, has a spectral quality.
---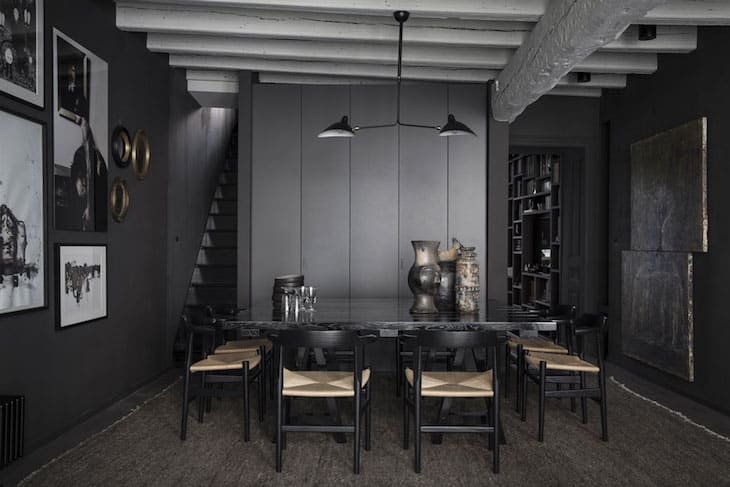 For this apartment in Lyon, France, designers Pierre Emmanuel and Stéphane Martin Garotin — who together form design duo Maison Hand — used a shadowy palette and a Serge Mouille Plafonnier ceiling lamp to create an evocative dining space.
Photo by Romain Ricard via Maison Hand.
---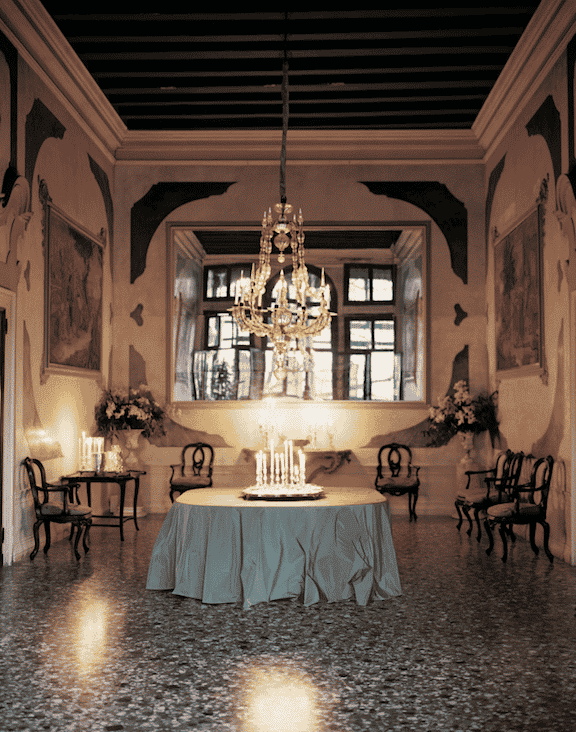 In his Venice, Italy, apartment, Axel Vervoordt uses negative space, an 18th-century Venetian chandelier and a grandly proportioned antique mirror to lend a haunting beauty to the home's dining room.
Photo by Vincent Leroux for AD France.