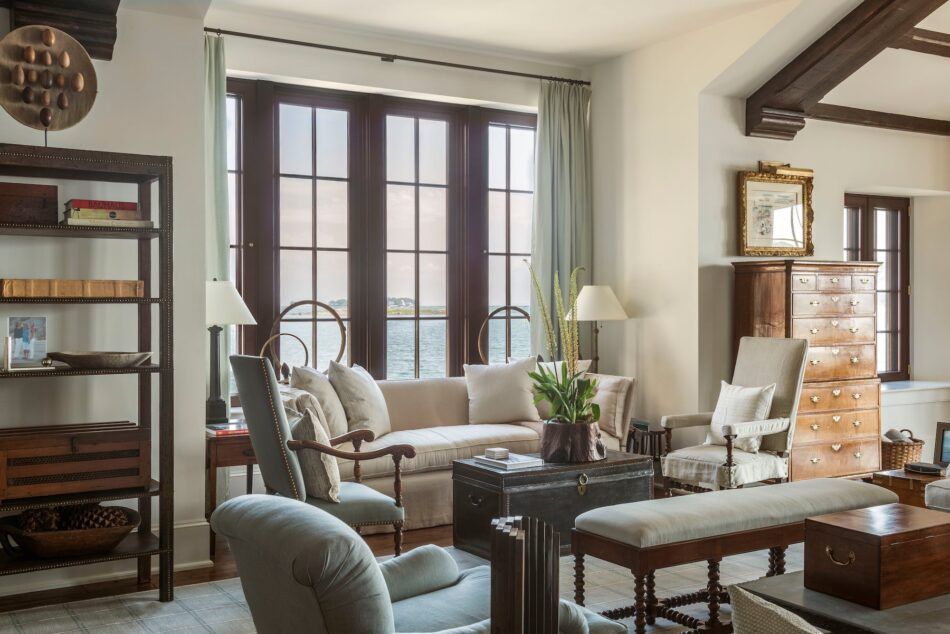 For a waterfront house in Rowayton, Connecticut, the designers behind Foley & Cox took their direction from the seascape outside. "This gracious living room has 180-degree views of the Long Island Sound, which became the source of inspiration for the interior color palette," says firm principal Michael Cox. "While the stained wood beams add warmth to the space, the color story is quiet and serene."
Further warmth is added by the client's collection of antique and vintage pieces, which Cox layered into the aqueous decor.
---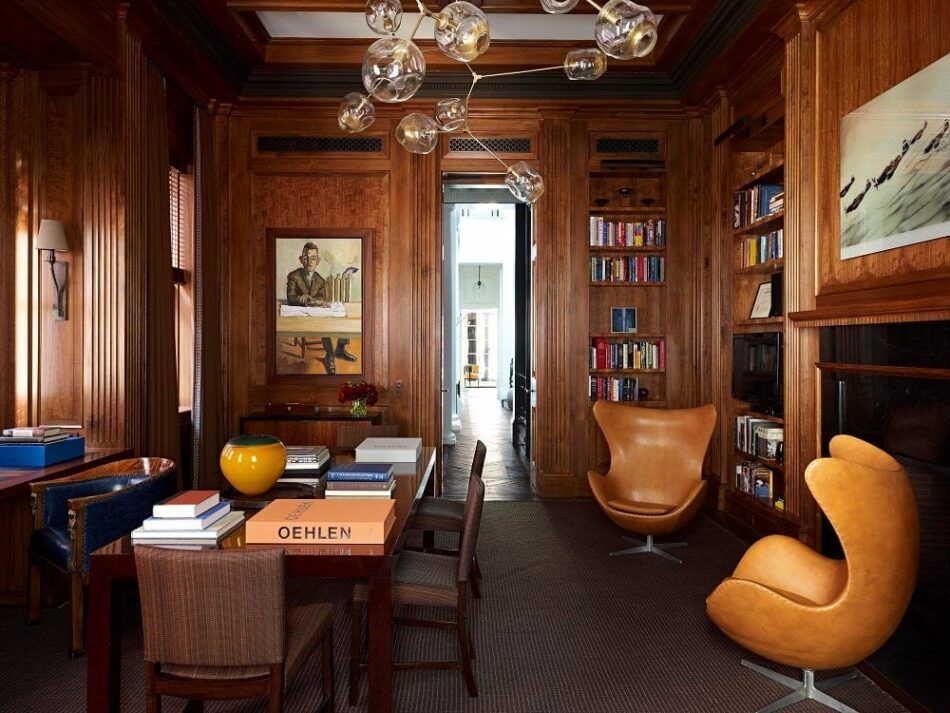 The wood-paneled office Heather Wells designed in a Back Bay, Boston, townhouse recalls the home libraries of the early 20th century — "but with a twist," she says. Wells tweaked the traditional template with clean-lined vintage pieces, including the desk chair, table and sideboard, bringing in a bit of funk with the Arne Jacobsen Egg chairs and contemporary elegance in the form of the Lindsey Adelman light fixture.
---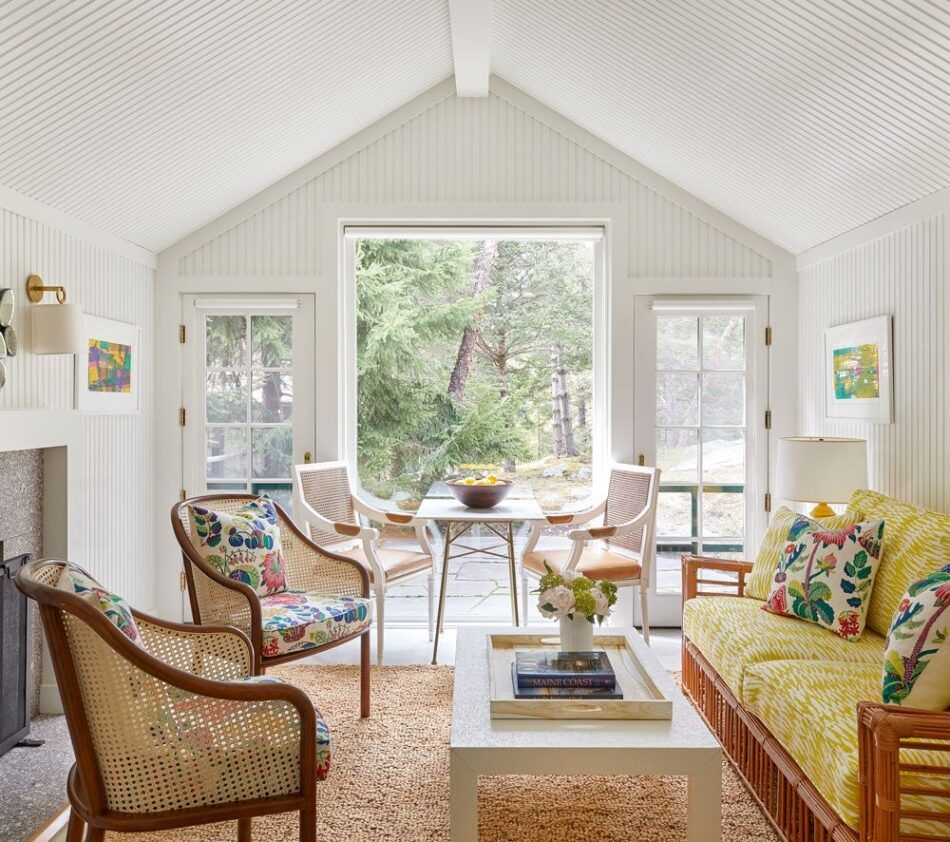 One of designer Kathryn Davis's favorite spaces in a sylvan Maine guest cottage is the living room, whose color scheme started with the vintage yellow lamps original to the house. "Because the woods can be dark at times, we wanted a light and airy feeling," explains Davis, who enhanced the vibe with cheerfully buoyant pieces like the floral-cushioned cane armchairs and the rattan sofa covered in a Schumacher yellow zebra print.
---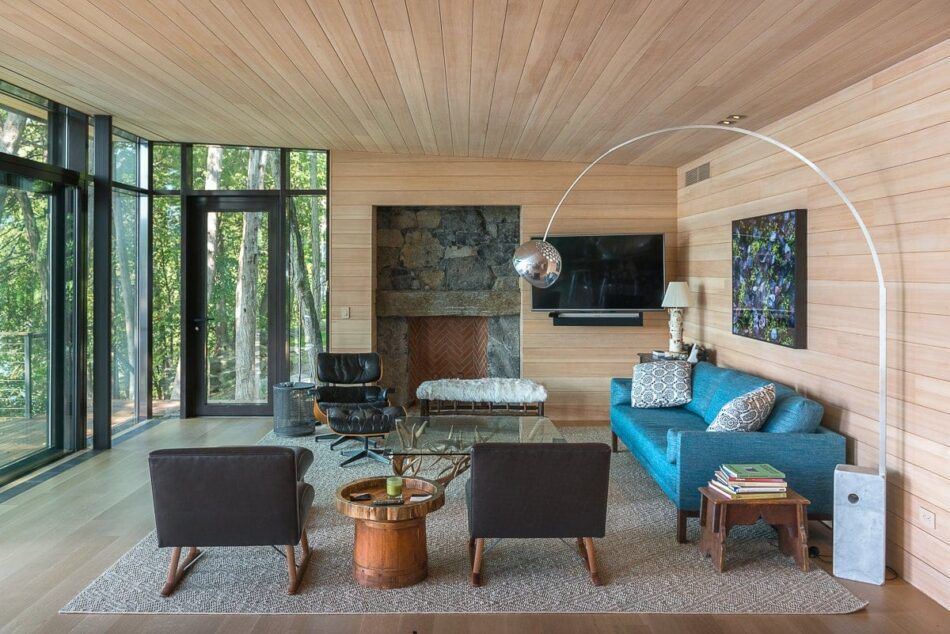 Charlotte Barnes worked closely with her international clients and the architect in designing a Vermont getaway among the trees. "The homeowners use it during the summer, but I wanted it to feel appropriate during all of the seasons," Barnes says. The living room, whose floor-to-ceiling windows reveal the surrounding woodland, features an eclectic array of furniture, including several mid-century icons, like the classic Charles and Ray Eames lounge chair and ottoman and stainless-steel arc lamp.
Other pieces that Barnes incorporated belonged to the previous owners. "The little rustic stool is so charming, so I kept it," she says. The glass-topped coffee table and bright blue sofa are collaborations she worked on with Room.
---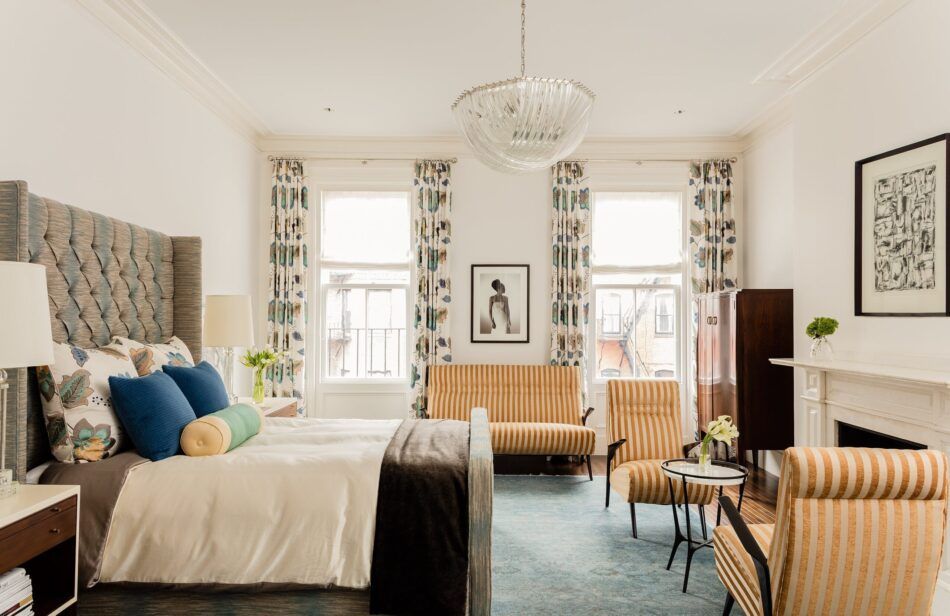 "It was very important to have the room remain both visually soft and bright," says De Choix Design principal Charles Fletcher, describing this elegant bedroom in a Boston brownstone. "The client prefers carefully selected vintage pieces in order to retain a rich, classic feel." Fletcher pandered to this predilection by curating a collection of vintage gems — among them, the loveseat and matching chairs, which flank a Holly Hunt side table, not to mention the Venini Murano chandelier from High Style Deco.
Fletcher made sure these pieces appear in an equally classic architectural frame: "We were able to retain the original detailing in the room — crown, trim and marble fireplace."
---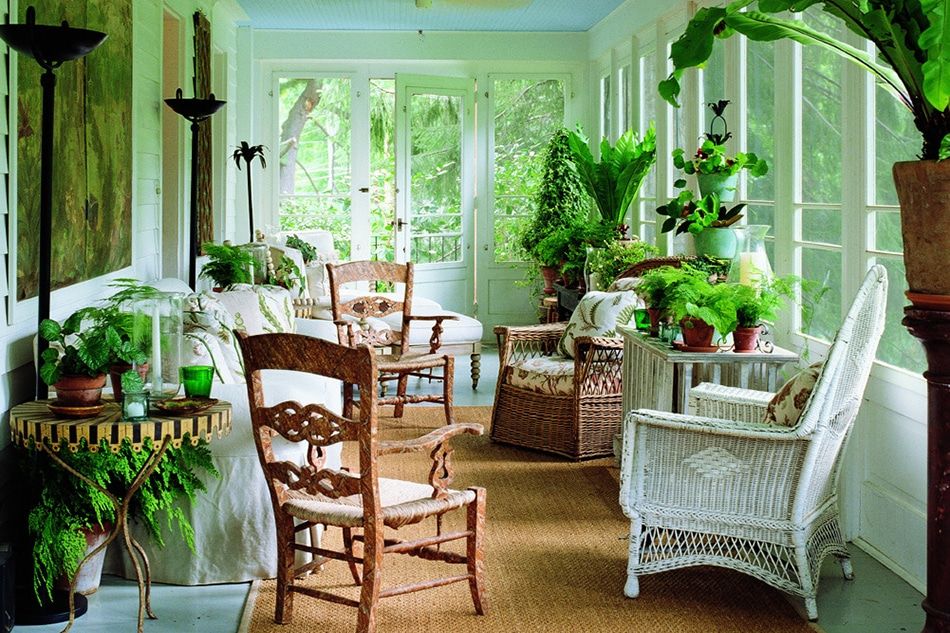 When designing her charming house in Falls Village, Connecticut, Bunny Williams knew there was one element she definitely wanted to keep. "The screened porch was already there," she told Introspective. "I think screened porches are the most important thing you can have in any place, because you can feel like you're outside in the summer — minus the bugs and weather — and feel cozy in the winter." And to make sure this one is just as comfortable in a snowstorm as in a heat wave, she had it winterized.
"I call it a transition place," says Williams, who furnished the space with vintage wicker chairs and a set of 1920s Mexican armchairs, bought separately and years apart. Winner for most interesting backstory: the Robert Jackson garden painting. Originally part of a mural in a Park Avenue apartment, it was presented to Williams by Jackson when the apartment owners moved, in the early 1980s.
---
In Kennebunk, Maine, Pieces by An Aesthetic Pursuit has created a fun vacation rental that's 100 percent shoppable. Populated, like the rest of the house, by furnishings featuring gentle curves and easy-on-the-eyes hues, the dining room centers on a Pieces by An Aesthetic Pursuit Court series dining table, surrounded by Jasper Morrison for Vitra All Plastic chairs and grounded by the Pieces Wavy runner.
"It was always a challenge to find pieces I liked and that fit correctly. So, we started making bespoke furniture and accessories for clients and launched Pieces in 2017," says Jenny Kaplan, one of the three brains behind the brand.
---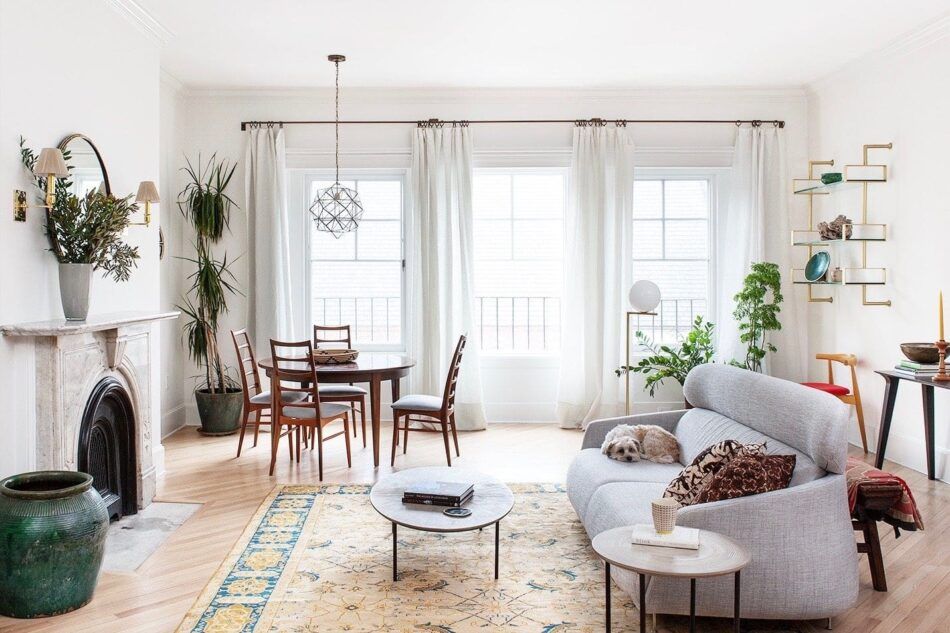 "As always, I drew my inspiration from my clients: their lives, their interests and their aspirations," says Indigo & Ochre Design's Shanti Crawford, whose clients here were a cosmopolitan couple with children and dogs, plus a love of travel and different cultures. "That, combined with the gracious scale of this beautiful old Back Bay townhouse, anchored all of our design choices."
One central choice was to strew the home with antiques and vintage pieces. Many of the latter are Danish, including the rosewood Kai Kristiansen table and ladder-back dining seats, the Hans J. Wegner side chair, the colorful rug and the candlesticks on the console.
---
"The design inspiration for this Stamford, Connecticut sunroom was the architecture of Thomas Jefferson and his triple-hung windows," says Cullman & Kravis cofounder Ellie Cullman, adding, "Interpreted by architect John Murray." Cullman put her own spin on the space with a touch of the unexpected: vintage game boards on the walls instead of the more traditional art. "I was attracted to them," she says of the boards, "because of the Pop art sensibility that they convey."
---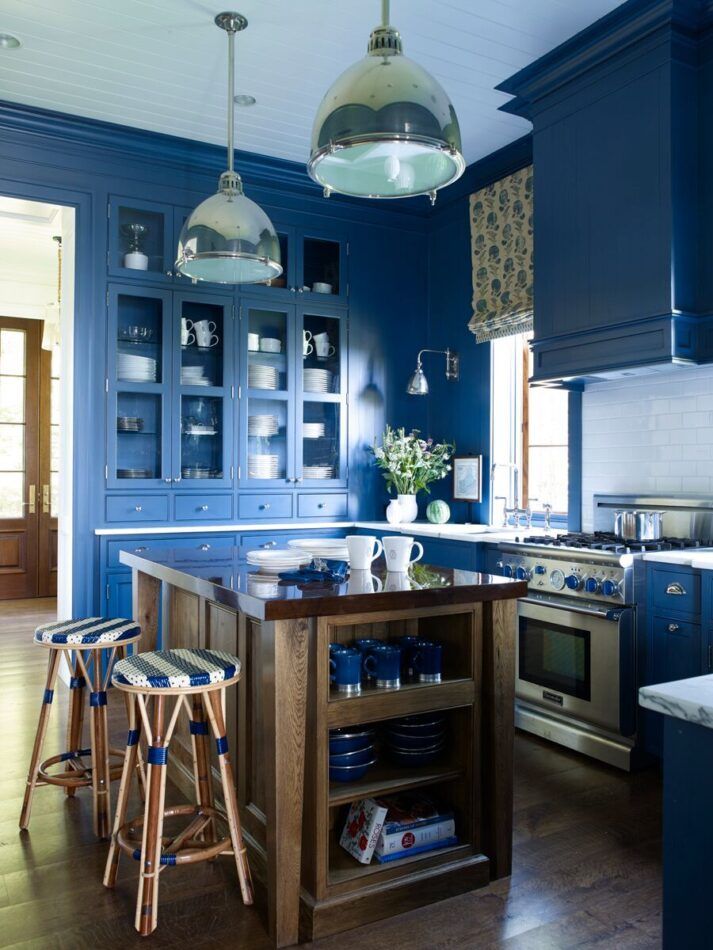 Suzanne Kasler is not afraid of color. And this kitchen in a coastal Maine house proves it. "What's really fun about this one is that because it's not in the main house, we were able to do something a bit different," Kasler says. A monochromatic look is hardly ever a bad idea, and in this sweet space, she went big with the glossy blue-on-blue palette.
---
Frank Roop channeled an "Old World club" vibe in designing this living room inside a stately Boston home. He perfectly balanced the grand interior architecture — consisting of a coffered ceiling, paneled walls and a massive marble fireplace — with a vivid palette of rich hues. He also offset the bold lines of the woodwork with a refined mix that includes sumptuous custom upholstery, a mesmerizing traditional carpet and gleaming gold and lacquer finishes. "The existing walnut paneling needed furniture that would balance its strength," Roop says.
---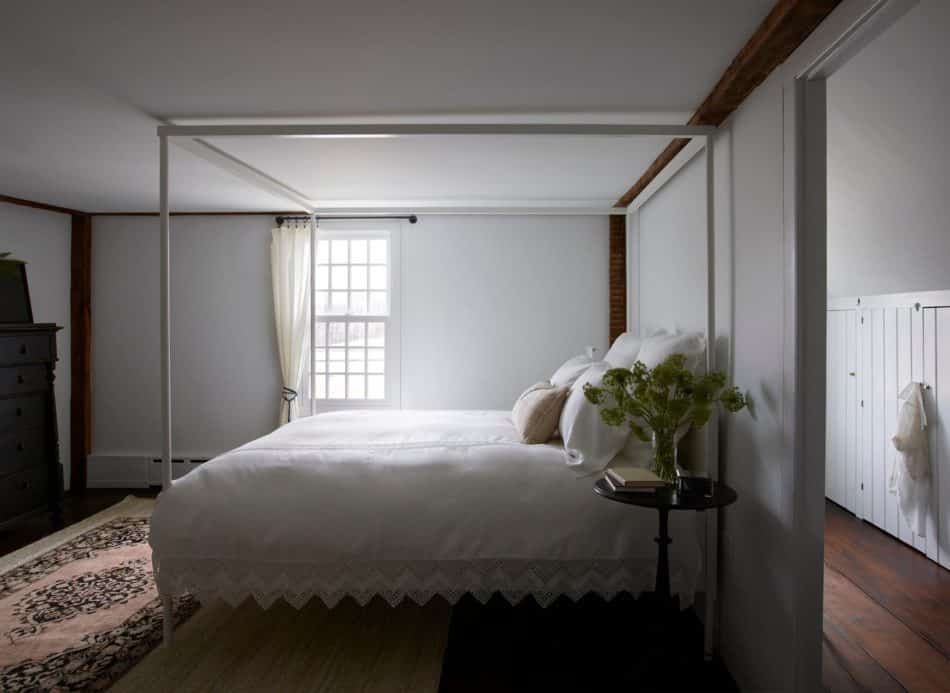 Combining a clean-lined canopy bed, earthy natural-fiber rug and ornate floral carpet, Kara Mann captures the simple sophistication of New England farmhouse style in this bedroom in a Connecticut home. The white backdrop and unadorned walls add to the rustic-romantic vibe of the room.
---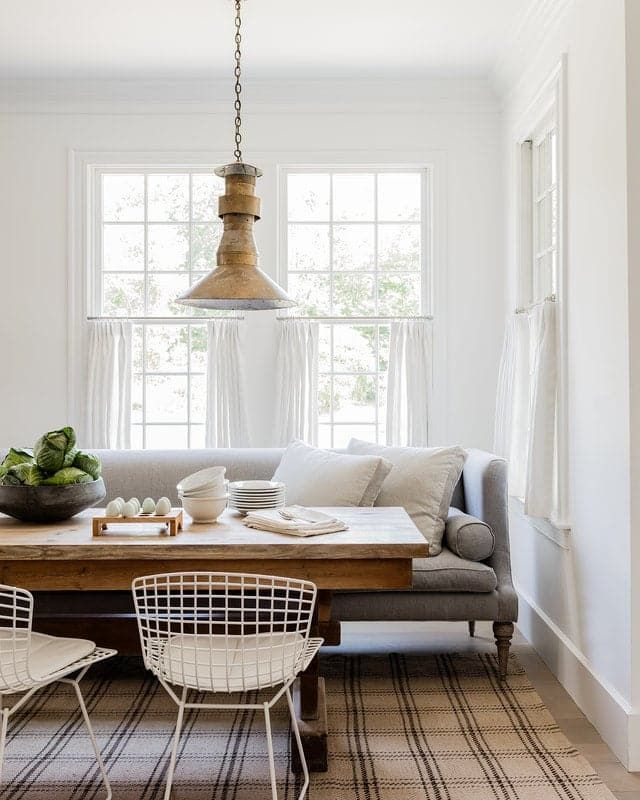 Located in a Greek Revival house, this breakfast room exemplifies Lisa Tharp's guiding philosophy for the project: "Luxury is found in the form of elegant simplicity." It underscores the crisp palette and curated mix of furnishings, which include a dining banquette from Tharp's own collection, accompanied by a Swedish table, Harry Bertoia chairs and a vintage pendant light, all found on 1stdibs. "Every decision balanced honoring the architecture of the home with a hip, young family's desire to live comfortably," Tharp tells us.
---
When renovating his family's 19th-century home in Vermont, Billy Cotton contrasted the den's classic interior architecture with a bold purple wall color — Brinjal by Farrow & Ball — and a colorful layering of earthy Suzani and Navajo textiles. "That is the dichotomy of New England: the richness of the land and the austerity of Colonial architecture," he says.
---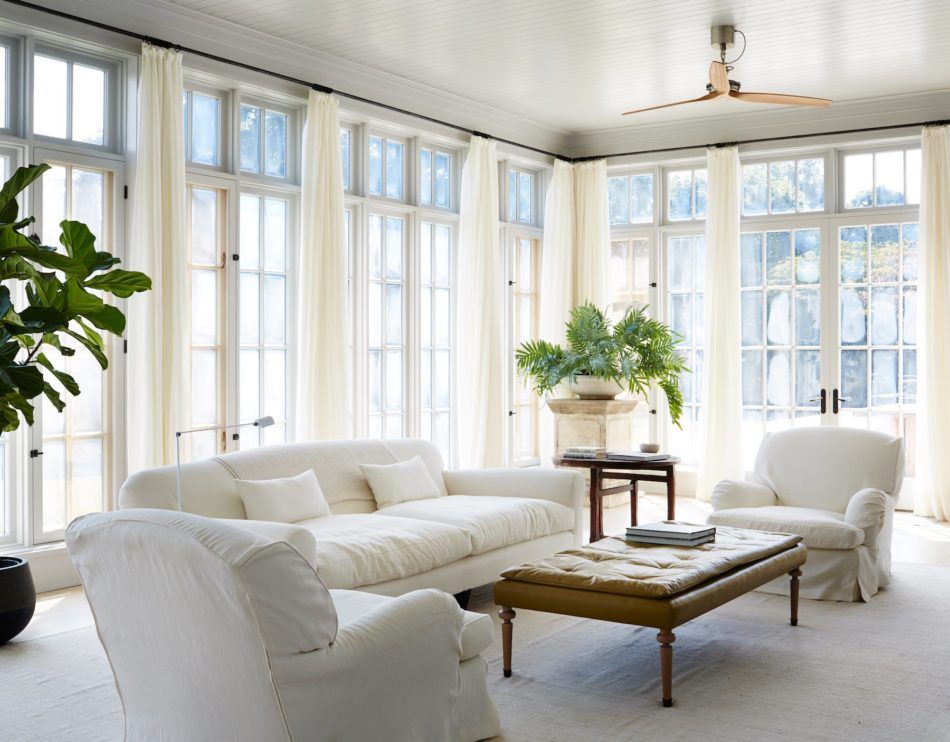 In quintessential New England vernacular, Billy Cotton set a calm and collected scene in the sunroom of a Connecticut house. Slipcovered sofas and armchairs, ceiling-height ivory drapery, and a delicate white rug imbue the space with pure pristine elegance.
---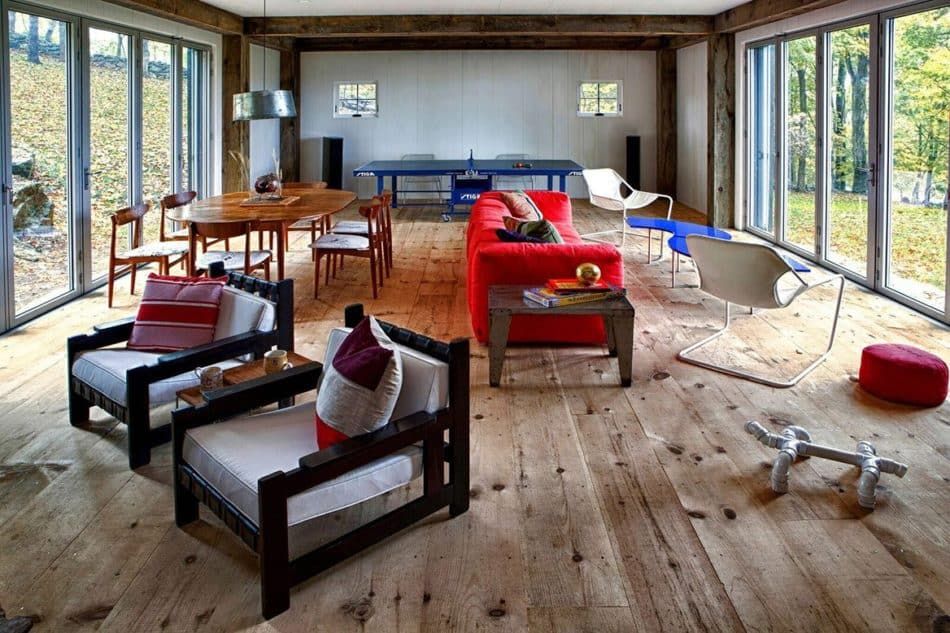 For a family home located in Cornwall, Connecticut, Fawn Galli added a modern barn consisting of "a simple, inviting room, purposefully designed for dinners and ping-pong tournaments, jam sessions and lazy afternoons," she says. Referred to as the "party barn," the open-plan room is outfitted with a Cappellini sofa and a mid-century Danish dining set that is a family heirloom — all amid windows that highlight the New England landscape.
---
In a 1920s Georgian manor in Boston's Chestnut Hill, Marty Dykas created this airy dining space to "resemble an Old World orangerie." Walls of glass seamlessly "bring a modern connection between the interior and its bucolic wooded property," he says, describing the juxtaposition of the clean-lined dining table and chairs with the verdant backdrop.
---
Classical architect Allan Greenberg designed this house in Greenwich, Connecticut, which incorporates Greek Revival–inspired plaster moldings and millwork in its circular, three-story rotunda. The decor is by Mariette Himes Gomez of Gomez Associates, and features an antique pie crust table and a Chippendale side chair, both from the late 18th century.
---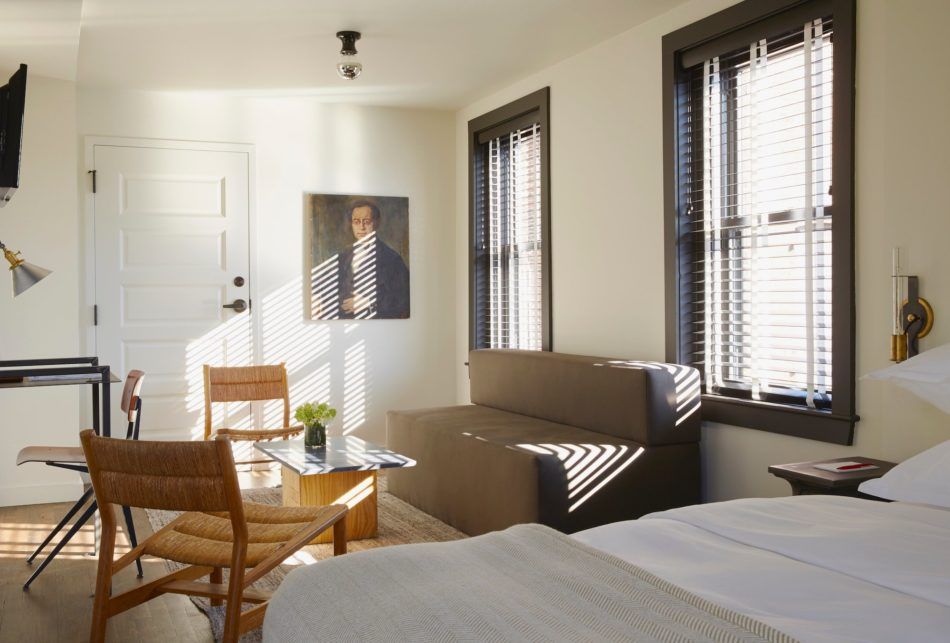 In designing The Dean hotel in Providence, Rhode Island, ASH NYC sought to create modern and sophisticated rooms that exuded warmth and comfort. The pair of woven chairs are 1960s French pieces by Pierre Gautier-Delaye, the 1960 V desk chair is by Ynske Kooistra for Marko and the light fixture is a custom piece by ASH NYC.
---
Jayne Design Studio was asked to create a "serene" setting for a museum-quality collection of postwar art in this 1889 Georgian Colonial home, located on Philadelphia's Main Line. The rich green walls and woven rattan sofas reference the verdant natural setting and provide a suitably unfussy backdrop for pieces by Roy Lichtenstein, Jeff Koons and Andy Warhol.
---
Thad Hayes of Ries Hayes designed this formal living room in a 1880s Boston residence to be an elegant, adult respite in a family-friendly home. Hayes custom created the sofas, plush armchairs and silk-and-wool rug, which are set among a 1970s Paul Evans side table, a Felix Agostini gilt-bronze table lamp and four circa-1880 American Aesthetic Movement window benches.
---
ASH NYC placed an oversize wooden ship model in the games rooms of this 1795 Nantucket home, the only room with ceilings tall enough to accommodate the piece. The home's nautical referenced are balanced with spare, minimalist notes, like a the 1930s Danish dining chairs by Frits Schlegel and the 19th-century fruitwood farm table. The monkey chandelier is a 1990s work by Bill Huebbe.
---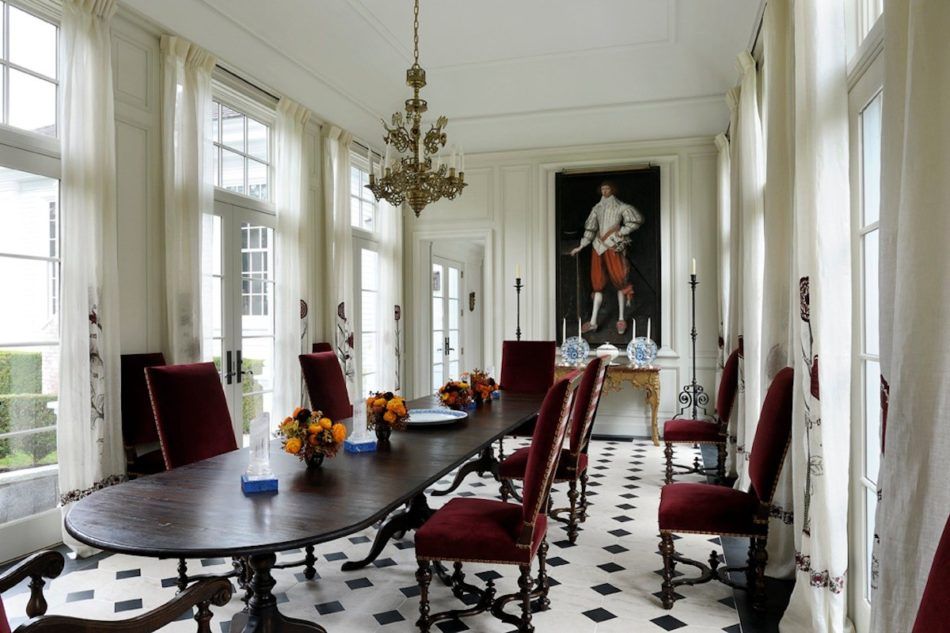 Hung with linen curtains custom embroidered in a Mughal motif by Lesage, the French doors in Robert Couturier's Connecticut dining room flood the space with natural light. "I wanted something like an orangerie, with the double exposure," says Couturier. The 17th-century chandelier is Dutch, and the dining chairs are Louis XIV pieces.
---
Annie Kelly used a mix of contemporary and period pieces to furnish this 18th-century cottage in Litchfield, Connecticut. In the living room, a 19th-century American stool, an 18th-century sofa and a 17th-century chest sit alongside a wingback armchair by Kelly and a striped jute rug.
---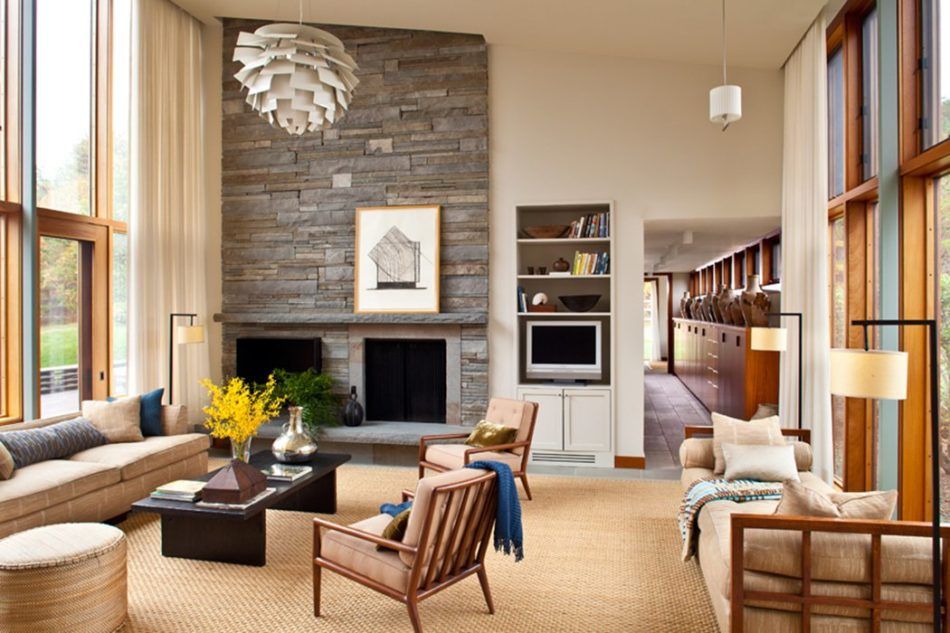 This airy Martha's Vineyard home, decorated by Glenn Gissler, includes a Poul Henningsen Artichoke Lamp from Lost City Arts, a pair of T.H. Robsjohn-Gibbings armchairs and a custom daybed by Gissler. A bluestone-paved hallway leads to a collection of antique Italian oil jars.
---
This trestle-ceiling barn in Litchfield County, Connecticut, dates back to the 1700s. Designer Shawn Henderson referenced American agrarian life via an earthy palette and industrial materials. The daybed and sofa are custom pieces by Henderson.
---
Marcia Tucker's clients requested that this sunroom — a recent addition to an 18th-century Connecticut farmhouse — feature organic and sustainable materials with an American provenance, and also include multiple seating areas. The home has no televisions. Instead, an antique bagatelle board rests on the central pedestal table.
---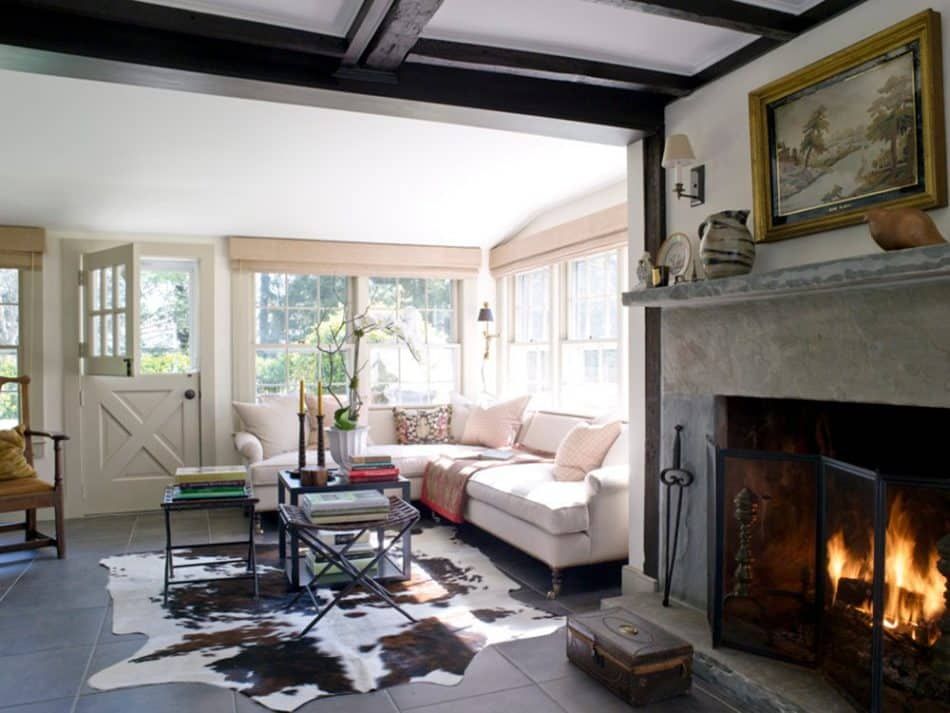 The sitting room of Matthew Patrick Smyth's former Connecticut Colonial house, which dates back to 1790, featured a sumptuous seating area, where would he spend weekends reading, relaxing and receiving guests. "This room was always meant to be the center of the house," he says. He used flea-market finds, a Schumacher-upholstered sofa and a cowhide rug to create this cozy corner nook. An antique needlework landscape from David Duncan Antiques hung above the fireplace, which was custom made to appear original to the home.
---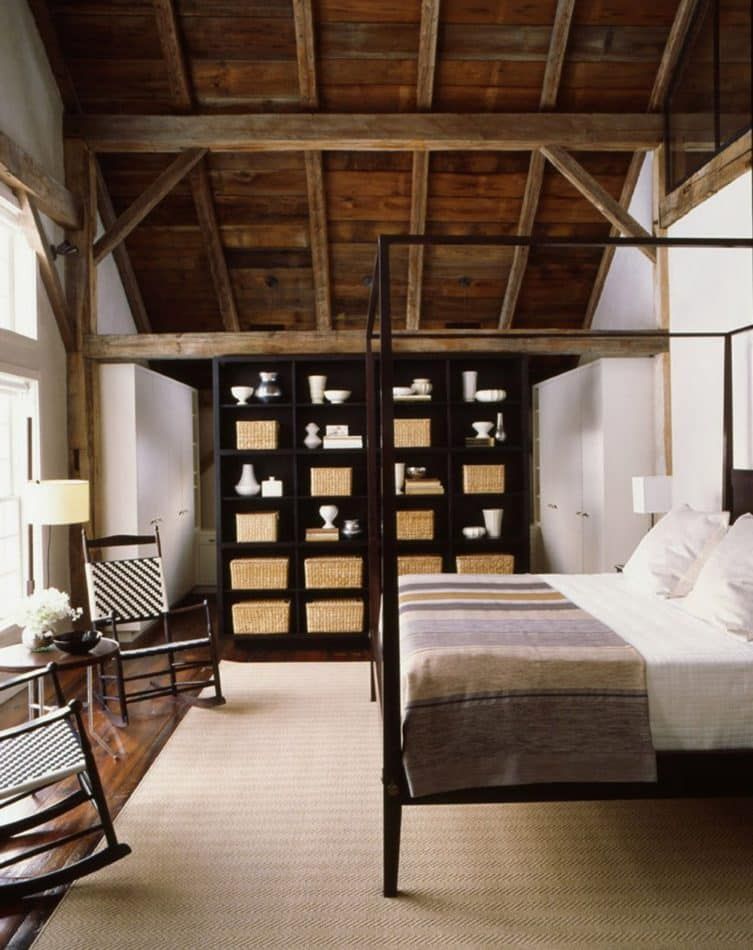 In rural Washington, Connecticut, Groves & Co. oversaw a modern renovation of a 19th-century farmhouse (transported from Canada). In a bedroom, original ceiling beams and wide-plank flooring are offset by an eclectic combination of custom and vintage furniture, patina finishes and heavily textured fabrics. The firm worked with a millworker who specialized in authentic Shaker pieces, but tweaked the proportions and finishings to make them feel of-the-moment.
---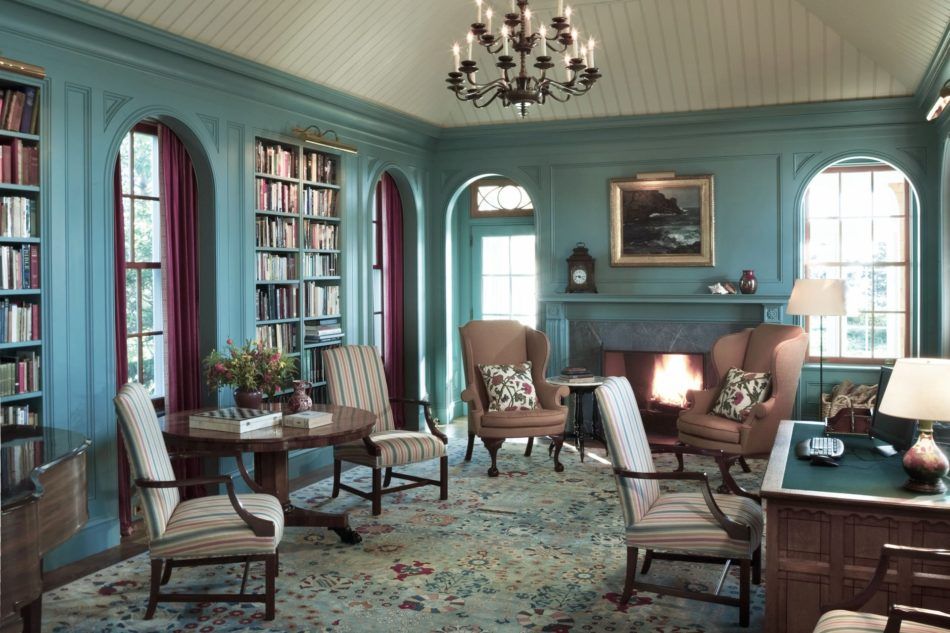 This Penobscot Bay, Maine library by Jayne Design Studio was painted an "old-fashioned" turquoise to evoke an 18th-century room and highlight the classical woodwork. Red linen curtains offer a pleasing color contrast while a late-Victorian oak pedestal desk, an 18-arm 1920s bronze chandelier and four Martha Washington-style armchairs maintain the air of elegant traditionalism.
---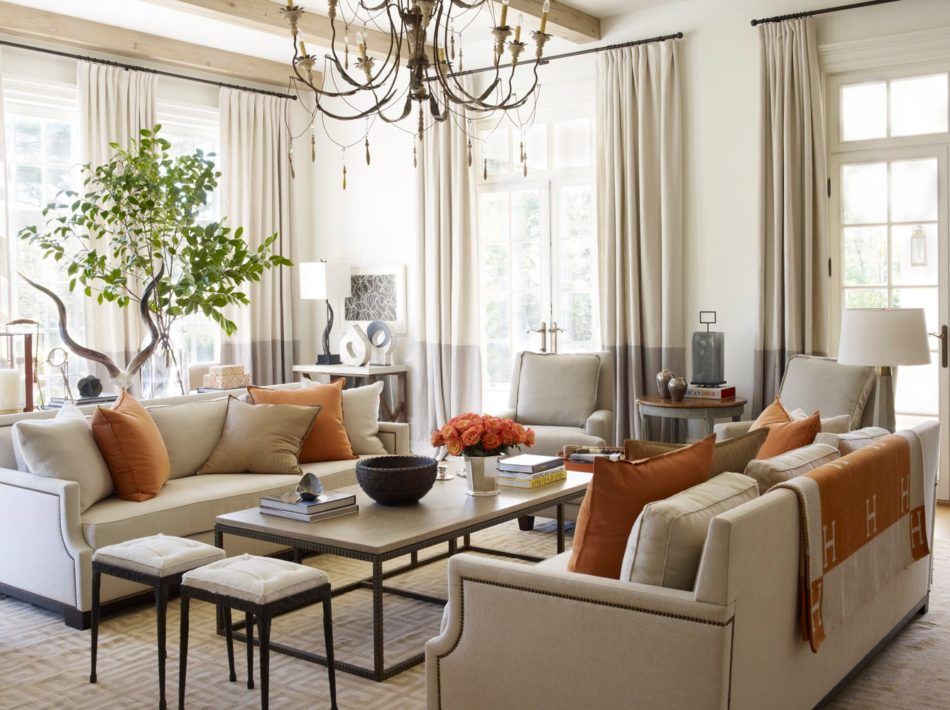 Suzanne Kasler's design for this Greenwich, Connecticut, family home uses strategic pops of color — the orange pillows and Hermès blanket — and linen-upholstered seating to create a chic, cozy living room. The custom-colored rug is patterned in a "Chinese maze" motif.
---
This elegant-yet-inviting Westport, Connecticut, bedroom by Matthew Patrick Smyth makes use of soft shades of green and pink, as well as 18th-century antiques, at his client's behest.
---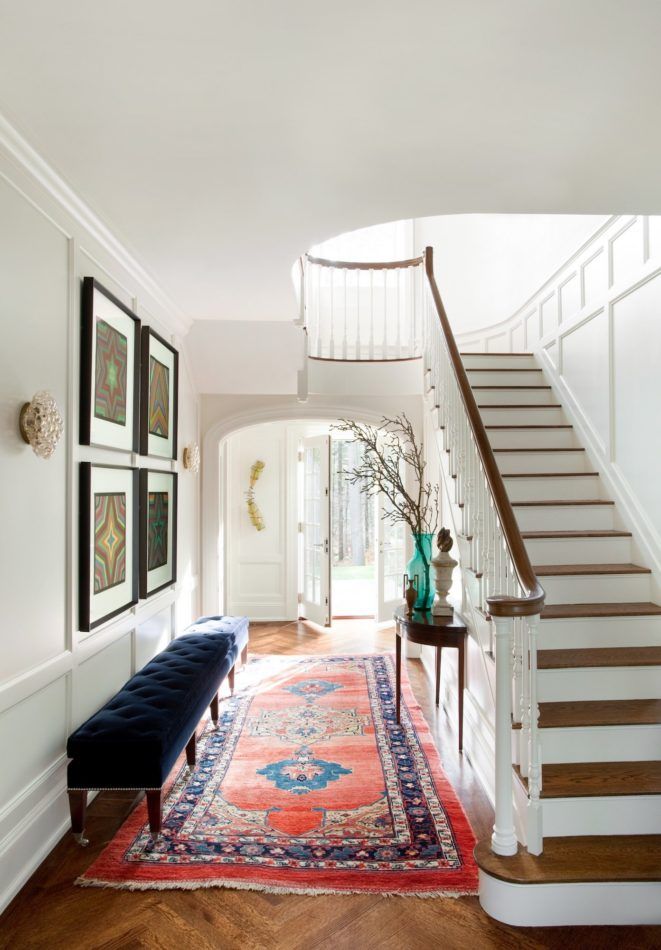 Designer Frank Roop used an oversize tufted bench to add an "unexpected or dramatic" element to the entryway of this Boston-area colonial home.