All photos by Claire Israël, courtesy of AD Intérieurs
The 2016 AD Intérieurs salon, presented inside the grand, 18th-century Paris Mint, is an eclectic, labyrinthine display of living spaces conceived by 14 architects, interior designers, furniture designers and scenographers.
The event was founded seven years ago to celebrate the 10th anniversary of the Architectural Digest offshoot AD France. Since then, every autumn, the magazine has given a handful of international designers carte blanche to imagine and realize a dream space, where they "reveal to visitors, in situ, what we normally show on the pages of the magazine so that visitors can actually, physically, enter and walk through the various decors," explains Marie Kalt, editor in chief of AD France and curator of AD Intérieurs.
This year, the theme was "the collector's world," and designers were tasked with creating mise-en-scènes using artworks and curios of their choosing. Orchestrated by Paris-based designer Adrien Gardère, the current exhibition, a streamlined succession of adjoining, cube-shaped modules overlooking the Seine River, brings together creations by Tristan Auer, Fabrice Ausset, Baciocchi Associati, Bismut & Bismut, Patrick Jouin and Sanjit Manku, Raphael Navot, Oitoemponto, Ora Ito, Daniel Suduca and Thierry Mérillou and Gert Voorjans.
---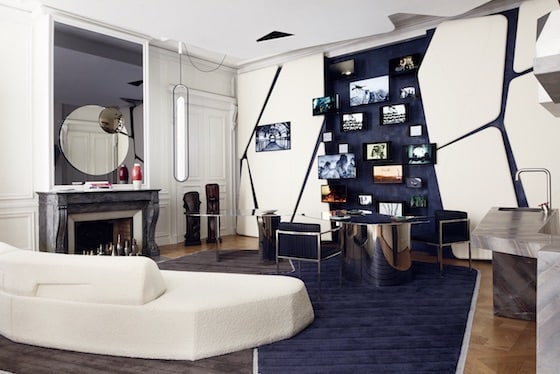 For their contribution, Paris-based architect brothers Daniel and Michel Bismut of Bismut & Bismut created an "arty video living room." The duo is known for their discreetly luxurious interiors, and the space is an elegant hybrid in white, silver and royal blue, serving at once as a living room, dining room and kitchen. Its focal point is a wall of TV screens arranged in a mosaic, showing a collection of some 400 videos by contemporary Chinese artists.
---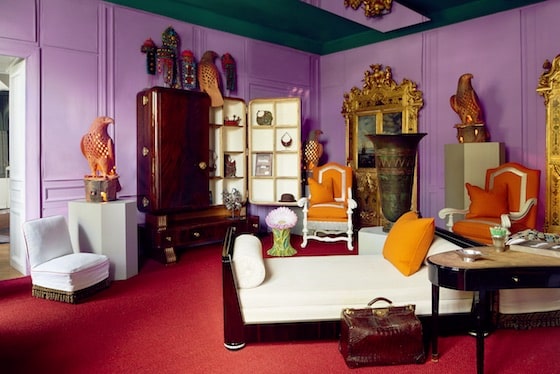 A Belgian designer known for his whimsy and eccentricity, Gert Voorjans imagined a vibrant decor he calls his "Lhasa/Venice/Paris office" that brings together different cultures and sharply contrasting colors, including lavender walls, a crimson floor, bright orange furniture and a mirrored ceiling. Drawing his inspiration from travel, Voorjans combines a collection of flamboyant Tibetan headdresses from Lhasa decorated with shells and semiprecious stones, extravagant giltwood mirrors from Venice and Art Deco furniture from Paris, most of which came from his Antwerp antiques gallery.
---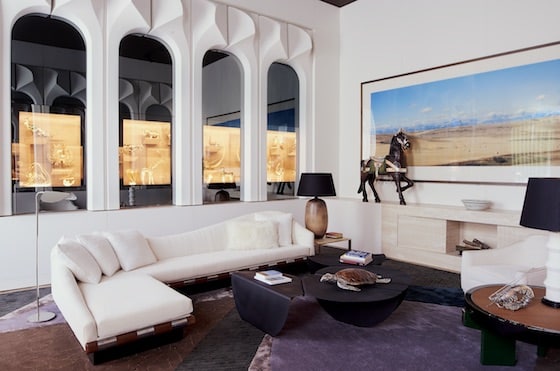 The French-Portuguese duo Jacques Bec and Artur Miranda, also known as Oitoemponto, created a "grand zoological living room" that evokes the suave 1970s "James Bond style," a kind of jet-set chic. Even the walls hide an ingenious gadget: the sleek arched niches are activated by remote control, which can reveal or conceal a collection of some 43 rare zoological figurines by the late Portuguese silversmith Luiz Ferreira.
---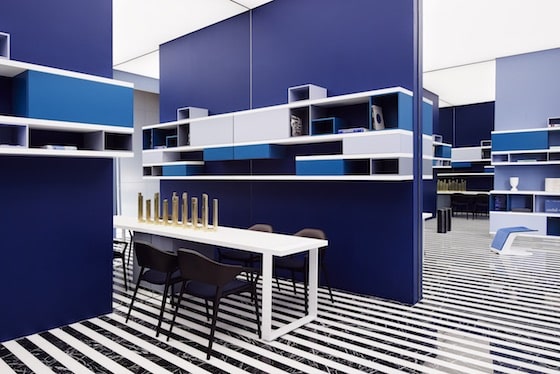 In his refined "kitchen for reflection," French designer Ora Ito has installed mirrored walls that expand the sense of space and create infinite reflections. The smart, black and white–striped floor pattern by French artist Daniel Buren is echoed in the geometric lines of the long white tables and shapely black chairs. The walls and shelving, in various shades of ultramarine, present ceramics by Georges Jouve.
---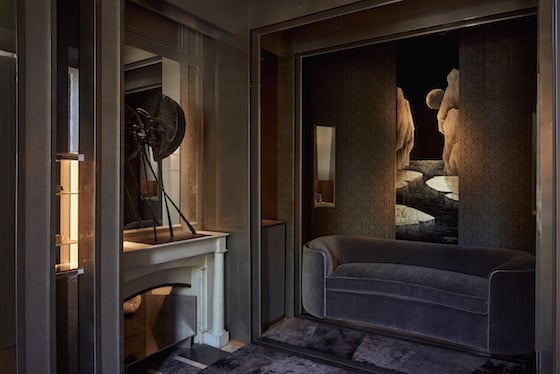 Tristan Auer's cozy pad, the "bachelor's apartment in shades of gray," is a moody, monochromatic man cave decorated with textured panels, plush steel-colored furniture, a fireplace and a metal and mirror bookshelf built to hold a collection of sculptures by Michel Anasse from the 1960s and '70s.
---
The highlight of Raphael Navot's meditative "imprints gallery" is a bookcase displaying a surprising collection of foundry molds in delicate botanical shapes. The Domeau & Pérès couch resembles a comma; the floor is a mosaic in wood; the walls are lined with diaphanous fabrics that allow the original moldings show through.
---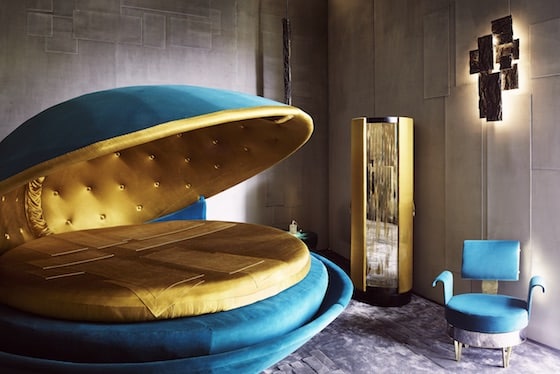 Tuscany-based architect Roberto Baciocchi's "precious bedroom" — a strange, dreamlike space that recalls Salvador Dalí — is intended to serve as an "ode to femininity," according to the press material. A huge, kitschy, shell-shaped bed, resembling a turquoise clamshell with a silky golden mouth, seems to float in the middle of the room, whose walls are decorated with cubist collages of silk velvet. From this luxurious bed, one gazes upon a display case filled with the architect's personal collection of Italian jewelry from the 17th to the 19th centuries.
---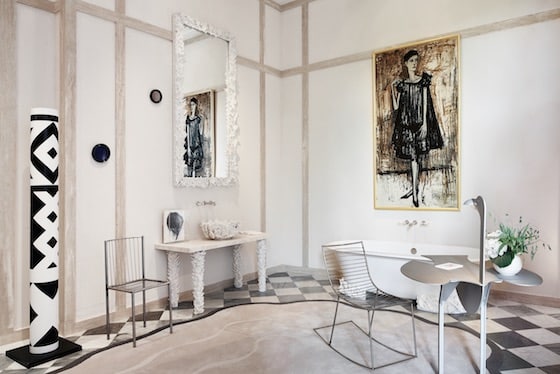 Architects Daniel Suduca and Thierry Mérillou dedicated their "muse's bathroom" to the memory of French writer and singer Annabel Buffet, whose spiky-looking portrait by her husband, painter Bernard Buffet, adorns the wall over the footed bathtub. The classic, creamy decor includes elegant ceramic fixtures and a coiffeuse by Claude and François-Xavier Lalanne, as well as poetic accessories by ceramics artist Bela Silva and a collection of mirrors by British artist Marianna Kennedy.
---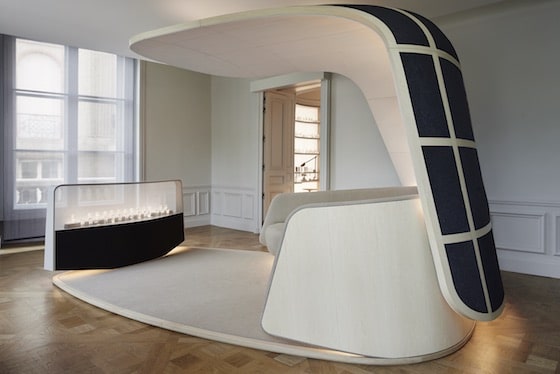 The most futuristic creation here belongs to Patrick Jouin and Sanjit Manku, who have constructed an "audio living room" to showcase an ethereal collection of sounds. Their helmut-like structure both amplifies and coddles these "audio memories," and the sounds themselves are contained in handblown-glass vessels facing a round seating booth. It's like 3-D television for the ears.