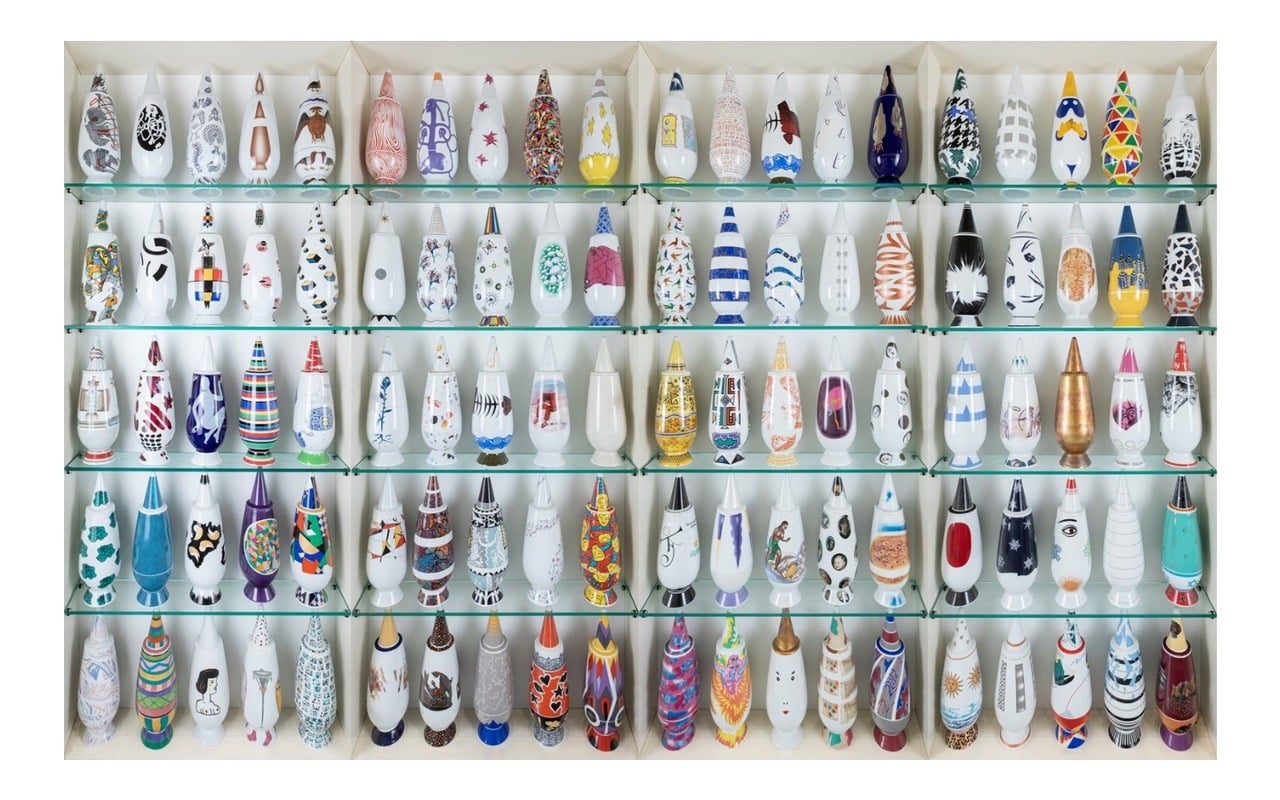 Between 1989 and 1992, the late Milanese architect Alessandro Mendini, a towering figure in 20th-century design, took a deep dive into ceramics, orchestrating a collaboration with the Italian brand Alessi, known for turning utilitarian housewares like tea kettles and corkscrews into objets d'art.
Called 100% Make-Up, the collection began with an archetypal form of Mendini's own design: an elongated bulb-shaped vessel, 15-and-a-half inches tall, with a flared base and conical lid, produced in Germany in white porcelain. Mendini then called upon 100 international artists, designers and creative teams, well known and obscure, to each devise a decoration for the vessel to be applied as an indelible decal. Each decoration was produced in an edition of 100 pieces, for a grand total of 10,000 vases, every one marked and numbered.
Although the forms are identical, "there the similarity ends," says Edoardo Scagliola, of Milan-based DesignDesign.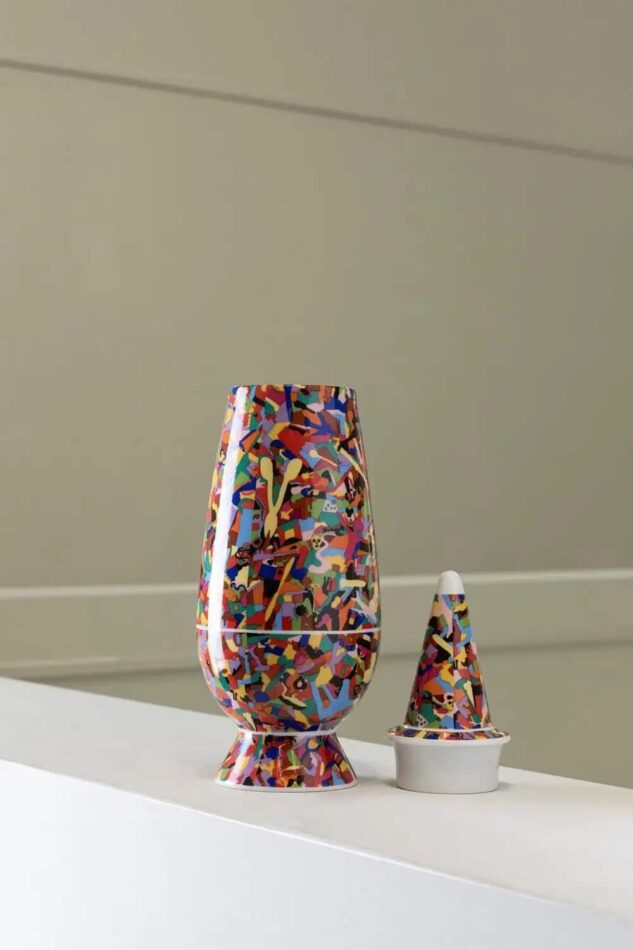 A division of Italian maker Superego, DesignDesign is an online gallery offering contemporary furnishings and ceramics that are clear heirs to the Italian Radical Design movement of the 1960s and '70s. It has acquired a complete set of 100% Make-Up vases, now for sale exclusively on 1stDibs.
Taken all together, the 100 lidded vases are a microcosm of late-20th-century decorative art, displaying a constellation of motifs from Japan, China, Scandinavia, Central Africa and elsewhere, along with contributions from such famous figures of postmodernism as Robert Venturi, Michael Graves, Ettore Sottsass and Philippe Starck.
Nearly 30 years on, most of the pieces, originally sold at retail in Europe, have been scattered across the globe. Few complete sets of 100 vases survive outside of museums like Paris's Musée des Arts Décoratifs, though some exist in the hands of a small number of persistent collectors who have snapped up individual examples when they've appeared at auction or online.
The catalogue of Mendini's masterworks includes Holland's Groninger Museum, an outstanding example of postmodern architecture, and his iconic 1978 Proust armchair, upholstered in the fabric equivalent of a pointillist painting. The 100% Make-Up vases represent an ambitious creative side trip, exploring what Mendini once called humankind's "most ancestral wares."