The animal world constitutes the richest and most varied forms on the planet," said the late Francois-Xavier LaLanne, who collaborated with his wife, Claude, under the name Les LaLannes. The inimitable French sculptor and furniture maker is far from alone: Living animals have been inspiring designers for millennia.
Ancient Egyptian furnishings featured stylized carvings of lions, crocodiles, gazelles and cows that served as reminders of the sacred realm, while in 19th-century homes anatomically correct clawfoot tubs and tables with deer legs reflected the era's advancements in science.
Today, the Los Angeles duo The Haas Brothers has turned to biomorphic forms for their second solo exhibition, "King Dong Come," at New York's R & Company (up through January 5). The whimsical exhibition is "fully immersive," as the press release puts it, luring visitors into a magical world where furry creatures and a godly beast named King Dong reside. Enchanting? Yes. True to nature? Not so much. Yet somehow we think French sculptor Jacques Duval-Brasseur would approve.
Scroll down to see more contemporary designers who are depicting animalia in all sorts of inventive ways.
---
Campana Brothers
Furniture doesn't get more strange and fun than it does in the hands of Fernando and Humberto Campana. In 1983, the brothers launched Estudio Campana in São Paulo, from which they've forged dozens of partnerships with international brands, including Alessi, Baccarat, Moleskine and Trousseau. Clearly influenced by Brazil's carnival culture, their waggish animal-inspired pieces include the furry Bolotas armchair and the Panda sofa, made from — you guessed it — stuffed panda toys.
---
Rick Owens
Rick Owens may be synonymous with avant-garde fashion, but he's quietly been making furniture since 2007. At first he began with a rock — "the rock that I wanted," he joked in The New York Times — then over time he progressed to carving angular wood benches festooned with moose antlers and muscular marble stools. Clearly, for Owens, pairing natural materials with his brutal aesthetic is all in a day's work.
---
Hubert le Gall
Surreal, stylish and slightly off-kilter — that's exactly how Hubert le Gall likes his sculptures and furnishings to be. "Each piece has a beautiful story," the French artist once told the Times while gazing upon a lamp in the shape of a heron. Jean Cocteau and Salvador Dalí are two major influences, as is the natural world, to which he turns again and again. Although he typically works in bronze, le Gall has likewise been known to tinker with foam rubber and varnished wood, draped in velvet.
---
Zhoujie Zhang
The 32-year-old Chinese designer Zhoujie Zhang always yearned to do the impossible, which is evident in his dazzling futuristic creations. With his deep understanding of steel manufacturing, Zhang has garnered worldwide attention for geometric pieces like the Spider chair, a product of his own digitalized fabrication system. In the hope of "transforming digital programs into real objects," his site says, Zhang is creating an animal kingdom all his own.
---
Jaime Hayon
The Spanish designer Jaime Hayon, famous for his work on the ultra-sleek Lladrò boutique in New York, has created furniture collections for Moooi, lighting fixtures for Swarovski and accessories for the Rug Company. He recently turned his attention to horses when designing a sculptural wall vase for his furnishings line Bosa by Hayon, which is perhaps not surprising, given his Spanish heritage and love of historic symbols.
---
Videre Licet
A collaboration between professor-turned-designer Daniele Albright and design curator Stefan Lawrence, the members of Videre Licet describe their work as "conceptual glamour," meaning it looks as arty as it does decadent. Take a peek at the recent Woolly Bella chair, featuring white Kassia goat fur and hand-cast bronze legs, and you'll see what they mean.
---
Jacques Jarrige
French artist Jacques Jarrige has been honing his craft since the 1980s. But for a guy who has said "design bores me when it is decorative," it's hard to overlook the ornamental appeal of his lean and sensual designs, which borrow from natural forms. His Toro coffee table resembles a four-legged cow while the unique version of the table, hand-sculpted in mahogany, looks like its more-slender partner.
---
Paul Marra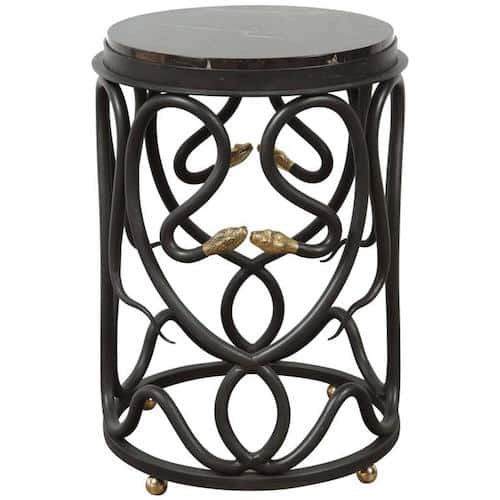 Los Angeles interior designer Paul Marra imbues his furniture with rare and earthy materials: see his shaded spool chandelier, made of driftwood, his distressed fir bench covered in blue horsehair, and the cove mirror framed in driftwood and gold. His marble-topped snake table is a darker departure, but the Garden-of-Eden python feels right at home with his other creations.
---
The Haas Brothers
The "King Dong Come" show currently at R & Company finds twin brothers Nikolai and Simon Haas in vintage form. The front gallery is filled with prickly beasts of all kinds, while the star attraction — King Dong, a 9-foot-tall beast — lounges in the back. Outfitted with gold-clad fangs, paws and genitalia sprouting from a Cousin It ball of hair, King Dong a testament to what The Haas Brothers do best: cheeky humor with a sexual edge.
---