The large, ball-like feet of Fred Rigby Studio's Cove Slipper settee are ever-so-slightly provocative, drawing your attention to furniture parts that we rarely think about. "They catch your eye," says the eponymous company founder, chatting on the phone from his hometown of London.
Rigby has a way of grabbing your attention. He started off doing art direction and set design for music videos and then, about a decade ago, moved to designing retail stores. "People would ask where the pieces were from," he says, recalling projects for which he created seating, tables and displays, like Francis Gallery, in Bath, England, the brainchild of Cereal magazine founder Rosa Park. "I started to think of them as furniture calling cards."
During the worst of the pandemic, Rigby shifted into producing a full furniture line, all pieces made to order in London. "I used that time to design a total collection," he says.
The Cove Slipper — which, as part of the modular Cove series, can be used as a standalone piece or combined with its chunky-footed siblings to create a sofa — is armless, geometric and cozy. The seat cushions are markedly puffier than the back ones, and the back is relatively low-slung.
The oak of the frame is set off by low-pile wool-bouclé upholstery in hues Rigby developed in collaboration with the British company Tibor. The sofa shown here (called a 2.5-seater because the individual chairs are so generously proportioned) is done up in Woodland Green. "Everything is linked back to nature for me," Rigby says of the color.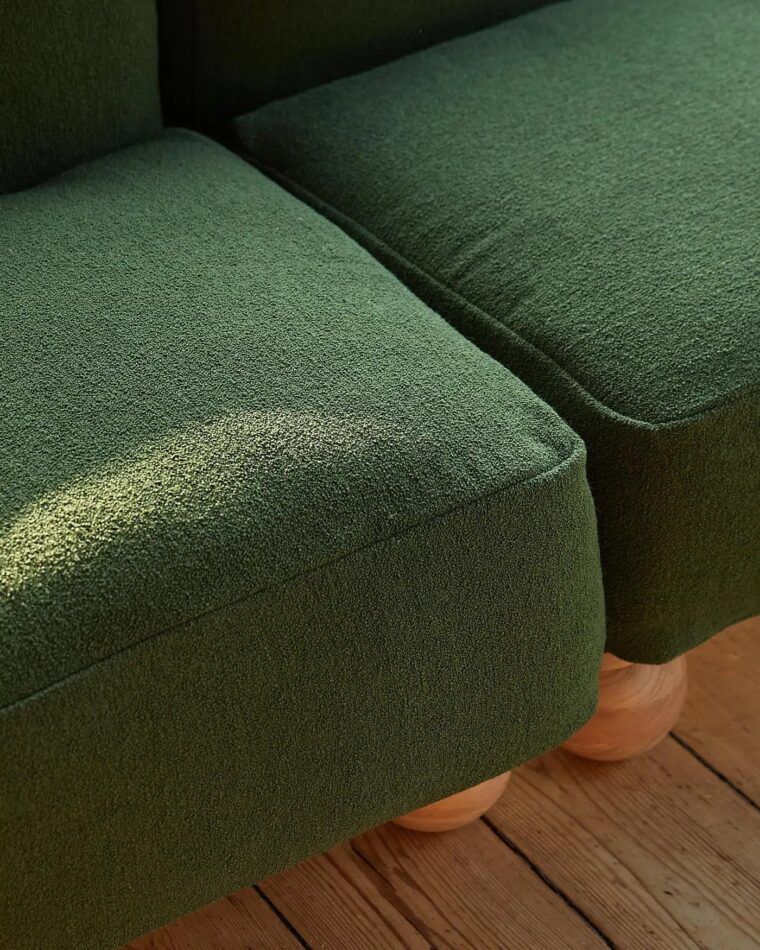 Just like the coffee tables, dining chairs and other items in his collection, the Cove pieces are recognizably Rigby's handiwork. "People link our work to curves," he says, citing the influence of Jean Royère and other modern greats. "All our pieces have a certain degree of curviness to them."
For Rigby, the Cove Slipper is an answer to the question he asks himself everyday: "How can we bring a touch of color and playfulness into people's homes?"